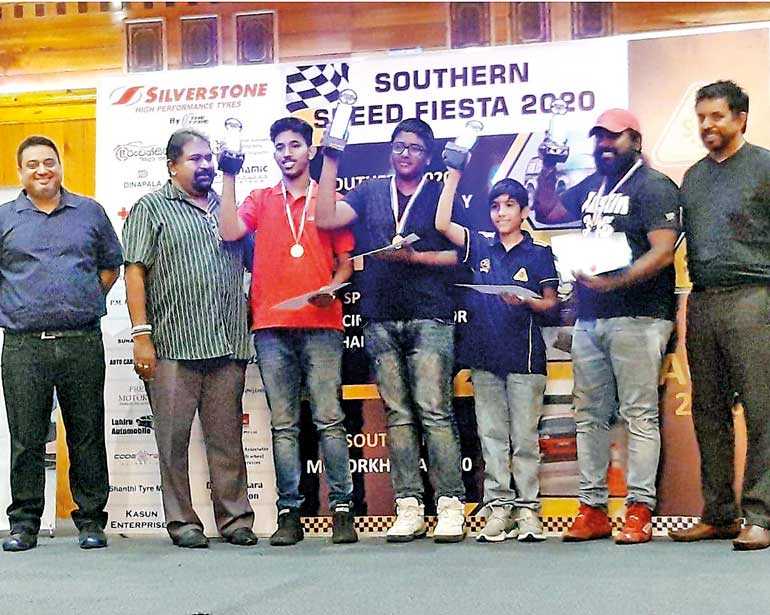 From left: Sheran Cook (CMSC), Dr. Sanjaya Sedara Senarath (SMSC), Nirosh Jeewantha, Calvin Risbah Kingsley, Aayan Hameem, Chamod Samarakone, and Prashad Subramaniam (Mandarin Reid)
Text and pix by P.D. De Silva

Calvin Risbah Kingsley was the fastest at the first qualifying round of the Sri Lanka 'Speed Runs' championship held at Sanaya Hotel Matara on Saturday.

Over 60 ESport enthusiasts entered for the first qualifying round held in collaboration with the Southern Motor Sports Club (SMSC).

Calvin Rishabh Kingsley, Nirosh Jeewantha, Chamod Samarakoon and Ayaan Hameem were the four fastest at Matara respectively and will compete at the grand final of the Sri Lanka 'Speed Run' Championship which is to be held in Colombo in May.

Calvin showed a lot of calmness in his driving technique which helped him take the top position and an edge over Nirosh, Chamod and Ayaan who finished within a second of each other.

Ayaan Hameem who was placed fourth is only 11-years-old and falling in the footsteps of his father Ashshar.