ABU DHABI (Reuters) - Valtteri Bottas won the Abu Dhabi Grand Prix on Sunday as Mercedes wrapped up another triumphant Formula One season with a one-two finish and four-times world champion Lewis Hamilton having to settle for second.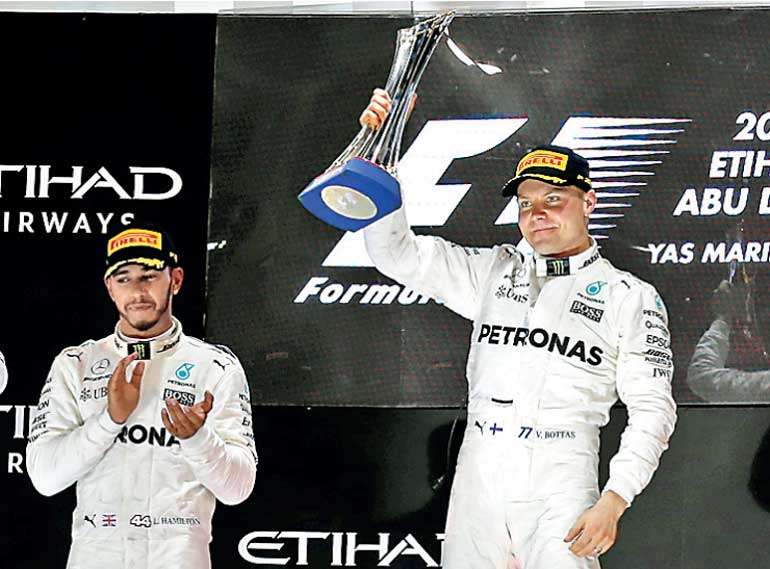 Mercedes' Lewis Hamilton applauds as Mercedes' Valtteri Bottas celebrates with the trophy after winning the race - REUTERS
The win was a career third for the Finn, who had started on pole position and stayed in front to deny Hamilton a 10th success of the 20-race campaign.

"It's a really important win for me after having a pretty difficult start to the second half of the year," said Bottas, who joined Mercedes after 2016 champion Nico Rosberg retired abruptly a year ago.

"This weekend, pole and win, I couldn't be happier to end the season like this."

In a processional race, with plenty of glamour but little excitement under the Yas Marina floodlights, Ferrari's Sebastian Vettel took third place to finish runner-up in a championship that Hamilton won in Mexico last month.

The final points tally was Hamilton 363, Vettel 317 and Bottas 305.

Mercedes had already won the constructors' world championship for the fourth year in a row and ended with 668 points to Ferrari's 522. The one-two finish was their fourth of the season.