By Sa'adi Thawfeeq
---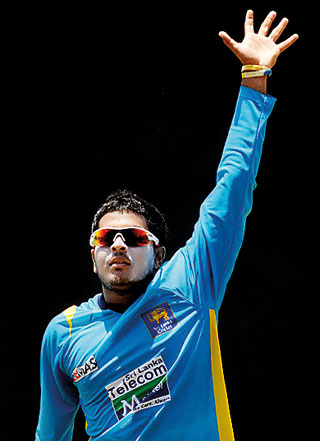 Angelo Perera on the few occasions he wore the Sri Lanka jersey
---
Following closely on the heels of Bhanuka Rajapaksa, former Sri Lanka white-ball cricketer and current NCC Captain Angelo Perera has also announced his retirement from international cricket. Is this a new trend that is taking place in Sri Lanka where players at the ripe age of thirties are quitting the game?

Perera is 31 and was picked to represent his country in only a handful of white-ball matches between 2013 and 2019 (six ODIs and six T20Is). Being a prolific run-scorer in domestic cricket in all three formats, he deserved more than just that. But that's the way the cookie crumbles.

For the record, Perera averages 48.08 in first-class cricket, 42.13 in List A matches and has a strike rate of 118.94 in T20 cricket.

"I wish I would have got more opportunities to play for my country but it's bad luck because the level of competition when we started playing was really high. Back in 2013, when the big guys were playing, we never got an opportunity to break into the team. At least playing a few games when they were there was a big achievement," Perera told Daily FT.

Giving reasons for his retirement, Perera said: "I am not in the national set up and I don't think I will get an opportunity now. I am just thinking of playing franchise cricket if I get the opportunity and I will be playing for the NCC."

Perera, who has captained NCC since 2016, was not certain whether he can continue in that role. "It depends on my availability to captain NCC this year. If I have to travel overseas, I might not take that responsibility. My goal is to play franchise and domestic cricket."

There is a chance that Perera might migrate with his family overseas.

"We are looking at opportunities but nothing is concrete for the time being," said Perera.

"I will be in Sri Lanka for another 5-6 months until my wife gives birth to our first child by the end of March. We are expecting a boy."

Perera was of the view that for so many cricketers to move overseas is because they have been underpaid in the domestic circuit.

Currently, there are about 54 national 'A' team players who are under the age of 40 years still playing and coaching cricket in Australia having made a move to go there five-to-six years ago.

Perera however praised the present Sri Lanka Cricket management for increasing the match fee for players in domestic cricket and also lauded the Lanka Premier League (LPL).

"Actually, to be very honest, this current SLC management under Shammi Silva and Ravin Wickramaratne, when they came, the match fees were increased to Rs. 20,000 a day for players playing in domestic cricket. If not, we would have been still getting Rs. 5,000 – 6,000 a day," said Perera.

"We are thankful to them, if not for the increase, many players would have left much earlier. In the past three years, we have been paid in the region of Rs. 15,000 to Rs. 20,000 a day."

"Also, the LPL is a big boost to all the Sri Lankan players because when you get paid $ 10,000 it is a big amount for a domestic cricketer. So many people are pointing out the negatives of the tournament but there is no place where there are only positives.

"Mismanagement is not our problem, but SLC has given us something back in return, and I am grateful to this management and I respect them for that," said Perera, who captained the Kandy Warriors in the recently concluded LPL.