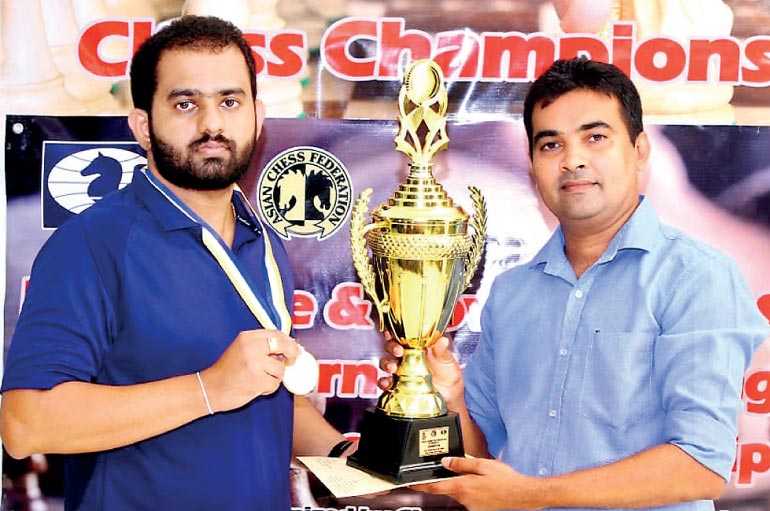 99X Technology Application Security Engineer Pranieth Chandrasekara receiving his trophy from Chess Federation of Sri Lanka Treasurer Irosh Jayasinghe at the 9th Mercantile-Government Service International Rating Chess Championship 2020
---
In a first for 99X Technology, Application Security Engineer Pranieth Chandrasekara swept up gold at the 9th Mercantile-Government Service International Rating Chess Championship 2020 earlier this month, organised by the Chess Federation of Sri Lanka.
An active member of the Company's chess team, Pranieth together with several other 99X Technology employees celebrated another achievement last month, when they emerged runners-up at the Mercantile-Government Services Online Blitz Chess Championship 2020.

MAS Holdings emerged victors, with 99X Technology as runners-up, Bank of Ceylon coming in as second runners-up, and Sri Lanka Customs and Commercial Bank placing fourth and fifth place respectively.

Along with Pranieth, the team consisted of Software Delivery Consultant Sameera Gunasinghe, Senior Quality Assurance Engineers Roshika Gunarathne and Hashan Senevirathne, Senior Software Engineer Buddhi Senarathna, Quality Assurance Engineer Linisha Siriwardana and Human Resources Executive Eeshani Ranadheera.

Speaking about his win, Pranieth said: "I was quiet for a year due to my studies and it is nice to be back in the game. It was my maiden mercantile-government sector competition, so to win it for the company was a great feeling."

"The event very competitive with the participation of some of the top players in the country. I was able to lead the event from the beginning and I would like to thank Sameera Gunasinghe and my team for the immense support. I have always loved this royal game and I am looking forward to winning more in the years to come for 99X Technology."

The 99X Technology chess team maintained a steady presence in Sri Lanka's mercantile chess arena over the past several years. The Company 99X Technology takes pride not only in its employees' technical capabilities but also in their additional talents, and encourages participation in various competitions as a means of honing and fine-tuning these skills.

The chess team is an integral part of this drive and is an active initiative within the company, with many internal chess tournaments held among the employees. The pandemic has not dampened their enthusiasm, with tournaments continuing virtually even as they work from home. The team also uses its skills to train young talent at 99X Technology's adopted school in Pepiliyana, conducting regular chess lessons for the students.

"I am extremely proud of Pranieth and the chess team's recent achievements. Chess is something we encourage all our employees to participate in and it's excellent to see them grow from strength to strength, and compete among the best in the country."

"I wish them all the best and hope to see them achieve even more in time to come," stated 99X Technology Co-Founder and CEO Mano Sekaram, commenting on these achievements.

Based in Sri Lanka, 99X Technology is a product engineering company co-creating well-engineered, innovative digital products for the Scandinavian market. Its expertise has been proven through a portfolio of over 150 impactful global digital products developed since 2004, together with leading Independent Software Vendors (ISVs).

The Company 99X Technology employs over 350 technology and product specialists, who are high achievers, creative thinkers and team players. It has been adjudged one of 'Asia's Best Workplaces for 2020' and has been named a 'Best Workplace in Sri Lanka' for eight consecutive years.