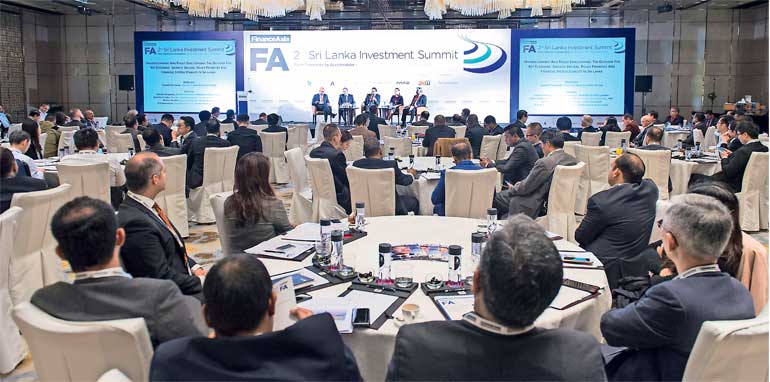 The Sri Lanka Investment Summit, organised by the influential Finance Asia magazine, was successfully held in Hong Kong recently in partnership with multiple stakeholders including Standard Chartered Bank and Asia Securities.

Nearly 250 representatives from Hong Kong-based companies, fund managers and investors attended the summit held at the iconic Ritz-Carlton Hotel, the world's highest hotel. The event's Chief Guest was Finance Minister Ravi Karunanayake and the Guest of Honour was Sri Lanka's Ambassador in China Dr. Karunasena Kodituwakku. A host of private sector business leaders, public sector officials and existing foreign investors in Sri Lanka made a compelling case as to why Sri Lanka must be considered a new destination for investments from Hong Kong-based companies.

The summit involved a large number of Sri Lankan business leaders and professionals as well as longstanding and new foreign investors in Sri Lanka such as Singer Asia, apparel giant Courtaulds, World Bank private sector investor arm IFC, the Shangri-La Group, Indoocean Developers Ltd/Altair, China Merchant (CMPort)/Colombo International Container Terminals, China Harbour/CHEC Port City Colombo Ltd., BPO operator WNS Global Services, Creation Investments and ADM Capital, as speakers or panellists as well as participants to reinforce the message that the time was right for global investors to consider Sri Lanka.

Some of the companies represented included Hemas Holdings, MAC Holdings, Commercial Bank, Sri Lanka Insurance Corporation, Commercial Credit and Finance and Lynear Wealth.

CHEC Port City Colombo, Altair and MAC were the distinguished corporate sponsors. The Daily FT was the official media partner. Supporting organisations included the Ceylon Chamber of Commerce, the American Chamber of Commerce and the Oxford Business Group. Cathay Pacific was the official airline.

This was the second summit by Finance Asia with the previous one held in Singapore last year. Here are some of the highlights of the summit.