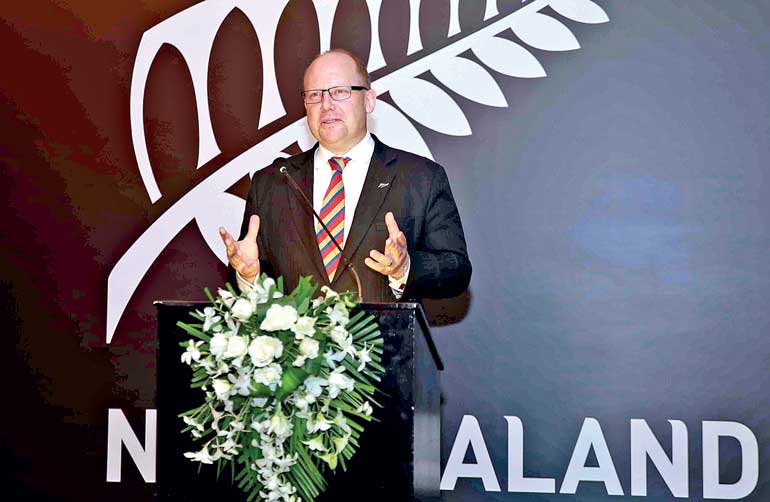 Grahame Morton, New Zealand's High Commissioner to India, Sri Lanka, Bangladesh and Nepal
Earlier this month, 17 New Zealand companies from a range of industries visited Sri Lanka, led by former New Zealand Deputy Prime Minister Sir Don McKinnon ONZ GCVO and High Commissioner to India, Sri Lanka, Bangladesh and Nepal Grahame Morton.

The companies in the business delegation are: DGL International Powder Coatings, Fisher & Paykel Healthcare Corporation Ltd., Eastern Institute of Technology, Genomic and Personalised Medicine Ltd., International Aviation Academy of New Zealand, Maxiloda Ltd., NORTHEC, Patton Refrigeration India Ltd., Powershield Ltd., QualityNZ, Southern Institute of Technology, Tait Communications, Unitec Institute of Technology, Vista Entertainment Solutions, WAML Group, Wellington Institute of Technology and Whitireia New Zealand.

There were also five education institutions joining the business delegation, all offering New Zealand qualifications which are in demand in the job market and ensure work-ready graduates.

With two-way trade between New Zealand and Sri Lanka currently worth $ 280 million and fast increasing, the Daily FT sat down with High Commissioner Morton to discuss the importance of delegations such as this in further improving trade relations between the two nations. Following are excerpts:
---

By Madushka Balasuriya

Q: Can you briefly tell us what hopes you have for this visiting delegation of companies from New Zealand?

A: I think we're in quite an exciting phase really for New Zealand and Sri Lanka relations. We've got a number of companies that are interested and engaged in the relationship, who are looking at doing new things. We have a solid educational base where we've got people, who are really excited and interested in specialist areas, going to New Zealand and coming back and contributing as well. And we have the strong support of particularly the Sri Lanka Diaspora community, which has been developing since the 1950s. We have a really strong, supportive community that really sees opportunities and to also encourage people to do more with their home countries. It means that there are certainly new things that people want to do, so that's always a good situation to be in.


Q: There are many companies that have come down. What is the feeling you get from them with regard to investor confidence with the new regime?

A: I Companies don't trade with governments, they trade with other companies. We had a real good presentation to the companies from Finance Minister Ravi Karunanayake, who gave a very clear statement in which he just simply said the Government was going to be working hard to continue the ease of doing business, continue to improve the climate in which companies were working and continue to try and improve the fundamentals of the Sri Lankan economy. That kind of calm, measured, strong and consistent message is what most overseas – probably what most domestic companies too – want to hear. It's a statement of ambition, it's not a statement that promises miracles; no one expects the whole country to suddenly become Singapore overnight. But that's credible. It's credible to be able to represent the country's situation accurately; to be able to engage and clearly express confidence in its future and its fundamentals. They know they've got some challenges ahead, they know they've got some advantages as well and they want to keep working on that. However, there are a couple of things that companies would have taken away. One is the effort to continue to improve Sri Lanka's trade relationships within South Asia; this is something that is clearly a priority which was expressed during the Prime Minister's visit to India. That's very welcome because one of the advantages Sri Lanka has is its location. It's very well located in the middle of a very big potential economic region, and if the trading within the region becomes more straightforward and easier then obviously that makes Sri Lanka a more attractive investment destination as well.


Q: How are the recent developments in the human rights situation in SL affecting trade between the two countries?

A: I I don't think trade is hugely affected by that, largely because the trading relationship is still quite an early stage one. New Zealand's exports to Sri Lanka and Sri Lanka's exports to New Zealand are dominated by the traditional commodities we both export. So New Zealand's biggest products here are dairy products; Anchor is a very familiar brand in Sri Lanka. And that's based on 40 years of engagement from the dairy board and more recent times, Fonterra. So that's based very solidly on a very long term domestic investment from that company that trade then supports. On the Sri Lankan side, the biggest export is tea and New Zealand and Australia have been interesting markets for that, just because they've been some of the markets where the branding of Ceylon tea has been very prominent. Dilmah is the biggest tea brand in New Zealand, it has a very strong position in New Zealand supermarkets and everyone knows what it is. So that's traditionally a really good space. I don't think that kind of long-term trading relationship changes whether you've got a human rights change or not. As the conflict goes further back from where we are today, you'll find not only for New Zealand but for other countries as well, companies just get more confidence that the environment is going to remain stable and peaceful. And when you see it mesh together with the significant construction that we see here, the big investment in infrastructure, all of that makes a difference to how people look at it. So I think we will see more activity and I think if you look at the growth figures that are predicted over the next few years, they're very consistent and they're very respectable. If the Government can continue to keep the fundamentals good then the private investors will come, and that's what the country as well as companies want.


Q: From a New Zealand point of view, what are you hoping to gain from the visit of these companies?

A: I What we really want from most of these companies is for them to get a taste of what Sri Lanka is. These are mostly new companies to Sri Lanka, most of them are not companies that have done a lot of business here before. Some of them have been involved in the past but they're all here because they're interested in the kinds of stories that Sri Lanka's telling. Often through associations with other companies and other places, they are interested in just having a fresh look at Sri Lanka, and that's a very positive thing. So we do want to grow the range of economic activity that there is between New Zealand and Sri Lanka in trade and investment terms. That will give us more strength overall. It also supports all those things that people want such as jobs, cultural exchange and education exchange, it supports all those things. So we're very keen to see the opening of the areas that we do have going on between us. And I think it applies on the Sri Lankan side as well.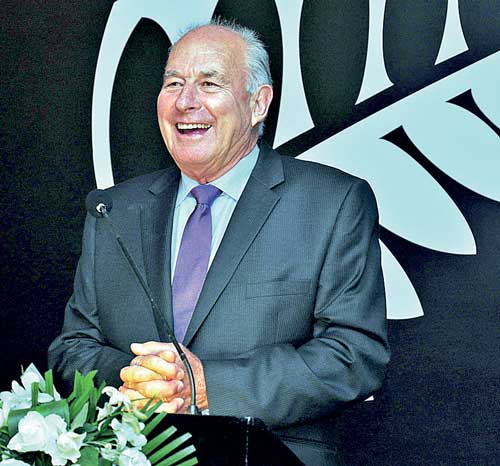 Q: Compared to the other regional powers, what sets Sri Lanka apart as an investment destination?

A: I One of the things is that Sri Lanka presently scores a little higher on the ease of doing business than other countries in this region. So that's attractive to companies. So too is the fact that for companies from a country like New Zealand, Sri Lanka is in some ways a little more approachable. It's a little smaller and a little easier to digest some of the channels, in that companies that operate here are perhaps a bit more known to them than some of the other bigger neighbours. So in terms of companies coming into a region that they're not familiar with, the opportunity to come and explore a market where they can look at it, learn about it and then have the prospect of making some kind of reasonable fist of an entry is pretty attractive. The other thing that New Zealand companies have, which is a long term trait that plays well to operating in countries like Sri Lanka, is that New Zealand companies usually trade before they invest, most New Zealand companies are relatively SMEs (Small or Medium-sized Enterprises) so our companies tend to operate internationally at a size which is smaller than what, for example, a US company would or a European company would; they have to go out and trade with the world – that's just the way their DNA is – as we come from a small domestic market. So how that works is that often they look at opportunities where they can partner or where there's market opportunities where they can go through and then over time as you're working with a bigger country or a bigger population base, being there does lead to a longer term investment position.


Q: Can you tell us a little bit about some of the companies that have come down? Let's start with the education institutions.

A: I Well a lot of them are in exploratory mode. I mean, Sri Lanka's not been a traditionally large market for New Zealand education providers but there's considerable demand here. We have about 800 Sri Lankan students that are studying in New Zealand each year. A lot of them are very successful students, in fact the Sri Lankan community in New Zealand is one of our most successful post-WWII communities. The Sri Lankan community in New Zealand is quite highly qualified; there are a lot of doctors, a lot of accountants, a lot of health professionals and other areas with a lot of people in business. So it's been a very successful community and that really has been the current base for supporting the new students that are coming in. That's been the traditional base, but looking at it now there's a big demand in areas such as ICT, programming and computer technology. I think longer term, the education picture is an interesting one here; there is the demand among young people for education for whole host of different things, there's clearly demand for different skills. But I think we will see that most of our institutions here are not really recruiting; what they're doing is looking at the market, looking at Sri Lanka, looking at the kinds of skills requirements, the kind of demand that there is, and then thinking about what their approach to the market actually is.


Q: Are there any possible tie-ups with institutions in Sri Lanka?

A: I Well, not on this visit but I think one of the things the institutions will be looking at is the model for delivery of education services and some of those might involve tie-ups because often that is an effective way of delivering this particular service. I understand that there are other foreign universities doing similar things in Sri Lanka, but these New Zealand institutions simply haven't been here before so they will have to study the market before making any decisions. As far as the universities in New Zealand, all of them are ranked in the top 500 in the world so they're all in the top 3% of world universities. We have eight universities in the country, and they're all with slightly different strengths. We don't say that one is superior to the other, we're confident across the board; we don't think we have a weak tier and a strong tier, we're confident that we have good universities and that that gives us a good offering. We also have a fairly comprehensive technical education program. We're using this visit, for a lot of the companies, as an education tour. In the sense that they're learning a lot. Their days are split between presentations in the morning and a lot of business-to-business conversations in the afternoon. So they're utilising their time fairly intensively and some of them will be looking at staying a bit longer after that. It's an opportunity for them to really explore.


Q: Is healthcare another sector that one of your delegations is looking to tap into?

A: I Yes. Fisher & Paykel are an old company in New Zealand. Their parent company is one of New Zealand's oldest companies as they have been around for about 140 years. Fisher & Paykel healthcare is a new part of it but it's been in operation for nearly 50 years now, so it's well established. It primarily does respiratory kind of systems, incubators for infants, high quality CPET machines for regulatory flow of oxygen and for patient health. They've been active in India for a long time now, working with a range of private hospitals. They have good products and are very confident that their products can cope in a variety of conditions. They've always been quite a cautious company in the sense that they expand when they're confident that they can both provide the product but also provide good support and good service. That's probably characteristic of New Zealand companies; they tend to be conscientious companies, they want to be able to maintain a good name. It's especially important for companies like Fisher & Paykel which have a global brand, a global presence and are operating in very sensitive areas.


Q: Your time as High Commissioner comes to an end next year. What do you want your lasting legacy to be?

A: I I would like to see more of New Zealand's best companies active in Sri Lanka; I think that's important for us in the future. We need to have a more diverse trading footprint here. The other thing I really want to achieve is I want to see us have a more systematic approach within the New Zealand government structure to support companies that are working here; that's something missions like this really help with because longer term it makes a much bigger difference to whether companies really get established and supported. I want to make sure this is a point in the road, not the end of the road. That people go away very enthused, very engaged and I think we're seeing that now.
---