Banknote printer De La Rue began operations in Sri Lanka in 1987 through a joint venture with the Sri Lankan Government and since then has had a long and profitable partnership that could expand to passports in the near future.

The company, which works with major global Central Banks including The Bank of England, prints about a billion banknotes at their local facility and plans to expand it with a Rs.2 billion investment in 2016 by closing its operations in Malta and switching them to Sri Lanka.

Following are excerpts of an interview with De La Rue Chief Executive Officer Martin Sutherland:
By Uditha Jayasinghe

Q: What is the purpose of your visit to Sri Lanka?

A: We have a factory here. De La Rue is the biggest printer of banknotes and passports in the world. We have a number of global hubs, including one here in Sri Lanka, we employ 300 people in a world class facility that produces more than a billion banknotes every year, both for the local Central Bank and for many other countries around the world.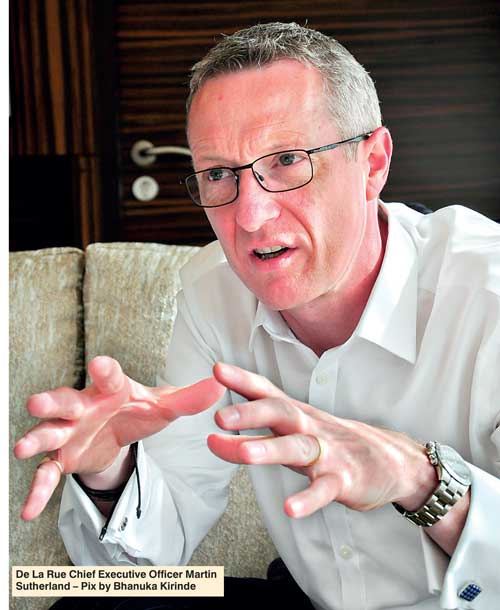 Q: This is your first personal engagement since the change of Government last year. Are you happy with the change? Do you think it's good for business?

A: We met with the President and a number of other ministers came to visit the factory, including the Ministers of Finance and Defence along with the French Ambassador and the President. This is my first personal visit since the new Government came to power but we did have other representatives come to Sri Lanka last year and meet with officials of the Central Bank. What I hope is that we will be able to build a very strong relationship with the Sri Lankan Government. We are keen to invest more in our production facilities here and we are seeking to work closely with the Government to make that investment worthwhile.


Q: Could you elaborate on the investment?

A: The first thing we are doing is globally De La Rue is consolidating its banknote printing facilities in what we call our "footprint review." So we are reducing the footprint of our banknote facilities from four to three. Unfortunately we are closing a site in Malta in Europe but what that means is the other three sites in UK, Kenya and Sri Lanka will see more investment to improve efficiency and volume of notes produced at each facility. That is part of the investment. The other part is to look at whether or not we can enhance the capability we have around identity solutions here in Sri Lanka. One thing we are very keen to do is work more closely with the Government on printing Sri Lankan passports. So we would be happy to make investments into the facility here to enable us to do that.


Q: In December De La Rue announced that it will reduce banknote printing and cut staff. Will those decisions impact your business here?

A: No. In fact quite the opposite. We are looking to increase the volume of production in Sri Lanka. We are decreasing our capacity globally but increasing it here. It is a very efficient and very well invested site, we are employing a lot of highly skilled workers here, so we see it as a great opportunity to put more into this site. Globally we are increasing capital investment over a two year period by 15 million pounds but in terms of the site here this year we will spend about Rs.2 billion to enhance current capability, upgrading equipment but also investing quality inspection systems.


Q: So there are no plans to increase employment numbers?

A: No. Not at the moment. But if we can engage with the Government on the passport project, which the Government is looking at, then that could mean additional investment. The Sri Lankan Government has been very happy with the returns they have been getting though we do not like to divulge revenues per plant.

Sri Lanka is looking to upgrade the passport business and the system behind it to move alongside changes in the world so e-passports are spoken about a lot and the Government is looking to roll out that programme and we currently run the British passport system including the data management system so we have a good track history and would very much like to get the Government involved in a similar venture here.


Q: What is the most intricate currency De La Rue had to print in Sri Lanka?

A: I don't think one currency is more difficult to print than another. One thing the facility is very good at is switching between the different prints of different countries. So many countries around the world print their own currency and they print basically the same currency the whole time. As a commercial printer the ability to switch from one currency to another is a complicated process that requires a lot of skill; to reset printing presses, to change designs, often working with different materials. Here we print both with polymer and on paper so switching from one to the other is where the skill lies. Most countries are now switching from paper to polymer banknotes and we have the ability here. At the start we did about 300 million banknotes a year and we then consolidated by closing our factory in Singapore and moving that business here, making the shifts double. In 2010 we invested $25 million and rebuilt the plant completely and now it's a three shift operation. It's been a continuous growth story.


Q: De La Rue is one of the oldest private-public partnerships in Sri Lanka and the new Government is keen to enter into more. What in your view were the successful elements that allowed De La Rue to continue for three decades?

A: I think the focus is not only to service the Sri Lankan Government. Obviously it is an important part of what we do and as a joint venture between De La Rue and the Sri Lankan Government it obviously makes sense for us to print local currency and it makes sense for us to be engaged in local passports now. But that is not the sole focus of the engagement, the focus is to drive a commercially viable and profitable enterprise where we are exporting and that is what drives growth and job creation. It is also highly skilled work so we are paying salaries and wages that are above the national average to make sure we get good skilled people.



Q: One of the biggest criticisms aimed at the Government is on their policy inconsistency, which could discourage foreign investment. Is that a concern in your view? What would be the three top things the Government would have to do to attract foreign companies?

A: We are looking for a stable economic and commercial environment. So policy consistency is important. We also want access to a skilled labour force. Number three would be an attractive fiscal policy with appropriate taxes and other incentives. The last point was what attracted us, certainly in the 1980s. We have survived through decades but we have also been left to our devices and that is a major plus.


Q: Are you pioneering new security measures in the currency notes De La Rue is printing?

A: Back in the UK we have a huge R&D facility and we bring in more security features to the market than any other manufacture in our industry. We have a very big and very focused investment programme around innovation. We are obviously working closely with many Central Banks around the world trying to stay one or two steps ahead of the counterfeiters. We have the entire end-to-end manufacturing process so everything from the paper to printing to new threads is combined with new anti-counterfeit technology. We use holograms and new types of polymer. We are increasing investment in R&D and product management. We see security features as a key part of the business. We launched a new security feature called Active this year, which we believe is the best on the market. Active combines lenticular technology with leading edge microscopic fine line printing to deliver a distinctive security thread that is exclusive to the banknote industry. As the note is tilted left to right it shows a clear switching effect with images changing from light colour to dark colour and vice versa. It's also highly durable and is already used in the Bahamas and Poland and we expect it to be picked up in new designs globally.


Q: Your company was linked to the Panama Papers and the company stance has been that the people involved have left. Is that still your stance or do you feel De La Rue should be held accountable?

A: I think distancing ourselves is history, there is nothing there. There is nothing I can do about the history. I have been in this position for 18 months and I am uncomfortable using third part sales agents who are not part of the De La Rue employee base and what we are doing is shifting our business model from dependence on third parties to making sure we have direct relationships with our customers where we ourselves are handling the whole commercial relationship. I think it makes good sense for us because it means we have good relations with our customers and clearly reduces any risk of third parties that we don't have direct control over.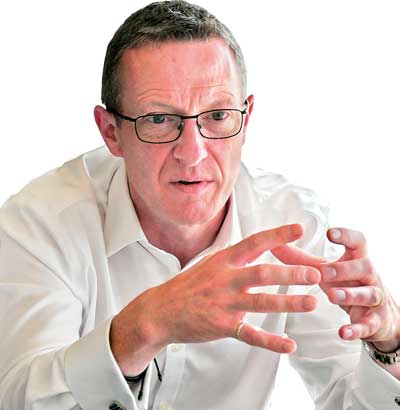 Q: Are you also looking at increasing transparency within the company? Because clearly the company made these payments over a period of time and that was not flagged internally so are you concerned your internal systems are not strong enough and they need to be upgraded?

A: We are one of the founding members of a movement called the Banknotes Ethics Initiative whose sole aim is to improve the ethics of the business. I've got zero tolerance for anything that has to do with bribery and corruption within our organisations we are the only publicly listed commercial banknote business in the world. We publish our annual accounts in full every year and so we have complete transparency over all the accounts in the business. De La Rue is the only commercial banknote printer to do so and we think we are leading the industry in terms of ethical behaviour. I have zero tolerance of unethical business practices and they will be dealt with whenever we find them.


Q: Have you seen a drop in the number of banknotes printed because of e-commerce?

A: Quite the reverse, global banknotes in circulation increase by about 4% each year. The Bank of England has statistics on its website showing a 5% increase and the number is probably higher in Sri Lanka. Most developing countries, because they see higher GDP growth, see stronger use of currency notes. So while there are electronic methods of payment people still like to use cash. A lot of people don't have bank accounts and if you don't have a bank account then you don't have a credit or debit card so money is a kind of social inclusion. Everyone can use cash.