Ishara De Silva was the Inspirational Speaker for the IBWG (International Business Women's Group) in Dubai World Trade Centre on 12 May. Ishara was invited to talk about how to achieve success as a woman given equality issues facing women in large corporates over the world. She was requested to share her life experiences from being a senior banker in London at a very young age, to changing her career completely by moving to Sri Lanka and setting up her own business. She is currently working in her family business and acting as a business consultant in London, Dubai and Sri Lanka. Below is an extract of her speech:
---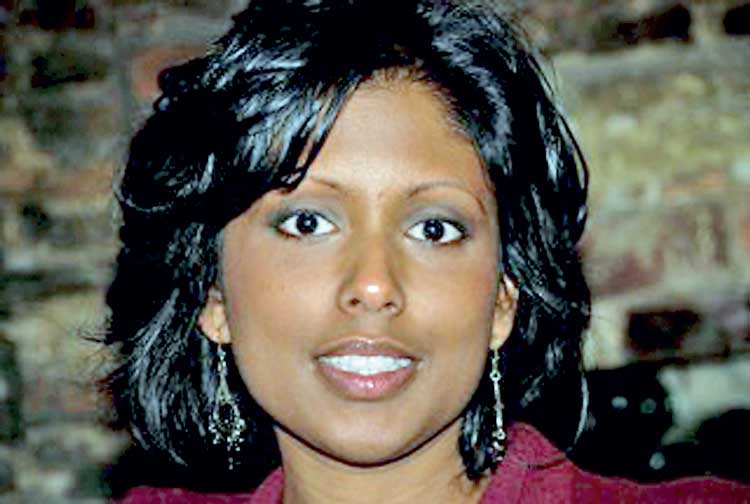 Ishara De Silva
It is not easy being born the younger girl child in Sri Lanka, where the preference is always the male and the older child. So discussions about the need for equality, started at home at a very young age. My father is a great man with such intellect and long-term vision for us as a family. Yet whilst it was accepted and planned to send my brother to a London University, we had to have family discussions over my education. Sending a girl by herself abroad was not the 'done' thing at that time. It was a lot of pressure for my parents but my father being a fair man offered me the same opportunity as my brother.

Growing up watching women in SL being dependent on the men in their families made me think. They were dependent on men for everything – for money but also for decisions and guidance. There was also my mom who without any formal education went on to become the most sought after interior designer in the country – all the while being a loving and supportive wife. It contributed to their happy marriage. This is the life I wanted.

Coming to the UK for university was hard. Just the sheer culture shock of coming from a traditional home, to living alone in a foreign country at the age of 17 was a lot to deal with. But for me, I either deal with it and go forward or quit and go home to SL – to be what?

It was soon clear that UK offered a lot more opportunities to learn and develop than SL. But, not being a UK citizen meant that a company needed to sponsor me if I was to remain in the country. I applied to around 50 jobs only to get rejection letters flowing in. It came down to the fact that I needed a work permit. Companies had a policy not to hire students needing work permits – there were enough UK and European students for them to hire. But they made an exception for Oxford/Cambridge students! So my whole purpose in life then was to get in to Oxford or Cambridge. After completing lengthy applications, entry exams and interviews I got in to Oxford for my Masters Degree.


Graduating from Oxford opened doors

Graduating top of the class from Oxford opened doors. My first job was a Consultant at Arthur Andersen. At that time, it was one of the most prestigious companies to work for – one of the six major consulting houses in the world. I chose technology consulting; mainly because it paid GBP 2000 per year more than other jobs. It was nothing but it seemed like a lot. Every penny made a difference. I came from a good life in Sri Lanka. My father wanted us to learn the value of money so he stopped spending for us after our education. We had to figure out our own lives. It was tough. Early graduate jobs in London really don't pay much. It's hardly enough to live. During the first year, I was in a room shared with six girls – found from the newspaper. It was hell.

By this time my definition of success was to have money; to earn as much as possible as fast as possible. I had watched and studied women with careers. It was not easy for them – managing the work life balance, financial constraints on family finances after having kids, impact of it all on work, etc was putting a strain on their marriages. So I decided that I am going to dedicate my 20s to my career. I am going to get to the top and then in my 30s, I will focus on having a family.

My goal was to become the Director or Senior Vice President at a Fortune 500 company by the time I was 30. This meant working hard and smart. At 26, I was promoted to Vice President at Citi bank – the youngest VP in the largest bank in the world. Life was supposed to get easier then but actually it got harder having to prove myself every day. Banking environment in London is tough. It takes no prisoners. If you are not good, you are kicked out immediately and here I was going for my Directorship.

Traditionally one has to be invited to apply for the Directorship and then pass three weeks of gruelling interviews ending with a final marathon six-hour interview with member of the board and HR together. All these interviews have to pass you through without any doubts for you to be promoted. If you don't pass the interview process, you cannot apply again for another three years.


I was ready

I felt I was ready, having proven myself worthy of it and knowing I could do a great job. I moved from Citi Bank to Barclays and realised most banks worked in the same way. The wait for my Directorship seemed endless even though my performance record was 'Outstanding'. Whilst the bank was grateful for my hard work, they tried to convince me to wait a few more years, but I was ready. I knew it in my heart.

So I called a meeting with our Chief Operating Office – the senior most official that my department reported into; explained to him that he needs to invite me to apply based on my performance record. The company had to recognise my worth and at least give me chance. If I truly wasn't ready, then I would fail the interview process and will deal with the consequences. The invite came through; a tough application and tougher interview process later, I was awarded my Directorship and Senior Vice Presidency at Barclays – the largest bank in the UK. At age 29, the biggest goal I set for myself was achieved.

I can't tell for sure whether there was discrimination; I am a young Sri Lanka woman and not a middle aged white male. The thing is – it didn't matter. There are always challenges to our goals. We need to understand this, recognise the challenges, study them and then work to overcome them. Never give up.

Directorship in my pocket, I was ready now to meet the man of my dreams, get married and have babies. This was my definition of success now: To be married and have kids. Just then my whole world came crashing down.


One nightmare after another

Soon after my 30th birthday I was unwell. The nagging little problems in my womb had finally got worse. I was put on a high-dose hormone treatment to help balance out my body hormones. It really was one nightmare after another…work was demanding more as I am now a Director; the youngest one in the bank by about 15 years or so. I lived alon

e – my parents lived in SL and my brother lived in NY. The hormone treatment was destroying my body, causing severe mood swings, aching joints and worst of all and severe weight gain. I put on 20 kilograms in just four weeks and it destroyed all of my self-confidence.

I started really looking for answers about life – the meaning of it. What was my purpose? Is my job important? What does it represent? There were so many of my friends who are married with kids yet, they were so unhappy. So why do I want to get married? Why do I want to have kids? Can I have kids now? If I cannot, will someone marry me? If I didn't marry or have kids, can I still be happy? I still had a job and lifestyle that most people would envy, so is this enough? Am I a person of value? Are the lives of people close to me better because I am in their lives? Is the world a better place because I have lived in it for 30 years? Am I happy? What would make me happy?

A very good friend introduced me into meditation – about meditation and holistic health. How our minds work and how it is connected to our physical body and how it can bring lasting happiness. I learnt about Ayurveda – an ancient form of holistic health. Ayurveda coupled with meditation really helped. I don't do things by halves. If I get into something, I follow through. So I spent three months in an Ayurveda Resort in Sri Lanka – unwinding and learning about myself and really learning Buddhism and meditation. Then I went for regular meditation retreats in London; spent weeks and months meditating and meeting really wise meditative Buddhist monks. It started to bring clarity. The answers were all within me. I just needed to tap into myself. The experience had changed me. My definition of success had changed.


What I want to do with my life

I thought long and hard about what I want to do with my life. I decided I want to spend some time with my parents. Be there for them in their old age, after all they had done so much for me. I had studied at Visakha in Sri Lanka – it was free education. I felt the need to do something for my country where I was born. Five years after I became a Director, I was a changed person and in my heart of hearts, my job didn't represent who I really am now. Against everyone's advice, I quit my banking job, packed up and moved to Sri Lanka to create my own company. To create a company that does good and live a life of value. I wanted to help women, to help underprivileged people in SL, help the village my father came from and to protect the environment.

Now I have taken over our family business and setting up others that are my own. It is not easy being a female business woman in SL. Specially after working in London – in the city and in large corporate – all super efficient and result driven environments. All of my adult life was spent in the UK. Now here I am in Sri Lanka, running a small family business – one which I can run with my eyes closed.

Yet I didn't know how things are done in Sri Lanka. I am not used to using influence or fame. I am used to working hard and smart to achieve results. Previous bosses were calling me back. The COO of Barclays called and said to pick any job in the bank and it will be mine. They just wanted me back. To add to this pressure, my social life was suffering. All my close friends were in London. I didn't know anyone here. I am now a strange mix of British and Sri Lankan. I felt alone and misunderstood in my own country. My own parents didn't know who I am now. The woman I have now become.

Despite the initial struggles when I first moved back, I set myself a goal; decided that for the sake of my parents whom I loved so dearly, I will try my hardest to live and work in Sri Lanka for three years without looking back. However hard it got and however frustrated I felt, I will keep going. Keep trying harder and harder. At the end of the three years, I will re-evaluate and decide if I am happier in London or in Sri Lanka and make a choice.

It is now two and a half years since I moved. My vision is becoming a reality. My businesses are starting to look up and I have done an enormous amount of charity work. I have improved the lives of so many in our village and those that work for me. It feels good.


Women and success

To end this speech, I will leave you with a few of my very candid thoughts about women and success. May be we don't live in a world that treats women and men equally and we should all be equal. The fact is it doesn't matter. The world is what it is and people all over the world in every country, race, religion and even workplace have their own view of how things should be. Their own cultures, teachings, experiences and learnings have formed their personal view of the world, which they will use to judge us with. But it is their issue. If we choose not to let it bother us, it cannot. Sometimes we let these things bother us too much – to de-motivate us. To think there is no point. We give up at the first few barriers; we let our emotions get the better of us. And worse, we sometimes lose perspective and sight of our goal.

To achieve real happiness, we need to understand who we are and what makes us happy. Then set ourselves goals and then work towards it, overcoming the challenges that are thrown at us and not giving up. For me, it doesn't matter if the world doesn't treat me equally. It is life. I have been dealt a hand and I will play it to the best of my ability. Timing my game and choosing my battles. I can't have it all. No one does. Not even men. But I will make best use of what I have. We are the creators of our own destiny and if we are willing to put the effort required, we can achieve almost anything. Success is there for everyone to reach – anyone who is willing to work for it.