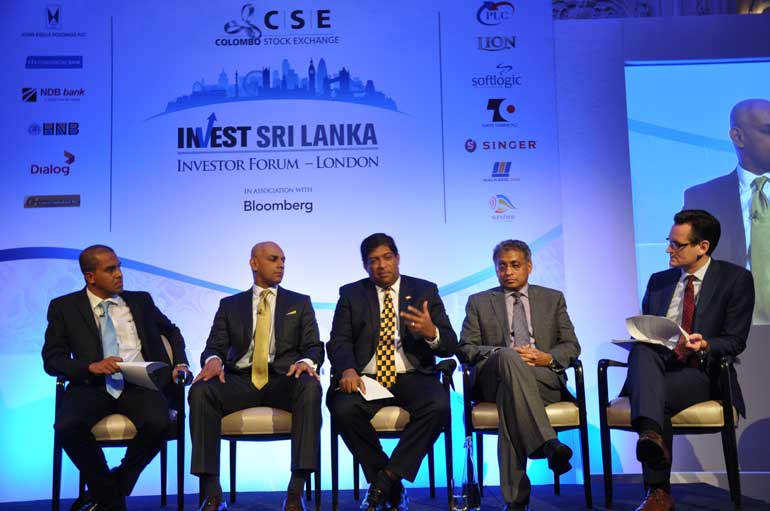 Finance Minister Ravi Karunanayake gestures during the panel discussion at the Invest Sri Lanka Forum held at The Savoy Hotel, London. Others from left are Copal Amba Sri Lanka Country Head Chanakya Dissanayake, SEC Director General Vajira Wijegunawardane, CSE Chairman Vajira Kulatilaka and moderator Bloomberg's Head of Corporate and Investor Access Tom Tyler


:Moderator: We have heard some very positive remarks from the gentlemen on stage today. And as was mentioned earlier, the CSE has outperformed many of its regional peers, even in the MSCI index. This is all a very optimistic view, but I would like to ask the panel sort of pessimistically, what concerns you going into 2016?

:Vajira Kulatilaka: I think Sri Lanka is in a very positive position at the moment and we can sustain our growth. My only concern is, what will the world offer us? Because the world is currently in a very risky situation. Will America continue to grow as it is or will things change? China has a problem at the moment so how will this affect us? As I always say, we had a war and the world was doing well but when things changed for us Lehman Brothers came down and things became adverse. Therefore this is our concern.

Vajira Wijegunawardene: I would like to add, in terms of regulation, our regulatory framework for the Sri Lankan capital market was passed many years ago. Therefore we believe that if we benchmark our regulatory framework in-line with international standards we will be able to attract the correct type of investors to Sri Lanka.

Chanakya Dissanayake: I think this will depend greatly on obtaining a fine balance between fiscal reforms and not dampening too much the positive investor sentiment and not weakening the demand conditions too much. I think there is a fine balance needed and there are certain risks associated with that. I think that taking over some of the loss-making State institutions and even listing part of those institutions can create a stronger fiscal environment going into 2016-2017. However there will certainly be some level of political risks associated with that.

Ravi Karunanayake: The only negative aspect that I could see is the external turbulences, most of it is well within our control and we will do everything possible to increase the positive sentiments that are currently in existence. The exchange rate as well, when China devalues by 12% and India devalues by 9% Sri Lanka gets caught up. That is really the only negativity that I see; and I believe that too will be corrected before too long.

:Moderator: Minister, how would you address concerns that investors would have in participating in further efforts with regards to infrastructure projects?

: Ravi Karunanayake: All I can say is that in the areas of infrastructure we have opened up and ensured that there is an even playing field. We want to ensure that there is the positive element that comes in. Unsolicited proposals will be something of the past, these proposals will be looked at; but to a great extent the best of companies will be given an opportunity – irrespective of what country it comes from. We would basically have our priorities set out; and we would love to see a public-private partnership that takes place; with BOTs and BOOs being given more priority. The Government does not need to be doing everything; we would certainly like to see the robust private sector coming forward. We are opening up the roads, the expressways, the power generation. Where the renewable energies will be shown and moved forward on those areas. Education and health will have priority from the government and job creation in the private sector will also be something that we look at.

:Moderator: Vajira Wijegunawardene, what guarantees can you give investors with regards to ease of moving money in-and-out of the country with the new regulations that you are proposing?

:Vajira Wijegunawardene: Already that matter has been streamlined, because any investments coming into the country needs to come in what is called a "Securities Investment Account". Therefore whatever monies that come in there is free repatriation. We have also made it a point, in order to include Sri Lankans living abroad, that whatever investments come through Unit Trusts that it can by-pass the "Securities Investment Account" – to make it much easier for people to invest in Sri Lanka.

Ravi Karunanayake: We have opened up very much; the NRFCs to show what we intend on doing in the future. Today money has been opened up; where $ 10,000 can be moved in-and-out without any questions asked, exchange regulations will be something of the past and many more dramatic changes will be seen on 20November.

:Moderator: Vajira Kulatilaka, looking at the IPO pipeline for the coming year, may be you can give us a little overview for the CSE and perhaps any incentives you are putting in place to encourage foreign listing on the CSE – which is something that you mentioned earlier.

:Vajira Kulatilaka: I think IPO pipeline is developing there were requests for some of the largest IPOs that can take place and I know that investment banks have enthusiastically bided on those. We can see from medium to large scale type of IPOs and I am quite positive that it will happen. Wearing my investment banking hat I can say that activities are happening in the market and it will come to the market next year. On the listing side, we have asked for certain regulatory constraints to be taken out, so that any foreign company can list in Sri Lanka. As we are developing international standard infrastructure, why can't we offer that to someone outside to list in Sri Lanka; Maldives is one example. We have entered into a MoU, for them to start listing – however before promoting that there are certain constraints and we have asked them to remove those.

Ravi Karunanayake: I would like to see that happening latest by next year – that is Government policy.

:Member of the audience – Naveen Anandakumar from Building Design Partnership, UK: We have been involved in several real-estate projects in Sri Lanka and we have been speaking to many investors in the UK and Switzerland in getting involved in many of these real-estate schemes. One of the things that we have been hearing from them, as a challenge is that there are very few vehicles for them to participate in investments in Sri Lanka. Therefore I would be interested to hear about the real-estate investment trusts that could be listed on the CSE.

:Vajira Kulatilaka: We have a few regulatory and procedural aspects that we have to clear and as soon as that is done we will announce the procedures to do it. We are seeing what we can do with the transfer taxation that is there, 4% tax on land transfers and we also need some waivers obtained with regards to the land alienation Act and finally how do you value properties when you buy it over; because we don't have transparent valuation mechanisms when it comes to land.

Ravi Karunanayake: This land policy is certainly something that we will look into and the Prime Minister will address this issue on 5 November and thereafter any land policies will be directed from the investment that comes in. If there is a sizeable amount of investment that comes in, on a flagship basis status – they will be exempted. All the leasing taxes that are there, will be abolished.

:Member of the audience – Schroders Investment Management, Rob Ledger: Can you talk a little bit about the Super-Gains tax? What was the thought process on that and is that going to be a one-off? And also what are you thinking in terms of taxation, both direct and indirect?

: Ravi Karunanayake: The SuperGains Tax has really created some issues and some enthusiasm, as I can see. But when we inherited the economy on 8January 2015 we had made certain promises that we had to implement. Through that process, we as a professional Government didn't want to create expenditure and this was something that we implemented 21 days after getting elected. But when we saw this being legislated recently, I did mention that we would open this up to certain changes and our intention was to ensure that we re-plough it back into the economy. And I am sure that, with the exception of one or two companies the rest of them have taken it in good spirit. Likewise our taxation policy will change, with more direction towards indirect taxation. We hope to increase our revenue to GDP at least to 14 to 16%. But we will ensure that, these changes don't have any impact on the drive for investments. Certainly our intention will be higher compliance and a lesser tax base.