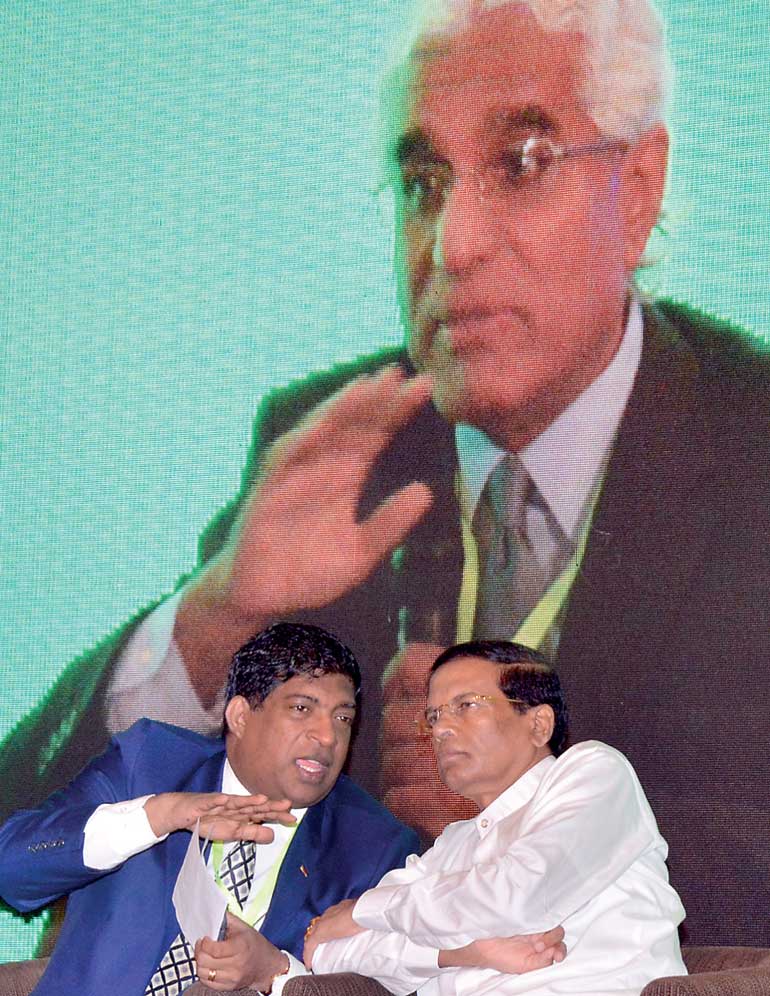 President Maithripala Sirisena listens to Finance Minister Ravi Karunanayake as Central Bank Governor Dr. Indrajit Coomaraswamy addresses the Sri Lanka Economic Summit inauguration yesterday as seen on the large screen - Pix by Upul Abayasekara
Reuters: Two Sri Lankan economists told a summit attended by President Maithripala Sirisena and his finance minister on Tuesday the government's economic policies were destabilising and inconsistent, one calling its price controls "supreme idiocy".

Sri Lanka has been struggling against a balance of payments crisis, partly caused by heavy external borrowing under the previous government. In May, the International Monetary Fund (IMF) and Colombo signed a $1.5 billion bailout agreement.

"There has been supreme idiocy of price controls," Razeen Sally, an economics professor and head of Sri Lanka's economic policy think tank, the Institute of Policy Studies, told an annual economic summit in Colombo.

Sri Lanka last month announced price controls of essential goods but local traders protested saying the new prices were lower than those of imports.

"There have been many ad hoc measures on taxation. Businesses are very vexed because of the high level of unpredictability and uncertainties," Sally said, and accused the government of an "excessive increase in state spending and salaries."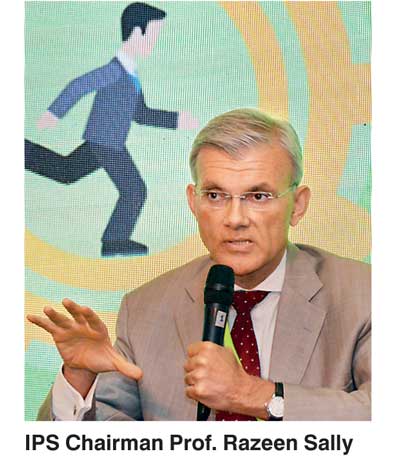 Sirisena, who came to power in January last year, and Finance Minister Ravi Karunanayake were both in the audience at the time. After the 2016 budget was signed off in November, the government introduced a number of amendments, including tax increases, which were among the measures requested by the IMF as part of the loan deal.

But last month the Supreme Court temporarily suspended these because they had not yet been approved by the parliament.

Sally said the government should refrain from further "ad hoc" tax measures, and should focus on fiscal consolidation and improving local business and investment climate.

Another economist, former deputy central bank governor Weerakoon Wijewardena, told the forum he believed the government's fiscal and monetary policies were contradictory, referring in particular to the finance ministry's introduction of tax concessions for some vehicles, days after the central bank raised rates last week.

The central bank raised the key policy interest rates by 50 basis points last week for the first time since February.

"Both monetary and fiscal policies are working in opposite directions," Wijewardena told the audience.

"Now, in order to negate the tax concession, the central bank will have to increase the policy rates further in the near future."

Finance Minister Karunanayake responded at the forum to defend the tax concession for vehicles, saying it was targeted and would therefore have minimum impact on the government revenue.