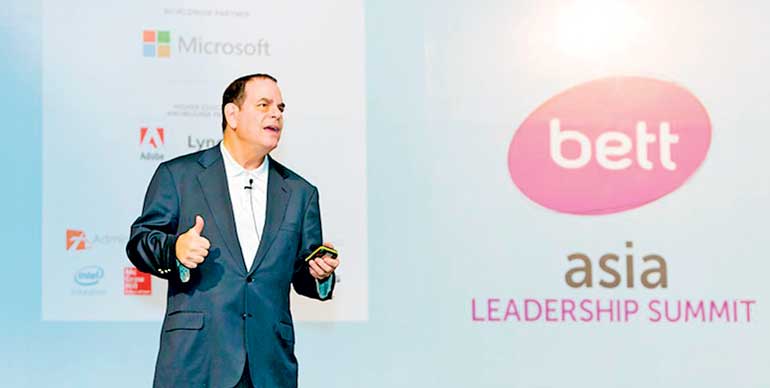 Founder & Executive Director of the Global Future Education Foundation and Institute USA Marc Prensky
By Kiyoshi Berman in Singapore

The second Bett Asia Leadership Summit and Expo, widely considered the most senior gathering of educators across Asia, was held in Singapore on 17 and 18 November. The event was organised with worldwide partner Microsoft and a number of Higher Education Knowledge partners.

Asian countries occupied the top five spots in the OECD global school rankings with the Singaporean Education System ranked the best. This demonstrates more widely the pace of development of education across the region. Through Bett Asia's comprehensive speaker program representing over 30 countries, the very best practices were shared and the most pressing opportunities and challenges were discussed.

There were streams with different focus areas - the emerging global trends through which the transformation in education in teaching and learning was discussed; higher and further education and case studies sharing best practices; and the School Leaders Academy with practical and interactive workshops. The Expo showcased some of Singapore's most exciting education technology projects, Ed-tech start-ups and key players in Ed-tech advancements.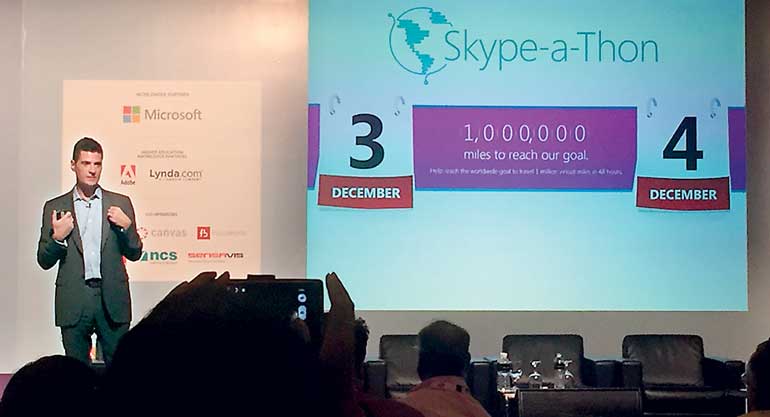 Vice President of Worldwide Education, Microsoft, Anthony Salcito


Transforming education – Where we are now and where we are heading

"Possibilities are endless, transformation is happening before our eyes. But we have to be very careful, because the transformation of technology and changes has cut more than one way. What has just happened is showing probably more than anything else, the need for better education which improves the world and makes the world a more peaceful place. I need you to keep in mind that education needs to be more than just an academic exercise," Founder & Executive Director of the Global Future Education Foundation and Institute USA Marc Prensky said.

"What should we expect from kids today? I think there is only one answer to that. Improve the world - don't sit there and get ready to improve the world but actually improve the world. The reason it's so important is because it has already started. I have seen kids all over the world who are ready and willing and actually being active. What do they need from us? They need help in applying their passions. They need our respect and trust. That's the number one thing kids ask for. And they need independence from all the curricular stuff that has been put up. They need from us to believe in them. Kids have been most motivated when they were doing real projects in the real world for real audiences and really preparing them for the world they are going to live in, "he added.

British High Commissioner to Singapore Scott Winghtman highlighted the importance of holding the Bett Asia summit in Singapore.

"The educators of Asia need to be equipped with the tools required for the 21st Century classroom. It's the next step to share knowledge and ideas internationally, sharing education practices and ultimately improving outcomes for students... Students today need real-world learning to prepare for the world in the digital age. Technology is a tool and an enabler in this context, an essential ingredient for success in a modern world. But this is only as effective as the leaders and teachers who are deploying and implementing these strategies to achieve the key learning goals," he said.

Speaking about Singapore's longstanding and strong relationship with the UK, he said "Education is at the heart of our relationships. Every year, over seven-thousand Singaporean students go to the UK to study at one of its world-class universities. In fact, more than half of the Singaporean cabinet members have studied in the UK. There are more Cambridge graduates in Singapore's cabinet than in the UK's cabinet. Each year you see more British students coming here to study at Singaporean universities. Right here in Singapore, there are fifty-thousand students of many nationalities studying for UK qualifications offered by Singaporean education institutes."

Chief Executive of the Singapore Workforce Development Agency NG Cher Pong, meanwhile, sought to discuss how lifelong learning can be transformed through technology. Rapid technological changes cause a VUCA (Volatility, Uncertainty, Complexity and Ambiguity) environment while job and skills obsolescence will rapidly increase. Though certain jobs will be replaced by machines, technology will generate the necessity for other high-skilled jobs. Moreover, disruptive technology will shift the boundaries between man and machine at the workplace and retirement age is expected to rise among developed countries.

He described the benefits of machine learning by taking 'IBM Watson' in the health industry as an example. "The IBM Watson can take in 65 medical instructions per second. That is an amazing rate of absorption. It's much faster than any human being can ever learn. But this computer will not replace the physician. Instead the role adopted will be changed, where the physician will take on a greater evaluation focus integrating recommendations produced by machines to suit the need of their individual patients."

He pointed out that in order to harness technology purposefully, we need to improve accessibility, increase effectiveness, raise quality and achieve breakthrough.

Political Deputy Minister of the Ministry of Education, Taiwan, Lucia Lin spoke about how reforms in her country are giving schools autonomy in implementing the curriculum.

"One of the factors that promote the standards of education in Taiwan is the high quality of teachers – 95% of teachers hold a bachelor's degree and more than 50% of high-school teachers hold a master's degree, so lifelong education is really popular in Taiwan. We realise that the world is constantly changing and the schools must keep up," she said.

Lin underscored that Taiwan has a good foundation for school autonomy in curriculum implementation. The Taiwan new curriculum guidelines provide more flexibility but more detailed implementation suggestions while enabling curriculum implementation for adaptive learning of students and school-based development. The 'Co-Lab at MOE' can help systematically implement the new guidelines in 2018. Yet, there are many challenges ahead that will be faced with rigorous mechanism, transparent procedure, active listening and inter-department collaboration.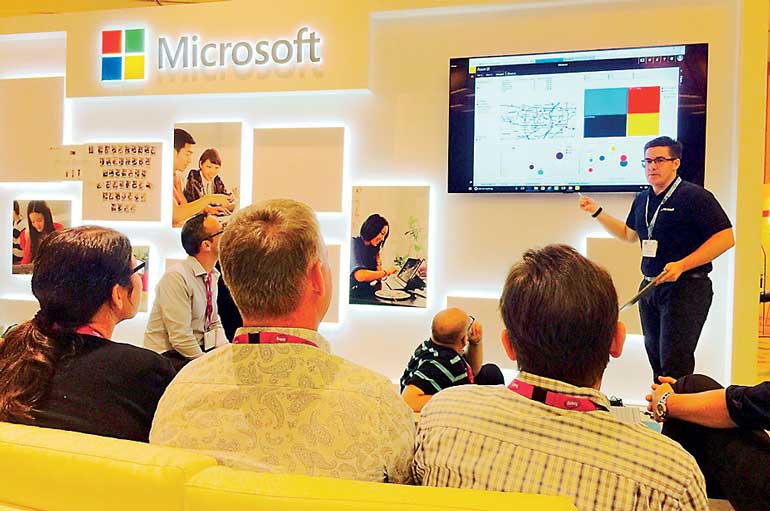 Preparing for those futuristic jobs

Director Education, Sectoral Innovation Group, Infocomm Development Authority (IDA), Singapore, Adrian Lim presented on innovating for education in a smart nation.

Lim edified the audience about what futuristic jobs might look like. He pointed out a few examples including 'Drone Operator' where the person is responsible for manoeuvring drones and 'Digital Detox' where the person is responsible of fixing Wi-Fi and other internet access points.

Lim further presented facts from the Infocomm Media 2025 report which shows the transformation expected in education. At present, we have the knowledge consumption based learning where learners have to cover prescribed content. Moving forward, Personalised Learning via analytics will be made available; where learners are empowered to take change of their learning. This will involve learning analytics-driven and customised instructions suitable for students' needs and adult learners' knowledge and filling the skills gap with Big Data and analytics for Adaptive Blended learning. The long term goal would be Ubiquitous Connectedness, learning with wearable and sensors where learners interact and connect with each other and their environment through various devices.


Emerging global trends in education

Director of Asia Worldwide Education, Microsoft Corporation Singapore, Bruce Thompson spoke on the skills today's educators and leaders need to learn to stay ahead of the disruptive technologies curve.

"When we were kids, our parents would deal with top-down hierarchies, increasing the market share, work in a function based society and were all about the company, organisation-centric and were working at the company for 30+ years and there was work-life balance. That's changed! The flip-side is that, it's all about networking and relationships out there in the workforce. It's all about creating new markets. You got project-based work going on and a lot of that project-based work is solving long lines of technology evolution. You've got support teams around the world to work on and off on projects as they go. The team stays together, the team is really talented and it's not the company- the team. It's more about being people-centric, making sure that everybody is doing what they need to do on the team. It's not so much about making money for the company anymore. Work-life is going to be about life-work. Because of these devices we can be working anytime, anywhere. And most of the folks out there will have done 10 or more jobs before they are 40," he said.

"The work world has changed. It requires 21st century skills. Students are already learning without teachers. It's happening outside school. Technology is going to keep coming whether it's your back-end servers, middleware or front-end devices. There are classrooms that use devices to surf the internet, do routine tasks and maybe homework. The other end would be optimising technology for multimedia presentations, simulations and so on. That's not happening today. Whose fault is it? The problem is the fulcrum of the system is teachers; being in the middle, teachers are having a very difficult time trying to keep up," Thompson asserted.

He further explained the 21st century teaching methods that entails, blended learning, gamification, simulation, flipped-classroom, project-based learning, inter-disciplinary learning, personalised learning and inclusive classroom.

Creative Director and Founder of SCOOL, Finland, Saku Tuominen explained the innovative approaches they have deployed in schools in Finland; the experiments carried out and teacher training provided. With the great success they have achieved, he encouraged all educators who are interested to contact him for support through their non-profit organisation.


The maker mindset

"The tyranny of road-learning sucks the joy and curiosity out of the students. Making is a mindset. Many of us have forgotten the joy of making, getting your hands into the work and beginning to make, thinking visible. Letting people see what you're thinking and how your thoughts are formed," said Director Innovative Learning Centre, University of British Columbia Canada, Susan Crichton.

"The maker mindset starts with the design thinking process. It's a very much intentional introduction of making it to the classroom in such a way that students are lead through the process of thinking creatively. But then, if the teachers don't experience making for themselves, they are never going to be able to help their students experience it. Now we talk about the importance of 21st Century learning but we are actually talking about asking teachers to teach in way they have never taught... The process we're trying to come up with is design thinking process. It starts with a notion of empathy; it asks, why am I making this? For whom am I making this? This is a human-centric design that somebody's actually going to use this or it's for some purpose?"


Education change-makers

The 'Education Changemakers' team consisting of CEO and co-founder of Education Dave Faulker, Co-founder and Director of Innovation Aaron Tait, Director of Programs Louka Parry and Director of Learning Summer Howarth presented how innovative teaching techniques have greatly improved schools around the world.

The Changemaker Program is Australia's premiere education learning experience for passionate educators. This award winning program is based on four years of fine tuning, as well as research with educators and system leaders across Australia and the globe.

Parry explained that they carry out this program in all types of schools ranging from high performing international schools to remote schools in disadvantaged communities.

"We partnered with Microsoft as Education Changemakers to basically support school leaders around the world. So one month ago, we were in Mexico working with school leaders from all over Latin America. Ultimately, it's about school leaders' passion to make change. Being a leader is hard everywhere in the world and even though schools look different and the principals are different, the underlying principles are the same. The work that we do on a global level is basically to support that incredible genius that already exist within teachers and school leaders, so they can make change more effectively. We aim to provide an environment where kids can thrive in education rather than be passive receivers of information. So it doesn't matter where you are in the world, every kid gets an education, there are skilful teachers and every school has great leadership and every community has amazing schools. When we get to that point, we know we've succeeded," he said.

Commenting on the work they do in South Asia, Tait said "In South Asia we worked in India, we are working with Bangladesh and Nepal now. We support teachers around the world and we also support entrepreneurs. So if an entrepreneur has a (education related) business idea we will help them to build that business and change more lives. We work with around 195 entrepreneurs. In 2016, we will be launching a project in Bangladesh and Nepal. On this conference, there are people right across Asia, we are already talking with groups in Philippines, Singapore, Brunei and so on."

Tait further described the Changemaker program, "We work for 12 months with the school on a five-day workshop. We start with a two-day workshop where they understand the problems and start innovating solutions. Then we'd come back in three months for another two days. We work with them to find out happened, how it has affected the culture of the school and whether people have accepted the change or not and then we come back at the end of the year and we find if the change was good, what they learnt and how can other schools experience this change."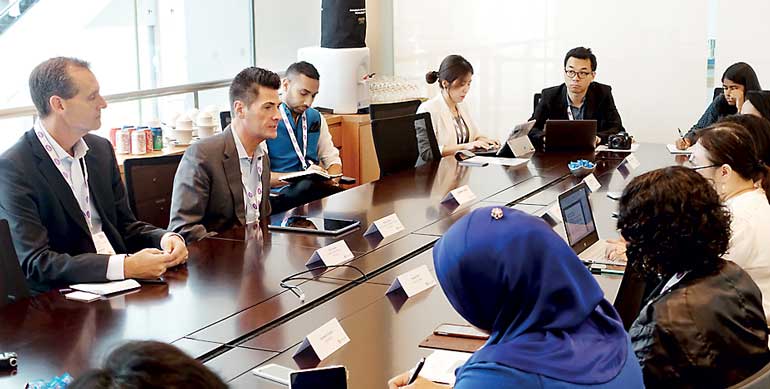 Microsoft Education Initiatives

Vice President of Worldwide Education, Microsoft, Anthony Salcito explained their contribution to improve education globally. Salcito works with education institutes and partners globally to embrace technology to optimise learning environments and student achievement. He oversees the worldwide execution of Microsoft's vision for education and its partnership and technology outreach efforts via the partners in learning, partners in technology access and public and private alliances program.

Salcito started off by explaining how the game Minecraft is now being used in classrooms as an effective teaching technique. "To the community of 100 million players around the world, Minecraft represents many things-creativity, strategy, collaboration and survival just to name a few. What many not realise is that Minecraft has the power to transform learning on a global scale. By creating a virtual world and then advancing in it, students can learn digital citizenship, empathy, social skills and even improve their literacy while getting real time feedback on their problem solving skills from the teacher. In fact, more than 7,000 teachers around the world are already using Minecraft in the classroom," he said.

He also touched on the Minecraft-inspired coding tutorial that has been released with Code.org for students and educators. This is created especially for 'Hour of Code', an annual global campaign held during Computer Science Education Week (Dec 7-13). The tutorial introduces players to basic coding within a fun and familiar environment.

"As technology has become an integral part of people's daily lives around the world, we're seeing a growing demand from students, parents, teachers, governments and non-profits to teach youth not only how to use technology but also how to create technology to help them become the innovators and drivers of growth and opportunity in their communities. Learning computer science builds critical skills like computational thinking and problem solving that strengthen abilities in any industry and any sector," he added.

Salcito further explained the new resources for educators and school leaders available today. "To truly transform education; access to tools, proper training and resources are critical. We have announced a first of its kind partnership with edX to create new courses for school leaders and to provide greater access to Microsoft's existing school leader resources. Together we will develop online courses to help guide principals and headmasters, superintendents and school leaders in improving their schools and enhancing classroom learning."

"This partnership expands upon the collaboration between edX and Microsoft in online learning. Microsoft offers more than 35 online courses, both MOOCs (Massive Open Online Courses) and professional education courses on edX.org. These new courses will be developed with edX University partners and will be available for the new school year."

"Microsoft has a long history of supporting educators and we remain committed to providing teachers, the tools and training needed to redefine learning. Over the years, we've trained 11 million educators through our educator community. Just this last year, close to half million more educators came to Microsoft trainings and workshops online, in our stores and at events. And we're excited to announce the expansion of our Microsoft Innovative Educator Experts and Microsoft Showcase and Associate Showcase School Programs. Today more than 5,600 educators and more than 550 schools are part of the programs designed to highlight their innovative work and provide greater resources to support their success," he highlighted.

Moreover, Microsoft will also be hosting a global 'Skype-a-thon' on 3 and 4 December with the goal to expand the walls of classrooms. Students all over the world will connect with guest speakers and other classrooms, go on virtual field trips, or play games of Mystery Skype. Salcito invites all students to join this program and help them to travel one million virtual miles in two days, as he himself Skype with classrooms around the world for one straight day.

"We made it our mission to partner with people and organisations who share our passion. Together, we can empower every student on the planet to achieve more," he emphasised.


Q&A session

Education Lead APAC Don Carlson and Vice President, Worldwide Education of Microsoft, Anthony Salcito discussed their approaches further.


Q: What are the hindrances to transforming education?

A: Rich countries like my own hasn't transformed broadly enough either. Part of the challenge has been, and we believe leaders need to help with this- you got to think differently. I often tell teachers, your students are learning without you. I ask them how that makes them feel. Most educators feel badly about that statement, they feel that their role is no longer valued. The reality is, in the world of technology you have to just change your expectations. It's not just about digitising the classrooms. It's about how do we use technology in the world to create new connections beyond the classrooms for learners. When educators don't have any computers but understands that students are living in a digital world with access to information, collaboration and sharing; how do they inspire students to learn? How do they help students go outside of the classroom to progress? How do they keep a dialogue that's not just a lecture but goes further inside the life of a student? That's the challenge in transformation we have to act on.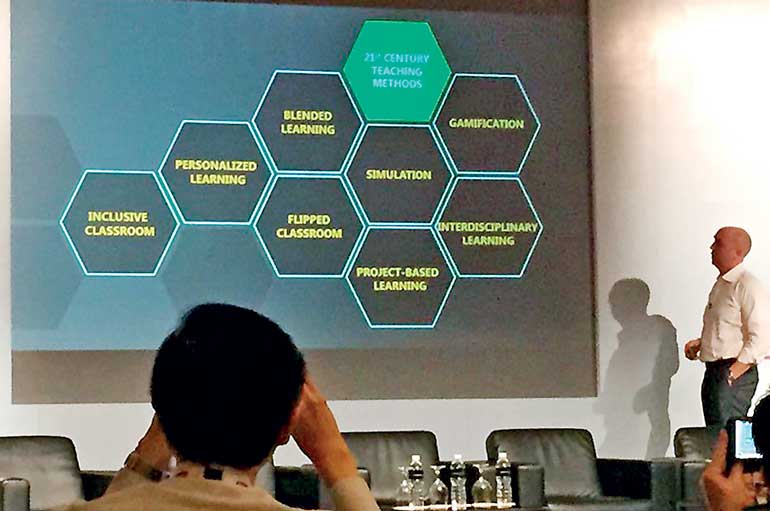 Q: How big is the technology gap in the emerging world and the developed world?

A: Increasingly technology is closing the gap but it's actually lifting it up. In many cases, the countries that are emerging not only regards to their economic development but also in technology usage; have the better opportunities to leapfrog. These are mostly the countries with the less technology infrastructure. Because over the last few decades, the capabilities of technology have gotten better, tools have gotten easier, cheaper and more ubiquitous. Same with economic development- If you can align your education output with the economic emergence, which would give you can opportunity to fuel economy. Other countries where their education output and economic condition is not in alignment, it will take a while to catch up.


Q: What is Microsoft's next big move on education?

A: We have been working on data to make learning not only more immersive but more personal and impactful and making it easier to work across systems. For instance, this way teachers are not only going to know who failed the tests but will know who are at risk of failing the tests and work with them.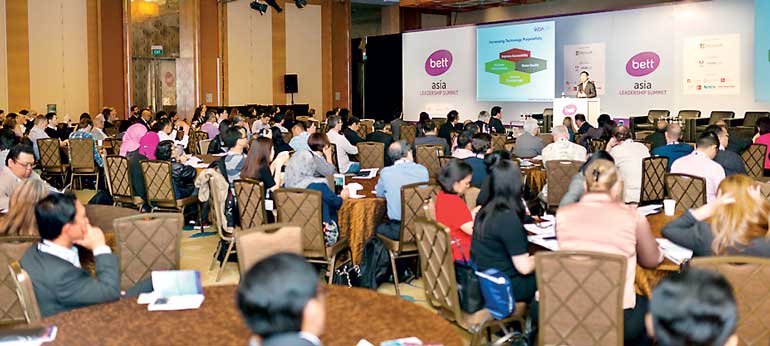 Educational solutions showcased at the expo

APAC Device Solutions Specialist at Microsoft Amit Pawar briefly explained their education solutions. "The focus of Microsoft is to empower students and teachers to achieve more. The big bold ambitions are around more personal computing for teachers and students. Second is a productivity platform like Office365 that enables people to collaborate and communicate and create content. Third is the intelligent Cloud that enables you to deploy applications, use it for research and analytics. For that, we're using solutions like Power BI which allows you to gather data from multiple solutions and apply machine-learning to it. So you can use predictive analysis of what's going on. The way we do that is to integrate that with other applications that run on devices that make sense for you. When you're learning, doing assessments or doing content creation, all of this can tie together rather than being thought of as separate things. The concept of Microsoft is not to have one or the other but a continuation of the device, productivity and the Cloud."

Another exciting education solution was the '3D Classroom'. This visual learning tool creates an environment of inclusion. It helps all students in the classroom to become more motivated and involved and to achieve good results. The educator navigates freely through the interactive, realistic visualisations and using their own words and pedagogy they can adapt the lessons to suit the students. The learning tool is currently used at all levels of education, from kindergarten to college. The 3D classroom contains subject modules for biology, chemistry, physics, mathematics, geography and engineering. The learning tool does not contain text or sound and is not limited to any curriculum.

'Literatu' was another product solution presented at the expo. This platform collects, combines and measures student learning data at the speed of teaching. Using raw-data driven insights teachers can target their teaching to where students are succeeding or struggling. Literatu simplifies the data collection for teachers; gives a holistic look across the data in a single progress view; links performance and reporting to curriculums and standards; and adapts assessments to match student needs and levels.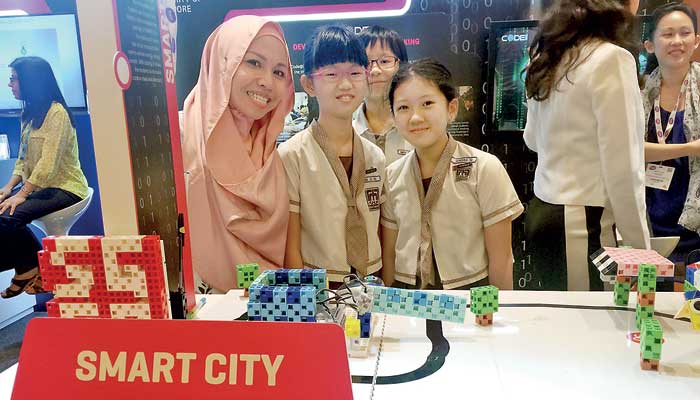 Kids taking initiatives to make changes

A group of Singaporean fourth-grade students showcased how they designed and programmed (coded) a model of a Smart-City. This included a driver-less car which operates on solar power and a device that can be used by elderly people to automatically inform for help if they fall down, get sick or face an accident.

The kids explained the thinking behind the design. "The first step was to identify the problems related to the topic. After observing the community, we found that the cost of living was very high, and there was poor awareness about elderly support. An underlying problem we selected was traffic congestion and taxi shortage. The other issue was air pollution, resource wastage and aging community..."


Comments from the Sri Lankan delegates

Two school leaders, two officials from Information Technology Agency (ICTA) and the Vice Chairman of the University Grants Commission attended this summit from Sri Lanka.

Vice Chairman of UGC Sri Lanka Prof. P.S.M. Gunaratne shared his thoughts about the summit: "It was a good chance to meet developers of new technologies. This summit is especially focused on educators and education institutes such as schools and colleges where technology can be used to facilitate teaching and learning processes. In countries like Sri Lanka, where access to higher education is limited, the access can be scaled through modern technologies. In Sri Lanka, we aim to go beyond the traditional modes, and now we see that online education is getting popular. I think there is an opportunity for Sri Lankan students who qualify the Advanced Level yet unable to enter a State university to leverage from distant learning and latest learning solutions as presented here."

Program Manager Information Infrastructure at ICTA S. Gavashkar said: "It's great that Microsoft is bringing educators and industry experts together at this summit. People from various parts of the world have come here to share their experience and learn new techniques and approaches in education; so that they could take initiatives to deploy such strategies back in their countries. In Sri Lanka, Microsoft partnered with [ICTA] to implement a few award-winning programs. One was the Tele Centres or 'Nanasala' program where people in remote areas including students were given IT training. The other was the Migrant Worker Program where the family member who will be going abroad and the rest of the family are given basic ICT training and resources to keep in touch while they are apart. We hope to continue to collaborate with Microsoft to improve education and awareness in Sri Lanka."

Project Manager at ICTA Sameera Jayawardena expressed his views: "I handle capacity building and digital education at ICTA. The summit was a good opportunity for us to network with others who work in the same domain. The most important part was sharing of experiences. It was also interesting and useful to learn about Microsoft technologies, partner technologies and approaches towards education. Improving education is a key area of Microsoft and I'm glad to have attended this summit."