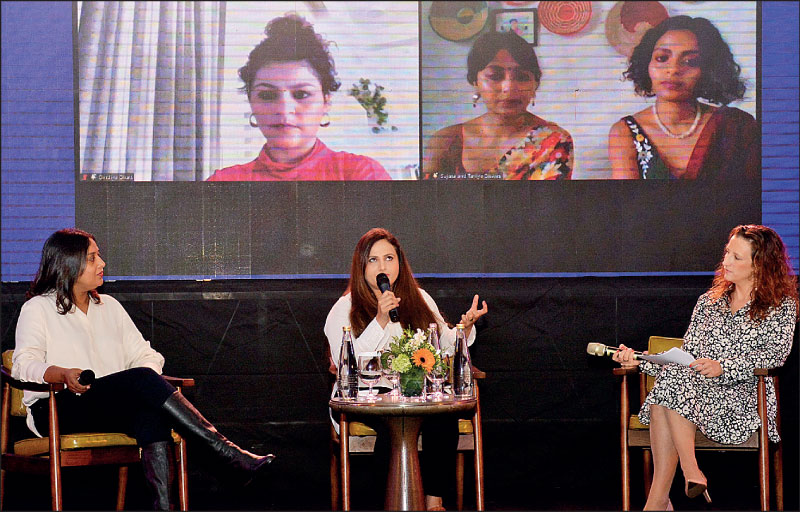 Seated from left: Vitawell Sri Lanka Managing Director Roshini Galappatti, CoNatural Pakistan Founder Myra Quershi Jahangir, and Moderator – Author and Brand Strategist Mimi Nicklin.

On the screen: Myntra India Senior Director Bindiya Bhatt (left) and Suta India Co-Founders Sujata Biswas and Taniya Biswas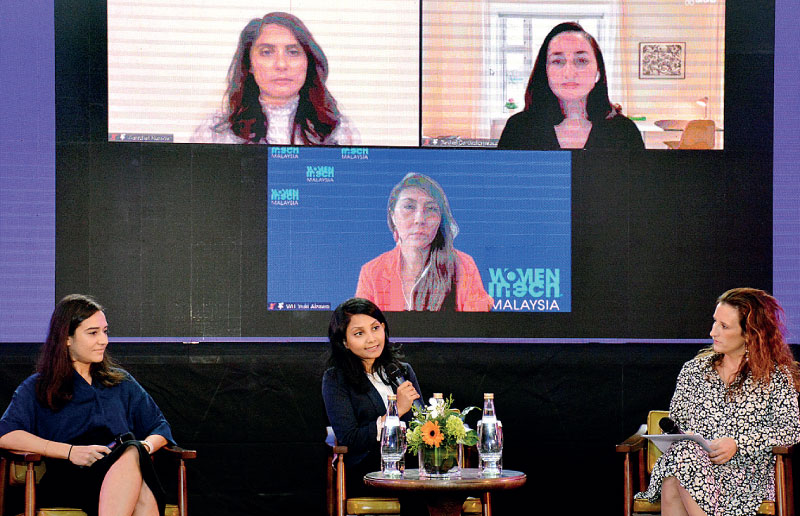 Seated from left: UberEats Sri Lanka GM Bhavna Dadlani, Hatch Sri Lanka CEO Brindha Selvadurai and Moderator - Author and Brand Strategist Mimi Nicklin.

On the screen: Daraz Nepal Managing Director Aanchal Kunwar (left), Airbnb APAC Australia Senior Strategic Partnerships Manager Rachel Bartholomeusz (right), and Women in Tech, Malaysia Country Director Yuki Aizawa
---
Top event put spotlight on powerful women in Asia Pacific, redefining contours of commerce in digital era
---
By Charumini de Silva
---
Women in eCommerce Daraz Summit 2022 recently brought together a diverse group of women who adapted commerce in the digital era to build an inclusive and more sustainable future for all.

The full-day forum focused on learning and leveraging a variety of resources, tools and strategies to help their partners, peers and colleagues achieve business success, elevate their careers and drive the development of a conscious e-commerce industry. Daily FT was the official newspaper of the event.

Top women redefining the dynamic spheres of technology, digital economy, and trade highlighted how to find their niche and success in this catalytic industry.


Purpose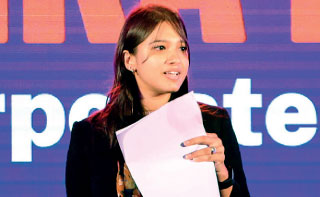 Daraz Sri Lanka Head of Public Policy Anishka De Zylva
---
Daraz Head of Public Policy, Corporate Affairs, and ESG, and Chief Convener of the Summit Anishka De Zylva welcoming a room full of women entrepreneurs, said e-commerce could significantly help to build an inclusive ecosystem.

"We need to understand what the industry needs, opportunities and challenges. It is equally important to facilitate the conversations we hear today, to drive the e-commerce industry forward. I sincerely hope you will leave this conference not only motivated to grow your own business, but to motivate those around you," de Zylva added.

Though e-commerce is a relatively new industry in Sri Lanka, she said it is proving to be a resilient industry that will be important to the country's economic recovery.


Women and Technology: Trends and the future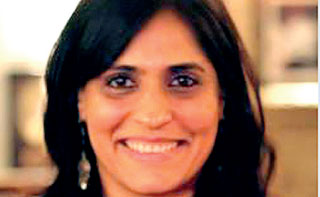 Google Singapore Head of Performance Solutions for Southeast Asia Shabana Badami
---
Delivering the keynote address Google Performance Solutions for South East Asia Head Shabana Badami deep dived into the vast array of opportunities and tremendous growth seen in the e-commerce space, future human capital and trends.

She said as per the Google Economy Southeast Asia Report 2022 they expect to see the digital economy will grow to $ 1 trillion gross merchandise value (GMV) by 2030, as 80% of the 440 million internet users are digital consumers, and 47% female consumers prefer to shop online.

"As consumers, women have an enormous impact on the economy. We see more female entrepreneurs on e-commerce platforms and more sales are contributed by women-owned businesses than ever before. Around 70% of all consumer purchasing decisions were influenced by women, indicating the importance and power of having women in the digital economy," she added.

In South Asia, Badami said they have seen an upward search demand for e-commerce, whilst in Sri Lanka, it is catching up with others in terms of volume, but the growth rate is at a substantial 65% year-on-year.

"In Sri Lanka, e-commerce users are expected to increase to 9.2 million by 2025, whilst the user penetration is expected to hit 42% by 2025 compared to 35% in 2022," she said, adding that the annual GMV is expected to increase to 21.6% between now and 2025, while the average revenue per user is expected to grow by an astounding 65% with key contributions from electronics, food, fashion and beauty categories.

"All this remarkable growth reflects endless opportunities for women, who could contribute and be a big part of it. It is also important for us to empower our women. We certainly have made headway, but we are not all there yet to truly unlock the potential, innovations, and opportunities that women can bring to this generation both as consumers and entrepreneurs. Empowering women to fully participate in economic life across all sectors and levels is essential for building a strong and stable economy and society," Badami added.

Citing an IFC study, she said closing the gender gap in the e-commerce industry in Southeast Asia, could add $ 280 billion between 2025 and 2030. "This provides a powerful case for e-commerce companies and in other words, companies could lose $ 46 billion each year by delaying action on gender equality," she noted.

Outlining how collectively women can be supported to succeed as entrepreneurs and as consumers; Badami said it should be 'everyone's problem'.

"The very first necessary step to changing the e-commerce gender status quo is to raise the visibility of women, second is to support those who are already in the industry who are doing the dual of running the business and simultaneously trying to change perceptions. The goal is to get everyone involved in making successful e-commerce businesswomen. It also comes down to inspiring, supporting, and empowering women at all stages — as brands, companies and individuals."

Though men are heard and seen nearly twice as often as women, she called for better gender representation in advertising; noting that women-led or gender-balanced inclusive YouTube videos uploaded by advertisers' yield 30% more views.

"If advertisements are more inclusive, people watch. There is appetite for stories that reflect the diversity and those also earn the trust of their audience."

As marketing plays a very imperative role in gender inclusivity, Badami highlighted the need to equip women entrepreneurs with confidence and skills to embark upon their business journey, adding that it was important to bring attention to the challenges young girls grapple with at an early age of their education.

She insisted that a mission to build a world for women to thrive in tech is a must.


Shaping a fearless future for women in eCommerce
The panel discussion featured Myntra Senior Director Bindiya Bhatt, Suta Co-Founders Sujata Biswas, and Taniya Biswas, CoNatural Founder Myra Quershi Jahangir, and Vitawell Managing Director RoshiniGalappatti — where they shared how they entered into the e-commerce business to innovate, to preserve the craft, and bring the best products for health and how digital trade assisted to facilitate women entrepreneurs.

CoNatural Founder said her product was born as a result of the sheer passion to introduce a quality herbal product range to boost confidence in women to be beautiful in their skin.

"On my return back to Pakistan from the UK, there were no products which had herbal content. All they had was whitening creams and related products by multinational companies, which were highly commercialised. Realising the importance of natural ingredients, my sister and I pursued our mission to create a beauty product that is safe and effective. I spent hours at stores to talk to women, to understand what a quality product meant to them," she explained her journey.

With a business plan in place, Jahangir said they hired a chemist and developed CoNatural with venture capital and angel funds to introduce 100% organic and natural hair and skin care products. The formulations of the products do not just work on Pakistani skin, but it works for all South Asian skin types and the product range was a great success.

"We became an internet sensation within months. Today, with over four years of cumulative experience, research and development, CoNatural has a total of 120 products and we have an omnichannel production and distribution," Jahangir added.

Suta Co-Founders are two sisters who quit their corporate jobs to follow their passion to preserve the craftsmanship and culture outlined in their business. "Our brand 'Suta' means thread. It is also a combination of the first two letters of our names; Su- Sujata and Ta- Taniya. We always had a special liking for the countless and varied forms of art and culture across India.

The two sisters said if not for the digital platforms, 'Suta' would not have taken the risk to leave the corporate world to follow their passion, adding that their products are sold on leading e-commerce platforms today.

They said during the COVID pandemic they helped many artisans from all around the country who create raw and uninhibited designs using their ancestral weaving processes — just so they could preserve those traditions and weaves.

"Suta products are just a token of representation of the numerous souls who have touched the fabric. We aspire to keep the undying spirit of artistry alive. We salute their craftsmanship and are thankful to them for keeping this art alive," the Biswas sisters said.

Vitawell Managing Director shared her experience in introducing the brand to Sri Lanka as a new mother.

"I never thought of running a business myself. But I recognised the niche for quality-assured nutritional products in Sri Lanka. It was my sheer confidence that Vitawell is in Sri Lanka today at this scale. All happened with a simple letter I wrote to the company and they were quite amazed at my passion for the brand and the rest is history," she added.

Noting that women are natural multitaskers, Galappati said it is important to grasp the opportunities without fearing to fail. "In my case, it was the optimism that drove my business to where it is today. I had a separate website and when I joined Daraz it substantially contributed to the overall turnover," she said, adding the digital platforms helped her businesses to reach out to all nooks and corners of the country without limiting to Colombo.

Myntra Senior Director said they house over 20,000 brands, where 60% of them are driven by women entrepreneurs, whilst 40% of their employees are also women. "The women are comfortable in working in e-commerce platforms because of the flexibility it offers," she added.

Bhatt said women-led businesses have more soul to them, whilst men's business models are commodity driven. "Having worked with so many brands and people, I observed that the women-led brands have the aesthetic structure and soul which helps the fashion e-commerce because you can relate it to the consumer. Over the years, I have seen that women-led brands have been super successful. Online businesses will grow higher and it will not come at the cost of offline because the market itself is very big," she added.

As women in business or as leaders, Bhatt advised not to judge them for being ambitious or to ask for that seat at the table.

"It is alright to demand what we truly deserve, though we have not been conditioned to it. Be authentic, and do not feel guilty for not being able to do everything at the same time. Be mindful of the failures we may encounter, but never settle for less or give up," Bhatt emphasised.


Strategies and policies for a more inclusive labour market

The eminent panellists featuring International Labour Organisation Country Director Simrin Singh, Women's Chamber of Industry and Commerce Chairperson Anoji De Silva, ADA Sri Lanka Country Director Sanjini Munaweera, and Daraz Singapore Group Chief Operating Officer Zornica Zafirova — vigorously debated how to create an inclusive market, amidst the persistent disparities in labour mix in Sri Lanka.

ILO Country Director said despite being in the 21st century, only 36% of Sri Lanka's women are in the workforce and below 5% representation at the policy-making level. "Women represent 52% of the total population in Sri Lanka. They are highly educated and capable, but they often have to go through the unfortunate and detrimental combination of the glass ceiling and sticky floors. We still see many challenges faced by women to be heard, access markets, employment," she added.

Singh pointed out that culture and caregiver responsibilities were the common 'roadblocks' observed in many Asian countries women in the workforce.

"Often we see that marriage age and childbearing age is automatically putting a stop to most careers driven women. In Sri Lanka, we have an aging population and the men often expect the wife to take up that caregiver role, instead of playing an equal part as a husband, father, or son. Women often face this dilemma, because no one is there to understand or support them to make a decision. I think, if men also did their equal part as a father or as a partner in a relationship, it will be a more harmonious society," she explained.

Outlining e-commerce as a great tool to boost inclusive economic development, she insisted it is 'not a magic bullet' and thus to consider the 'human factor' involved in the process thoroughly. "The inability to let go of certain responsibilities and ambitions could be turned into real danger or a double burden," Singh added.

WCIC Chairperson said inclusive labour market is making people conscious and allowing each human to reach their full potential.

With vast experience working with many layers of SMEs and MSMEs, De Silva said the majority of women are in the informal sector due to the complexities and risks involved in the business models in Sri Lanka.

"In the three categories — individual, partnership, and limited liabilities, the first two are extremely risky to get into and the third option with the new laws has made it very complex. Against this backdrop, we have lobbied the Industries Ministry to introduce simpler taxes and laws to draw more entrepreneurs and businesses for inclusive economic development," she added.

Noting that the e-commerce-related businesses have enabled many women entrepreneurs to access markets with great ideas, and quality products and gain market visibility, De Silva said they require more digital skills to expand their businesses, particularly for MSMEs.

She also urged women entrepreneurs to build and maintain strong networks, as it is critical in business.

Daraz Singapore Group COO said women by nature are just more inclusive and if they have 50% representation in the workforce others can get their fair chance.

"Inclusivity means having 52% women at all levels and it should include leadership roles, business owners, and entrepreneurs. Never be complacent, as 50% will not remove all barriers to being successful. Keep exploring the full potential," she added.

Zafirova also said having role models is critical to reflect on the journey, irrespective of their gender. "Never be afraid to take initiative to uplift another woman. If we do not support each other, we cannot support ourselves. Keep inspiring everyone around you," she added.

ADA Sri Lanka Country Director insisted on women not to be hesitant to put their hand up if there are opportunities. "In our company, 60% are women and 40% are men because we know that women are more capable of taking the bull by its horns. Women are excellent in strategy roles; they are responsible and are born convincers to make products relevant. Step out of your comfort zone and recruit more women to ensure they are represented in the labour force," she added.

Highlighting that women by nature are nurturers, Munaweera pointed out that having more of them will mean business growth.


Soundbite on Vivya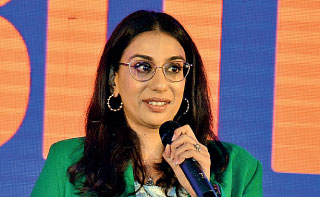 Hemas Business Development and Innovation Director Sabrina Esufally
---
In a snippet, Hemas Business Development and Innovation Director Sabrina Esufally explained how she developed Vivya, the first ever Sri Lankan heirloom rice-infused skin care solutions range.
"During the process of developing Vivya, I learned four lessons; to make a product you love, innovate in the market gap, create value and ensure to make it impactful. The power of valuable skin care elements extracted from Sri Lankan heirloom rice was not known globally-until Vivya presented it."


Role of platforms and collective action in enabling women in eCommerce
Another panel discussed the collaborative efforts taken to support women in business from all over the Asia Pacific region. The discussion featured Daraz Nepal Managing Director Aanchal Kunwar, Hatch Sri Lanka CEO BrindhaSelvadurai, UberEats Sri Lanka General Manager Bhavna Dadlani, Airbnb APAC Australia Senior Strategic Partnerships Manager Rachel Bartholomeusz, and Women in Tech, Malaysia Country Director Yuki Aizawa.


Snippet on Barressential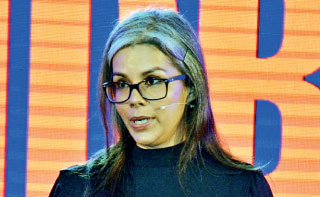 Barressential Sri Lanka MD Saira Nanji
Barressential Sri Lanka Managing Director Saira Nanji in a brief story shared her experience of embracing change from an investment advisor to pursue her passion to promote wellbeing and fitness along with Barressential Founder and Lead Instructor Nare Bandaranayake.
She said her love of health and wellness as well as the appreciation of the world-class standards at Barressential led to a career switch. Following the temporarily closed down of the studio during the COVID pandemic, she said was their introduction into the digital platform and e-commerce.


Closure of successful summit and workshops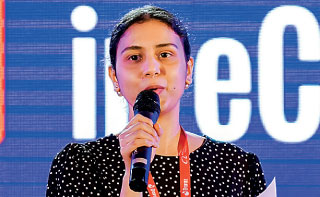 Daraz Sri Lanka Public Policy Program Manager Maria Akbarally
---
Daraz Sri Lanka Public Policy Programs Manager Maria Akbarally delivered the closing remarks thanking all the dynamic and diverse women for inspiring many more as well as for turning up to make it a successful summit.

Thereafter there were three interactive and engaging workshops on 'How Powerful Women Find Balance', 'Impactful Storytelling: How to Develop Compelling Marketing for Your Brand' 'How to Own Your Story and Build Your Brand', which were conducted by Daraz Group Singapore COO ZornicaZafirova, ADA Sri Lanka Country Director SanjiniMunaweera, and Author and Brand Strategist Mimi Nicklin respectively.
Pix by Upul Abayasekara