By Charumini de Silva

Sri Lanka's first integrated entrepreneurship platform, Venture Frontier Lanka, was launched last week by Ovibees Ventures, focused on the development of the complete startup lifecycle across five key industries such as leisure and tourism, education, ICT, healthcare and agriculture.

The four-year nationwide entrepreneurship program is designed to create a culture of entrepreneurship that leads to greater economic success for all Sri Lankans.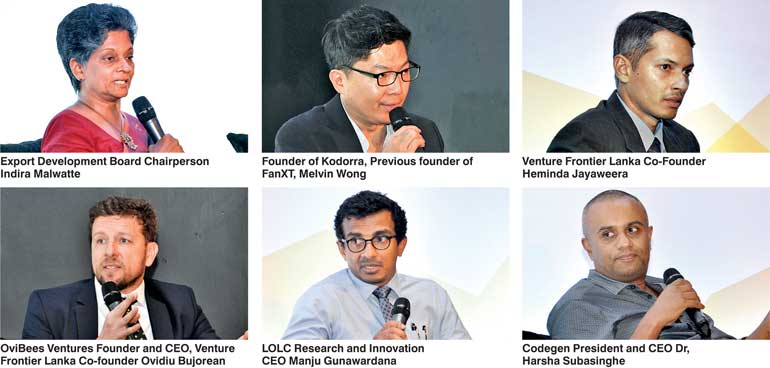 Venture Frontier Lanka will identify and nurture country's most promising entrepreneurs, offer practical training and mentorship in venture development as well as provide seed investment to secure proof of concept. The platform utilises a Public-Private-Donor (PPD) partnership structure by bringing together the Government, leading private sector companies and international donors.

Delivering the opening remarks, Venture Frontier Lanka Co-Founder Heminda Jayaweera pointed out that Sri Lanka was in the forefront of innovation especially in terms of nanotechnology, but unfortunately the country has now become a backbencher ranking 90th among 100 countries in the Global Innovation Index.

Acknowledging Sri Lanka has some of the best brains in the world, he claimed that it was the lack of long-term integrated platform to reach global.

"One could ask if we lack knowledge, but the answer is no. University of Moratuwa is Sri Lanka's MIT. It has the best brains in the country, but we are missing some critical pieces in the jigsaw puzzle in connecting and catching up with the rest of the world. I think the problem is that we don't have a long-term integrated platform to go international with our ideas from the grass-root level," Jayaweera stressed.

He believes that the launch of Venture Frontier Lanka would be a great support system to bring out some of the best hidden talent, business concepts to the international market which will set a culture of entrepreneurship for greater economic prosperity.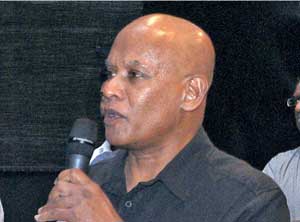 Outlining the program, Yamu Founder Indi Samarajiva who is an entrepreneur himself asserted it was important to create an ecosystem that would support startups in Sri Lanka, relating to the struggles he had undergone to establish his venture. "Sri Lanka's market is practically very small. The startups therefore don't have sufficient money to scale investment," he added.

Samarajiva also pointed out that the country didn't have immigration laws to attract the best talent, while pointing that Sri Lanka's passport now ranks lower than North Korea's. He said Sri Lanka joins the club of countries that has high education qualifications and higher unemployment rates. "The majority of the university students in our country are l
ess employable compared to those who study overseas."

Relating the struggle he had to undergo as an entrepreneur Samarajiva emphasised the audience should not burn their fingers just because everyone is hyped up about innovation and startups.


Following the inauguration ceremony and keynote address by Chief Guest National Policies and Economic Affairs State Minister Dr. Harsha de Silva, a panel discussion on the topic of 'Prosperity through Entrepreneurship' was moderated by Daily FT Editor Nisthar Cassim.
The eminent speakers of the panel comprised EDB Chairperson Indira Malwatte, Kodorra Founder Melvin Wong, LOLC Research and Innovation CEO Manju Gunawardana, OviBees Ventures Founder and CEO and Venture Frontier Lanka Co-Founder Ovidiu Bujorean, Codegen President Dr. Harsha Subasinghe and Venture Frontier Lanka Co-Founder Heminda Jayaweera. The panellists shed light on the importance of identifying and nurturing the most promising early stage entrepreneurs, challenges and opportunities to achieve an inclusive growth in the Sri Lanka's economy.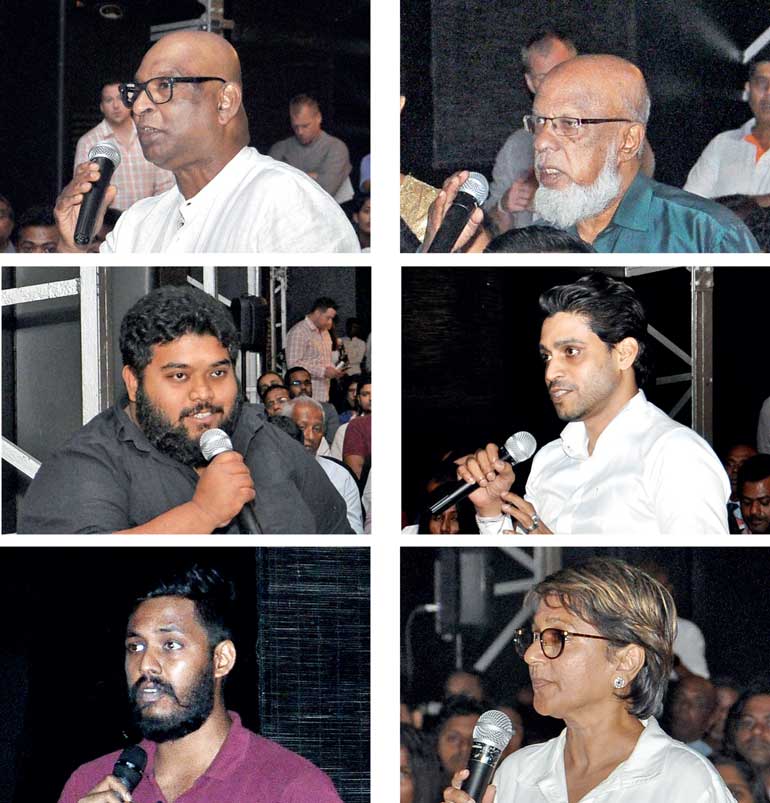 Entrepreneurship and prosperity

Q: As an award winning entrepreneur, what's your experience in terms of entrepreneurship in prosperity?

Wong: I am being very honest. I just want to be rich. Entrepreneurship to me is all about trying and proving yourself with the idea you have until it becomes successful. The idea in your mind is itching until it gets executed the way you like it. Eventually, it became a company, product, investment, sales, and revenue. Along the way you also create a lot of jobs, where those employees look up to your leadership as an entrepreneur. In my capacity as an entrepreneur I have inspired many people and of course created more employment opportunities especially for youth.


Q: I like to take the same question to Harsha as well. Do you think that you're contributing towards prosperity, especially to the immediate community?

Dr. Subasinghe: The answer is yes. But my vision is more national. I strongly believe that Sri Lanka could be like Singapore within the next seven years.


Q: Well, we have two positive perspectives, but where is the problem in getting to the prosperity status?

Jayaweera: I work and spend a lot of time with the University of Moratuwa. Most of them are engineers of software or electronics and one of the questions I often ask them is what are they going to look for once the four or five year degree program is over? The majority of them say that they require a minimum starting salary of Rs. 100,000 per month. Then I asked after joining a company how about the rest of their career life and what their salary expectations. They reply saying that they would be fine with Rs. 200,000 monthly salary within five years and in 10 years Rs. 500,000 and when they become a CEO or a CXO in about 20 years they expect a Rs. 1 million monthly salary. In the 30 years of working life I asked them what would be their total value and they said it is Rs. 150 million, around $1 million — that is the valuation of our engineers over a period of 30 years.

At the same time I work with three engineers who graduated three years ago, today running companies of their own, which are valued at $1 million each and that's what you call value creation. Normal engineers take 30 years to create $ 1 million, but these three entrepreneurs who have the same education qualifications as them have created the same value just within three years. I think we need more people like them who create value. In my view, value creation is the definition for prosperity.


Unleashing potential

Q: Could you explain how to unleash this potential by encouraging young entrepreneurs and startups? How can Sri Lanka get it right?

Bujorean: I will explain a bit about why we are in Sri Lanka. I work in many countries around the world and I meet a lot of entrepreneurs very often in creating platforms for entrepreneurships. In terms of Sri Lanka, you all have strong technical minds and I don't see this type of talent in other parts of the world even if you are an entrepreneur, with a great idea they will need to observe the technical development of your country.

Sri Lanka has very passionate entrepreneurs. In other parts of the world, Governments are throwing hundreds of billions to stimulate entrepreneurship, but they just have immigrant entrepreneurs. In Sri Lanka, you have a lot of fire in young entrepreneurs. The market of 21 million population in here is not big compared to other counties in the region. However, in Israel they have a 40 million market, but from the beginning their main idea is to go abroad and build products from the design idea.

I go around the world and I don't see that many countries have technical expertise that Sri Lankans have. I am sure that Sri Lanka can actually build world-class products for the market. It is also critical to identify examples and join forces that will help strive entrepreneurship in a market. I like what Harsha is doing because he is pushing the boundaries of what is possible. Pushing the boundaries is important to pass on the baton to the next generation and inspire them.


Exports and entrepreneurship

Q: When it comes to the EDB, I think every new exporter is a startup. What is EDB's perspective of exports and entrepreneurship?

Malwatte: EDB has a number of new schemes that helps new exporters financially. It is Government money, but it is important for us to take that risk and nurture those budding businesses. We evaluate their projects and facilitate them because a lot of them are frustrated to reach out to the banks that don't support them most of the time.

We launched a program two years ago to encourage 1,000 graduates for startups, for which the Budget allocated Rs.1.5 million to disburse those funds via two State banks where the Government took a guarantee on the interest. We had 100 applications from all sectors, evaluated by an eminent panel. However, being EDB we struggled so much to obtain these funds. After two years of launching the program we are now in a position to execute it. Although there were many stumbling blocks on our way, the entire team at the EDB never gave up on this initiative. I firmly believe that young entrepreneurs need to be brought into the mainstream business.


Q: Sri Lanka is very late in the entrepreneurship game. Do you think Sri Lanka has capability to leapfrog?

Gunawardana: The answer is yes. Five years ago when we started talking about innovation, startups ad venture capitals, the industry didn't have any guidance on these areas but today the playground is very different. We are playing similar to Heminda. What we do is very simple, we work with final year university students where we mentor and supervise them. My two job roles at SLINTEC and LOLC are at two different extremes, but I try to elevate the knowledge of these students on the wise usage of technology or an application to encourage entrepreneurship and innovation.

These can be very simple ideas. One doesn't need to reinvent the technology to become successful. What is important here is to elevate the lifestyle or the status of the general public through a simple idea. When someone reaches us either for money or for technology we try to match it with the solution he/she has in their mind. Then we guide them throughout for fast results. I think with the right kind of guidance and refined technology, it is extremely possible for us to make an impactful leapfrog.


Experimental ideas

Q: Cost of credit is a major problem most enterprises face, not just startups. But how are we in terms of ideas?

Jayaweera: One of the main problems we have is in the education system of this country. The children are just taught what is in the text books for many years, but there is hardly any space for their experimental ideas or solutions for the practical issues we face in day-today lifestyle. However, being working with 12-year-old students, I know that they have marvellous views and findings on practical problems such as dengue. I think we need to address this in our education system. The other issue is the mindset of most of our people. They think that by sharing ideas would be a risk as someone else might execute it. I think this mindset needs to be changed. I would suggest people to start sharing their ideas and discuss about them. We have plenty of global ideas, we just need to execute them right.

Dr. Subasinghe: We have so many great ideas from tuk-tuk drivers to the top, but the problem is we don't implement these ideas. Recently I got into a tuk-tuk, he had a bottle of water for the passenger, a display screen to select music of the passenger choice. It was a great idea, but the problem is getting all tuk-tuk drivers to implement or change their mindset on to value creation. Another issue is that we don't resolve problems that already exist, but try to find solutions for that don't exist. A simple example is that at the Moratuwa University there are no waste-bins, but they don't see it an issue. They have some best brains in the country teaching and finding innovative things, but they don't have a solution to the waste management in the university premises. In a nutshell, we have a lot of ideas, we need to convert them to useful ideas and implement them.

Bujorean: You have a lot of ideas around handicrafts and restaurants, but there are limited options to make them world-class. There is no process right now to assess the quality of the ideas we have. It is critical to identify the DNA of the idea, potential it has on the local community and then connecting them with the right players in the marketplace. We are here to find early potential entrepreneurs that have global ideas and connect them with a support system that will allow them to connect with different companies and markets. The core is to identify quality ideas. Higher the quality, there is higher chance to make it a global venture.

Wong: I think it is imperative to be realistic with your ideas as well as your sources. If a person in Sri Lanka wants to make artificial intelligence (AI), it requires a lot of technical expertise to execute that idea. So, we might have to bring down sources for to implement those ideas, which in most instances are difficult. Always be realistic with the idea. Don't just blindly follow your passion, without being realistic. Make it fun for you.

Pix by Ruwan Walpola