By Charumini de Silva

With a view to enhance the participation of women entrepreneurs in business and particularly in the exports sector, the National Chamber of Exporters (NCE) recently held a forum titled 'Women to the Fore in Exports' to encourage increased participation of women in the economic development of Sri Lanka.

The forum identified and discussed key issues both at the policy and operational levels that hinder the participation of women in business activities, as well as facilitate cross-border trading transactions to accelerate economic development. The discussion also highlightedon the available Government assistance for women led businesses, especially women led startups, since the objective of the NCE is to encourage women entrepreneurs to focus on the field of exports as a professional career path, as well as a rewarding business.

During the forum the Chamber also launched its latest initiative, 'NCE Women's Wing' to provide services specifically for women exporters as well as potential entrepreneurs and exporters. The NCE intends to provide a series of services such as market information, facilitating the provision of resources, and advice to build a sustainable international business for women who engage in business globally.

In addition a dedicated webpage for women entrepreneurs in the award winning NCE website, was also launched during the event.

Enhance women leadership roles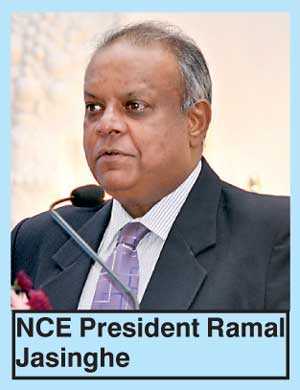 Delivering the opening remarks NCE President Ramal Jayasinghe said although there have been some Government initiated programs in the past to encourage and facilitate women led businesses, it appears that information related to these programs have not been highlighted or have not effectively filtered down to prospective entrepreneurs, especially in the SME Sector.

Further he said even in instances where the concerned women entrepreneurs have been able to access such information, they have been unable to obtain the support of the relevant authorities due to various other constraints they have encountered.

In this background, Jayasinghe said the forum will come in handy especially for women in business and also to enhance the leadership roles and performance of women who are already engaged in export enterprises.

He said given the opportunity to women there is immense potential to contribute effectively to the overall economic development of Sri Lanka.

"There are also a few instances of enterprising women entrepreneurs who have developed lucrative business organisations, including the exports through their inherent skills related to entrepreneurship, professionalism, leadership and commitment. Nevertheless, it is also a fact that women in Sri Lanka have so far failed to make a major impact on the export sector," he added.

He also said the recent legislation enacted by the Government to ensure the participation of a minimum of 25% women in all elected legislative bodies, as well as the desire of the Government to increase the number of registered exporters from the current approximately 3,500 by an additional 2,000 by the year 2020, with a view to achieve national export and economic development targets under its 'Vision 2025' policy document as well as the 'National Export Strategy' (NES) was a significant reflection of a growing economy.

"It is a fact that women although in limited numbers, play an important role in business and trade, and occupy top positions in many Sri Lankan entities both in the State and Private Sector. In this context it is noteworthy that women play an important role by providing leadership in important trade related State Institutions such as the Export Development Board, the Department of Commerce, the Department of Customs, the Department of Import and Export Control. Women also occupy senior managerial positions in many State Institutions, in addition to their leadership roles in some private enterprises both as entrepreneurs, and occupants of key managerial positions," Jayasinghe pointed out.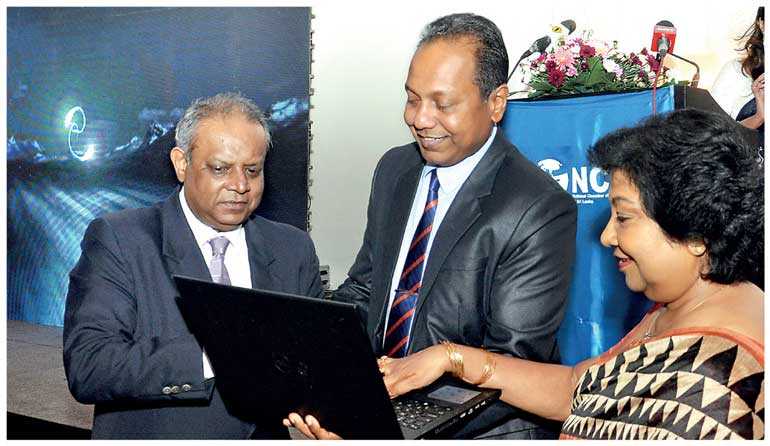 NCE Women's Wing website being launched by (from left) NCE President Ramal Jasinghe, NCE Secretary General/CEO Shiham Marikar and NCE Vice President and Ramya Holdings Chairperson/Managing Director Ramya Weerakoon


Celebrate womanhood: Varuni
Women will pioneer next wave of economic growth in SL
Calls on to enjoy the spirit of being a woman
Points more women are establishing own careers, economy getting independent
Says fulfilment comes when businesses not only drive behind profit
Expressing confidence in female talentkeynote speaker Triad Ltd, Co-Founder and Joint Managing Director Varuni Amunugama Fernando said that women will pioneer the next wave of economic development in Sri Lanka.

She insisted that female entrepreneurs in Sri Lanka have come a long way, which should be celebrated despite challenges still remain to be conquered.

"The way we are born to do certain things, born to do multitasks, born to be passionate and born to be dare should be celebrated. Today I stand here sharing that feeling of celebration in what I have achieved – so enjoy that spirit of being a woman," she said.

Noting that most of women have kept that first step as entrepreneurs and has gotten over the challenges and fear factors, she asserted that they should always keep improving learning to stay ahead.

"I think all of us (women) has contributed genuinely to build this country. We are all stakeholders of that growth. As Asia becomes the powerhouse of the world we, the girl child can make Sri Lanka a huge difference and make mother Lanka smile," she added.

Fernando also highlighted that women have emerged as decision makers of the country and have created equally strong partnerships where women at present have a say in their life.

Purpose could go beyond profits

Sharing her success story in becoming a top entrepreneur it was noted that she always believed in ethos that Sri Lankans can be successful. "I never planned to be an entrepreneur or ever had huge goals. In the second year at the law college three of my friends, we got together and thought if we could get into the communication industry. We wanted to make a change in the mindset of the Sri Lankan people, to think positively and can create value for the country," she said.

In 1993, she said the communication industry was dominated by multinational agencies and it helped Triad to position themselves as a local communication company dedicated to build local brands. "We felt with our expertise and knowledge about the Sri Lankan mindset, why don't we support and partner local brands to evolve. We took the leadership and redefined the landscape completely in local communication industry," Fernando emphasised.

She said over the past 23 years Triad has evolved from just creative advertising to providing its clients with creative solutions to overcome their business issues, while also saving a huge amount of foreign exchange which would otherwise go into overseas stayed in our country.

"It was a very simple purpose.When we talk of purpose it could go beyond profits. However much achievements we gain, the actual fulfilment comes when there is a purpose in life. Sometimes our decisions are purpose led and not really strategic. Purpose really have a success aspect to it, but the fulfilment comes when we are not going behind the profit," she added.

Fernando said that in today's world more and more women are establishing their own careers and the economy was getting independent.

"A lot of people talk about women having to break the glass ceiling, yes we have to prove ourselves. But by nature we are very compassionate, we are strategic, but we care, nurture, lead and inspire. Thus, I think we have to be proud because we have achieved so much and it should be celebrated every day," she added.

IFC calls for multipronged approach to improve female labour participation
Insists women economic empowerment is a key driver for sustainable development
Stresses need to pay extra focus on attracting, retaining more women looking for workforce at every level
Sri Lanka's 8% women representation at Board level, higher than average in South Asia
Highlights importance of career development initiatives, to acquire skills and education in demand
Calls on workplaces to embrace gender equality in labour legislation including zero tolerance for sexual harassment
Outlines access to credit, market linkages, safe public transportation, improved child and adult care, access to part-time work, maternity leave as critical factors to enhance women's economic participation
Affirms need of inclusive workforce to be innovative and competitive in export market
Launches 'NCE Women's Wing' to provide series of services for women exporters, potential entrepreneurs and exporters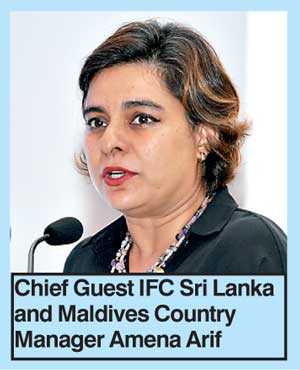 Chief Guest International Finance Corporation (IFC) Country Manager Sri Lanka and Maldives Amena Arif shared observations from an international perspective of the potential for women to play leadership roles in business and related fields, and the paths that are available and open to them.

Highlighting that both exports and gender participation are critical factors for the growth of the economy, she called for a multipronged and multi-stakeholder approach to enhance female labour participation for an inclusive development in Sri Lanka.

"Encouraging women is more than an economic or a business need. It is an absolute critical, fundamental, building block particularly for a country like Sri Lanka, where there is plenty of incredibly talented, energetic and educated women. Thus, more inclusive workforce is just beyond critical for us," Arif added.

Stressing the importance of an inclusive workforce for sustainable economic development she noted the need to pay extra focus on attracting and retaining more women looking for workforce at every level.

According to her about 8% of listed company Board Directors in Sri Lanka are women, which is little better from South Asian average of 7.7%. While this compares well with the rest of South Asian economies, she pointed out that more can be done as Sri Lanka's 8% is far below Europe's level which stands strong at 22%.

"This is a country that has a private sector which consists of a lot of strong women and many impressive role models playing important roles in the business environment. However, considering the gender barrier that Sri Lanka has managed to achieve in areas such as education with great secondary and tertiary education proportion, it often surprises me what is limiting the growth of female labour participation," she stated.

She said at the Board level corporations have access to diverse talent and perspectives to enjoy a number of advantages. "Women economic empowerment is a key driver for sustainable development as well as for key corporate sustainability. It is essential to improve the private sector ability to recruit, retain and promote more female employees," she added.

Arif stressed on the importance of career development initiatives and how it can help acquire the skills and education that is in demand.

"It is not just enough having education; the education and skills have to be employable," she emphasised.

Attributing to a recent World Bank report on 'Women Experiences on Labour Market' she said it shows pretty much what anyone would expect with low participation, consistent wage disparities and embedded notions which all adds to the human capital mismatch.

It was pointed out that in Sri Lanka, female participation in the labour force at 40% is significantly lower than for men (75%). Unemployment rates are also significantly higher for women. In addition, there is a large gender gap in the share of women who are unpaid family workers, who account for 20.4% of women compared to 3% of men. SMEs contribute about 45% of Sri Lanka's gross domestic product (GDP) and provide about half of the country's jobs. Yet, among SMEs, only 25% of entrepreneurs are women.

Workplaces need to embrace gender equality in labour legislation, not just strategic policies

She also emphasised the need for workplaces to embrace gender equality in labour legislation and not just strategic policies, including zero tolerance for sexual harassment.

"For an emerging economy like Sri Lanka, closing the gender gap is critical as it helps boost your GDP. For those working in the export sector, it is important to know that innovation and diversification of our product base is critical to be competitive in the international trade. To be ahead of the game and be sensitive to market changes you need a creative and inclusive workforce," she added.

Arif pointed out the need to capitalise on entrepreneurship to economically empower women and generate inclusive growth in Sri Lanka will require reducing various bottlenecks, especially access to finance.

"Apart from providing better access to credit and market linkages to establish and grow successful businesses; better and safe public transportation, improved childcare and adult care, access to part-time work and maternity leave are critical factors in growing women's economic participation," she outlined.

Within Sri Lanka she said that IFC has partnered with the Australian Government on 'Women in Work' program to increase women's private sector workforce participation, which in turn help to increase companies' profits and drive overall economic growth.

"We are also working with our partner financial institutions to diversify their products and remain targeted strategies and product sets to reach more women more effectively. In addition, we are also helping to build capacity of micro entrepreneurs,"Arif added.

Panel discussion

The forum was followed by a prolific panel discussion moderated by Daily FT Editor and Chief Executive Nisthar Cassim. A number of well-known personalities including Triad Ltd. Co-Founder and Joint Managing Director Varuni Amunugama Fernando, top Social Entrepreneur, Women in Management (WIM) Founder and Chairperson Dr.Sulochana Segera, Ramya Holdings Ltd. Founder Chairperson Ramya Weerakoon, Ceylon Biscuits Ltd. Group Managing Director Sheamalee Wickremasinghe, Iron One Technologies and Board PAC Co-Founder and CEO Lakmini Wijesundera, Hatton National Bank (HNB) Chief Human Resource Officer Chiranthi Cooray, Development Strategies and International Trade Ministry Advisor Anushka Wijesinha and Rabeena Food Ltd. Director Kala Amrithalingam shared insights on how they achieved immense success in their respective fields through all the barriers and hardships.



Following are the excerpts of the panel discussion:

Q: What is your advice on marketing, positioning of women enterprises and brands?

Varuni: I don't think the Sri Lankan entrepreneurs have given branding its due place. Most of the time, it happens organically, sometimes the company we are involved in is branded, but the exporter may not be branded. Branding doesn't have to be costly as there are several cost-effective methods to follow to market one's products or services. There is a different type of communication that you can use such as PR kind of communication where it's not paid for, because it's newsworthy. There are a lot of options in digital medium, a very cost-effective way of branding ourselves in today's context. Overall, there's huge necessity to brand, as it's the only way we can differentiate ourselves.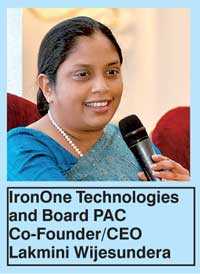 Q: What is the secret of your success story that could inspire other women entrepreneurs?

Lakmini: I have a different view to this. I just do what I feel is important. I honestly don't think about the barriers and I find it difficult when people talk about it. I just do it, I don't think myself as a woman, Sri Lankan or anything and eventually I succeed. I think it is a lot to do with the mindset. There is a lot of preparation that goes into that, but in terms of how I succeed is a lot to do with how I conduct myself and my mindset. Participating at the EY Forum last year helped me to improve themindest to another level. I met a lot of women who had done way better than me who have come from very challenging environments and there's no way why we cannot perform more. Currently, my mission is to convert large companies into automation and we are working hard towards that goal globally. Hopefully in the near future we will be in that position.

Q: What's your perception being a women entrepreneur and overcoming the challenges?

Sheamalee: I didn't look at myself as a woman or as a weak link in the society, I looked at as having a job, a challenge that I need to do. I think sometimes, men don't take women so seriously and you have to try harder particularly in the public forums. For example I prefer wearing a saree because it automatically gives some elevation in the eyes of men and women both – seems silly, but it is there. Having said that, when you have a job to do, there is a confidence you should do it with, knowledge you should do it with and the passion will drive it. I think whether it is men or women, it makes no difference.

Q: What are your experiences in being a woman exporter?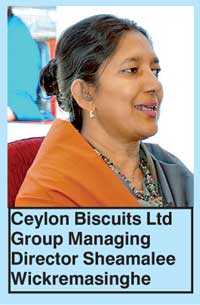 Kala: I am representing the processed food industry and we are closely working with the ILO as shown in the video today in helping the livelihood of women in the Northern Province. We are working towards the uplift of women headed organisations, farmers and producers. Through this program we have been able to connect the exporters from south to the producers in north.

Q: What is your own take in terms of empowering women exporters? And what are the key elements of your message to inspire women in business?

Dr.Sulochana: If you look at the export sector, lot of the people look at the large companies instead of the small companies, but if you take a deep look at them it is the small companies that are doing competitive exports. Sadly, in Sri Lanka the unpaid employees are women so there contribution is not been taken not only for exports even for the economy. The problem lies in not getting women into exports, but getting them that ownership in entrepreneurship. The ownership is taken by someone or they have not though about the ownership. The women of this country are extremely courageous and responsible for the growth we have seen in our economy. I think the exports will see a significant growth if more women are encouraged as entrepreneurs for the export market. Now the export market is known, but not known by the women – that is the issue I see there.

Q: Could you outline the elements of your success story related to the apparel sector to inspire other women who are engaged in or aspire to engage in this sector?

Ramya: I started my hobby batik in a very small manner in 1973, with two toddlers in hand — that is why I always say women are very courageous and strong minded. They can withstand any challenge and so I was. In 1976, I took my business to the export market and in 1988 March I started a little apparel factory because I believed that you have to go with the global trend and change accordingly. I think it is a must for an entrepreneur to evolve and improve understanding trends in the marketplace and upgrade your business too. After starting in 1988, with only 35 machines and 54 workers I started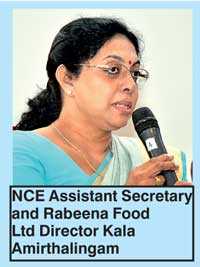 exports in the same year December. I knew that if I want to become a successful entrepreneur catering to a small market like Sri Lanka was not sufficient and it was necessary for me to look at the global arena. It was a hard struggle, but I always believed in the export market. This was the time when the US and Europe also introduced the quota system to the apparel market. Unfortunately the quota system was not carried out in a fair manner by the Government at that time, it was mostly in the hands of the politicians. Anyhow I succeeded with a small margin.

Q: Do you think the industry still has same kind of challenges even now?

Ramya: Not at present. Now there are so many organisations that are helping entrepreneurs with advice, technical assistance, market access and even finances.

Q: What's your own take on women in business and on the regular complaint of access to finance?

Chiranthi: In terms of HNB, access to finance I think we have done our part as a responsible financial institution and we will continue to do so. With the recent launch of National Export Strategy (NES) it will help us augment the good work we do across all the districts in Sri Lanka. There is a limitation in banks reach out, but if there is a focused strategy to support the entrepreneurial mindset and their endeavours then the financial institutions could easily help to uplift the industry. If you look at the last two droughts we experienced in certain provinces particularly in the North Central Provinces there were a lot of bad loans which accounted closely to Rs.0.5 billion, what have we done about it is a question. So, proactive policies are needed to address such issues affecting industries. In terms of access to finance I think the industry is ready, but the strategy and policy framework has to be in place. With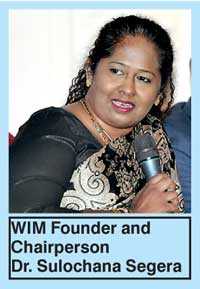 regards to women entrepreneurs, I think banks across the board are very much in favour. We have our own clients some of them are very iconic women, who has not just built a business but a brand. The brand conceptualisation is also an important factor. The job of banks is not to look at whether it is a man or woman. Access to finance and financial inclusion a very important proposition this country needs and we are there to do it.

Q: Can you outline the initiatives of the Government to support women-led enterprises, and women entrepreneurs, as well as to encourage women who aspire to managerial and leadership positions?

Anushka: I think for many years institutes like Export Development Board (EDB) have helped a lot of exporters on the first sail to export market as well as for women exporters. There are several schemes available now to help exporters get that assistance. The flagship one in terms of financial assistance is the Market Access Support Program announced in the National Budget last year, which will be implemented from this year and beyond. It is assigned to our Ministry and implemented by the EDB.

This program provides matching grants for existing exporters, first time exporters, women exporters to obtain money to make those first sails, whether it is product testing, certification, meeting standards, which they cannot make it in a high competitive market places like Europe, US or Australia. For SMEs, there are two windows that are open for smaller companies you get a grant for up to 70%, for slightly large companies the grant is up to 50% or up to Rs.5 million. All these information are readily available online and also apply online. The second scheme which is yet to be launched and is under that overall initiative is the Enterprise Innovation Program. Now this gives more money, more time period to implement and you also need an eco-system. It is yet to go to the Cabinet and launched.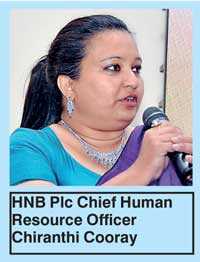 However, from that you can get from Rs.4.5 million up to Rs.20 million in a matching grant system to help your company take your product or service to the next level which you may not have been able to do with your own funds and help you capitalise on your export journey really fast. The third scheme we have is called the Collaborative Innovation program which helps you work with business institutions either in Sri Lanka or overseas to develop a whole new product through innovation.

Often time, we think access to finance as concessionary loan schemes. I would argue that most of the time it goes to entrepreneur including women entrepreneurs and exporters from accessing finance I think for very solid bankable projects and what contribute to that often is the bank not being confident that you cannot make that sail or you can break into this new market. Now these are all barriers you can get assistance from the above mentioned matching grants program for you to prove. Especially for the people engaged in the ICT sector there is a very focused and a strong growth potential. We want to help them to grow quicker and get into 15 markets very quickly under the Champion builder Program. The real idea there is that the ICT sector has a real target there with a $5 billion export target by 2022.

Q: One advice you could give aspiring young entrepreneurs?

Chiranthi: I will start with one aspect that we all talked about is 30% female labour force participation, but if you look at graduate level and above the labour force participation is high. It is just Advanced Level and below that get more vulnerable in the system. Women entrepreneurs, women in business and women leaders at any point of authority and influence should help reduce that vulnerability to uplift the whole system. Just as much as each one
pursue on their own and it is not just for women but for all. The accessibility, mentoring and support is required by everyone, I think we should readily leap forward and assist them.

Varuni: My advice to the future generation is enjoy what you do and believe in that. Every day you need to wake up and want to follow and sustain what you started. End of the way, we live only so long and if your intuition says do something, embark on it, the rest will follow – the discipline, strategy, mentor. But what you start with is that sense of confidence.

Kala: I came from an accounting background to the food processing business. I would say you have to be very dedicated, sincere and enjoy what you are doing.

Sheamalee: I come from a science background. I think everyone has the potential within them, but the dedication and commitment have to be more. I am very thankful for my mother because when I came from university one of the things she encouraged me to do is to set up my own company and today it is one of the largest packaging companies. It got there because I took the risk and that is something we need to practice ourselves to do. I believe that in Sri Lanka it is quite tough because the banks do not take the risk for the entrepreneurs. I had the advantage coming from a business background, but for the majority financial assistance doesn't come easily. Like what others said, unless you enjoy and believe in what you do I think it is very hard to succeed. You have to have a passion, believe in it and work hard.

Ramya: Believe in yourself and have a determination to work hard till succeed.

Lakmini: Dream big.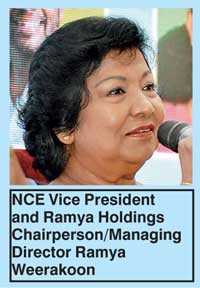 Dr.Sulochana: With all due respect to what others said, I would say there is no recipe for anything. If you want to be an entrepreneur, be ready to fail then you will win.

Q: There is a mindset in the society that women are more dependent and need to be facilitated to be successful?

Varuni: I think we have our own standards and yardstick basically we don't want to be like men. We think we are better than men because woman's characteristics creates the inspiration for everyday in all the roles we do. So, the facilitation is a mutual thing.

Sheamalee: I think as a society unfortunately many people, don't look at women as equal. It is not that women are inferior or needs more support, but we are living in men dominated environment. There are a lot of women who were drawn away from education and who has started entrepreneurial ventures, so I think for people like that special support would only encourage them to do better.

Ramya: There is no difference in competing with men or women. If you have a vision you can aspire to work towards that and succeed. In the apparel sector, I am the only woman who's involved in this sector in a major scale. There is no gender barrier.

Lakmini: Although there are a lot of family businesses we see in Sri Lanka, it has always been passed from generation to generation to the men in the family. We have less women role models and that's an area we need focus to mentor our children.

Dr.Sulochana: I think women always work towards a common goal and we don't want to fight with men. This whole economy is run by women, educated majority is women and the market is run by women, you could see if one day all the men stops working or the women stop shopping.

Anushka: I think the facilities help to breakdown some disadvantage structural problems the women face. If it is a scheme that helps women to plug into an ecosystem, matchmaking and networking. In terms of financial facilities, I am deeply sceptical about it particularly those targeted at women. I have seen around the country when we study these SME loan schemes, where the men put forward the women for the loan application just to be eligible for the facility. I think we have to be very careful in designing some of these schemes. But I am in favour of schemes that help women plug into ecosystems to break into the usually male dominated business networks.

Pix by Ruwan Walpola