Al Wasl Plaza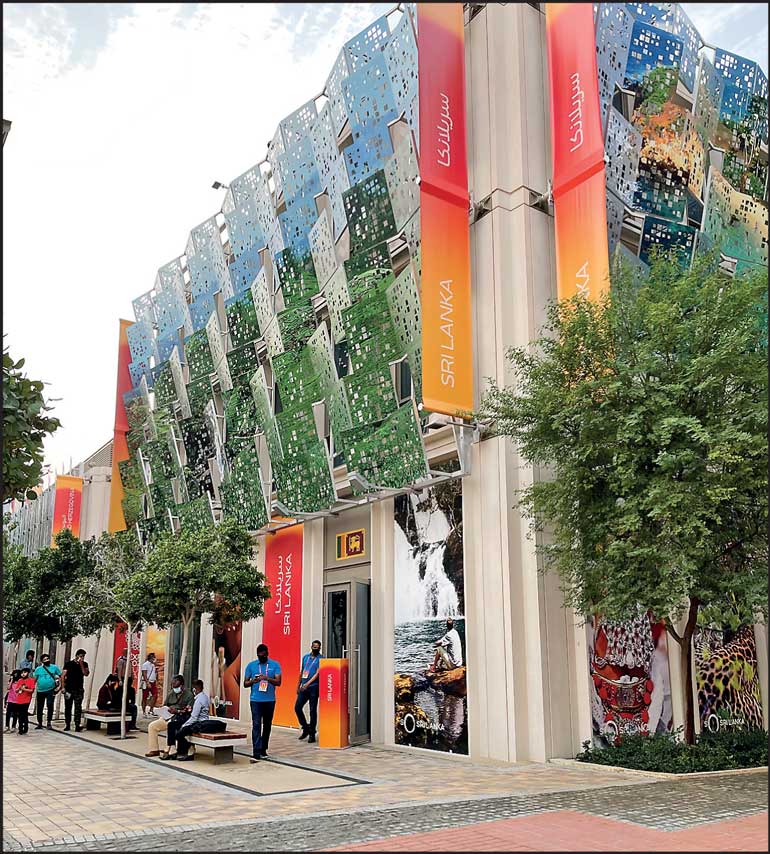 Exterior of Sri Lanka Pavilion
---
By Charumini de Silva in Dubai
---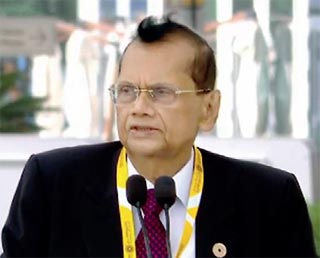 Foreign Minister Prof. G.L. Peiris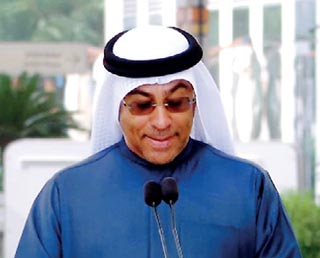 UAE Minister of State Ahmed Ali Al Sayegh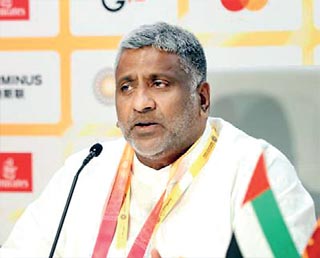 Tourism Minister Prasanna Ranatunga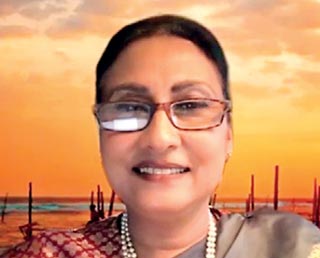 Sri Lanka Tourism Chairperson and Expo 2020 Commissioner-General Kimarli Fernando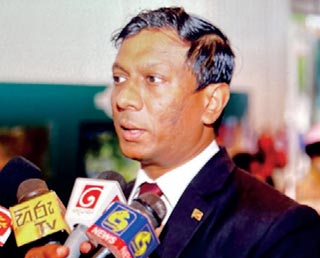 Sri Lanka Consul General in Dubai Nalinda Wijerathna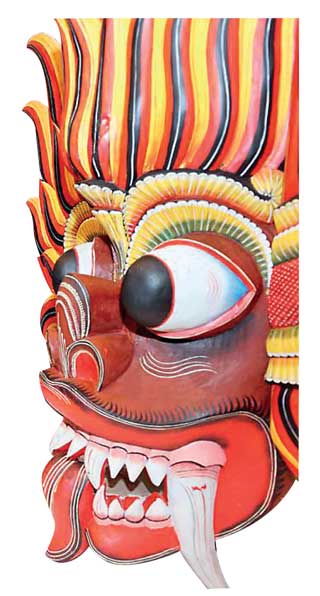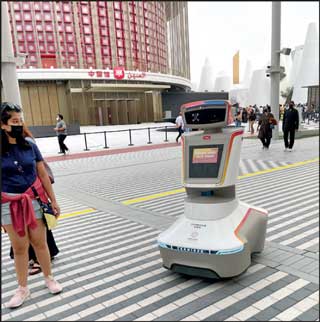 Use of AI to create awareness on COVID-19 prevention measures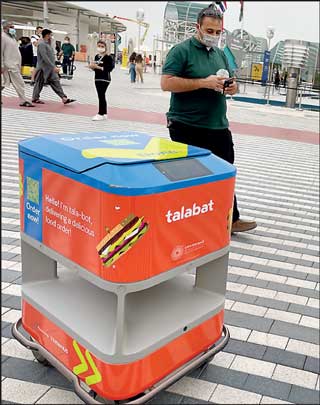 Food delivery robot at Opportunity District at Expo 2020 in Dubai
Sri Lanka recently harnessed the world's largest international stage — Expo 2020 in Dubai, United Arab Emirates (UAE) to engage in cultural diplomacy and interact with the host country, potential tourists, trade partners, investors and other participants. The country is also poised to make a strong case on capabilities and opportunities focused mainly around tourism, trade and investments in the next few months till end-March 2022.
History of Expo
Since 1851, Expos have helped humanity make sense of change and chart a more progressive future
by gathering people and nations under the common banner of Education, Innovation and Cooperation. From their earliest manifestations as a showcase of industrial prowess to their modern incarnation as platforms for cross-border collaboration, Expos have transformed cities, shaped debates on key issues, and provided unforgettable experiences to hundreds of millions of visitors for the past 171 years.

The impact of World War II and its aftermath changed the focus of Expos: the fascination for material progress gave way to the promotion of quality of life and international dialogue. Technology was still at the centre of Expos, but as a means of promoting human development rather than as an end in itself. By creating a platform for discussion and by showcasing ideas and inventions in favour of better lives, Expos became global platforms for exchange and discussion.

Prince Albert, consort to Queen Victoria of the United Kingdom, spearheaded 'The Great Exhibition of the Works of Industry of all Nations', which was held in the custom-built Crystal Palace between May and October 1851. Reflecting the rapid changes of the industrial revolution, the very first World Expo was a unique gathering of nations, showcasing material progress based on technological innovation. By bringing together the best and most advanced creations from around the world, the Expo fostered a form of peaceful competition, but moreover sought to encourage the exchange of ideas and inspire visitors.

The concept, educating the public, promoting exchange and exhibiting new ideas and products – proved popular and was readily repeated across the world. In particular, France organised five Expositions Universelles in Paris between 1855 and 1900, consolidating the establishment of Expos as the most important events of cultural exchange, and as major diplomatic and economic gatherings. The growing recognition and importance of Expos gave rise to the flourishing development of international congresses and conventions leading to stronger cross-border cooperation in fields as varied as intellectual property, labour rights, sport, and education.

The emergence of recognisable country pavilions starting with the façades of the Rue des Nations in the French Expos exemplified the beginnings of this growing form of public diplomacy.

The multiplication of Expos organised under different rules and with different focal points led to the idea of setting up a common organisational framework. This project, first mooted by Germany in 1913, eventually came to fruition in Paris in 1928, when 31 countries signed the Convention relating to international exhibitions. The Convention defined Expo types, their duration and their frequency, established a regulatory procedure for host and participant countries, and created a governing body to apply the Convention: the Bureau International des Expositions (BIE).

From 39 countries participating in Expo 1958, the number of participating countries continued to grow, reaching 155 at the turn of the century with Expo 2000 Hannover, Germany. This evolution had the effect of broadening the scope of Expos to encompass wider perspectives, giving all countries an equal chance to shape the debate, showcase their solutions and project soft power in an increasingly globalised and interconnected world.
Expo 2020 Dubai
Expo Dubai has been the talk of many ever since it was awarded to UAE, Dubai in late 2013. Expo 2020 Dubai is also the first World Expo to take place in the Middle East, Africa and South Asia region as a host nation to shoulder the gigantic platform. One of the key points UAE outlined at the bidding process, was that they will support the 'developing nations' to exhibit at the Expo 2020 and that they would assist those countries to set up pavilions and other facilities necessary. It was also one of the firsts in Expo history, where the host country extended such a noble gesture by making it one of the greatest inclusive Expos in the world and UAE was highly regarded for it globally.

The theme of Expo 2020 Dubai is 'Connecting Minds, Creating the Future'. It is considered as a 'festival of human ingenuity' in recognition of collaboration and partnership as today's engines of growth. It is situated across 1,083 acres, of desert land and held with the participation of 192 countries. Expo 2020 has three sub-thematic districts, which include; i) Opportunity — reflecting the necessity of financial capital as a resource to support growth, and partnerships as a primary driver of innovation and employment, ii) Mobility — physical mobility for individuals, access and distribution of goods and services, and virtual connectivity through information technology (IT), and iii) Sustainability — the need to use resources without compromising the ability of the planet to sustain future generations, in recognition of the role of natural and built habitats in ensuring human well-being and community resilience.

With the UAE investing billions of dollars, the global event is attracting millions of people from across the globe to demonstrate the country's achievements and its future plans. This prestigious global event, Expo 2020 Dubai commenced on 1 October 2021 and will end on 31 March 2022. Originally, it was scheduled to be held on 1 October 2020, but due to the outbreak of the COVID-19 pandemic, the event was postponed to October 2021. As of end-December, Expo 2020 had attracted nearly six million visitors from around the globe and the event is on track to welcome around nine million visitors over its six-month runtime, ending on 31 March.

Driven by a vision to connect minds, create transformative, real and sustainable change, and build a better tomorrow, Expo 2020 Dubai will transition to District2020. Post-Expo 2020, the District2020 will become a place where businesses thrive, connect with one another, and bring forth innovative solutions and ideas. The space is said to host educational, cultural, entertainment and leading innovative facilities.
Al Wasl Plaza – key attraction
Every Expo has a unique feature and over its 150-year history, it has been highly considered. Expos became the foremost events for showcasing new technologies and inventions, and for realising architectural and technical feats, such as the Eiffel Tower or moving walkways. In turn, they became the ideal venues for nation branding, giving countries the opportunity to promote their art, culture and engineering accomplishments.

Fondly referred to as the heart of Expo 2020 Dubai, Al Wasl Plaza is a visual marvel for the visitor for its striking scale; it's got a 130-metre-wide, 67.5-metre-tall dome that doubles as a 360-degree laser projection surface, making it the largest of its kind.

The name of its origins, as Dubai used to go by the historical name of Al Wasl, which means 'connection' in Arabic. Expo's centrepiece at the heart of the 483-hectare site derives its purpose and function from the same word. The plaza connects the three Thematic Districts —Sustainability, Mobility and Opportunity and will be entertaining visitors pouring into the heart from all sides with projection shows, restaurants, fountains and lush parks.

The dome's trellis design allows special projection screen material to be held tightly between its lattice structure. The 252 laser projectors work to splash images onto the surface of Al Wasl Plaza dome. What's more is that these laser shows can be viewed from within the dome as well as from outside.

Al Wasl Plaza will continue to captivate spectators even after the exposition's six-month run. At the centre of Expo's future site, District 2020, the plaza will transition into a linking hub for neighbouring hotels and offices.
Sri Lanka at Expo
Sri Lanka joined the BIE on 13 November 2007. However, the country has been present in Expos since the 19th century and Sri Lanka has regularly participated in World and Specialised Expos. Some of the Expos participated in the recent times include; Expo 2000 Hannover, Germany; Expo 2005 Aichi, Japan; Expo 2010 Shanghai, China, Specialised Expo 2012 Yeosu, South Korea; Expo 2015 Milan, Italy and Specialised Expo 2017 Astana, Kazakhstan.

This World Expo 2020 in Dubai, which was a significant opportunity for Sri Lanka to showcase its potential mainly focused on the areas of tourism, trade and investment in the post-COVID pandemic. The Tourism Ministry extended an invitation to select national media representing both newspapers and electronics to provide coverage for Sri Lanka's mission at Expo 2020 Dubai and Sri Lanka National Day event held on 3 January 2022. The Daily FT was among the select group of newspapers invited for the coverage.

The Sri Lanka Pavilion which extends in a 212 sq. m. area is situated in the Opportunity District. The entire pavilion construction was facilitated at zero cost to Sri Lanka courtesy of Expo 2020 Dubai. Since the opening, it has attracted over 52,000 visitors, a strong reflection of the concerted team effort of Sri Lanka Tourism along with partners to date — Export Development Board (EDB), Ceylon Tea Board, SriLankan Airlines, Consulate of Dubai and with the excellent and willing cooperation of the Ambassador to the UAE.

Tourism Minister Prasanna Ranatunga described Expo 2020 as an opportunity for Sri Lanka to market itself to the world, and thanked the UAE for giving the opportunity to the world to come together under one umbrella.

"All these years, Sri Lanka has done promotions in isolation, and Expo 2020 offers a golden opportunity to position the country collectively in a well-coordinated national effort. At Expo 2020, it is not just tourism, but the Sri Lanka Pavilion will promote all other foreign exchange earning sectors," he said.

In the context of a pandemic situation, Minister Ranatunga also pointed out that Sri Lanka must take on every challenge as an opportunity, to ensure it reflects into a progressive step to lead the country to prosperity.

Sri Lanka Tourism Chairperson and Expo 2020 Commissioner-General Kimarli Fernando said the Key Performance Indicators (KPIs) are through the footfall, earned media and business generated.

"While we are still quantifying on the actual values of the businesses generated, we had over 52,000 visitors since the opening in October 2021 and generated over $ 95 million worth of earned media coverage through CNN Dubai TV, Abu Dhabi TV and many more," Fernando told the Daily FT.

A total of 20,314 visitors in October, 10,692 in November and 20,700 in December had explored the Sri Lankan Pavilion.

"The Government had declared 2021-2030 as a 'growth decade' where Sri Lanka would be focused on building sustainable partnerships and working together to grow. We are committed to make tourism a strategic priority industry in our growth plan," Fernando emphasised.

On behalf of Sri Lanka Tourism Promotion Bureau (SLTPB), FunTime Sri Lanka Consultant Niyomi Delwita explained the key features evolved around the country pavilion which include; tourism, trade and investment opportunities.

"Tourism industry is one of the top opportunities to develop Sri Lanka and to create awareness of the 2,500 years of proud heritage and culture to the world. We highlight the key tourism attractions and unique experiences that a traveller is keen to explore in Sri Lanka. Apart from stationing representatives covering all three key areas to find new customers, the pavilion also facilitates connecting with potential investors and businesses, paving the way for Sri Lankan businesses to unleash possible opportunities," she told the select journalists at the pavilion.

The EDB, BOI and Port City will also have their own B2B forums facilitated by Sri Lanka Tourism at Expo 2020 Dubai focusing on creating awareness and connecting with potential investors and businesses. In addition, Sri Lanka Tourism Travel B2B Forum connects the local travel and tourism industry with global players.

Silent display screens take visitors on a journey through history, culture, nature, people, and the many facets of a visit to the island will entail, through the medium of storytelling, via video and digital content. This has been successfully achieved while retaining the essential features of the design. Some features of the design aspect have had to be adjusted to keep with climatic and health and safety conditions of the location of Expo 2020; it has 'not resulted in any additional cost' to Sri Lanka.
Exhibitors share their experience
It also has an interactive craft corner, which had lace patterns inherited by Sri Lanka — 'beeralu', and the demonstrations drew the attention of many visitors. It is run on a rotation basis with an array of activities from batik, Sri Lankan puppetry, clay pottery, wood carving, cane weave, Sri Lankan sculpting craft, brass plate designs, mask carving, rush and reed craft, flax designs, and more, showcasing Sri Lankan arts and crafts to the world.

Kanthi Lace Proprietor Kanthi Latha, who was busy weaving, shared her experience with the Daily FT on participation at the world's biggest Expo.

"Post-pandemic, this is a great opportunity for Sri Lanka to showcase our traditions and weaving technology which goes back to centuries. It is an overwhelming pride to be able to be in our national pavilion in a foreign country. There are many women who are working under my purview and I want to empower them all to take this industry forward," she said, adding that bulk of the revenue is generated through bridal orders.

Also included in the pavilion is the famous 'Ceylon Tea' corner, hosted by the Sri Lanka Tea Board (SLTB) in partnership with the private sector and will be on a roster basis and run throughout the six months.

"We used to make around 400 cups of Ceylon Tea per six-hour shift for the visitors who came to Sri Lanka's pavilion. It was a great attraction and a refreshing experience for most of our visitors over the past three months. Ceylon 'Dimbula' tea was a favourite among the European visitors, while 'Ruhuna' tea was a favourite of Middle Eastern visitors. We also provided sample sachets to those who were interested in Ceylon Tea. During the past three months Dilmah, Akbar Tea, Jaf Tea and Finlays had participated, while many more companies are in the pipeline to be participated on a rotation basis," Ceylon Tea Board Tea Hostess Benara Perera told the Daily FT.

The National Gem and Jewellery Authority (NGJA) with industry participation showcased 'Ceylon Gems' at the Sri Lanka Pavilion, and also ran a gem promotion, providing the visitors with an opportunity to purchase. This will be made available till the end of this month.

"The Expo 2020 has been a great opportunity for us to showcase, create awareness and build new customers for the gem and jewellery industry, post-pandemic. With the reduction in the export service fee and change in procedure is a great boost to the industry, as it opens up the market to smaller dealers and SMEs who are now able to export gems without having to go through a physical examination at the NGJA. We believe the eased regulations and incentives provided will pave the way for exporters to join the $ 1 billion industries this year," NGJA Chairman Thilak Weerasinghe told the Daily FT.

Meanwhile, gem industry participants at the pavilion said they had a number of new customers and the inquiries were mainly for blue sapphires, rubies and cat's eye stones.

"The exposure we had through Expo 2020 is immense. We had over 20 inquiries from new customers mainly from India, Saudi Arabia, UAE, Jordan and Lebanon. Although our overall businesses dropped during the past two years due to the COVID-pandemic, we are hopeful that the trade will bounce back to normalcy this year," the gem exporters told the Daily FT.

State-owned gift and souvenir shop, the world-renowned Laksala also had a kiosk at the Expo 2020 premises, showcasing traditional crafts, spices, gem and jewellery and Ceylon Tea.

"We had a great response from global visitors. Most of them were interested in spices, gems and jewellery, and crafts. We are poised for future growth supported by the revival of the tourism industry which is the main spearhead for our business. A lot of the visitors were keen to get customised products with their own colour-codes, which was a new experience and we are keen to make those changes evolving to new needs and demands of buyers. With these positive trends, we see a very bright future for our crafts industry," Laksala Chairman Lakmal Wickramaarachchi told the Daily FT.

National carrier, SriLankan Airlines' raffle draw to win free airline tickets for visitors who patronised the pavilion with social media engagement, was also a huge success.

Complimenting these inside activities were outside the pavilion engagement where a wedding fashion show was held on 20 December 2021 to highlight destination wedding potential in Sri Lanka. In addition, each month a cultural show with a fusion act was performed combining the dance forms of traditional Sri Lankan dance into modern day music and rhythms, glamorous, colourful entertainment with eye-catching costumes in a pleasing package of audio-visual entertainment. These shows were among top crowd pleaser acts performed by the Channa Upuli Dance Troupe.

Financial constraints have also played a part when implementing some of the plans of the EDB, which had budgeted and planned for the expenditure to the tune of Rs. 580 million and the contributions from industry players, for the six months duration of Expo 2020. The pandemic and economic factors resulted in EDB not being able to raise the funds, Sri Lanka Tourism being called upon in December 2020 to shoulder the financial responsibility and also to take leadership with Tourism agreeing to spend Rs. 155.5 million, a fraction of the initial budget, for the entire six months, to manage the event in Dubai.

"Taking on the huge responsibility and challenge with limited time and resources, we are happy to state that the Pavilion is a success due to the concerted effort of all stakeholders who stand behind Sri Lanka," Fernando said.
Celebratory national day – 'Pearl of the Indian Ocean'
Sri Lanka gained what is billed as the biggest post-COVID spotlight to woo trade, investments and tourism on 3 January with elaborate plans to celebrate the 'National Day' event at the Expo 2020 in Dubai which draws 50,000 visitors daily.

The fresh push at the National Day event was attended by a high-level delegation led by Foreign Affairs Minister Prof. G.L. Peiris, Tourism Minister Prasanna Ranatunga and Sri Lanka Ambassador to the UAE Malraj de Silva. Others in the delegation were Foreign Affairs Ministry Secretary Jayantha Colombage, Gem and Jewellery State Minister Lohan Ratwatte, and MP Madura Vithana.

The Sri Lankan delegation was welcomed by State Minister Ahmed Al Sayegh, Foreign Affairs Ministry West Asia Affairs Director Khalid Nasser Sulaiman Al Ameri, and Office of the Commissioner General Expo 2020 Dubai Executive Director Najeeb Al Ali.

"Expo 2020 is a timely opportunity for Sri Lanka to brand the destination and an ideal platform to promote tourism, exports, including value-added spices and other agricultural products, gems and jewellery as well as industrial manufactured exports. Our inherent strengths; the warmth and hospitality of our people in the tourism sector, the scenic beauty abundant with natural resources and our cultural heritage are great offerings that cannot be matched," Prof. Peiris said at the national day event held at Al Wasl Plaza.

Foreign Minister Peiris also noted that participation in Expo 2020 was a marketing exercise which requires strategy to captivate the target audience, amidst a fierce competitive market.

UAE State Minister Al Sayegh said through Sri Lanka's strong participation at Expo 2020 and beyond, they aim to further fortify their relations and foster new opportunities for collaboration that will lead to the mutual benefit of those nations.

"By adopting the theme 'Opportunities beyond waters', one that is quite fitting for a country that has the highest waterfall density in the world, the Sri Lanka Pavilion highlights how this friendly nation innovatively transforms challenges into opportunities, along with its tremendous capacity for entrepreneurship," he added.

Minister Al Sayegh said they were proud that both the UAE and Sri Lanka have enjoyed strong and friendly relations for decades, as the UAE has been the largest trading partner of Sri Lanka in the Middle East, and collaboration extending across a diverse number of sectors, such as trade and investment, environmental cooperation, as well as mutual support on the international stage.

'The Pearl of the Indian Ocean', staged during the ceremony, was a colourful choreographed presentation of the heritage of Sri Lanka, portraying phases of agriculture, medicine and healing, mother nature and astrology by blending traditional dancing in an entertainment act along with traditional drumming which presented the history of Sri Lanka from its beginnings to the present day.

The Sri Lanka Pavilion also unveiled a flawless, vivid yellow sapphire to showcase the country's natural resources, whilst highlighting the country's best tourist attractions, its investment and business opportunities, as well as its timeless ruins, rail network, world-class culinary scene, preserved ecosystems and stunning spiritual monuments.
Tourist endorsements
It was definitely music to ears, when visitors at the pavilion enthusiastically endorsed Sri Lanka as a 'unique and hospitable tourist destination'.

"We have been to Sri Lanka many times and we can't wait to go back. Sri Lankan people are the most hospitable ones we have ever come across. Their smiles are the most genuine and full of warmth," Noah Jacob from Ireland said, who visited the pavilion with his family.

Ulla Molter from Germany said she had been a repeat traveller to Sri Lanka, particularly on wellness tourism — a new sub-category that the country is heavily focused on post-pandemic.

"Sri Lanka's is a great package of tourism products; abundant with natural resources, wildlife, history and many more. As a traveller myself, I highly recommend Sri Lanka as a paradise and one of the safe and beautiful destinations. The country is a bundle pack of what Asia has to offer," said Harold Schlarb from the US.

"The most unique place we have travelled in Sri Lanka was Sigiriya — it was an amazing experience," two millennial sisters Olivia and Lisa from the UK said in response to Daily FT. The duo also said they are great fans of Sri Lankan cuisine and their favourites are 'kiribath' (milk rice), tender-jackfruit curry (polos) and coconut sambol.
Economic impact of Expo 2020 Dubai
Sri Lanka Consul General in Dubai Nalinda Wijerathna said the Sri Lanka Pavilion has been a great opportunity to attract interest from visitors around the globe.

"Tourism, exports products such as gems, tea and other plantation industries, investments, including opportunities in Port City, were promoted during the past three months, while several such major events are lined up for the next three months. We got a lot of inquiries from new companies and individuals in these three areas in particular and hope these will be converted to tangible trade and investments during this year, and it will get reflected in our national economy," he added.

Wijeratne also said that UAE is a key trading partner of Sri Lanka in the Middle Eastern region, where annual exports accounts to around $ 2 billion. Despite imports from UAE had dropped due to import restriction, the exports from Sri Lanka had continued to get bigger, amidst the pandemic.

"Next month, we hope to have a single country exhibition at the Dubai Exhibition Centre with the participation of 75 Sri Lankan companies. Everyone is excited for it, as physical business-to-business (B2B) or business-to-consumer (B2C) were held back due to the COVID pandemic. This will be a great opportunity for Sri Lankan exporters to reposition and expand their 'Made-in-Sri Lanka' products more accessible for global consumers, as Dubai is a great business hub," he told the Daily FT.

He said they held several single country exhibitions in collaboration with trade chambers and leading supermarkets chains to promote trade activities in UAE as well as in the region.

The Consul General opined that UAE had been interested in investment opportunities in Sri Lanka especially on the proposed Port City. "We are also organising an investment forum in March, which will see top-ranked businessmen from the Middle Eastern region and Sri Lankan companies to facilitate more trade and investment opportunities," Wijeratne stressed.

The Daily FT learns that singing sensation Yohani de Silva will perform in March. Earlier, Yohani was scheduled to perform at the Sri Lanka National Day event, but due to the current spike in COVID-19 in Dubai, her performance has been postponed.
2022 and beyond
Following the national day event, Tourism Minister Ranatunga Sri Lanka outlined that the country aims to attract 2.3 million tourists for this year with key focus on the Indian, Middle Eastern and Russian markets, whilst hoping that the traditional markets in Europe will rebound in the latter part of 2022.

The Government is pinning hopes on tourism as a low-hanging fruit to boost foreign exchange earnings.

"The 2.3 million tourist arrivals, is a target that we want to aspire to and to generate an income of around $ 4.5 billion. To achieve 2.3 million, we need to attract around 195,000 tourists a month. I strongly believe these are not impossible numbers to achieve and confident we would make it," he told international media covering the Expo 2020 in Dubai.

He also described the achievement of nearly 200,000 tourist arrivals in 2021 amidst the pandemic as a major breakthrough, adding that they hope this trend will continue. "Our expectations are that tourist arrivals will improve to 100,000-125,000 per month in the first quarter of 2022," he said.

The Tourism Minister also elaborated on the rationale for focusing on India, Middle East and Russian markets for promotion in the upcoming months. "As COVID-19 had resurfaced in our traditional markets, particularly in Europe, there is a lot of potential to attract Indian, Middle Eastern and Russian travellers wanting to make a holiday," he added.

Ranatunga said excellent air connectivity to these markets is another key factor to attract more tourists this year. "The Middle Eastern market is considered a key and growing tourism market for Sri Lanka," he stressed.

Sri Lanka Tourism Chairperson Fernando outlined that the country is ready for post-COVID growth, noting that all efforts are being made to ensure visitors a safe, secure, hassle-free and enjoyable visit to the paradise island.

"Sri Lanka is back and we are open for tourists. Our country has everything a post-COVID traveller is looking for. We have created a relaxed, bubble-free travelling for fully vaccinated travellers. Sri Lanka is ready to welcome you with the warmth of our hospitality," she told international media covering the Expo 2020 in Dubai last week.

In an emphatic presentation on Sri Lanka, she said experience-based, sustainable, water-based, wellness, film, retail, nature-based, MICE, wedding and millennial tourism are 10 focus areas that Sri Lanka Tourism will concentrate on post-pandemic revival and strong growth.

"Our main focus, going forward, will be on experiences in marketing to millennials and post-COVID travellers. This is a unique niche Sri Lanka will approach redefining and offering a nature's way to luxury," Fernando pointed out.

The Sri Lanka Tourism Chief also said post-pandemic travellers were gravitating more towards that 'big idea' or 'bucket list' trip of unique experiences, which augurs well with Sri Lanka.

"This will result in growth in nature-based tourism, camping, trekking, and experience-based sustainable travel. Travellers may do fewer trips per year; however, when they do travel, they will possibly invest the time and money in long-haul travel and staying in one destination for longer periods of time. Sri Lanka Tourism is aware of the global trends, and we will eagerly wait to welcome global travellers back in our paradise," she added.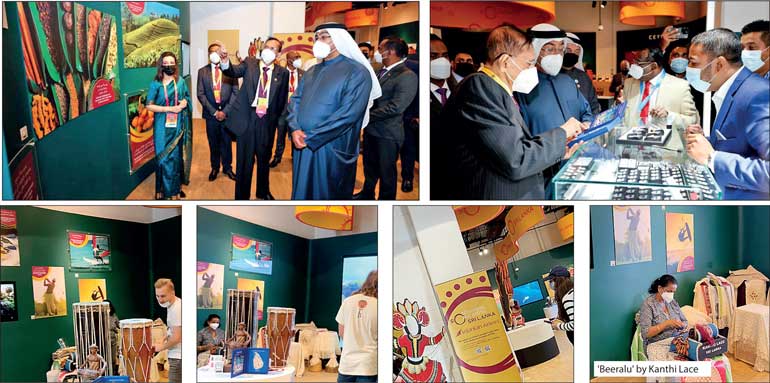 Cultural act at the Sri Lanka National Day Event