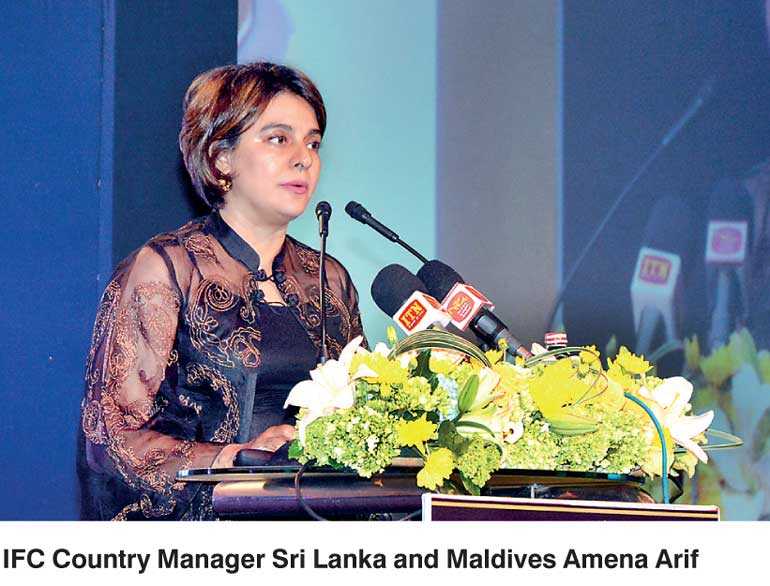 Speaking on women's economic and social empowerment, IFC Country Manager Sri Lanka and Maldives Amena Arif said that even after decades of discussion and some progress toward making women equal partners with men in the economy and society, not one single country has fully closed its economic gender gap. She pointed out that numbers in fact suggest it may be moving backwards.

According to the latest Global Gender Gap Report, at the current rate of progress, it would take over 100 years to close the gap between men and women, and the workplace gender gap will now not be closed for 217 years.

Owing to the differences in lifetime earnings between men and women, the world is losing $160 trillion in wealth, while on average, countries are losing 14% of their wealth, simply because of gender inequality.

"We cannot simply let this go. For the World Bank Group and our goal of shared prosperity, gender equality is not just the 'right' thing, but the 'smart and necessary' thing to do if we are to achieve inclusive development across the world," Arif stated.

In terms of Sri Lanka, she said that although as a country, it has made significant strides in socio-economic and human development indicators, there was a lot more room to up the game in reaching gender equal status on economic levels.

In 2017, the Gender Gap Index ranked Sri Lanka at 109 out of 144 countries in terms of gender equality, which indicates a significant drop over the years, where the country has slipped from 100 in 2016 and 84 in 2015. This highlights that much needs to be done to improve the number of women participating in Sri Lanka's workforce, which declined to 36% in 2016 from 41% in 2010.

Nevertheless, Arif said women leaders in Sri Lanka hold 8% of board seats, better than other Asian nations such as Korea and Japan, but not quite at the global average of 15%.

"This is something that shows immense potential for future growth. It reflects on the significant role Sri Lankan women business leaders have been playing in growing the country's private sector over the years. You are the role models for our young women to follow," she emphasised.

Highlighting some of the work the IFC does on this front in Sri Lanka, she asserted that as a member of the World Bank Group and the largest development institution focused on the private sector in emerging markets, they work on multiple fronts to reduce gaps between men and women in the private sector.

"We invest in private sector companies that support gender based solutions, and most recently we have done this with partners such as NDB, Senkadagala, and Sanasa. Our gender-focused investments also go into the manufacturing, agri and services sector. We also work with regulators such as the Central Bank of Sri Lanka, with whom we have partnered to develop the country's first National Financial Inclusion Strategy, that focuses on underserved segments, like gender finance," she explained.

In addition the IFC helps its private sector partners on issues with the hiring, training, retention and promotion of women. Further, they also do research and reports and base initiatives on it, such as the Women Entrepreneurs Finance Initiative, a platform designed to knock down the unique barriers women entrepreneurs face in developing countries.

"We train women, from micro entrepreneurs in the rural area, to women who sit on Boards, by working with partners such as Sri Lanka Institute of Directors (SLID) and the Colombo Stock Exchange (CSE)," she said.

In 2017, IFC partnered with the Government of Australia and launched the Women in Work program in Sri Lanka. "Let me thank the Australian Ambassador for Women and Girls for being here, and the High Commission for its commitments towards these initiatives. This unique IFC-DFAT partnership in Sri Lanka is our largest, standalone country-based gender program, working with private sector companies to close gender gaps, while improving business performance."

Arif noted that this initiative also contributes to the vision of the Government, where all citizens can achieve higher incomes and better standards of living by 2025.

IFC, who have partnered with WIM 'Top 50 Professional and Career Women Awards' for four consecutive years, noted that they were proud to partner, to lead in breaking down barriers and championing the next generation of women leaders in Sri Lanka.

"Each year, at this event, we continue to highlight the importance of reaching gender parity. At IFC, we care deeply about this, and we have seen their evolution first hand. The awards are beyond a celebration of remarkable women. They are also an opportunity to celebrate the companies that invest in women's business leadership," Arif said.