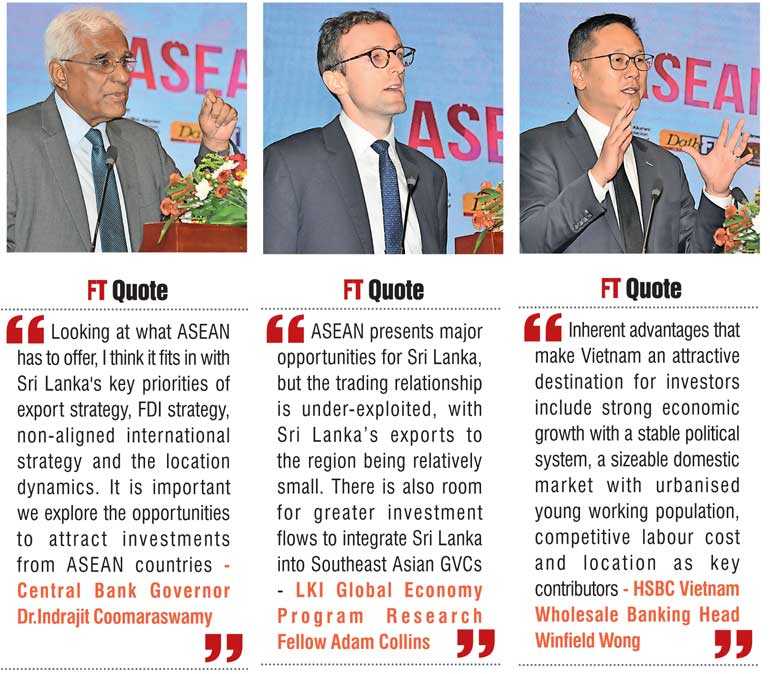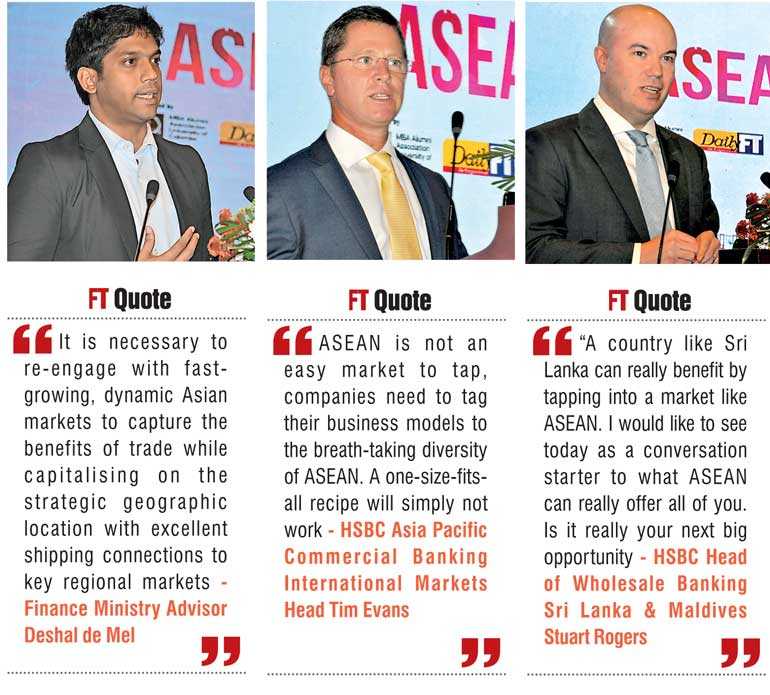 By Charumini de Silva

With Sri Lanka pursuing an aggressive trade liberalisation and greater facilitation strategy to diversify exports to lure more foreign direct investments (FDIs), key insights from global and local experts came under the spotlight at the 'ASEAN: Sri Lanka's Next Big Opportunity' forum in Colombo last week.

Organised by Daily FT and the University of Colombo MBA Alumni Association, together with the strategic partnership of global banking giant HSBC, the two separate yet back-to-back forums at the Shangri-La Hotel, Colombo presented a compelling case on how Sri Lanka can maximise its potential to benefit from the promising ASEAN economic growth.


The discussion kicked off with a CEOs Breakfast Forum exclusively for invitees only, followed by a more detailed management forum. Development Strategies and International Trade Minister Malik Samarawickrama was the Chief Guest at the CEOs Breakfast Forum, while Central Bank Governor Dr. Indrajit Coomaraswamy delivered the keynote address at the subsequent management forum.

A host of top international executives from global banking giant HSBC, together with several Sri Lankan experts, shared some of the latest developments on trade and investments in ASEAN, the opportunities for Sri Lanka and its private sector as well as key lessons from Southeast Asia for Sri Lanka in terms of reforms, exports and FDIs.

Delivering the keynote address, Central Bank Governor Dr. Indrajit Coomaraswamy said that the ASEAN region holds potential for Sri Lanka, particularly considering the priority areas that the Government is currently focusing on.

"Looking at what ASEAN has to offer, I think it fits in with Sri Lanka's key priorities of export strategy, FDI strategy, non-aligned international strategy and, of course, the location dynamics," he said. The two specific areas that Sri Lanka can immediately explore, according to the Governor, were plugging into their value chain and getting into joint ventures to upgrade industrial logistics and services.

"Given our location and preferential trade agreements, it is important we explore the opportunities to attract investments from ASEAN countries to Sri Lanka and plug into their value chains, both in manufacturing as well as in services. Also, by getting into joint ventures, it will help us to adapt and adopt advanced technologies in the South East Asian countries," he asserted.

Dr. Coomaraswamy also noted that ASEAN is a better opportunity with less baggage as it has mid-level geo-political powers, unlike China and India who have concerns on the strategic dynamics in the Indian Ocean.

The Governor also spoke on the progress that has been made to stabilise the economy, while stressing that there is more to be done.

"Sri Lanka has an opportunity in general. We have to get our macro side right and the growth framework right. The plans are in place, but our implementation is far too slow, which needs to be improved," he emphasised.

He stressed that sustained growth includes strengthening macroeconomic fundamentals, enacting structural reforms that improve the competitiveness of the economy and improving the business environment.

"Exports and FDIs are key pillars for economic growth. Domestic demand alone cannot contribute to a continuous 4.5% to 5% GDP growth."



According to the Governor, structural problems that were amplified by the wrong set of policies had caused large fiscal and trade deficits, the core weakness of the Sri Lankan economy, and added that there were no such drawbacks at present.

Dr. Coomaraswamy said successful countries in Southeast Asia had robust fiscal outcomes, low inflation, low interest rates, and undervalued and competitive exchange rates, while Sri Lanka had done the opposite of it.

"Sri Lanka did the opposite of what the ASEAN countries did, and as a result of unsustainable budget deficits which pumped excess demand into the economy, it triggered excess demand in the economy. It then led to a higher propensity to suck in imports and that, in turn, exerts pressure on the balance of payments," he outlined as to how the economy was held back over the years.

The Governor charged that the toxic combination of populace politics and a deeply entrenched culture of entitlement on the part of the people as key phenomena which have led to a slowdown of the country's economy.

He stressed that the Government's commitment towards new comprehensive partnership agreements with China and India, along with its attempts to invigorate FTAs with Thailand and Japan, would perhaps have the greatest potential to truly shift the needle in terms of exports.

"I don't know of any other country that has preferential access to the European Union, China, India and the US. If we can get all these agreements on board, Sri Lanka will be the only country that has preferential access to a market of over three billion people," he added.

Although it is a phase where the global economy is experiencing sluggish growth coupled with low international trade, Dr. Coomaraswamy asserted that Sri Lanka's favourable location and excellent international relations with many countries would triumph in the current global context.

"The assets Sri Lanka has in terms of location are immense. All in all, we have an opportunity to grasp in order to create a new age for the country," he pointed out.

Education, training and skills development were outlined as critical strategic challenges as Sri Lanka no longer could drive growth by augmenting labour. He also emphasised the need to have the fiscal space to take care of Sri Lanka's rapidly ageing population

He also pointed out that the Government will invest in the development of rural roads, rural markets, and other public works worth Rs. 80 billion over the next two years under the 'Gamperaliya' – Enterprise Sri Lanka program. Accordingly, these measures will collectively inject more cash into the rural economy which will help improve economic activity and kick-start broader consumption across the country in a sustainable manner. The Governor was also optimistic about taking the first tentative steps to increasing direct taxes by simplifying the system and drawing more taxpayers into the net. Once public revenue increases, the Governor was hopeful his job would become easier as policies could be made more consistent through stronger links between the Central Bank and the Government. "It is a lot easier to deliver low and stable nominal interest rates and a competitive and stable exchange rate if the fiscal outcomes are not part of the excess demand pumped by debt to the system. Hopefully, as fiscal consolidation takes place, monetary policy and fiscal policy can deliver those outcomes," he said, adding that the Government was striving to set stable interest rates in the medium term. Given the fact that there is a high import component in the basic consumption in Sri Lanka, Dr. Coomaraswamy highlighted that, if necessary, the Central Bank will take all measures to discipline the forex market, adding that they will soon be announcing further measures to develop the market. He pointed out that, despite the global developments with dollar strengthening, higher oil prices and all other external factors, there is still 'no pressure' to the extent the country had experienced before. "If anybody is speculating, I must say that it is not something that we are going to tolerate. In the long run, we will enlighten the self-interest of those who operate in a forex market. We have a lot of instruments to restrict them — to restrict importers, to restrict exporters. If you don't know what those measures are, please look at what my former mentor A. S. Jayawardena, who passed away recently, did in 2001 in the currency upshot," he added.

Governor Coomaraswamy reiterated that there is no reason for this undue pressure on the exchange rate as foreign reserves are at record high levels of $ 9 billion, adding that they were trying to deliver a compatible exchange rate.
The Governor said bringing down the fiscal and trade deficits, reducing foreign debt, increasing exports, developing scientific and technical education, and fostering an economic policy environment of certainty and predictability are key strategies for accelerating the country's growth momentum as Sri Lanka is trumped by the location factor.

"Clearly, the model we try to get through is private sector-driven, with FDIs as the key pillars," he added.

Focusing further on a positive narrative, Dr. Coomaraswamy pointed out that there were ongoing efforts to improve investment attraction, the ease of doing business, trade policy and trade facilitation.

"Of course, we would like to go it a little faster, but the direction is positive," he said.


Does Sri Lanka's future lie with ASEAN?

LKI Global Economy Program Research Fellow Adam Collins spoke extensively on why Sri Lanka should seek closer ties with ASEAN, where its links with the region stand in his presentation, insisting that ASEAN holds great potential for Sri Lanka in terms of boosting its exports and attracting greater FDI.

Highlighting that ASEAN is the sixth largest economy in the world, which boasts 3.5% of world's GDP with 634 million people and 7.3% of global goods trade, he said the economies in the region are compelling examples of the export and investment led-growth.

"Successful integration into global value chains has been a key driver of export and investment growth," he added.

Collins stressed that the regional economic integration in Southeast Asia has been far more successful than in South Asia.

Elaborating on Sri Lanka's formal links with ASEAN, he noted that the country has diplomatic missions in seven ASEAN states and a member of the ASEAN Regional Forum.

According to him, Sri Lanka has bilateral investment treaties with five ASEAN members, mostly signed in the 1980s and 1990s. Beyond the recent FTA with Singapore, Sri Lanka also trades with ASEAN members based on WTO rules. Despite all these connections, it was pointed out that Sri Lanka's goods trade with ASEAN continued trade deficit with the regional economies

"Sri Lanka's trade and investment relationship with ASEAN is currently underexploited and is too one-sided," he added. The key ASEAN members that Sri Lanka trades with include Singapore, Malaysia, Thailand, Indonesia and Vietnam, where Sri Lanka's top five exports to the region include ships, food products, parts of footwear, refined oil, machinery, electrical equipment and parts, while the top five imports from ASEAN are refined oil, machinery, electrical equipment and parts, food products, gold and cement.

He said lack of data on bilateral trade in services means that the country doesn't know the scale or scope of this trade. "Sri Lanka's biggest service export is tourism, but ASEAN appears to be an 'untapped' market. Anecdotal evidence suggests that trade in services such as ICT is growing, but it is relatively small-scale."

In terms of investment flows between Sri Lanka and ASEAN, he asserted that bilateral FDI flows amount to a cumulative $ 1 billion since 2013, which have mostly been companies from Southeast Asian region investing in Sri Lanka. As a new development, present Sri Lankan firms are increasingly looking to ASEAN as a destination for their investments.

"ASEAN presents major opportunities for Sri Lanka, but the trading relationship is under-exploited,

with Sri Lanka's exports to the region being relatively small. There is also room for greater investment flows to integrate Sri Lanka into Southeast Asian GVCs," he pointed out.

Improved market access, deepened political ties with ASEAN and continuing domestic reforms were outlined as three priorities to extend ties with Southeast Asian economies. Nevertheless, he said that full membership of ASEAN is unlikely to be an option for Sri Lanka as it is not part of Southeast Asia.

According to Collins, the most viable option for Sri Lanka is to become a 'Sectoral Dialogue Partner' to deepen political and economic ties with ASEAN. "This should be combined with the maintenance of

strong bilateral ties with key ASEAN partners."

Noting that more FTAs will help, he said that it was imperative to be combined with domestic reforms to ensure the competitiveness of Sri Lankan firms and the country's attractiveness for FDIs.

"Continuing the current FTA strategy and deepening political links with ASEAN are important priorities, but must be accompanied by domestic reforms. To boost trade with ASEAN significantly, Sri Lanka needs to diversify exports into items important in GVCs. Priorities are improving the business environment, infrastructure quality and addressing skills shortages," Collins added.


Vietnam, the success story of ASEAN

Relating the Vietnam and ASEAN opportunities, HSBC Vietnam Wholesale Banking Head Winfield Wong said in an era of increasing regionalisation and globalisation, its membership in ASEAN helped Vietnam's economy and hastened its integration into the world economy.

Vietnam witnessed a six-year high GDP growth rate at 6.81% in 2017, where the FDI sector continued to be a key driver of the growth of its economy, accounting for approximately 70% of the country's export turnover, equivalent to 22% of GDP. The FDI sector has generated millions of jobs and contributed greatly to innovation and modernisation, boosting the economy's growth.

Noting that Vietnam's exports have shifted from crude oil to electronics, it was pointed out that the country was also moving up the value chain. "Vietnam has shifted from exporting natural resources like crude oil to high value added products that require labour skill, improving quality to penetrate global markets. Previous years' exports of crude oil and natural resources account for a very large share in the export structure. During the year of 2017, on the opposite, electronic components and mobile phones occupied the highest proportion in the structure."

According to him, the key export commodities include telephones and their parts, textiles, computers and electrical parts, footwear, machinery, instruments and accessories, while main imports include computers, electrical products, machinery instruments and accessories, telephones and their parts, textiles and fabrics, as well as iron and steel.

Describing 2018 as the busiest year for State-owned enterprise (SOE) divestment, he said Vietnam's policymakers have framed the sale of SOEs as a means to both increase fiscal revenues and reduce government expenditures, adding that it is a positive direction and deserves full recognition.

"The Planning and Investment Ministry has finalised a list of 375 SOEs to be wholly or partially divested by 2020, with total capital exceeding $ 4.7 billion. This year is expected to be the peak period of equitisation and divestment. The timetable included roadshows and awareness campaigns for the divestment process, which had finally moved along after years of deliberations and setbacks. International banks like HSBC contribute to the process through bridging investors and Vietnam companies leveraging our international network," he added.

The State Bank of Vietnam (SBV) has a broader policy perspective than other central banks in ASEAN as it aims to keep inflation under 4% whilst meeting its credit growth target.

Wong said Vietnam's accession to the various ASEAN agreements demonstrates its commitment to economic cooperation in the region, to the opening up of its economy and to trade liberalisation. "The country's current impressive economic growth testifies to this vigorous drive toward reforming the economy."

In terms of trade between Vietnam and ASEAN, he stressed that export turnover has increased sevenfold in the 20 years since it became a member of the bloc. ASEAN has continually been an important trading partner of Vietnam and the bilateral trade relationship has been growing.

"ASEAN countries bring healthy international competition, which promotes greater efficiency of the economy, and generates greater income and welfare of its people. Vietnamese companies should make better products at lower prices to win customers. Vietnamese businesses and consumers enjoy access to many new goods and have more choices. The prices of products will be more competitive and the quality will be higher," he stated. ASEAN has become Vietnam's fourth biggest exporting market behind only the United States, EU and China.

Wong said that the great fundamentals were a key game changer to the success of Vietnam. "Inherent advantages that make Vietnam an attractive destination for investors include strong economic growth with a stable political system, a sizeable domestic market with urbanised population, young working population and competitive labour cost, and ideal geological location as key contributors," he stressed.

Vietnam has implemented numerous reforms to improve its business environment for foreign investors. Although there is still scope for further reforms, the business environment, as reflected by numerous studies, improved substantially in 2017. The Government has also taken measures to simplify administrative procedures in areas such as import and export, company establishment and making tax payments. "Pro-growth Government was opening up the economy. Vietnam's Government actively improved its investment climate, with significant tariff cuts under the ASEAN Economic Community (AEC) and FTAs. It is one of the few countries in the region that allows 100% foreign ownership for most sectors and the determination of the Government ensures an effectively growing economy," he added. Connecting the dots of HSBC and ASEAN, Wong said the bank is actively working and building business corridors with strong and potential Asian FDI countries into Vietnam. "The corridor with ASEAN countries is an important one to HSBC in Vietnam, with Thailand and Malaysia being the top and emerging FDIs in Vietnam. We utilise our strong advisory and transactional banking to provide unique services to investors, supporting the capital flow and their business-building in Vietnam," he noted.



Opportunity for Sri Lanka

Speaking on Sri Lanka's ASEAN opportunity, Finance Ministry Advisor Deshal de Mel highlighted that FTAs with dynamic regional partners can play a crucial role in providing a transparent and predictable framework to attract export oriented FDI.

Outlining that the Government is in the process of re-balancing the economy towards greater outward orientation, he said post-war growth was driven by foreign borrowings to finance domestic infrastructure where progress was determined by domestic market. "The urgent necessity was to stabilise the economy and to change the economic model to one of greater outward orientation with a focus on exports, FDIs and other inflows of foreign income," he added. He said the recent increases in petroleum products and a few essential items are considered transitory supply-side drivers, and further improvements in domestic food supplies are expected to stabilise the inflation rates around the mid-single-digit figures in the latter period of 2018, where they project the inflation to remain in the 4% to 6% range in the medium term.

In 2017, Sri Lanka's export earnings were at the highest, recording $ 11.4 billion, while FDIs doubled to $ 1.9 billion compared to 2016. In the first half of 2017, BOI approved projects were at $ 601 million, an 81% Y-o-Y increase. FDI inflows relating to infrastructure projects, services and manufacturing increased by 138.2%, 15.1% and 93.8% respectively. "Future growth model should be led by export of goods and services, and a multi-pronged policy approach addressing both supply and demand side," he added.

He said market access through FTAs with key economies, implementation of National Export Strategy (NES), unilateral tariff rationalisation and underlying legislative framework as the anti-dumping and safeguards laws and a trade adjustment package is being designed to support transition.

Narrating Sri Lanka's reorientation to Asia in an era where the country's export products and market diversification has been poor, de Mel insisted on the necessity to leverage the trade-investment nexus and position itself as a destination for investors seeking to access markets in the Indian Ocean region. "It is necessary to re-engage with fast-growing, dynamic Asian markets to capture the benefits of trade while capitalising on the strategic geographic location with excellent shipping connections to key regional markets," he added.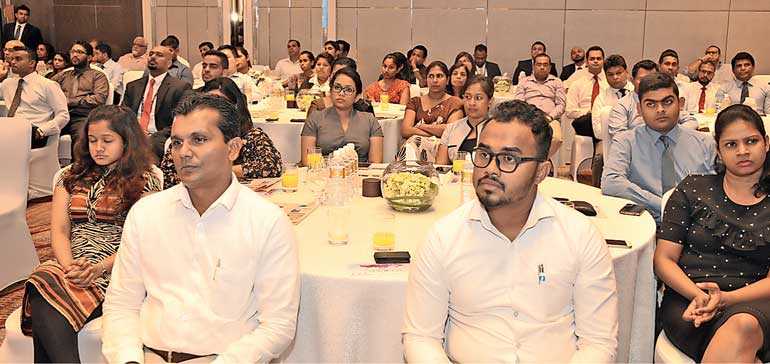 Noting that Sri Lanka is building a network of trade agreements, he stressed FTAs with India, China, Pakistan, Singapore and GSP+ to the EU creates preferential access to a market of 3.5 billion people. In addition, continued integration with the Southeast Asian countries will enable greater integration into regional and global value chains.

"In January 2018, Sri Lanka signed its first comprehensive bilateral trade agreement with Singapore that went beyond trade in goods. The Sri Lanka-Singapore FTA (SLSFTA) covers trade in services, investment protection, intellectual property, e-commerce, and limited government procurement. The Agreement creates a transparent framework for trade and investment between the two countries. It also covers other areas including customs corporation, IP, which are helpful for trade, investment and the business climate," he stated.

He believes SLSFTA will provide greater confidence for Singaporean investors into Sri Lanka, which is one of Sri Lanka's main objectives from the agreement, while also insisting that it provides a strong signal to the rest of the world that Sri Lanka is committed to reform and opening up of the economy. Citing SLSFTA is the start of a broader trade engagement with the ASEAN region, he noted that the Government is exploring opportunities for trade agreements with countries, including Malaysia, Thailand and Indonesia.

"This would enable Sri Lanka to link in with regional value chains, and creates opportunities to diversify into export manufacturing such as electronics, F&B and so on. However, FTAs alone are not sufficient to enable this. It needs further work on trade and investment facilitation measures," he pointed out.

Emphasising the fact that re-orientation to Asia was a key step in shifting Sri Lanka from a debt-financed infrastructure model to one of an export-oriented FDI model, de Mel said FTAs with dynamic regional partners, as well as leveraged RVC activities, will enable the trade-investment nexus to play a crucial role in providing a transparent and predictable framework to attract export-oriented FDI.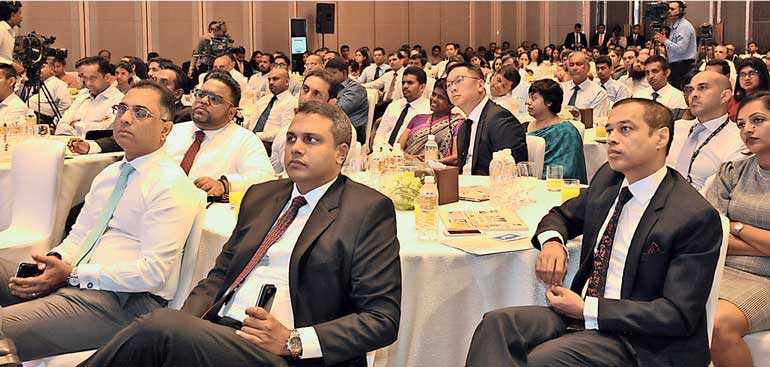 HSBC analysis on ASEAN

HSBC Asia Pacific Commercial Banking International Markets Head Tim Evans said ASEAN presents a fertile but challenging opportunity for Sri Lankan businesses

Outlining the opportunities that existed in ASEAN, he noted that the region is home to some of the fastest growing economies in Asia and the world. "The potential economic and demographic dividend that ASEAN presents is greater when the region is treated as a whole. If you look at the ASEAN consumer, their 650 million inhabitants are an increasingly powerful source of global demand, and potential game changer for companies that are looking for growth in an often uncertain global environment," he stated.

Thereby he said for HSBC, building and maintaining trade corridors with ASEAN is a very sensible way of achieving growth. "This is why we have Sri Lankan apparel companies expanding their footprint in Myanmar and Indonesia. ASEAN is not an easy market to tap, companies need to tag their business models to the breath-taking diversity of ASEAN. A one-size-fits-all recipe will simply not work," Evans stressed.

HSBC Head of Wholesale Banking Sri Lanka & Maldives Stuart Rogers said the full potential of ASEAN is still not fully appreciated.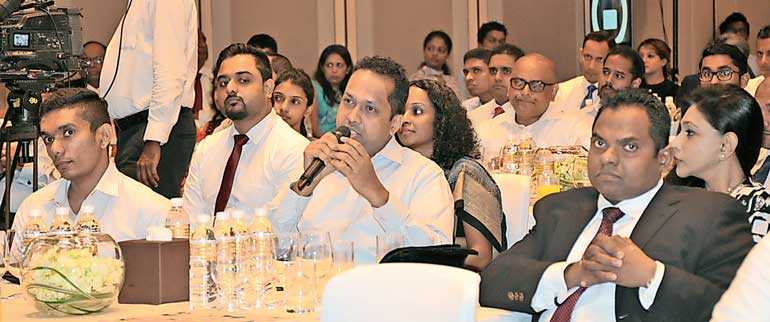 "ASEAN's full potential is still not fully appreciated. Yet the region's economy of $2.6 trillion is already the seventh largest economy of the world, and by 2030 it will be the fourth largest economy in the world. Accenture estimates that annual consumer spending will rise by $2.3 trillion by 2020, which is roughly 80% higher than the 2012 level. The number of middle class households in ASEAN will top 120 million by 2025, roughly double what existed in 2007," he added.

However he pointed out the disparity between the different countries, noting that Singapore has a per capita income that is 40 times that of Cambodia, while internet penetration is barely present in countries like Myanmar. The bloc also includes a range of political and regulatory systems, which could be difficult for a business to navigate.

"A country like Sri Lanka can really benefit by tapping into a market like ASEAN. I would like to see today as a conversation starter to what ASEAN can really offer all of you. Is it really your next big opportunity. If you believe this, as we at HSBC do, then our in-depth knowledge of the region and our strong presence in Asia will provide you with the expertise required to navigate the opportunities with ASEAN," Rogers emphasised.

Pix by Daminda Harsha Perera and Lasantha Kumara
---

Looking beyond challenges
Macroeconomic stability and reforms to improve Sri Lanka's business environment are crucial to local businesses gearing up to enter ASEAN. Central Bank Governor Dr. Indrajit Coomaraswamy gave his views on how the country can look beyond Free Trade Agreements (FTAs) to foster growth. The panel featured LKI Global Economy Program Research Fellow Adam Collins, HSBC Regional Head of Sales, Commercial Banking Global Liquidity and Cash Management, Asia Pacific Vivek Deshpande, HSBC Vietnam Wholesale Banking Head Winfield Wong, Hirdaramani Group Managing Director Ranil Pathirana, Expolanka Holdings Plc Managing Director Hanif Yusuf, Finance Ministry Advisor Deshal de Mel and University of Colombo MBA Alumni Association President Irshan Jayah. The discussion was moderated by Daily FT Chief Editor and CEO Nisthar Cassim. Below are excerpts of the Q and A.
Q: Can Sri Lanka be a part of the ASEAN?

Governor: I think in the late 1980s, under President Premadasa, we considered the ASEAN membership. At the time, it didn't work out. I think we have some kind of status. I suspect it may be challenging. However, I don't think we have to be a member to take advantage of ASEAN. In fact, bilateral relationships with those economies and government-to-government relationships could leverage our trade relations.



Q: The previous speaker mentioned that we have only tapped five countries for trade. Why have we not gone into the other economies? What about professional exports?

Governor: The ASEAN countries have opportunities for our companies to go and invest, both in terms of services as well as in investments. I think apparel and financial services are in those countries. It's true that we haven't exported enough to ASEAN at all. The total exports to ASEAN are less than 5% given the proximity factor and middle-class expansion. I think that is a reflection of our poor export performance as a whole.


Q: What are the other ways we can see exponential growth other than FTAs?

Governor: We need to make sure that policy framework doesn't have an anti-export bias, and have better institutional arrangement to support our exporters. Overall, I think we need to get the resources and have a power generation strategy because that competitiveness agenda cuts right across. On several fronts, I think we are moving in the right direction, but it has to speed up.


Private sector insights

Q: Could you share your experience in tapping the ASEAN opportunity?

Hanif: Before ASEAN, our first venture overseas was 27 years ago to Bangladesh. It was a step way back in 1991, where we saw multiple markets. Although it was tough at the beginning as we tried to cross the lines, if we hadn't done that on that day, we would have been left out from the shipping and logistics business that we had. It would have been a lost opportunity.


Q: Has your progress been more dynamic in ASEAN markets?

Hanif: Yes, very much. The business in Vietnam during the last three to four years has been growing phenomenally. We expanded ourselves to Myanmar and next month, we are setting up an office in Malaysia.


Q: What was your success story and challenges?

Ranil: We have seen a tremendous growth during the past seven years in Vietnam. One key factor is that the policies are stable, and the Government provides infrastructure and all other facilities. I think Vietnam is larger than Bangladesh in terms of apparel exports, and the US customers want manufacturing out of Vietnam.


Q: Was your shift to Vietnam largely driven by costs?

Ranil: I think, in our case, it was by accident. Our US customer wanted us to setup there and we were lucky. To be honest, right now, they are more expensive than Sri Lanka for manufacturing. However, their productivity levels are much higher and they have less holidays compared to here.


Q: If it wasn't trade, what would have been the potential factor for you all to expand to ASEAN?

Hanif: Although it was tough setting up overseas, honestly, it is tougher in Sri Lanka. I found consistency and transparency in policies at the beginning of it. But now, because of the size of the market, soft skills and facilities.


Q: Apart from apparel, what other sectors do see you have the potential in ASEAN?

Ranil: At the moment, we are looking at renewable energy as there are opportunities.


Q: Cost is a concern for companies, and there are some firms looking at cheap markets like Cambodia and Myanmar. How is Vietnam managing this situation?

Wong: Myanmar and Cambodia are being talked about for their attractive pricing structure, but if you look at the Government support, they need many more years to catch up with Vietnam – particularly in terms of energy and connectivity of ports.


Q: Given the technological advancements, how can Sri Lanka leverage and catch up fast?
Vivek: I think the financial services industry is going through an extraordinary transformation right now. In the fintech space, I haven't seen many startups coming from Sri Lanka. Payment category infrastructure enhancement is something that Sri Lanka could help plug into the ASEAN market.


Q: Do you think the fintech investment will have better integration - particularly countries like Sri Lanka, which is out of the region?

Vivek: To integrate financial payment infrastructure requires a lot of support from the policymakers and political leaders. For me, technology is going to play a major role and it will happen via fintechs.


Q: Vietnam has a FTA with ASEAN. When you say FTAs, is it bilateral or multilateral?

Wong: If you look at the FTAs themselves, my experience in Vietnam in terms of FTAs and benefits may not be very obvious. But, the true benefit behind the FTA is the willpower of the country to drive a reform.


Q: In your opinion, why are there reservations about FTAs from the private sector? How is the Government trying to fix that attitude?

Deshal: I think Sri Lanka's earlier experience with FTAs has triggered this mentality, and I think we could have done better negotiations there. The general perception is that we might come across similar experiences in these as well. The India and Pakistan FTAs didn't cover the areas that modern trade agreements do, where subsequently other countries have improved on their agreements. Sri Lanka really hasn't engaged in trade negotiations since the 1990s. One key element that new trade agreements bring in is the forum to address the shortcomings in the process. In addition, this insecurity is also a reaction of shortcomings in communication. Government was making some attempts, but there is a long way to go. Very often we hear general concerns, but when it comes to specifics, there are not many to be put on the table.


Q: What is preventing the private sector venturing out of Sri Lanka?

Hanif: Unfortunately, our private sector here in Sri Lanka is very protective. I think, compared to 27 years ago, the business environment is better off playing field for all with much more incentives and market liberalisation.

Ranil: In addition to the huge financial risks that they have to undergo, the cultural gaps are also a key concern of local companies not moving out despite the opportunities. Although the Government has given the consent to move out, sometimes it is rather difficult to obtain those approvals.
Audience Q&A
Q: Having gained a lot of experience expanding to overseas markets, what is your advice to local companies?

Hanif: Despite being challenging in the earlier stage, it is a great opportunity to tap into these markets. It gives us stability, cheaper finance and a fast pace for growth.


Q: How can we address the educational reforms? How did Vietnam manage it?

Wong: We have a very large population, and we had to attract companies that will setup like FDIs and tie up with established companies in the country to educate people. The interesting point here is that Sri Lanka has a very good advantage in language, whereas Vietnam needs translators. Sri Lankans converse in English and are being taught from early stages in school. So, the challenge for Vietnam is a lot tougher and Sri Lanka has that advantage.
---

From left: LKI Global Economy Program Research Fellow Adam Collins, University of Colombo MBA Alumni Association President Irshan Jayah, HSBC Asia Pasific Commercial Banking International Markets Head Tim Evans, Daily FT Chief Editor and CEO Nisthar Cassim, Development Strategies and International Trade Minister Malik Samarawickrama, Finance Ministry Advisor Deshal de Mel and HSBC Chief Trade Economist Douglas Lippoldt
Evolving new pathways to ASEAN
An expert panel discussed the challenges before Sri Lankan companies attempting to adapt to the varied landscape of ASEAN and what policy support the Government is attempting to extend to them.

Moderated by Daily FT Chief Editor and CEO Nisthar Cassim the eminent speakers of the panel comprised Development Strategies and International Trade Minister Malik Samarawickrama, HSBC Asia Pasific Commercial Banking International Markets Head Tim Evans, HSBC Chief Trade Economist Douglas Lippoldt, LKI Global Economy Program Research Fellow Adam Collins, Finance Ministry Advisor Deshal de Mel and University of Colombo MBA Alumni Association President Irshan Jayah. Given below are excerpts of the Q and A.
Q: There has been some criticism that stakeholders weren't consulted before finalising the FTA. Another issue is that FTA must need Parliament ratification. Can you comment?

Malik: That's incorrect. Almost all trade chambers and professional organisations had at least 16 rounds of discussions. Minutes have been kept so it's not correct to say we haven't had consultations with them. I must say that after a few rounds, the GMOA opted to stay out of the discussion, but it is not going to affect them. To answer the second part of the query, it's a no. After seeking the Attorney General's opinion, it was very clearly said that it is not mandatory for us to table the FTA in the Parliament. However, we have promised to table the ETCA final negotiations at the Parliament before signing the agreement.


Q: How is the progress of the proposed FTA with Thailand?

Malik: The Ambassador has been pressing us to conclude the agreement. We will soon announce the commencement of the negotiations during the visit of Thailand's Prime Minister next month. It will be the same process. There will be consultations. There is a team of experts, including Deshal, who is a part of the negotiating team. We hope to come into an agreement where both economies will benefit.

Sujeewa Rajapakse: When we look at ASEAN countries, will there be an impact/influence on Sri Lanka by China?

Malik: I don't think there should be an issue at all. The Chinese will naturally want to have more trade with their market and advantages. China is a very huge market, so we are definitely looking at the FTA with China. It is a market we cannot ignore. Our country need to progress. We need to create decent jobs for our younger generation. People are demanding for highly paid jobs, so we cannot be looking inward all the time.


Q: After we sign the FTA, is there a mechanism to look at how well the original objectives have been achieved?

Malik: Yes. The two countries will review the progress within the first year in addition to the periodic reviews. If there are amendments to be made, we will most certainly do so. Unfortunately, the very few people who are criticising the agreement don't come up and say where the issue is. So far, nobody – not even MPs - has come up with any specific issue that is of concern.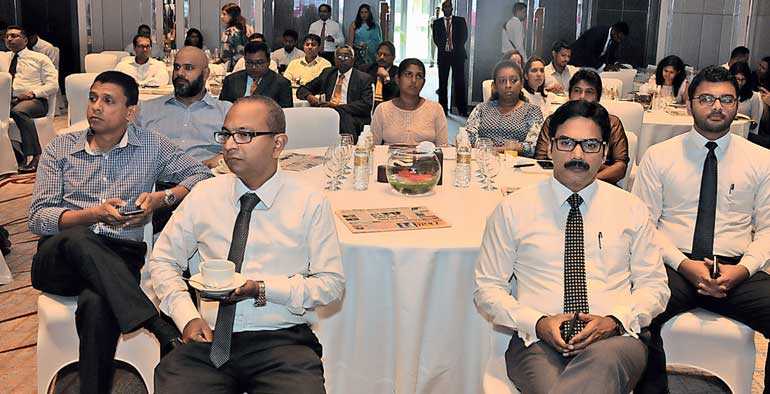 Q: What's your perspective on the ASEAN opportunity?

Adam: There is great potential for Sri Lanka, no one is arguing with that. However, Sri Lanka's trade and investment relationship with ASEAN is currently underexploited, with exports only accounting to about 0.1% and is one-sided. Also, because Sri Lanka is not a part of Southeast Asia, full membership of ASEAN is unlikely to be an option. However, going forward, three priorities of improved market access, deepened political ties with ASEAN and continued domestic reforms could extend ties with ASEAN countries.


Q: Other than FTAs, what are the other ways that Sri Lanka could tap into ASEAN?

Tim: I think it is about how companies can connect with ASEAN economies and getting to know each other. The key is don't sit here and wait for ASEAN to come to you, but go to ASEAN and create those links. Get familiar with the regulatory requirements and systems.


Q: What's the future of the multilateral trade deals?

Douglas: I hope the multilateral system will survive intact to reduce discrimination, and have conditions that business decisions should be made on underlined economics and market forces. I think that' the best way to continue and accelerate trade deals. While the US has taken some strong steps, the rest of the world shows a remarkable trade engagement, challenging the US. Therefore, small economies will also benefit by the rule-based trade, such as Sri Lanka defending itself by the WTO regulations if necessary.



Q: How is Government thinking and responding to the capacity issue that everyone is harping about, particularly in terms of the FTAs?

Deshal: If we go to wait until everything is perfect on the supply side, we will have to wait a very long time until we start the engagement with trade agreements. Often, when we start working on agreements, there are other underlying legislative frameworks, such as the anti-dumping and safeguards laws, and a trade adjustment package being designed to support transition. But, I think the fastest way in which Sri Lanka can expand its engagement with other economies is through export-related FDIs. So, that multipronged way is a very pragmatic way to achieve export objectives as well as developing our supply side of capacity in parallel.
Q: Despite Asia being the driver of economic growth, there seems to be distrust among Asian economies. Why is that?

Adam: I think it's a question of diversity in 10 different countries, and compared to the economic dynamics of them, there is not enough strategic ballgame for Sri Lanka.

Tim: I would challenge the distrust statement because we see Sri Lankan countries operating in Vietnam, Myanmar and Bangladesh. While there could be challenges at political levels, at the corporate level there is connectivity and trust. I think there are opportunities now and it is better than 10 years ago.

Douglas: In bilateral trade agreements you're establishing a rule book which the countries agree to relate and that actually should help to reduce the uncertainties.

Deshal: I don't feel that there is growing distrust. I think rule-based engagement is the way to minimise the possible risks of a single politician or leader overturning whatever's operating successfully.


Q: What's the pulse from the private sector in terms of ASEAN?

Irshan: The private sector perspective is quite positive about ASEAN but, as pointed out previously, the issue is we cannot enter the region. I think Sri Lanka can be a partner over there, but the import duty is a concern of many exporters.
Audience Q&A
Asanka Ratnayake: Instead of going into FTAs with immediate countries, do you think it's better to opt for regional agreements? Given the strict Trump administration, is there room for FTA with the US?

Deshal: I think the first best solution always is multilateral trade relationship but, since we don't have that, a regional one would be the second best option. Sri Lanka has had engagement with South Asia, but due to overhanging political issues, the economies have really taken the back foot there. With regards to ASEAN, it would be one option, but it is a very diverse market. It would have been very challenging to negotiate a trade agreement of that scale. It was one of the reasons why the Government opted for Singapore, as it was a relatively less threatening partner to deal with. The political manifesto that China and India is not reflected by a country like Singapore. Signing that FTA with Singapore had a lot of lessons for Sri Lanka as well as for the negotiators in looking at impending FTAs. In terms of the US, there are generally a lot of legal obligations that a country needs to fulfil. But certainly, in terms of market access, it would be in Sri Lanka's interest. Dulith Herath: When FTAs are designed, is e-commerce considered as an end consumer product? Also, WTO considers e-commerce a key driver for ASEAN economies. What are your comments?

Deshal: The SLSFTA has a chapter on e-commerce, but that doesn't deal with market access. It is more on setting the rules of engagement, which was negotiated by the ICTA. However, on the domestic market, certain amendments were made on the Customs Ordinance to support export movements via e-commerce.

Rohan Masakorala: Since 2015, the Customs Ordinance has not been enacted up to now. Although we talk about all possibilities, it will not be effective until the law is implemented. The Act is at the Finance Ministry, which we thought will be implemented at least this year, but half a year is gone. So, what's the status?

Deshal: The process is ongoing. It requires a fair amount of work in terms of getting inputs from various counterparts and legal advisors. The process has taken longer than we expected, but the Ministry is very keen on implementing it soon.

Irshan: What kind of an effort is the Government taking to engage with ASEAN, particularly in terms of PPP models?

Deshal: The way the Government looks at ASEAN is in a very progressive manner. We have looked at Singapore in a comprehensive agreement while looking at few other countries, then looked at ASEAN as a whole and thereafter, the broader objective is the possibility of moving into ASEAN. So, that is the kind of wish-list in the medium term horizon.