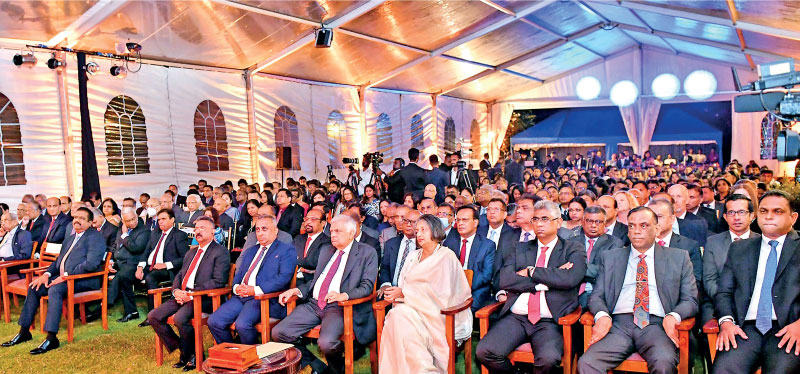 In an esteemed gathering at the National Law Conference, President Ranil Wickremesinghe on Saturday highlighted the significance of economic restructuring and growth as the primary focus of the event.

The choice of the venue, Nuwara Eliya, held historical relevance due to Governor Edward Barnes' contributions to the region's coffee plantations and the initiation of the commercial economy. Stressing the interconnectedness of the plantation economy and the town's existence, the President deemed it fitting to convene at this location.

Amidst discussions on law and the economy, the President acknowledged the availability of diverse entertainment and points of interest for the attendees. However, the President shifted the attention to the crucial events that unfolded ten to eleven months ago, which had the potential to push the country toward failure. Presently, Sri Lanka has managed to restore law and order, political stability, and economic stability, but the President emphasised that these achievements are temporary and that significant challenges lie ahead.

The President pointed out the existing breach of trust between the people and state operators across various sectors, including Parliament, Government, judiciary, media, private sector, trade unions, and professions. It was emphasised that regaining this trust is of paramount importance to avoid a major crisis. The President acknowledged the disruptive impact of the Internet on established institutions globally and highlighted the need to address the breakdown of trust in the conventional governance system.

While refraining from delving into political issues, the President underscored the urgency of transforming the economy to avoid serious trouble. It was noted that Sri Lanka's economy is still in a fragile state, with a need for debt restructuring and a focus on long-term growth.

Following is the speech delivered by the President.

Today, we gather approximately ten to eleven months after a situation that could have pushed us towards becoming a failed state. However, we have managed to establish law and order, political stability, and economic stability. The question now is, where do we go from here?

First and foremost, we must acknowledge that what we have achieved so far is temporary, and there is still a long way to go in overcoming the challenges we face. This crisis is unlike any we have experienced before in Sri Lanka. While we have witnessed uprisings and wars in the past, the entire system was never so thoroughly challenged as it was in Colombo. Although we have restored law and order, political stability, and economic stability, we have not yet fully resolved the breach of trust between the majority of our people and the state operators, including the Parliament, Government, judiciary, media, private sector, trade unions, and professions. This is a critical aspect that we need to address.

Looking at the current political situation, it is unprecedented to have a President with only one member in Parliament, working alongside a Parliament that includes crossbenchers. However, what concerns me is the lack of political parties with stable political structures. This situation poses a danger. Furthermore, even though there may be disagreements among members of Parliament, the combined support of all political parties in Sri Lanka does not exceed 50% of the voter base. Considering our highly politicised country, this number could have been as high as 70%, leaving only 10% to decide our fate.


Challenges to legal system

The challenges also extend to our legal system, which faces numerous issues, including a backlog of thousands of cases that raises questions about the concept of justice. The media, too, is being questioned for its functioning, leading to a loss of credibility. Similarly, the private sector and other institutions face a loss of confidence. Our primary task is to regain that trust, as it is the first issue we must address. Failing to do so could lead us into a major crisis, and we must learn from the experiences of other countries where the internet has disrupted established institutions such as politics, courts, and media. Today, individuals can disrupt entire systems from the comfort of their homes with just a computer and a smartphone. This poses a significant challenge to conventional governance systems and their relationship with the people.


Focus on economy

However, in this context, I want to focus on the economy, as it is the subject of our gathering.

We cannot continue down the same path. The breakdown of our economy does not surprise me; it was an inevitable outcome. To address these challenges, we must seize opportunities. So you have to look at the opportunities. We need a radical change and must depart from our partially open and partially controlled economy. We must determine our direction and meet the expectations of the people who desire high growth and a decent living standard that we have thus far been unable to provide.

The issue at hand goes beyond politics and other concerns. Our focus must be on the economy, as our failure to transform it will lead to serious trouble. A gradual change is not sufficient; we need a radical transformation and a shift in our approach. Time is not on our side, and some may be content with the current economic situation, believing we have emerged from the crisis. However, we remain a financially distressed nation, and the stabilisation we have achieved is just the beginning. We will only truly overcome this phase once we have completed the restructuring of both our foreign and domestic debts. The CBSL Governor can attest that our domestic debt will not cause significant concerns or lead to another crisis. However, we must decide on the next steps, and the path we will take, as continuing along the same trajectory is not viable.

We must repay our debts, but we also need to extend our borrowing to address the unfavourable balance of trade. Otherwise, in another five to seven years, we will find ourselves in the same situation once again. That is why we must make a genuine effort this time to ensure that our economy enters a path of sustained growth. This aligns with the Chief Justice's emphasis on the crisis we face. We must all focus on a single goal: reviving the economy and achieving high growth. Our plan must include the establishment of a highly competitive economy. Although this year's growth may be negative, we cannot settle for 3 or 4% growth next year. We must strive for 8 to 9% growth, as there is no alternative.

In my address to the nation on Friday, I outlined the four pillars of our country's economic development: fiscal and financial reforms, opening up markets, social protection, and State-owned enterprise reforms. We are aware of the gaps in our knowledge regarding the number of enterprises, subsidies, and assets owned by the State. It will take a few more months to assess the full extent of our resources.


Regional and global trade

To achieve our goal of becoming a developed country by 2048, we need to make significant changes and work together. One of our priorities is to join the Regional Comprehensive Economic Partnership (RCEP), which will give us access to the largest market in the world, including East Asia, Southeast Asia, Australia, New Zealand, and the Pacific. We must also protect our domestic market and enhance our competitiveness.

In the medium term, we plan to enter the comprehensive, progressive Trans-Pacific Partnership, which includes Mexico, Canada, Chile, and the UK. This will provide us with more opportunities for trade and investment. We are also seeking to upgrade our free trade agreements with India and Bangladesh, as these regions offer new potential markets.

To facilitate international trade, we have established the International Trade Centre, which will bring together foreign industry and international trade under the Ministry of Finance and later the Foreign Ministry. This initiative aims to strengthen our engagement with the international legal community and offshore economies.

The transformation of our economy requires parallel changes in the legal system. We will introduce new laws related to investments, bankruptcy, and companies. Drafting these laws will be a substantial undertaking, and we may seek assistance from legal professionals to ensure their effectiveness.

As we proceed with these reforms, Parliament's role in passing laws and oversight committees' responsibilities will be crucial. We must find innovative ways to streamline the legislative process and address the challenges that lie ahead. In this fast-changing world, it is essential for us to adapt and learn from others while also sharing our knowledge and expertise. Our vision is to create a future that offers opportunities for our youth and ensures the relevance of politics and the media. We must embrace these changes with an open mind and a determination to succeed."


Address by Chief Justice Jayantha Jayasuriya

Despite the multitude of challenges we have faced in recent years, the Bar Association has persevered, bringing together its members for conferences centred around different themes.

In 2022, our focus was on "Resilience in the Legal Profession: Reinventing and Adapting." It was a testament to our determination to navigate the changing landscape of our profession.

Earlier this year, we reconvened under the theme of "Navigating Through a Crisis - the Role of Law. The COVID-19 pandemic and the ensuing economic crisis presented us with unprecedented difficulties and obstacles. However, we firmly believe that it is the collective responsibility of each one of us to exert every possible effort to overcome these challenges and forge ahead towards a brighter future.


Address by Bar Association of Sri Lanka President Kaushalya Navaratne

We were determined to ensure a national law conference with a difference. We were keen to make this conference a conversation starter between the legal fraternity, the policymakers, the bureaucrats, and the business community. If we are to prosper as a nation, it is important that the legal sector recognises the importance of entrepreneurship and the entrepreneurs recognises the importance of the rule of law.

In this regard, it is vital that the political leadership is also included to give an ear to the conversation. So we are grateful that His Excellency the President has dedicated so much time to be with us. The presence of senior judicial officers, policymakers, bureaucrats, lawyers as well as leaders from the corporate sector will no doubt make this a fruitful forum for candid and forthright discussions. We propose that the conversation focuses on real problems and realities and be driven toward finding lasting solutions. So let the conversation begin.


National Law Conference Chairman Faizer Mustafa PC

75 years ago, at the time of independence, there was a lot of anticipation about Sri Lanka's growth. And of course, whilst a brutal war curtailed all such hope, it was the years of economic mismanagement that has placed us in this situation. We must now endeavour to rectify the past. Take stock of our debt, engage in debt restructuring, and get our economy back on track. But going forward, it cannot be business as usual. We must steer a new course and place our country on a more efficient trajectory of economic growth and sustainable development. In this context, it becomes vital that the engineers of the growth of our economy, the entrepreneurs of our country and gatekeepers of the rule of law, the legal fraternity, and the judiciary understand each other's responsibilities and roles.

The business community plays a pivotal role in creating employment opportunities, generating wealth and fostering innovation and technological advancements. It is the engine that propels economic growth, leading to increased tax revenues, infrastructure development and improved standards of living. Without a vibrant and thriving business community, our nation's progress would be hampered. Therefore, it is important that the legal fraternity and the judiciary do not view the business community with suspicion. At the same time, the corporate sector too must be conscious of its social responsibility to adhere to the rule of law rather than merely focusing on achieving individual business targets.

Contributing constructively to the adaptation of regulatory standards and norms. Focusing on effective compliance and zero tolerance of corruption would be the first step in the right direction. At the time of independence, Sri Lanka was far ahead of Singapore in the ease of doing business.

The need for effective, yet expeditious justice that countries like Singapore have achieved still eludes us. We need courts dedicated to commercial disputes at all levels, managed by judges with the necessary experience and training in commercial law. And I think we should revisit and see how expeditious justice could be achieved through the Commercial High Court.

Whilst we are trying to remedy the problem of arbitration, unfortunately lawyers are also equally responsible. We take dates once in three months, so we have to question ourselves with the arbitration. In other countries, they fix it for two weeks. You sit in a room, and you adjudicate it within two weeks. But in Sri Lanka we have lost the purpose of arbitration.

Bureaucracy and red tape is another issue to be dealt with. Government departments are notoriously inefficient, sometimes due to the workload, but in most cases due to extraneous reasons. I think the Attorney General's Department, His Excellency, should have more autonomy in deciding whether to appear for state actors or not.

At a policy level, Sri Lanka lacks a transparent and public blueprint for national development policy. Other countries have a policy of continuity, even if the leadership changes. So I believe His Excellency will set into motion that we have a consistent national policy. We must all work towards that. But to ensure continuity, we need a vibrant and forthright civil service.

We should have a consistent Government policy. And I think that is mandatory If you are going to take the country forward.

Corruption is another huge problem. The business community is equally culpable. If there are no bribes on offer, the culture of waiting for the tip will die a natural death. But the business community must act collectively to make this change. I believe that the human interface is a major problem. If you take most developed nations, they have removed the human interface. So if we can remove the human interface when the public and the corporates deal with the Government, that will eradicate corruption to a great extent.

Then the question of unsolicited proposals. the potential to influence even the Cabinet-appointed negotiation committee and we have a very ineffective appealable process with regard to tenders. These problems have to be addressed if you are to move forward.

I hope today's conversation will explore these issues in greater depth and that we, as a gathering of lawyers, judges, businessmen, bureaucrats, and politicians will be able to come up with some firm plan to move our country in the right direction and to achieve sustainable economic development."


Keynote address by Supreme Court Justice Priyantha Jayawardena PC

The potential impact of this conference on its participants is significant, especially at this time when our motherland is facing unprecedented economic and financial challenges. All of us have a duty to do our best for the nation to come out of this situation. The gathering today is a testimony to the interest you all have in this conference.

We are having this conference at a time when the World Bank has ranked Sri Lanka as 29th in the ease of doing business index and 164th place in enforcing contracts. These rankings are a prime consideration when investing in a country. Creating an environment that attracts and safeguards investments of both foreign and local investors is essential in strengthening the economic framework of our country.


Address by K&L Gates Straits Law LLC (Singapore) Partner/Chairman M. Rajaram

Sri Lanka is now talked about as being a very extremely attractive destination for investments. I heard this talk in Singapore. I hear this talk when I travel for work to India, to the UK and the US. They suddenly become very attractive because of various factors. But the investors still want some basic assurances and comfort level.

Every investor who comes into the country expects returns. He's not here to get into disputes, but when a dispute happens, the investor wants two things. He wants certainty of outcome, and he wants it fast. So certainty and speed are important. Singapore's experience has been set up differently within the judiciary. We set up specialist judges for different kinds of issues. We put into place a case management system where the target is to resolve the case within 15 months in most cases. And to assist in the process, we have also modernised the courts. We have completely paperless filings; we have electronic hearings. Our experience in small Singapore, one-quarter of your population, maybe 10th or lesser of your size, we have no natural resources. Unlike you, we have very little manpower for requirements as well. We have managed to overcome it. So I am asking you to consider modernising your court system using AI today and having strict case management controls."

Professor Maithree Wickremesinghe, Attorney General Sanjay Rajaratnam, Finance Ministry Secretary Mahinda Siriwardena, Central Bank Governor Dr. Nandalal Weerasinghe, President's Senior Adviser on Economic Affairs Dr. R.H. Samaratunga, former Minister Naveen Dissanayake, and a distinguished group of Supreme Court judges and lawyers attended this event.