Visa's Chief Risk Officer for India and South Asia Shivakumar Sriraman said the future is digital and that future is now and in today's digital world, change is coming fast.

According to him the key drivers of change were the growth of mobile; the boom in Fintech; the internet of things and the shifting cyber threat.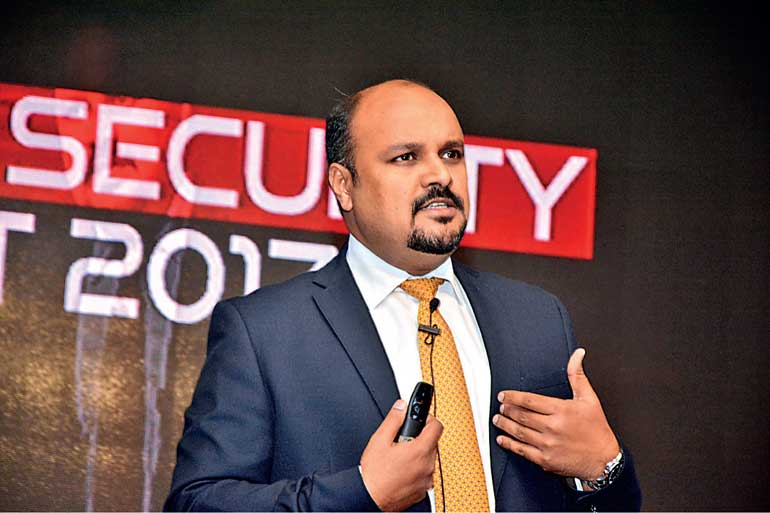 India & South Asia Visa Consolidated Support Services (India) Chief Risk Officer Shivkumar Sriraman
"With more players in an industry there is more disruption and with more ways to pay come more data, more risks. And with more consumer distrust comes more uncertainty," Sriraman told the Daily FT-CICRA Cyber Security Summit participants during his presentation titled 'Securing the future of payments in a connected world'.

"Security has to keep moving at the speed of innovation. It can be done through responsible innovation and building multiple inter woven layers of security," he added.

Focusing on payment security he said that fraud remains near historic lows, but personal data losses continue to accelerate. In that context he said trust is integral to a payments system and security is a very critical component of this trust factor. He said going forward many challenges remain especially with 20 billion connected devices and that the issue of convenience versus security needs to be addressed carefully.

"The future depends on building layers of security to protect and harness data," said Sriraman. On its part Visa is pursuing a four-pronged strategy to deal with it.

One strategy is what he described as 'Devaluing Data' making data useless for criminals, reducing incentive for payment breaches.
Other is 'Protect Data' initiative safeguarding payment data. The third is 'Harness Data' whereby identify fraud before it occurs and increase confidence in approving good transactions. Fourth strategy is 'Empower Consumers' with Visa engaging cardholders as an underutilised resource in fighting fraud. "Customer awareness and empowerment plays a very critical role in securing the payments ecosystem. It is an ongoing process and every stakeholder in the ecosystem should participate and play a part in increasing this customer awareness," he added.