Wijesinghe presents compelling case on how Govt. can make SOEs efficient without privatisation
National Agency for Public Private Partnerships Chairman Thilan Wijesinghe addressing the summit in his personal capacity, presented a well-researched and thought out check list for the Government to implement to reduce SOE losses without necessarily needing to privatise them.

The beneficial owner of SOEs is the Finance Ministry and from their perspective the most important point if whether a SOE is being run well and serving the public and consumers, its profitability and if it is running at a loss then how to mitigate the losses as well as ensure tax revenue.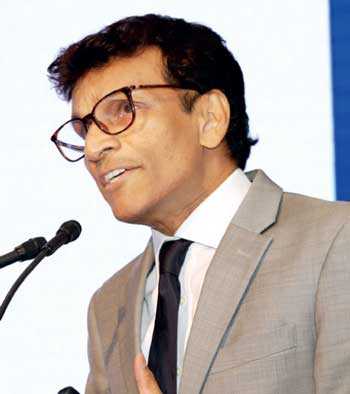 "Privatisation is not the only answer. There are many policy options available to the Finance Ministry. Even though about 20 privatisations have been handled over the years none of these have resulted in a strike. Not one of these privatisations that I and some of my colleagues have been involved in have resulted in a failure. Not one. So why has the concept of privatisation become a political liability? There are SOEs that are not even meeting their operating costs, let alone servicing their debts."

Wijesinghe observed that the political discourse on privatisation or "vikineema" as it is commonly referred to in the vernacular has become more polarised over the years, to the extent that even beneficial proposals such as listing 15% of State banks on the stock exchange, or divesting the Hilton, which has not made profits in the past ten years is termed as a "vikineema." The same reference is made to the half-completed Hyatt Hotel, which is up for sale and SriLankan Airlines.

"This is quite different from the narrative that prevailed during my time as the Chairman of the BoI. In the late 1990s. The narrative then was can a State-owned business compete in a competitive market place? And we reached the conclusion, no. There is no evidence whatsoever in Sri Lanka that there has been a single SOE, engaged in a competitive environment and is not a monopoly that has given a return to its shareholder, the Finance Ministry."
So it's not about whether privatisation is right or wrong it is about having the right people executing those transactions, while following the right process, which is transparent and accountable, without political interference. If this can be done I am very confident we can reform SOEs and reach a higher level of GDP growth – National Agency for Public Private Partnerships Chairman Thilan Wijesinghe
He strongly advocated that to change the SOEs situation it was imperative that the Finance Ministry becomes a shareholder activist, generating far better control of SOEs. He recommended that all SOEs that are making losses should have an advisory board appointed so that key decisions involving board matters must be cleared by the advisory board. These advisory boards in their turn should be headed by the Treasury Secretary.
Wijesinghe's second point was that SOEs such as the CEB, CPC, and Water Board that receive most of the subsidies, should see its subsidised share of the business separated from its profit making operations or general operations so that there is greater transparency in where the money of the Treasury is being used.

"My third recommendation is if divestiture is not an option, consider management contracts. Why cannot Laksala be under a management contract? Why does the National Building Corporation have Rs. 9 billion worth of land assets but cannot service a Rs.600 million loan. We must consider partnerships as a key element of SOE reform.

"My fourth point is that the Finance Minister should have the power to appoint private auditors in addition to the Auditor General, as and when he or she chooses. Number five, it must be made mandatory for SOEs to comply with Colombo Stock Exchange type of disclosures. Number six, we must break up conflicts of interest prevailing in particular the ports and electricity sector."

He also backed that subsidiary companies of SOEs be vested at least 51% in the Finance Ministry. He argued that this would reduce losses that take place in subsidiary companies that are 100% owned by SOEs.

He also called for the activation of a public investment committee where all private and public projects involving public-private partnerships are channelled through a central private investment committee where the line agency or the SOE must make a case as to why that project should qualify for funding from the consolidated fund or external resources or as a PPP.

His last and ninth recommendation was that the Finance Ministry must improve its communication and stakeholder engagement.

"It was nothing but an effective communication strategy that allowed us to privatise telecom, allowed us to privatise gas and allowed us to do the PPP in the port of Colombo."

He drew on SriLankan's colossal losses as the best example of why governments cannot run businesses in a competitive environment and also emphasised that it was South Asia Gateway Terminal (SAGT) that reduced ship waiting time by 85% and converted Colombo into a hub port.

He also argued with statistical evidence against Dr. Godahewa's contention that the Ports Authority was dealing with the Hambantota port debt, pointing out the authority was making losses and was only able to return to profitability due to the port being divested through a joint venture to a Chinese company.

"The losses to the Ports Authority were primarily due to the interest rate and the loan install payments connected to the Hambantota Port. Of course the Ports Authority is now profitable because that loan was removed from its balance sheets. So the solution is that the Finance Ministry needs to become a shareholder activist exerting far greater control over SOEs. I do not deny the fact that wrong things have happened but in my opinion when you have the right people, working within the right processes, minus political interference, there has always been a good outcome.

"So it's not about whether privatisation is right or wrong it is about having the right people executing those transactions, while following the right process, which is transparent and accountable, without political interference. If this can be done I am very confident we can reform SOEs and reach a higher level of GDP growth."