Cisco Managing Director, Global Security Sales Organization, Asia Pacific and Japan Stephen Dane told the Daily FT-CICRA Cyber Security Summit that because cyber security threats have become more complex, targeted, and persistent, they pose a serious ongoing challenge to business.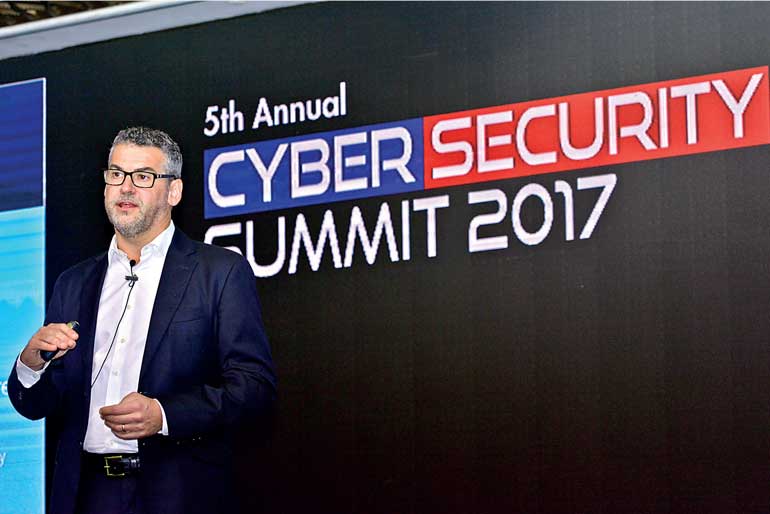 Cisco Managing Director, Global Security Sales Organization, Asia Pacific and Japan Stephen Dane
He made this and several other useful observations in his keynote titled 'Cybersecurity for the

new digital economy'. He said that with digitalisation being a key driver of growth for organisations cyber security is critical. "The digital economy and technology are interconnected," he emphasised.

In his presentation Dane described the current status of digitalisation. One aspect is the degree of hyper-connectivity – the result of anytime/anywhere communications with economic value created through the density of interactions between people businesses and things. Secondly today there is unlimited computing power available though diverse platforms. Another phenomena is Cloud computing, with easy access to hosted software and services. Additionally the proliferation of sensors and mobile devices, provide new and continuous streams of information as well as ways of accessing them. On top of this there is continuous stream and access to information. "Today's digital world is also benefiting from advances in cyber security that support reliable access and use of key information, minimising internal and external vulnerabilities," Cisco official said.

Noting that many established companies are investing in digitisation, Dane said today companies are born digital whilst many others are investing in digital.

In his presentation at the Cyber Security Summit 2017, Cisco highlighted several global examples such as Bank of America which was one of the first banks to offer mobile banking a decade ago, and now has a strong focus on payments and intelligent solutions that will deliver personalised experiences to customers. GE Aviation was another example of how digital solutions, technologies and tools can be used in the aviation industry. It allows airlines and aircraft maintenance companies alike to be more efficient, have lower maintenance costs and uphold a high safety standard. "Such solutions focus primarily on the aircraft maintenance industry and focus on data processing, data analytics and visualisation, data hosting," Dane explained.

He also spoke of how the $ 1 trillion shipping industry is digitising with firms such as Logfret Inc. "In our world of global trade, shipping cargo is one of the most complex tasks, and one of the least connected. Online systems provide speed and the future of shipping includes someone using an app and booking whatever they want on their phone. Very mobile, less human interaction," Dane pointed out.

The Cyber Security Summit was told that it was not only the private sector but globally governments too are investing in digital. Some of the examples include India's Nagpur with 2.4 million people and the largest city in central India, pursuing Smart City concept. Initiatives include city network and backbone, WiFi, surveillance, Data Center and Disaster Recovery, 360 degree security, etc. Another is optimising amenities with digital platform software, converging parking, lighting, waste management, environmental sensors, traffic management, energy – all aimed at making Nagpur the most secure and liveable city in India. In Australia, Melbourne City has partnered Cisco to use video analytics and machine learning with Yarra Trams to count passengers, estimate age and gender, weather data. For passengers, this means knowing which carriages are full and which ones have space. For the tram operator, this means pulling data together from multiple sources, do it securely, quickly, and use the aggregated data to make decisions and directly feed this into digital signage. Dane also highlighted the efforts of Thailand's Ministry of Justice Workforce Transformation using new technology from Cisco.

According to Dane, surveys have revealed that lack of cyber security in the digital era hinders innovation and halted mission critical initiatives. "Cyber Security is now seen as a growth enabler – one third of respondents say enabling growth is the primary objective of cyber security which is a competitive advantage," the Cisco official said. He said factor such as digital disruptions of massive scale and proliferation of cyber adversaries make security a major challenge globally.

He said Cisco blocks 19.7 billion threats a day – and analyses two million daily malware samples.

"To put that in perspective, the entire population of earth is around 7.5 billion people – that means that without even including email threats blocked, we block three threats for every man, woman, and child on earth. Each day. Every day. All the days," Dane told participants of Daily FT-CICRA Cyber Security Summit participants.


IoT holds great promise and with it comes security risks
Focusing on the Internet of Things, he said IoT holds great promise for business collaboration and innovation but as it grows, so too does the security risk it presents to organisations and users.

"Lack of visibility is one problem. Most defenders are not aware of what IoT devices are connected to their network. IoT devices, which include everything from cameras to thermostats to smart meters, are generally not built with security in mind. Many of these devices lag well behind desktop security capabilities and have vulnerability," he explained.

Also, IoT devices cannot be accessed easily or at all by their direct owners, making it difficult to impossible to remediate when systems have been compromised. In short, these devices can serve as strongholds for adversaries.

Compounding the security problems with IoT devices is the fact that defenders may have difficulty understanding the nature of the alerts coming from these devices. In addition, it is not always clear who inside the organisation is responsible for addressing IoT compromises. Teams responsible for implementing these technologies typically leave, or are let go by, the organisation following completion of the project.

Defenders need to start focusing on potential IoT weaknesses because adversaries want to target them to launch ransomware campaigns, steal sensitive information, and move laterally across networks. IoT devices are the type of vulnerable "low-hanging fruit" that threat actors are quick to exploit.

In the big picture, a massive compromise of these devices has the potential to severely disrupt businesses and governments – and the Internet itself. DDoS attacks involving IoT devices have already occurred, and the rise of IoT botnets suggests threat actors are already working to lay the groundwork for destructive campaigns of unprecedented magnitude.

To meet the security challenges of the IoT – an attack surface that is both growing rapidly and becoming increasingly difficult to monitor and manage – defenders according to Cisco official will need to: Keep older signatures active; Surround IoT devices with IPS defences; Closely monitor network traffic ; Track how IoT devices are touching the network and interacting with other devices; Implement patches in a timely manner and work with vendors that have a product security baseline and issue security advisories.
"In an IoT world, a proactive and dynamic approach to security, and a layered defence strategy are the keys to protecting IoT devices from infection and attack – or at least, mitigating the impact when some are inevitably compromised by adversaries," he added.
Noting that complexity of solutions continues to accelerate, effective security to accelerate digital transformation is key. "Organisations need to do things differently in security to achieve the economic benefits of digital acceleration. They need to focus on elevating security to be considered as a business risk, and it needs to be at the heart of organisations digital strategies. Security is about people, process and technology," Dawn added.

Cisco official emphasised that because cyber security threats have become more complex, targeted, and persistent, they pose a serious ongoing challenge to business. "Security hardware and software products alone are insufficient to stop today's advanced attacks. Modern cyber defences require proactive security operations run by highly trained staff with the experience and expertise to detect and disrupt sophisticated threats. Staff with the right skills and experience are in high demand and short supply," he added.

Pix by Daminda Harsha Perera and Upul Abayasekara