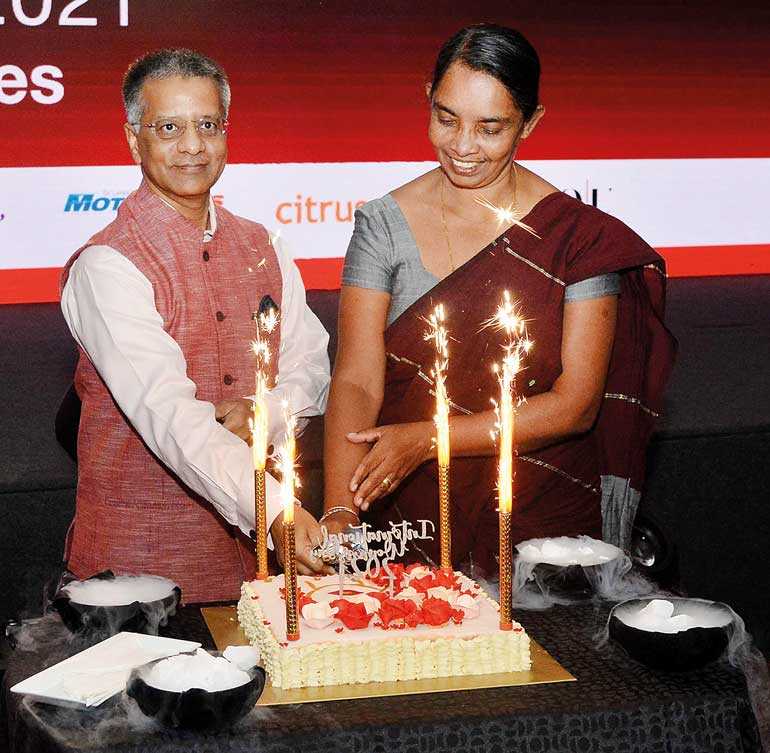 Indian High Commissioner to Sri Lanka Gopal Baglay and Kantha Maha Sangamaya, Weligapola Chairperson Renuka Badrakanthi
---
---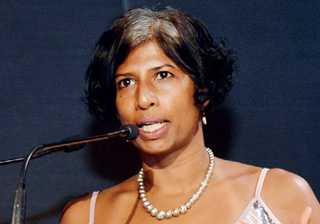 Moderator Niki Gomez
---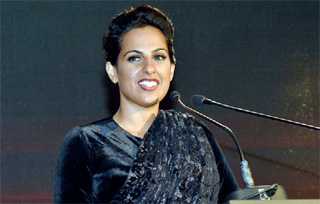 Stephanie Siriwardhana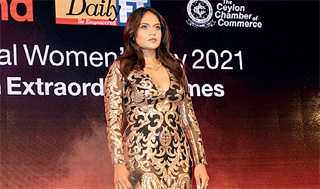 Nadine Samarasinghe
---
The observance of International Women's Day 2021 by Interbrand in association with the Daily FT brought together representatives from the diplomatic community, private sector, civil society and women's organisations, as well as innovators and social entrepreneurs. The forum also convened an interactive panel of global and Sri Lankan women leaders who spoke on the theme 'Leading in Extraordinary Times'.
Lead Partners NDB Bank, Supreme Flora, Singer Sri Lanka and John Keells Properties, along with Associate Partners Sri Lanka Insurance, Citrus Events, and You by the Wax Museum contributed to the success of the event, which was held at Host Hotel Cinnamon Grand Colombo. Luxury door gifts were provided courtesy of Spa Ceylon, Dilmah Tea, Selyn Handlooms and LOVI Ceylon, with a departure gift of gourmet chocolates, courtesy Cinnamon Grand Colombo.

"The objectives of the forum are to showcase the best practices of women leaders, the businesses and the brands they have built, that are defining a new paradigm around leadership this century, and to advance dialogue on the ways in which innovative solutions can remove barriers, advance real action and progress, and accelerate women leaders in Sri Lanka," said Interbrand Sri Lanka Partner Anusha David.

"There's a little story from the world's biggest university, the WhatsApp University that I would like to begin with. Years back, in the hallowed corridors of India's leading publication The Times, a curious woman walked up to R.K. Laxman, the legendary genius of the publication who is credited with creating one of the most iconic characters of the country – The Common Man. Through the Common Man character, some of the most defining social and political comments have been made every day, for over half a century. This woman accosted RK Laxman and said – Sir I love your thoughts, your satire. Like all Indians, I too have grown wiser over the years reading and relishing your daily columns. But there's one question I need to ask you – why did you create a common man – why not a common woman? The legend smiled and said I couldn't have. Because there are no common women. They are all special. None of them are common. They are all special." Thus, did Interbrand India Managing Director Ashish Mishra commence his welcome address to the audience, with a quote that was indeed most appropriate.

"It is one of the most unusual times we are living in. There's a change in the nature of change. It has lost its linearity. It is pervasive. It is a kaleidoscopic change we are witnessing. And what does it do? An all engulfing crisis on the face of it. An overdue catharsis deeper down. Perhaps an implosion of degenerative pursuits and evolution towards existential issues such as diversity, equity, inclusion, work-life balance, health and climate change. Or put simply, humans, human living and humanity. "It might seem odd or even insensitive to say this but if we step back from the immediacy of the current crisis and place it in a broader context, we may find that we are navigating the storms of a new renaissance.

"But yes, it is not easy to see that. Because we are constantly swinging between fear and hope, living an anxious life bookended by these two. These anxious times need a courageous new kind of leadership. Leadership that is not the conventional top-down, formal, title-led, authoritative and driven by wealth and power. That is where women leaders are increasingly becoming anchor points of the new renaissance with a set of strengths that women are extremely well suited for." Mishra went on to identify the five strengths in particular that stand out:

The first – Women leaders have authenticity

"Women leaders are naturally real and unpretentious. They create products, services, tools and processes that actually solve problems. They are continually in real touch with their customer's and constituent's lives".


Second – Women leaders are purposive

"Women leaders are providing clarity and a sense of purpose to the question "Why am I here?" With a purposeful North Star that is focused on creating a positive impact in the world".


Third – Women leaders create intuitive meaningfulness

"With their sensitivity and a higher emotive strength, women leaders naturally create more meaningful experiences for customers and constituents. They sense the market and sense the opportunity, and are showing they know how to lead with their heart – and their head. Through small acts that show vulnerability, gratitude and empathy".


Fourth – Women leaders engage

"They are naturals at fostering dialogue, look beyond their own genius and by extracting and extending the genius of others, they show why what they do matters. To their colleagues, customers, constituents, the business and the world".
Fifth – Women leaders are making brave and bold moves

"Only the ones secure and self-aware – ones who know who they are, and where they are going tomorrow, can confidently make bold moves today. Women leaders have the courage. Which is why they will find it easier to intercept the future, not just flow with it, and take decisive action that make a real impact. The world looks up to you and awaits the unfolding of the new era led by all you amazing women."

Subsequent to Mishra's welcome address, Interbrand London Global Chief Learning and Culture Officer and Head of Luxury Rebecca Robins, spoke after which an interactive discussion took place where Robin's insights and gleanings from the world of branding were shared with the audience. Her insights into the area of luxury branding were well received, especially considering that the whole world was in lockdown for one year.

"One of the fastest-growing brands in our annual Best Global Brands study, Gucci, accelerated from $ 8.8 billion in 2015 to almost $ 16 billion in 2019. A number of factors have played into that growth, one of which is the commitment that CEO Marco Bizzarri made around a more inclusive culture. Significantly, this included the creation of a Millennial Committee, which Bizzarri refers to as his 'Shadow Comex'," said Robins.
This in turn prompted the question: 'How would we define our new board'?

"The current standard terminology is 'Shadow Committee' or 'Shadow Board', but at Interbrand we want people to shine, and 'shadow' didn't feel right. Ultimately, we launched our next-gen board as 'the Horizon Board'. It's future-facing, horizon-scanning and fresh. The Horizon Board is already acting as a lens through which the business looks at a number of elements in our strategy. As we live through this period of rapid transformation, the Horizon team is co-creating Interbrand's ambition and purpose. It's defining what will inspire and motivate our next generation of talent, as well as identifying the kind of talent that we want to attract in the future.

"It's a poignant moment for them to set our new north star. We hold a regular open forum, where I act as sparring partner and coach. The Horizon Board members have open access to connect with experts around the Interbrand network to explore and advance their ideas. We've also set up some two-way mentoring between the Horizon Board and team leaders across the business. The aim is to find shared value through conversations across generations and skillsets.

"For both leadership and the Horizon Board, it's about spending time with people they might not otherwise work with. The leaders of global brands often talk about the importance of keeping a seat open around the boardroom table for the customer. At Interbrand, we have another ten seats around our table. Each person on the Horizon Board wants to make their mark, and it's our responsibility to enable and advance that. If leaders and managers embrace ways of working where real change can take place, give a voice to rising talent, open up dialogues and keep listening, just think what we might make happen together," said Robins.

Be courageous; we women are strong and unstoppable!

The Chief Guest's address was given by Dr. Swati Piramal, Vice Chairperson, Piramal Enterprises and recipient of the Padma Shri, one of India's highest civilian honours, by the President of India for her contribution to science and technology. Dr. Piramal who is known for speaking "off the cuff and indeed straight from the heart", lived up to her promise and rendered a speech that was heart-warming, thought provoking and captured the essence of not just Dr. Piramal herself but all women, who excel in being multi-talented, versatile, multi-tasking and indefatigable. Drawing from the Ramayana and other mythological and real life characters, Dr. Piramal's message had one uniform theme – 'Be courageous; we women are strong and unstoppable'!

The High Commissioner for India in Sri Lanka Gopal Baglay was also present, while giving an insight into rural women's development projects and the problems they face was Kantha Maha Sangamaya, Weligapola Chairperson Renuka Badrakanthi.

The panel discussion which took place focusing on the evening's theme, 'Leading in Extraordinary Times', featured several high profile speakers from overseas and Sri Lanka, including Kathy Virtue from the USA, owner of Victory Marketing 500, a leading sports marketing company and founder of 'Challenge', a lifestyle sports magazine with a three million reader base, which she subsequently sold at the height of its popularity; Mina Radhakrishnan from Australia, co-founder of :Different, a property-tech startup, and formerly Uber's first product manager and one of five inventors who jointly hold Uber's 2013 patent on surge pricing; Prashanthi Mahindaratne, who served as a war crimes prosecutor at the United Nations International Criminal Tribunal for the former Yugoslavia in The Hague; Anoji De Silva, a Partner of Ernst & Young Sri Lanka and a Fellow Member of CA Sri Lanka and Board Member of the Women's Chamber of Industry and Commerce; and Ishani Palliyaguru, Vice President Project Finance and Corporate Credit Control at the National Development Bank and a Fellow Member of the Chartered Institute of Management Accountants UK, an Associate Member of the Certified Management Accountants of Sri Lanka and the Institute of Bankers of Sri Lanka.

When asked about the EY Winning Women Program and the benefits of it to women entrepreneurs, Anoji de Silva said, "The EY Entrepreneurial Winning Women program is a global program that is geared to help women grow and scale globally by providing them with strategic support, training and access to the EY entrepreneurial ecosystem across the globe. It also provides the women access to a global network of award-winning entrepreneurs and business leaders. This program gives you a fantastic global network of like-minded women who are successful and you can use as your business network to build business and also to learn and share knowledge."


Key features in women entrepreneurs: Resilience, flexibility and agility

Ishani Palliyaguru said the NDB conducted the 'Vanithabhimana' program which was dedicated for women entrepreneurs. As to the learnings they gathered and the challenges faced, "The global systemic shocks like COVID disrupted normality. i.e., disruption replaced normality. We saw businesses closing down. In these circumstances, what we saw amongst some of these women entrepreneurs was the resilience they showed. They were quick enough to change their course, their way of doing businesses to suit the situation. Some of them even moved to digital platforms to find new markets and buyers. Some were even able to strike new key deals during this period.

"The key features we observed in these women entrepreneurs were resilience, flexibility and agility. Certain female traits like empathy also enabled them to navigate through these difficult and challenging times. Half way through the program, COVID lockdowns were imposed. NDB and Sirasa News First were compelled to conduct the program virtually. It was amazing to see how they adapted to presenting themselves at the interviews digitally. This is evidence of how quickly women can adapt to any situation."

Legal Eagle Prashanthi Mahindaratne when asked the very pertinent question 'Do women have the equal protection of the law in Sri Lanka? And what legislative changes are necessary to uphold the rights of women', answered thus. "The Constitution of Sri Lanka, guarantees the equal protection of the law to all persons under Article 12(1). And Article 12(2) of the Constitution, expressly prohibits, discrimination of any citizen of Sri Lanka on the grounds of race, religion, language, cast, sex, political opinion, place of birth or any such grounds. However, I say that these constitutional guarantees don't always translate into ground realities. I would say that in order to truly uphold the rights of women, besides well thought out legal reforms, there must be systemic reforms to ensure that the Law of the Land is implemented indiscriminately.

Sports marketing specialist, Kathy Virtue who spoke of her experience in the US as a woman in a male dominated world was asked, "What was it like to work in the predominantly male world of sports?" Her response was, "I never tried to compete with the men ... ever! I had a very valuable asset which was being a woman, a mother, a wife, the grocery shopper, and so much more! I had the advantage in the meeting because I packed school lunches, drove to school, made choices for my family and most men did not! My voice or opinion was very different from the masses. I had a voice that only a woman could provide! I found being a capable woman in business was an asset, not a hindrance!"

Tech wizard Mina Radhakrishnan whose experience lies in computer science, investment banking, venture capital, and product management, was asked, "You have spent a lot of time in areas that traditionally had more male representation. Did that ever present a challenge for you? What are your thoughts on greater diversity in the workplace?

"I don't want to draw attention to how hard it is sometimes to be the only woman in the room, but I do think it's really important that we call out injustices and discrimination when we see them, and that we actively work to create inclusive environments. That's incredibly important, and we should consistently do that. But I believe we should put emphasis on the work that people are doing and why it matters. I also think we really need to highlight the awesome work that under-represented minorities are doing in technology, beyond their gender, race, sexual orientation, etc."

The evening's entertainment was provided by renowned saxophonist Dr. Gananath, singers Stefanie Siriwardhana and Nadine Samarasinghe, who's renditions of 'I Was Here', 'When You Believe' and 'Climb Every Mountain' set the tone and concluded the evening, as well as a duet by Sri Lanka's premiere pianists Ramya de Livera Perera and Soundarie David.

Lead partners NDB Bank, Supreme Flora, Singer Sri Lanka and John Keells Properties, along with Associate Partners Sri Lanka Insurance, Citrus Events, and You by the Wax Museum contributed to the success of the event, which was held at Host Hotel Cinnamon Grand Colombo. Luxury door gifts were provided courtesy of Spa Ceylon, Dilmah Tea, Selyn Handlooms, LOVI Ceylon and Hutch, with a departure gift of gourmet chocolates, courtesy Cinnamon Grand Colombo.

The Interbrand Daily FT IWD 2021 event was an unprecedented success with requests from the audience for more forums on the same basis.
---
Pix by Upul Abayasekera
---