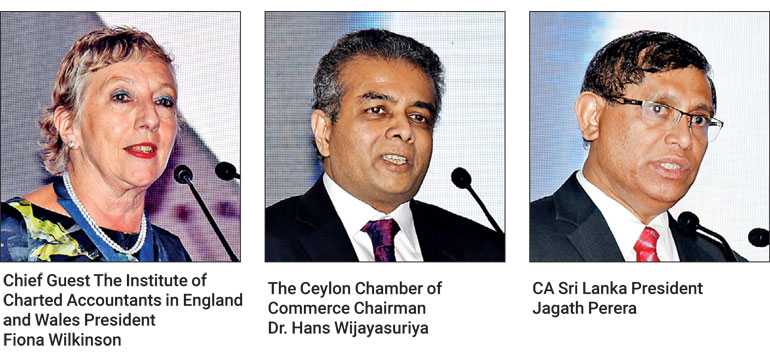 The launch of the special commemorative first-day stamp cover to celebrate the diamond jubilee of CA Sri Lanka and the 40th anniversary of the National Conference of Chartered Accountants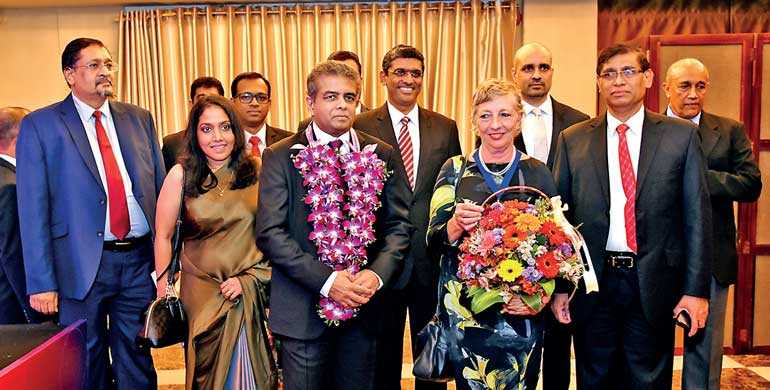 Arrival of the Chief Guest
---
CA Sri Lanka holds 40th national conference
By Charumini de Silva

The 40th National Conference of Chartered Accountants, organised by the Institute of Chartered Accountants of Sri Lanka (CA Sri Lanka), this year underscored the critical role business dynamism and agility in corporate leadership could play in driving a country forward and igniting its mojo.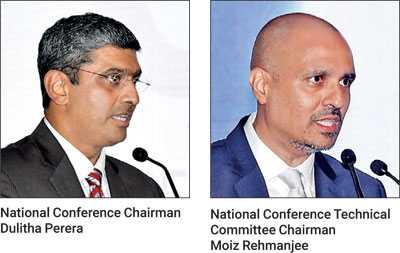 The three-day event was inaugurated on Monday at Waters Edge under the aegis of Institute of Chartered Accountants in England and Wales (ICAEW) President Fiona Wilkinson.

The national conference, dubbed the country's biggest business summit, attracted numerous delegates including internationally-renowned finance specialists, corporate and business leaders, policymakers, visionaries and entrepreneurs.

Ceylon Chamber of Commerce Chairman and Axiata Group Bhd South Asia Region Chief Executive Officer and Corporate Executive Vice President Dr. Hans Wijayasuriya delivered the keynote on the conference's theme 'Finding Your Mojo: A Journey of Self-Discovery'.

Signifying the important milestones of the institute, CA Sri Lanka also launched a special commemorative first-day stamp cover to mark the diamond jubilee of CA Sri Lanka and the 40th anniversary of the national conference which falls this year.
Chief Guest Wilkinson outlined the significant contribution made by Chartered Accountants the world over in strengthening economies.

"I think in a fast-moving and unpredictable world, it is easy to become overwhelmed. Therefore, we must harness our inner strengths, drive and focus to be the best we can be, so that we can find that inner magic which helps us regain our inner mojo," she added.

Delivering the keynote address, Dr. Wijayasuriya proceeded to define the word mojo.

"Mojo is about opportunity, hope, aspiration and seeing that light at the end of the tunnel in your life, which enables you to do better tomorrow and the day after," he said.

He emphasised the need to ensure that one generates this mojo with everyone he or she interacts with whether it be peers, superiors or team members.

He added that a leader's calling was more about igniting the mojo of others and less about igniting their own mojo.

"We are at the top, but there are millions of people who are not as privileged as us. So our vision should be about cultivating the mojo of others," he said.

Dr. Wijayasuriya pointed out that the private sector certainly had the power, being at the top of the economy, to cultivate the mojo of the majority of people in this country.

"If we can give every citizen this power to better themselves, learn more, earn more and grow the economy within their homes, then I think we would have a nation which is full of happier people. People with mojo," he said.

Articulating how to bring mojo to inclusion, he said it was about making the opportunity to participate in the country's future, available and affordable to as many as possible.

"Let us not keep what we have at the top of the pyramid to ourselves but use our skills, our mojo, use the revolution of IR 4.0 to enable our entire population to participate in the economy of the future. This could be called a form of socialism, but a more palatable term might be inclusive capitalism. Either way, it means that every step we take, we take with courage, a sense of growing, but we commit ourselves to carry a nation along with us," he added.

In this developing world, if we want to be sustainable in leadership, with sustainable mojo and excitement, Dr. Wijayasuriya said it was necessary to align with the purpose of bridging this divide.

"First we must accept the fact that there is a divide because it is easy to ignore it. Then we must create a more equal world through our business and thereby swear in a social-cultural thrust to bridge the socioeconomic divide in our nation. This also brings out in us the ability to derive mojo from contributing positively to the lives of others," he added.
Customer happiness

Dr. Wijayasuriya also acknowledged that many who were engaged in the service industry did enjoy every single moment of mojo when they made a customer happy and in the same way this could be translated to making all citizens in the country happy.

"Making a customer happy is compassion with passion. Likewise, it can make every business in this country happy across all provinces of this country. Can we also translate that into our own personal mojo? And can we truly believe that this aligns with our inner compass and aligns with our life's journey with this true north of creating opportunity, excitement, hope and mojo for 22 million people?" he asked.

In an era defined by connected people and organisations, Dr. Wijayasuriya said it was unsustainable to pursue mojo, happiness and excitement while ignoring everybody else, despite this being an easy task.
"In the pursuit of mojo, it is tempting to ignore everybody else, but I don't believe it is sustainable because we live with collaborations, power of ecosystems, network of influence and connected everything that dominates the fabric of interpersonal and inter-organisational interactions and ecosystems," he pointed out.

He also warned of not being individually brilliant, but collectively disruptive.

"This, I believe, is the importance of teamwork. Celebrate diversity. Surround yourself with people who are different, can add excitement to your life to the very root of diversity and differences."

Sharing his personal experience, Dr. Wijayasuriya revealed that throughout his career he had marvelled at the game of rugby, where 15 very diverse individuals and skills added constructively to their true north of winning the game.

Reiterating the importance of the positivity that teamwork could also bring, he asserted that negativity and fear were truly the thieves of mojo.

"We must all look inside ourselves and eliminate negativity for mojo to appear. Let's also look back with gratitude and appreciation because all of us have been given an opportunity somewhere down the line and that is when you first found your mojo," he said.

Noting that from time to time we tend to forget our mojo, get rusty and look for a new opportunity, he said that we must also learn to acknowledge our first mojo and appreciate it.

"Every time we do have mojo and get excited, we must acknowledge that somebody somewhere has given you an opportunity. Someone has also placed trust in you to do your best, someone has given you that courage to move forward and deliver your best. It is our duty to pay it forward. To create an opportunity for others, place trust to empower and spread those moments of overwhelming joy to as many people as possible," he said.

He also said that business leaders could ignite and spread a nation's mojo.

"We as business leaders can ignite and spread a nation's mojo, if we are positive. If we face challenges before us with a positive mindset and determination that will ultimately benefit our homes, organisations, nation and society at large," Dr. Wijayasuriya added.
Embracing technological innovation

CA Sri Lanka President Jagath Perera highlighted the challenges faced by accountants and the increasing need for members of the profession to transform and embrace technology if they were to continue to play an integral role in the corporate world.

"The biggest challenge we face is digital technological disruption followed by new regulations being enforced in relation to tax avoidance, transfer pricing, money laundering and bribery and corruption as well as ethics. Globalisation is the third challenge. As professionals we must engage in this transformation and embrace change," he said.

National Conference Committee Chairman Dulitha Perera outlined that the conference, which boasts of a four-decade-long history, had witnessed a major transformation, originating as a conference which attracted several hundreds to become Sri Lanka's most inspiring business summit which attracts more than 2,000 participants annually.

He also asserted chartered accountants had an important role to play in building the nation.

"We must update ourselves with the rapid changes taking place and their impact on the business environment. We must be fully-equipped and at the forefront to drive business and our country forward. I am sure this conference will provide you with the necessary impetus," he said.

Perera also noted that many of their members today had transcended their professional expectations, and from traditional scopes they had moved to sit across boardrooms and lead companies from within senior management.

"Chartered accountants are driven by values. Amongst them, honesty, integrity and ethical conduct are at the core, to name a few. They are drivers of businesses across every industry and as the institute which produces these versatile professionals, CA Sri Lanka has also been at the forefront in remaining a contemporary institute in our efforts to ensure our members continue to break barriers by helping them embrace disruption and innovation to be better at what they do," he added.

With the increased pressure placed on the professional community, Perera highlighted that sometimes it was important to give an all-important boost to help them rediscover their inner spark, passion and mojo to assist them in achieving a fulfilling professional life.

National Conference Technical Committee Chairman Moiz Rehmanjee emphasised that although mojo begins with the individual, it goes beyond the personal level to the next level, encompassing organisations and businesses.

"The mundane daily routine and the rat race saps the purpose and passion of professionals, including chartered accountants. Therefore, the national conference, in its 40th year, aims to be an important platform to help professionals be the best they can be with purpose and passion, and not be subdued by the tides against them," he said.

The conference, which will conclude today following two days of technical sessions, attracted over 2,000 delegates including business leaders and C-suite executives who were inspired by some of Sri Lanka's renowned speakers to rediscover their passion and purpose and be a driving force across the corporate world and country.

A diverse portfolio of some of Sri Lanka's best-known names, including corporate leaders, entrepreneurs, mountaineers and a cricketer, also shared insights to help attendees rediscover their passion and purpose to ensure they reached the pinnacle of professional success.

Pix by Ruwan Walpola