CEO Panel Discussion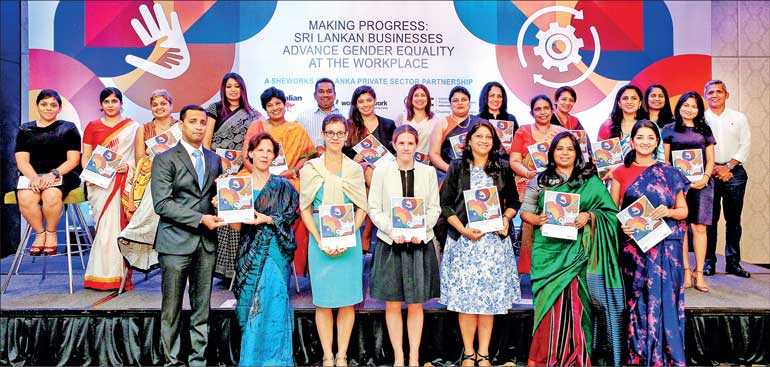 SheWorks One-Year Launch
---
IFC, a member of the World Bank Group, brought together CEOs of leading companies to mark the anniversary of SheWorks partnership in Sri Lanka. The partnership, supported by the Australian government, works with 18 leading employers that have pledged to implement measures proven to enhance employment opportunities for women.

This dynamic collaboration has led to the companies making 99 gender-smart commitments focused on increasing women's business leadership, ensuring recruitment and retention of female talent, exploring employer-supported childcare, promoting anti-sexual harassment mechanisms, and supporting women in the value chain. Out of the commitments made, 72% have been realised or are ongoing with expected completion by mid-2020.

"The achievement of the SheWorks Sri Lanka partnership is a clear indication of the business case for gender-smart solutions and the vital role employers can play in improving the role and participation of women in the workplace," said IFC Country Manager for Sri Lanka and Maldives Amena Arif. "For sustainable growth we must harness the power of diversity, in particular of our talented women."

IFC also released a publication, 'Making Progress: Sri Lankan Businesses Advance Gender Equality at the Workplace'. The report highlights that 13 companies have registered an increase in women's employment from 28 to 30%. In addition, the presence of women in senior leadership has increased from 19 to 23%, in middle management from 20 to 21%, in the executive cadre from 30 to 32%, and in the non-executive cadre from 28 to 30%.

Sri Lanka achieved the Millennium Development Goal of universal primary education, as well as gender parity in secondary education. In contrast, women's participation in the economy remains stubbornly low, at only 36%. IMF's calculations show that Sri Lanka's GDP could be 20% higher if female workers had the opportunity to participate and contribute to the country's productivity. The SheWorks partnership aims to bridge this critical gap.

"The Women in Work is a flagship program and partnership for the IFC and the Australian Department of Foreign Affairs and Trade to galvanise conversations and actions on gender-smart policies in the country. This is key to the Australian government's overarching efforts to advance economic opportunities for women in Sri Lanka," said Australian Deputy High Commissioner Victoria Coakley. "The SheWorks Sri Lanka partnership goes beyond the 18 participating companies and acts as an exemplar for companies across the island looking to improve their businesses via the introduction of fair and inclusive policies."

The private sector, which accounts for 9 out of 10 jobs in developing countries, plays a critical role in creating better employment opportunities for women. SheWorks is part of IFC's broader effort to help companies address gender gaps in employment, and thereby drive gains in productivity, competitiveness, and innovation.
SheWorks Sri Lanka partners
SheWorks members are spread across Sri Lanka's different priority sectors, and include 18 companies; AIA Insurance Lanka PLC, Brandix Lanka, CBL Group, Diesel & Motor Engineering PLC, Fairway Holdings Ltd., Hela Clothing Ltd., Hemas Holdings PLC, Jetwing, John Keells Holdings PLC, London Stock Exchange Group, MAS Holdings, Melwire Group, National Development Bank, Richard Pieris and Company, SANASA Development Bank, South Asia Gateway Terminals, Standard Chartered Bank, and Virtusa Ltd.

IFC – a sister organisation of the World Bank and member of the World Bank Group – is the largest global development institution focused on the private sector in emerging markets. It works with more than 2,000 businesses worldwide, using its capital, expertise, and influence to create markets and opportunities in the toughest areas of the world. In the fiscal year 2018, it delivered more than $ 23 billion in long-term financing for developing countries, leveraging the power of the private sector to end extreme poverty and boost shared prosperity.