From left: Saraii Village and Saaraketha Founder Charitha Abeyratne Hettiarachchi, MAS Intimates Environmental Sustainability Manager Dr. Kshanika Goonesekera, Heineken Lanka Managing Director Maud Meijboom-van Wel, SLID Women Director's Forum Deputy Chair Nadija Tambiah, CBL Group MD Shea Wickremesinghe, Multi Sector Development Solutions Director, Development Consultant/Activist/Former Chief Commissioner Girl Guides Sri Lanka – Visakha Tillekeratne, Moderator Daily FT Editor/CEO Nisthar Cassim, Solicitor Adrika Sri Bawan, Indira Cancer Trust Founder Dr. Lanka Dissanayake, Equal Ground Founder and Executive Director Rosanna Flame Caldera, WNPS Youth Wing Chairperson Zaineb Akbarally and Uva Welassa Women's Organisation Monaragala President K.C. Somalatha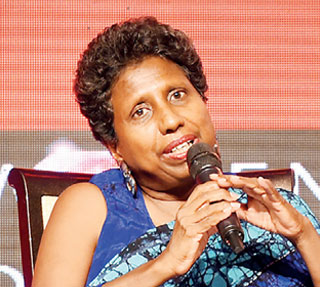 Multi Sector Development Solutions Director, Development Consultant/Activist/Former Chief Commissioner Girl Guides Sri Lanka Visakha Tillekeratne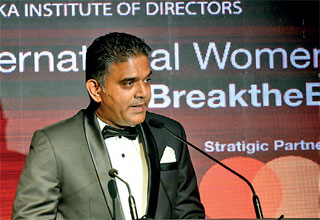 Cinnamon Grand Colombo and Cinnamon Lakeside General Manager for Colombo Kamal Munasinghe
---
Interbrand in association with the Daily FT concluded their International Women's Day [IWD] 2022 – '#BreaktheBias: Equality today for a sustainable tomorrow'; leaving much food for thought amongst all attendees.

A stellar line up of speakers, the crème de la crème of Sri Lanka's designers coupled with emerging design talent who showcased in keeping with the theme, sustainable designs, gourmet food and choice wines, scintillating entertainment, a tightly knit production, and not forgetting the record number of male attendees, made the night, one to remember and emulate.

Strategic partner Mastercard, and Corporate sponsors SLT Mobitel, NDB Bank PLC, Triumph Sloggi, and Supreme Flora, with Host Hotel Cinnamon Grand Colombo, of course contributed in no small measure to the success of the evening.

Luxury door gifts provided by Sothys and Triumph Sloggi, and gifts for the entrance ticket draw, a sari from Kavita Thulasidas by Stylemart, a premium gift voucher from the Sothys Estheti Centre and a pair of earrings from Soraya Jewellery, as well as a box of chocolates from the Cinnamon Grand, ensured that those present had all they could ask for and more!

Interbrand is the world's leading brand consultancy, specialising in brands and branding management, with 24 offices in 17 countries. The New York-based consultancy publishes the Best Global Brands report on an annual basis which identifies the world's 100 most valuable brands. For the past 20 years Interbrand has been putting a value on the world's top brands. "In an era when intangible value has become a critical measure of organisational performance, Interbrand's 'Best Global Brands' is the definitive source of knowledge," said Interbrand India Head Ashish Mishra.

"A warm welcome to all the beautiful women and the many cool men present! I am sorry for not being with you in person. I shall soon be and promise to catch up with many of you, but today, I am excited to share my delight at this wonderful initiative that has become an annual highlight as it deserves to be. Congratulations to the Interbrand partners Anusha and Nishtar! Break the bias! The cognitive bias. The traditional stereotypes causing the bias! Because that emerged from the era of the jungle physicality. Not relevant today as the world now needs more of inclusive emotionality.

Break the bias. Recondition of the mindsets. And who can do it? The women themselves. Everyone is conditioned by a woman, by a mother. I believe that only women are capable of changing a civilisation. Don't seek permission. Go ahead. Break the bias. It's a strong ossified bias of ages. Be prepared for a programmatic change. First a few crying corrections. Education, for many a million girl-child, many in Africa and the subcontinent. Accelerating wage correction which may organically take 75 more years to correct itself. Break the bias. After the leg ups, the gender equality.

Celebration of the two equal parts of the creation – the Purusha and the Prakriti. The Ying and the Yang. Break the bias. Work towards evolving not to gender neutrality but to gender complementarity where absence is incompleteness. The Vedas do not allow any significant progression of life, any worship or commencement without this complementarity. 'He for she' as Emma Watson says. And perhaps 'she for he'. Break the bias. Not with a revolutionary aggression but like in the words of Oprah, with the will of your brow, with the sensitivity of your touch, with the optimism of your eyes. With the empathy of your smile. With the ocean of your strength. With the poetry of your walk. Because you are wonderful each of you. and you can" said Mishra in a rousing message.

"We are indebted to our partners for this event, many of whom were with us last year and we hope they will continue the association next year as well," said Interbrand Sri Lanka Partner and the Maldives and Headlines PR Chairman Anusha David. "Throughout history, the central role of women in society has ensured the stability, progress and long-term development of nations. We hope that this forum has helped the path towards achieving sustainability and Breaking the Bias; working towards Equality today for a sustainable Tomorrow. It starts with me – with ourselves. Be the change you wish to see and it will happen."

The most noteworthy feature of the evening was the keynote address made by 11 stellar women, leaders and change makers in their field, who spoke, followed by an extremely exhilarating and interactive Q and A session, with unprecedented audience participation.

"I have constantly strived to prove that hearing impairment is not a disability but an ability to prove others wrong that, with the right resources, support and guidance; we can achieve to the fullest of our potential and contribute to society," said ANZ Bank, Australia Solicitor and Banker Adrika Sri Bawan, who was visiting Sri Lanka. "I strongly believe children with special needs can be removed from a vulnerable situation and their lives can be uplifted if they have the support and backing. I assure you there will be a better tomorrow and a better Sri Lanka if we embrace representation of individuals from all walks of life."

"We use education as a means for conservation – to inspire a new generation of environmentally conscious leadership. Today we have worked with over 70 schools – spread across 14 districts! But in our approach, we recognise that when we talk about breaking down biases, we need to think of it in terms of intersectionality – that gender intersects with other characteristics such as race, disability, class, etc., to create overlapping systems of disadvantage," said WNPS Youth Wing Chairperson Zaineb Akbarally.

"Thus, our mission has been to reach all communities across the country. For this, we have worked with communities affected badly by war - and have over 25 schools today in the northern province we work with. Similarly working with the disabled - and the work we have done with the deaf and blind school Jaffna has been extremely fulfilling." Zaineb went on to say, "I have lost count on the number of times I have been told; that 'girls can't do that', 'girls shouldn't that'. May it be spending a week out during a daring field expedition to track elephants – or on a rapid biodiversity assessment in the mountains or something more mundane as transporting myself by driving myself across the country to a field base. A boy would rarely be questioned about such a thing, but societal norms and ingrained biases means this raises eyebrows. That gender intersects with other characteristics such as race, disability, class, etc to create overlapping systems of disadvantage. BUT My message to all girls out there is most importantly, be true to yourself and always follow and do what you are passionate about, and makes you happy!"

MAS Intimates Manager Environmental Sustainability and a passionate advocate for sustainability and the environment Dr. Kshanika Goonesekera said, "Even the climate crisis is shown to have gendered impacts. It is important that we move away from the socially identified masculine and feminine roles and take equal responsibility. Equal gender representation is what is required to find solutions for mitigation and adaptation to address this crisis. The newer generations are no longer tolerant of gender bias and it gives me hope that we can find workable and pragmatic solutions regardless of gender."

Indira Cancer Trust Founder and a passionate advocate of equal rights and fair play for women and girls, Dr. Lanka Dissanayake said, "It is important to address other types of biases apart from gender bias as well on this day of IWD2022. Biases which we face on a day today basis. Cancer creates bias but this should not be the case. This is not a disease that should alienate you from the world. Cancer is not the end of the world. There is life after a diagnosis of cancer." Trailblazer Maud Meijboom-van Wel – Managing Director Heineken Lanka, believes, "It all starts with belief – Belief at the top and across the organisation, that a more diverse, inclusive, and equitable workplace drives better results, and then have commitment to drive the change. This means tailoring talent development to that diversity: How do we assess talent, guide and enable talent. And lastly it means courage – Creating courage in talents to raise their hand and speak up for what they want, courage to create strong allyships across the organisation and courage in the organisation to drive the change, for example by breaking biases."

Yet another formidable trailblazer Shea Wickremesinghe – Group MD, CBL, averred, "As women we must have self confidence in ourselves to action what is needed to pursue our dreams."

SLID Women Director's Forum Deputy Chair Nadija Tambiah emphasised the fact that, "Sri Lankan women are educated, talented and able. They must participate in leadership."

Equal Ground Founder and Executive Director and a well-known and passionate activist Rosanna Flame Caldera pleaded that, "Lesbian, bisexual, transgender women be brought into the workforces, into leadership and into decision-making processes without bias – it is the only way forward if we are to progress in this country."

Yet another laudable woman, Saraii Village and Saaraketha Founder Charitha Abeyratne Hettiarachchi reaffirmed the fact that, "Everyone has a part to play in making our world, our country a sustainable place. We need to show through 'action' that we are 'conscious consumers' and be aware of what we consume and how our purchase decisions impact the downstream value chain. It's up to all of us to be responsible consumers which will drive sustainable production."

A familiar figure at rallies and demonstrations where wrongs need to be made right, Visakha Tillekeratne – Development Consultant, Director Multi Sector Development Solutions Ltd./Activist/Former Chief Commissioner Girl Guides Sri Lanka, had no qualms about calling a spade a spade. "Breaking the Bias begins at home where both parents must share chores and the care of children regardless of physicalities and assigning stereotypical roles. As this does not happen in our patriarchal and backward society, women have an 18-hour day and men 12 to 14 hours. In the course of my envelopment journey with the teams I work with we have tried to reduce this burden through a program called 'One dish meals'. This takes less than 40 minutes to prepare and is nutritionally complete as well as being cost-effective and is something that must be implemented."

Uva Welassa Women's Organisation Monaragala President K.C. Somalatha made the entire audience sit up and listen while she recounted her journey of empowering rural women and most importantly, making the men part and parcel of their activities. "When we first started, the men laughed at us and had nothing to do with our program. In fact, some even went so far as to hinder us in our work; but having seen the results of our labours and the excellence of our agricultural produce, and the monies we were bringing home, well they are now our partners and to me this is our greatest victory".

Food for thought indeed and rousing sentiments echoed by women who have played a role in shaping our country's economy and thought process.

Sri Lankan designers, Michael Wijeysuriye, Sonali Dharmawardena, Mano Caderamanpulle, Jaishree Jayesinghe, Ruwanthi Gajadeera, Himanthi and Dinali Amarasinghe a mother-daughter designing duo, Kamil Heawawitharane, Brian Kerkoven, Umanga Kulasekara and Omali Kulatunga showcased their designs at this gala event, while designers Kavita Thulasidas and Jyoti Singh – Jo Kilda, from Singapore, with Jo Kilda featuring outfits made of Vegan Leather in keeping with the theme of Sustainability, and Triumph Sloggi, wowed the audience with their dazzling creations, which were both sustainable and wearable.

Gourmet food, choice wines, entertainment by the best, namely Soul Sounds, Naomi Wijemanne and Ramya de Livera Perera and Soundarie David, hair and makeup by Ramani Fernando Salons, door gifts from Sothys, Triumph and Mobitel and entrance ticket draw prizes, namely a designer sari from Kavita Thulasidas, exquisite earrings from Soraya Jewellery and a premium voucher from Sothys, made this a night to remember.

The Interbrand-Daily FT, International Women's Day event, supported by Strategic Partner Mastercard, Corporate Sponsors SLT-Mobitel, NDB Bank, Supreme Flora, Triumph Sloggi and the best address in town – Cinnamon Grand Colombo, will undoubtedly be remembered as the IWD event of the year!
Pix by Upul Abayasekara and Ruwan Walpola

Interbrand, India Head Ashish Mishra (via video)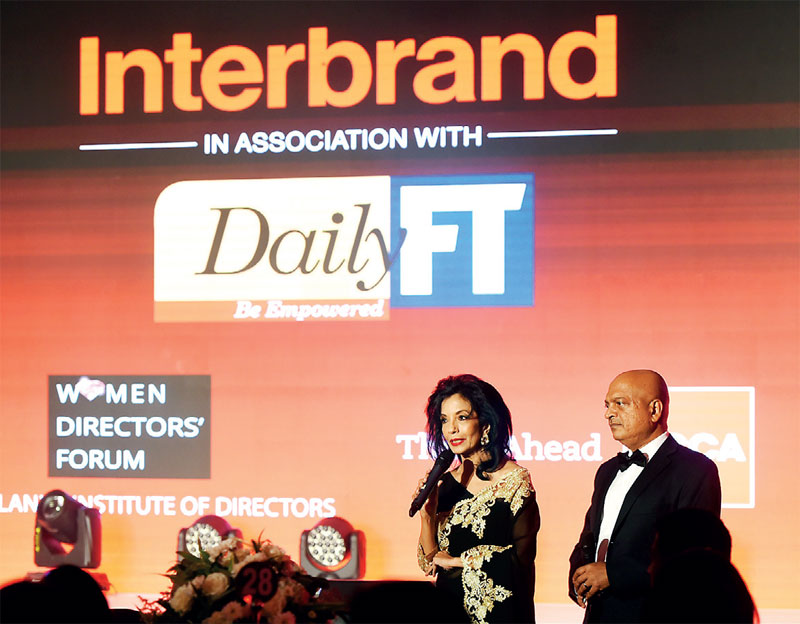 Interbrand Sri Lanka and the Maldives and Headlines PR Chairman Anusha David and Daily FT Editor/CEO Nisthar Cassim