From left: Sri Lanka Agriprenuers Forum Chairman Rizvy Zaheed, Huawei Technologies Lanka Vice President Enterprise Business Group Indika De Zoysa, Moderator University of Peradeniya Professor in Agriculture Prof. Buddhi Marambe, Lanka Fruit and Vegetables Exporters Association Vice Chairperson Charindi Ranasinghe, Industrial Technology Institute Additional Director General (R&D) Prof. Ilmi Hewajulige and SenzAgro CEO Miller Alexander

From left: National Aquaculture Development Authority of Sri Lanka Director H.M.U.K.P.B. Herath, Faculty of Fisheries and Ocean Sciences Dean Dr. M.F.M. Fairoz, State Ministry of Fisheries Secretary Jayantha Chandrasoma, Tropic Fishery Executive Director and CEO Roshan Fernando, University of Ruhuna Faculty of Fisheries and Marine Sciences and Technology Prof. Ruchira Tharangini Cumaranatunga and Moderator University of Peradeniya Professor in Agriculture Prof. Buddhi Marambe

From left: National Livestock Development Board Former General Manager Chithral Munaweera, Maliban Group Head of Corporate Affairs and Strategy Asoka Bandara, Moderator University of Peradeniya Professor in Agriculture Prof. Buddhi Marambe, Milco former Chairman Lasantha Wickramasinghe, Pelwatte Dairy Industries Founder Ariyaseela Wickramanayake and Cargills Ceylon Food Safety and Nutrition Group Manager Dr. Nelum Vithana


---
Top industry experts highlighted new opportunities in the fast-growing sectors of agribusiness, dairy and fisheries at a full-day forum organised by the Daily FT and Colombo University MBA Alumni Association. Titled 'Knock Knock 2022', the focus on these three sectors was in line with the Government's thrust strategy of boosting the local economy towards self-sufficiency as well as harnessing export markets. The annual management conference was held at Hilton Colombo.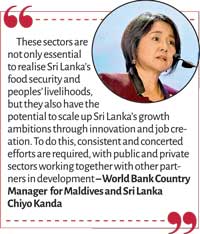 The forum was addressed by Sri Lanka Agriprenuers Forum Chairman Rizvy Zaheed (agribusiness), Ocean University of Sri Lanka Dean Faculty of Fisheries and Ocean Sciences Dr. M.F.M. Fairoz (fishery), and Maliban Group Head of Corporate Affairs and Strategy Asoka Bandara (dairy) as keynote presenters. Each session was chaired by University of Peradeniya Prof. in Agriculture Prof. Buddhi Marambe with Huawei Technologies Lanka Vice President Enterprise Business Group Indika De Zoysa focusing on agriculture, National Aquaculture Development Authority of Sri Lanka Director H.M.U.K.P.B. Herath on fishery and National Livestock Development Board Former General Manager Chithral Munaweera on dairy provided insights to modern technology aspects.
World Bank to help unleash the potential of the agri, dairy and fisheries sectors
World Bank Country Manager for Maldives and Sri Lanka Chiyo Kanda addressed the gathering as the Guest of Honour of the event. She said to support local economy and peoples' livelihoods, the agriculture, dairy and fisheries sectors are indeed key to Sri Lanka's green, resilient and inclusive recovery from the COVID-19 pandemic shock.
"These sectors are not only essential to realise Sri Lanka's food security and peoples' livelihoods, but they also have the potential to scale up Sri Lanka's growth ambitions through innovation and job creation. To do this, consistent and concerted efforts are required, with public and private sectors working together with other partners in development."
"The World Bank's Green, Resilient and Inclusive Development framework—or GRID framework—emphasises that policies and investments for recovery from this unprecedented shock can't just be business-as-usual, nor can they focus on singular challenges," said Kanda.
However, she said that both sector must consider the complex links among environmental, socioeconomic, and financial sustainability; links among risks and uncertainties related to climate change, recessions, financial shocks, and natural hazards; and links between inequality and poverty.
Turning into key challenges and opportunities in these sectors, Kanda said the agricultural sector is highly vulnerable to the impacts of climate change and other threats such as degradation of land and water resources.
"Transforming the agriculture sector into a modern and commercially diversified sector of high-value products remains the key to creating jobs, delivering nutritious food, generating export revenues, and bringing prosperity to rural areas."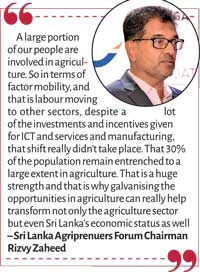 "In the dairy sector, given the high dependence on imports, the government has made demand-side interventions time-to-time to cushion the consumers from price fluctuations. Government interventions have helped increase the share of domestic production in the total supply. However, fluctuations in the world market and vulnerabilities of domestic production system continue to affect the availability and access to milk and dairy products in Sri Lanka," she opined.
On the fisheries sector, Kanda said, "The main challenge in coastal fisheries is that many of the commercially targeted stocks are dwindling, evidenced by decreases in catch and earnings by fishers. Many coastal ecosystems are stressed and degraded from habitat destruction and pollution, directly contributing to the decline of certain stocks. One of the key challenges of the offshore fisheries sector is the high rate of post-harvest quality loss. The Sri Lankan fleet is not well-equipped to prevent postharvest quality deterioration during long trips at sea. This reduces the amount of exportable fish catch."
However, she said that growing global and domestic demand for seafood offers an important opportunity for Sri Lanka to sustainably expand aquaculture production, employment, and business opportunities for the private sector.
"To capture this potential, the Government has an ambitious program to broaden coastal aquaculture into sea bass, seaweed, sea cucumber, mud crab, marine ornamental fish, and bait fish. Sustainable and resilient growth of Sri Lanka's aquaculture sector depends on smart zoning with clear and consistent regulations, new knowledge and technology, and support to de-risk private investment," said Kanda.
Discussing about the World Bank's support, Kanda said that the organisation has been working with the Sri Lanka to help address some of these challenges and seize opportunities in the agriculture, dairy and fisheries sectors through investment, analytical and advisory services.
"Out of the existing portfolio of $2.36 billion, 12% is geared toward the agriculture and, to some extent, fisheries sectors. We also recently conducted an in-depth analytical study in the fisheries sector. A core principle of the World Bank's agricultural support program is private sector-led agricultural transformation to connect smallholders to domestic and global value chains. This involves stimulating private investments in agribusiness innovations."
Further, Kanda said that the nation-wide matching grant scheme of the Agriculture Sector Modernisation Project leverages private investments in sub-sectors like shrimp farming, fresh fruit, and spices, using matching grants to crowd in private finance.
As of December 2021, she mentioned that 371 matching grants worth $ 51 million leveraged $ 98.7 million of additional fund from private sources in the form of beneficiary contributions and commercial borrowing. It also created backward and forward linkages to estimated 55,900 small farmers. These grants have already generated positive impacts for beneficiaries as well as the economy—for example, $ 20 million in new agriculture exports from farm clusters, according to Kanda.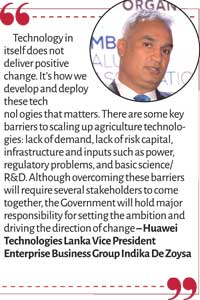 "The World Bank will be happy to continue supporting the Government and people of Sri Lanka, and help unleash the potential of the agriculture, dairy and fisheries sectors to enhance Sri Lanka's export revenues, employment, and food security in a sustainable manner," she concluded.
Below are some of the important points discussed by top industry experts at the Knock Knock 2022 conference under each industry sector.
Agriculture
Sri Lanka Agriprenuers Forum Chairman Rizvy Zaheed said that agriculture can be a way to prosperity for all Sri Lankans.
"A large portion of our people are involved in agriculture. So in terms of factor mobility, and that is labour moving to other sectors, despite a lot of the investments and incentives given for ICT and services and manufacturing, that shift really didn't take place. That 30% of the population remain entrenched to a large extent in agriculture. That is a huge strength and that is why galvanising the opportunities in agriculture can really help transform not only the agriculture sector but even Sri Lanka's economic status as well."
Zaheed said that Sri Lanka has over 1.3 million hectares of arable land which is sub optimally used. He sees this as a great opportunity for the country.
"Countries like Malaysia has increased productivity through agriculture, and I am sure all of you are aware of Bangladesh's rapid growth in terms of agriculture. 10-12 years ago, Bangladesh was a doing so poor in terms of agriculture but today, it has grown far beyond Sri Lanka in terms of complexity, markets, value addition and the use of technologies. Sri Lanka has some catching up to do and that is an opportunity as well. And we are very well poised to do that."
Speaking about key drivers of growth for agriculture, Zaheed said one main point is the population increase. "There's increased prosperity in export markets like Europe, the US, Japan, Korea and Australia. These countries have large amounts of disposable income which they can invest in value-added products. So provided we get our growing right and our costing, right there are exciting opportunities to explore. I believe it is more than a knock knock; you can really barge in and it is up to us to explore and exploit these opportunities."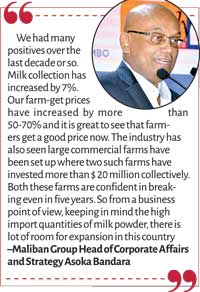 "Then, there is an increase in demand due to food and nutrition security because of the land availability is getting smaller. There is a need to improve productivity and as a result, there is a need for food security. We see island nations are going towards food security which means that they want to build a buffer stock and want to increase productivity. This is another are that we could tap into," said Zaheed.
He also spoke about the huge boom in health and wellness food area, access to new technology, renewed government interest towards elevating Sri Lanka's agri sector, the growing focus among high net worth individuals to involve in building agri startups and innovative financing, which he pointed out as some key driver for the sector's growth.
In conclusion, Zaheed said improving yield, productivity and quality are the three key challenges of the sector.
"We have to improve quality and there are actions being done to do that. And if public private partnerships are formed, I am sure we can do that very quickly. We also have supply chain issues and we need to look at the consistent availability of raw material. For example, Sri Lanka developed a beautiful map for pineapple because our Mauritius variety and other varieties have global acceptance because of sweetness levels, texture levels, etc. But our supply chain couldn't not match it afresh since they wanted large quantities so we could not supply. The supply chain response has to be improved by more investment and more land available."
Speaking on how technology could help increase the footprint of the agriculture sector, Huawei Technologies Lanka Vice President Enterprise Business Group Indika De Zoysa said emerging technologies present countries like Sri Lanka with a growing range of opportunities to transform our food and agriculture systems.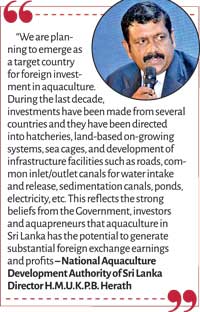 "To harness opportunities around technology to uplift the agriculture sector, both public and private sector stakeholders have to first identify the opportunities these innovations present for health and nutrition, natural environment and economies. Then we need to assess maturity and feasibility of these technologies, and identify those that hold the most transformative potential. We also need to identify barriers, and therefore the questions that need to be answered, to successfully implementing new innovations locally at scale," said De Zoysa.
"Technology in itself does not deliver positive change. It's how we develop and deploy these technologies that matters. There are some key barriers to scaling up agriculture technologies: lack of demand, lack of risk capital, infrastructure and inputs such as power, regulatory problems, and basic science/R&D. Although overcoming these barriers will require several stakeholders to come together, the Government will hold major responsibility for setting the ambition and driving the direction of change."
Indika also spoke of how technologies like artificial intelligence helping to yield healthier crops, control pests, monitor soil, and growing conditions, organise data for farmers, help with the workload, and improve a wide range of agriculture-related tasks in the entire food supply chain. However, he said the applications and skills have to be there after figuring out right technologies.
"When technology is being correctly adapted, we need to have the application layer where we need to have the applications which can be from apps point of view or the data portals point of view. This is about how you share your data. When you have the applications, then it is important for people to have the right skills on how to use these applications. From a well versed agri entrepreneur to your traditional framer in a rural village, they should be able to use the applications and access relevant data and information."
The agribusiness session panellists included Lanka Fruit and Vegetables Exporters Association Vice Chairperson Charindi Ranasinghe, Industrial Technology Institute Additional Director General (R&D) Prof. Ilmi Hewajulige and SenzAgro CEO Miller Alexander.
Fisheries
Delivering his speech, Ocean University of Sri Lanka Dean Faculty of Fisheries and Ocean Sciences Dr. M.F.M. Fairoz spoke about the Blue economy and how it could be used to develop a sustainable fisheries sector in Sri Lanka.
"Blue economy in its simplest form would mean the sustainable development of ocean economy. Some would also call it the 'greening of the ocean economy' since the concept originated from the broader Green Economy concept and with the awareness of destruction brought upon by the ocean ecosystems by human activity," said Dr. Fairoz.
The public and private stakeholders look at the broader view of blue economy and seek to strike a balance between economic growth and ocean health, said Dr. Fairoz. "Though blue economy is used as a guiding principle in numerous development strategies, it is up to the policymakers to fill the gaps. While developing ocean economic practices is upfront, what amount to sustainable ocean economic measures remain uncertain."
He also said that additional growth of the blue economy is possible in a number of areas, especially: fisheries, aquaculture, and coastal tourism. For all these sectors to be developed, Dr. Fairoz said a lot of encouragement, additional governance and better planning are needed to achieve their full potential and return more sustainable outcomes. Ambitious governance reform supported by institutes like The World Bank will help a country like Sri Lanka to develop its aquaculture sector to generate jobs in rural areas where employment prospects are challenging, said Dr. Fairoz.
A large number of developing island nations like Sri Lanka depend on tourism and fisheries for a significant part of their gross domestic product and public revenues. Dr. Fairoz said aquaculture is projected to continue to grow rapidly and if done sustainably, can serve as a major source of food and a cornerstone of the blue economy.
"Tourism, and particularly nature-based tourism, also provides an important path towards the sustainable development of marine and coastal ecosystems. Coastal tourism, if done right, could become a key component of our economy. The value of nature-based tourism is expected to increase over time as the supply of pristine natural assets declines while demand, which seems impervious to economic shocks, increases with rising GDPs."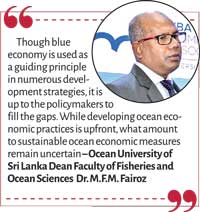 However, he mentioned that several challenges are making it difficult for the blue economy to grow including climate change related issues, overfishing and degradation of habitat by deforestation, coastal development and unethical fishing practices. He also said that the attempts to rectify some of these challenges have been disconnected. But, Dr. Fairoz was of the opinion that a more methodical approach, based on a better understanding of nationally-defined priorities, social context and resource base, can guide Sri Lanka towards a comprehensive blue economy.
During his speech, National Aquaculture Development Authority of Sri Lanka Director H.M.U.K.P.B. Herath said Sri Lanka is now in the process of embarking on a very ambitious aquaculture development plan, targeting doubling of the current aquaculture production to approximately 90,000 metric tonnes. He said this goal will be met through sustainable aquaculture development, addressing technology transfer, training programs, food safety and quality, and environmental integrity.
"We are planning to emerge as a target country for foreign investment in aquaculture. During the last decade, investments have been made from several countries and they have been directed into hatcheries, land-based on-growing systems, sea cages, and development of infrastructure facilities such as roads, common inlet/outlet canals for water intake and release, sedimentation canals, ponds, electricity, etc. This reflects the strong beliefs from the Government, investors and aquapreneurs that aquaculture in Sri Lanka has the potential to generate substantial foreign exchange earnings and profits."
In terms of aquaculture, Sri Lanka has a long history of utilising traditional methods such as still fishing or 'Ritipanna.' The way forward is through the fusion of such traditional expertise and modern technology. At the moment, with a strong R&D component as the driving force behind it, Sri Lanka is increasingly introducing new technology to the local aquaculture industry.
"For example, Sri Lanka recently welcomed biofloc technology that helps farmers to manage waste and nutrient retention in a highly effective manner. In addition, Sri Lanka has experimented with mitigation measures like real-time environmental alerts in shrimp farms in Chilaw. It is expected that such technological inventions will enhance the quality of products while also promoting economic sustainability."
According to Food and Agriculture Organisation (FAO), about 50% of seafood now comes from aquaculture, yet 90% of Sri Lanka's seafood is still wild caught. Herath pointed out that this represents a good business opportunity for international aquaculture technology suppliers, investors and distributors.
"Aquaculture is now changing from a subsector into a concentrated commodity production, aiming for advanced technology level with development towards a sustainable industry in all water bodies (freshwater, brackish water and at sea). The future potential for aquaculture in Sri Lanka is of course unique in Asia which can reduce wild caught supply from 90% to 10% and where aquaculture can fill the gap."
The fisheries sector panel included State Ministry of Fisheries Secretary Jayantha Chandrasoma, Tropic Fishery Ltd. Executive Director and CEO Roshan Fernando and University of Ruhuna Faculty of Fisheries and Marine Sciences and Technology Prof. Ruchira Tharangini Cumaranatunga.
Dairy
Delivering his keynote address, Maliban Group Head of Corporate Affairs and Strategy Asoka Bandara said that the dairy industry has witnessed lots of improvement over the last decade, especially in terms of milk production capacity.
"In 2010, our production was only 247 million litres. Over the next 10 years, we have doubled the milk production in Sri Lanka. It is a brilliant effort and gives us lot of encouragement. Our milk production currently sits at 490 million litres with a small wastage. From this, about 10% is consumed household. However, 770 million litres of milk powder is imported to Sri Lanka annually. When you combine, the total milk requirement of Sri Lanka comes to around 1,300 million litres."
"However, we had many positives over the last decade or so. Milk collection has increased by 7%. Our farm-get prices have increased by more than 50-70% and it is great to see that farmers get a good price now. The industry has also seen large commercial farms have been set up where two such farms have invested more than $ 20 million collectively. Both these farms are confident in breaking even in five years. So from a business point of view, keeping in mind the high import quantities of milk powder, there is lot of room for expansion in this country." He also touched upon the milk powder importing and how it has been impacted due to the current import restrictions.
"Sri Lanka spends more than $ 300 million to import milk powder. Milk powder has become the largest consumption because it is shelf-stable, it is of consistent quality and milk powder does not require chilling. However, due to the dollar crisis, milk powder imports have been curtailed. This is a blessing in disguise but then people will not appreciate that. But if the local dairy industry can pick it up, I think we have a great opportunity within our grasp."
Discussing about the must-win industry battles, Bandara emphasised on key points including the fodder issue.
"From small scale to mega farms, fodder is a critical requirement. When you look at mega farms, 80% of their production cost goes to procure fodder. Fodder for cows is not seen as a crop in Sri Lanka so this has to be thought through carefully. Fodder should be treated as a crop and this a huge opportunity for the industry. The low milk yield is another challenge. If you take the national heard, the average literage for a milking cow is about four litres per day. To improve the yields, you must give them the right food, water and fodder. And if you do the artificial insemination, the pregnancy interval can be closed. Farms need to do this pregnancy cycle without any interruptions and there can't be gaps between the two. This is where artificial insemination and national heard improvement have to happen."
"Thirdly, the responsibilities must be shared between public and private sectors. Most of the time, the private sector works in isolation and I think the public sector too. We always discuss but a proper business plan to revive the industry has not been materialised. But if we put our heads down together, this can be tackled. It is a national project and it is for the country and when we develop a proper plan, we will all gain," said Bandara.
Concluding his keynote, Bandara said, "The plan to self-sufficiency is possible but it is a long road. We need to fix the issue on fodder. Today, fodder comes under Department of Animal Production and Health but they cannot do the research on fodder. It is done by the Department of Agriculture. So these two departments should support each other because to improve the yield on fodder, you need to do research. Also, if you look at small scale farmers, they represent 80%-85% of the industry. Small farmers who are providing 2-3 litres a day have to bring up to a level of providing 6-8 litres per day. However, this needs to be done in apolitical manner. Do it from a business point of view, not from a political point of view."
"Milk self-sufficiency is a goal. When the country develops, the need for milk will also increase. Today's requirement is 1.2 billion litres and in another 10 years, I bet it will be 1.5 billion litres. It is a moving goal but if we all work together, we can really improve our milk production in Sri Lanka," concluded Bandara.
National Livestock Development Board Former General Manager Chithral Munaweera spoke about the strengths, weaknesses and opportunities in the Sri Lankan dairy sector.
"In terms of strengths, we are blessed with a good climate and the availability of the workforce is also there. Further, a well-organised, dense milk collection network is also available which is being managed greatly by the private sector and MILCO. We also have an attractive pricing, tax concessions for investors, dairy process support and breeding policy based on provincial climate. However, these well-defined breeding programs have not been properly implemented. If they were, we could have progressed much better. These roadblocks have to be cleared if we were to develop our sector. One other advantage we have is well-trained professionals in the sector. Sri Lanka has some skilled and knowledgeable veterinary surgeons and livestock development instructors. The intellectual capacity we have a as a nation is a clear strength."
Discussing about weaknesses, he pointed out that limitations on dairy animals, land, and knowledge on animal nutrition, poor genetics, and poor recordkeeping, economies of scale, competition for raw milk, disease and breeding issues are some of the critical aspects.
"When a unit is very small, the economies of scale are small. To put it down simply, the income they generate is very small. These farmers have no chance to grow. We need to transform them. We need to take strategies to elevate them into commercial entities through better government incentives and public-private partnerships," said Munaweera.
He mentioned that supportive government policies and support for research, changing food consumption patterns of people are significant opportunities for the country. In terms of changing food habits, Munaweera said that many people worldwide, including Sri Lankans, are moving towards more dairy and high-protein products with a focus around health and wellness. He said that for investors, there is a huge market. As possible threats, Munaweera discussed about the shortage of fodder, limitations of land to cultivate fodder, constraints on veterinary and AI services, the link of applied research not reaching the extension workers, higher amounts of milk powder imports and the continuous discussions on animal welfare and cattle slaughter, which jeopardises potential investments.
"One size does not fit all. Do not think that if somebody is doing a dairy farm, you could adopt the same model somewhere else. You have to look at the basic requirements and develop your plan. I would advise for a mega investor to always a consult a good dairy consultant or a firm to provide a total dairy solution. Looking after the animals and the husbandry part are different maters. Establishing your dairy farm is crucial when it comes to an investment," said Munaweera.
The dairy panel featured Pelwatte Dairy Industries Founder Ariyaseela Wickramanayake, Cargills Ceylon PLC Food Safety and Nutrition Group Manager Dr. Nelum Vithana and Milco Ltd. former Chairman Lasantha Wickramasinghe. (HB)