Implications of cyber security in the banking and financial services sector are growing according to Cisco's Director – Security Business – India and SAARC Vishak Raman. This he emphasised is amidst digital disruption taking place across business and economic sectors on a massive scale.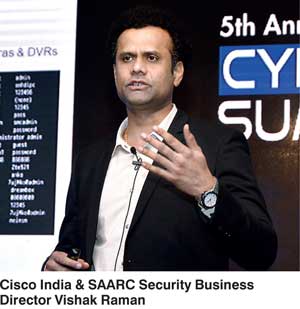 "Digitisation has fundamentally shifted the way we interact with our surroundings. The ability to monitor and manage objects in the physical world electronically makes it possible to bring data-driven decision making to new realms of human activity – to optimise the performance of systems and processes, save time for people and businesses, and improve quality of life," said Raman.

According to him today data is where the money is. Highlighting the degree of digitalisation and digital disruption, he said 400 hours of video are uploaded to YouTube every minute and watched by more than 1 billion people; around 2.5 billion smartphone users today. Last quarter more cars were connected than mobiles. The rapid growth in data traffic will continue. Networks will need to be ready for a 1,000-fold increase in data volumes in the first half of the 2020s Raman said quoting The Economist.

He also said digital transformation at the industry level is broadly defined as when pervasive computing becomes integrated into every aspect of the business, and changes them all.

"As CIOs build infrastructure for this connected, measured, analysed real-time world, there is more emphasis on cloud and data analytics, and improved customer-facing technology. All industry sectors worldwide continue to see an increase in IT spending/budgets in 2016, with an overall average increase of 3.5%," he added.

Cisco official shared with Daily FT-CICRA Cyber Security Summit participants a host of digital disruptions in the banking sector. Among them were Advanced Analytics, AI, IOT, Block chain and Robotic Process Automation.

"Business intelligence (BI) and analytics remain the key priority for banks and securities, as mentioned by 44% in banking and 43% in securities, respectively, as an area of new investment," said Raman.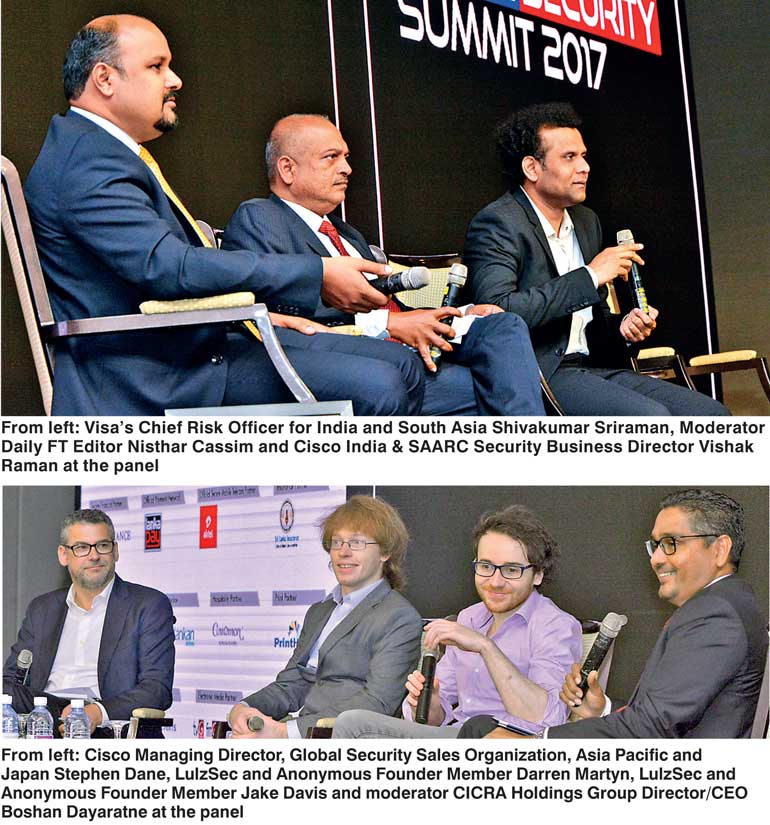 Advanced analytics is also viewed as the technology with the potential to drive the greatest change among banks and securities in the next five years, with a dominant 82% in banking and 76% in securities selecting it as a top three technology.

BI and analytics are starting to show up in most banking and securities, but the integration has been fragmented across departments. Greater access and integration of data are needed to make the best use of the data, so banks will further invest in these efforts. The integration and modernisation of legacy systems are an opportunity for service providers. Additionally, product roadmaps should be thinking about open (but secure) API layers in order to share and consume data from other key systems.

For banking in 2017, cloud services will be next big area of investment for 30% of respondents, while cyber security is a priority for 26%, just ahead of infrastructure on 20%.

On the other hand, securities in 2017 have different technology priorities. Digitalisation and digital marketing will be a key area for 37% of respondents, while infrastructure is a priority for 24%, followed by cyber security and cloud services for 19%.

In the long term, digital security, a keystone area for banks and securities, will change the internal landscape of functions. However, it is blockchain that has the capacity to create new business in banking, drive change and challenge traditional products. Blockchains are increasingly becoming an important technological investment area for financial institutions because of the potential applicability in far reaching transactional aspects in all industries. Banks are at the centre of all transactions as middlemen, and the impact of blockchain will be disruptive for the industry.

However, securities consider business algorithms as the area they will focus on after digital security. Business algorithms are important to trading functions by automating the operations in back offices.

For banks cyber security implications include 3rd Party Suppliers and Vendors, Infrastructure, Change Management, Legal and Regulatory requirements.

Citing some examples to illustrate the challenges, Raman referred to the leak of 3.2 million credit card data after cards used in China in June 2016 found only in September. The 3rd party Switching Network had a Malware implant triggering the theft of data. He also referred to the famous $ 80 million heist by cyber criminals using the Bangladesh central bank via malware.

Citing the Sub-Continent Customers – Security Index of Cisco 2017 Security Capabilities Benchmark Study, Raman said it revealed that 37% of the security alerts are not investigated or remediated. Furthermore 35% of banks have reported loss of customers due to cyber attacks.



Quoting Verizon Data Breach Investigation Report, he said over 850 breaches had taken place last year; with 98% stemming from external agents; 81% utilising some form of hacking; 69% were incorporated malware and 96% of the attacks not highly difficult.

"Financial institutions have been, and will increasingly continue to be the object of a hacker's desire. I liken them to the cute kids of the popular kids in school. Everyone loves them, but there are a bunch of folks who want what they have, so will do whatever they can to take them down," quipped Raman.

"But many, if not all financial institutions have a mixture of legacy and advanced applications and infrastructure. These core and extended technologies combine to create great concerns for financial services industry security teams," he added,

Reiterating that financial institutions are popular and for good reason, Raman said there are a host of vulnerable entry points that extend far beyond the traditional network borders, out through to their remote workers and customer end users.

Each entry point has its own unique sensitivity and regulatory requirements, and all this serves to complicate their business objectives. Deploying secure solutions to resolve each of these is necessary, but also tends to be disjointed, inconsistent, and overly complex when it comes to visibility and holistic protection.

Hacker economy

He also revealed how digital disruption is driving the 'hacker economy' saying there is a multi-billion dollar global industry targeting banks prized assets.

"We were getting phishing emails from guys in Nigeria saying "if you give me $10 today, I'll give you $1000 in 2 weeks." And they were poorly worded so we could spot them easily. But today, think about how much more sophisticated the attackers are. They are going on to LinkedIn, studying very detailed information about your companies and your employees and then sending targeted emails to people to click on a malicious link," explained Cisco official.

"Today's cybercriminals are more sophisticated and backed by a multi-billion dollar industry that has been monetised where data and malware are being commoditised. With this their tactics have changed. They are not looking for quick wins, but long-term payouts. Adapting from attacking an individual computer or person and are now aiming to capture the full power of your infrastructure, to gain a long-term return on their investment," Raman emphasised.

"What have we done in response? Add individual point in time security solutions to stop individual problems. Now we're stuck dealing with complexity and fragmentation that has created gaps in our security and reduced visibility. The bottom line is that Hacker Economy is huge and growing," he told the Daily FT-CICRA Cyber Security Summit participants.

"So today it's no longer a question of 'if' you'll be breached. It's a question of 'when'. If you know you are going to be compromised, how should you do security differently," he queried.

In that context Raman stressed that what's needed is a new security model; one that understands how attacks occur and provides defenders with an operating model to fight off attacks more effectively.

He said Cisco delivers intelligent cyber security for the real world, providing one of the industry's most comprehensive advanced threat protection portfolio of solutions and services that are integrated, pervasive, continuous and open. Cisco's threat-centric approach to security reduces complexity, while providing unmatched visibility, continuous control and advanced threat protection across the entire attack continuum, allowing customers to act smarter and more quickly – before, during, and after an attack.