Despite the rapid advance of technology, customers remain at the centre of companies, driving innovation by demanding to have their needs met, a top expert said, insisting that businesses need to remain engaged with their consumers.

Giving the keynote speech at the CIMA Business Leaders' Summit 2018 Dialog Axiata Group Chief Operating Officer Rainer Deutschmann spoke on 'Global Trends in Transforming Business'.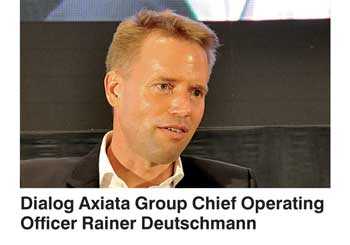 "A trend that I think most relevant today is connectivity. For the first time ever, more than half of the world's population is connected to the internet. It's a great thing. Out of the internet-connected people 90% of them are connected through mobile phones and 80% of them are connected through social networks," he said, depicting the importance of social media in the high-tech world.

"This year happens to be the year, where for the first time we see more people connected through 4G, LGE and high speed connections to the internet more than any other technology. Again, 2018 is a landmark year, because for the first time ever, we have more connected machines than humans and that's the power of internet."

According to Rainer, cloud computing is another global trend which influences business. "Cloud has become mainstream clearly; we see in 3/4 of the organisations that at least part of their infrastructure is in cloud. We see that 1/3 of their IT strength already goes to the cloud services."

Deutschmann also believes that machine learning is a trend that impacts on business globally. He stated that machine learning has benefits including improved customer services and improved innovation since machines were starting to change themselves.

Other global trends transforming business include Artificial Intelligence (AI), Virtual Mixed Reality and Blockchain; "3/4 of the organisations worldwide use some sort of blockchain. It is time to understand the potential of it now," he added.

He also said that edge computing was a trend which brought applications closer to consumers and were accessible to anyone due to their low cost while he added that quantum computers are going to affect business as well since they are going to be able to solve problems which other computers and technology will not be able to.

"In 2018 we think that we are at the peak of development, but just ten years from now, in 2028 we'll look back at 2018 as if this was Stone Age. That's the power of technological growth which we all have to be aware of. "

Also stressing on the fact that data and information is the new goal for a successful business Deutschmann said, "What can we learn from the companies that have succeeded in the exponential world? It all starts with the customer and the insights to the customer's preferences and needs. We can learn from our customers a lot. We have to listen to them day and night. The better we understand them, the better we can serve them. Companies struggle to beat competition in terms of their profits, while we can simply use customer insights for that."

He said that a company should closely observe customer behaviour and feedback and gather all these resources to get the information to make a change. "Digital customer touch points also reveal a very rich stream of real time information, like what the customer talks about me and my brand online," he added.