Two-day conference featuring 40 speakers and over 300 participants with 9 forums of knowledge sharing
"Empower a woman, and empower the whole nation." This is proven by empirical research globally. By 2019, the global female population accounted for approximately 50% out of the total world population and 52% in the Sri Lankan context. Thus, empowering women undoubtedly paves the path to achieve sustainability for a nation economy, socially and politically.
Nevertheless, the concept of women empowerment is a multi- dimensional notion which needs to be carefully approached and addressed. Simply, it is all about equipping and allowing women to make life-determining decisions through the different problems in society.
To elaborate further, women's empowerment includes the action of raising the status of women through education, building awareness, literacy, and training. As per academic research, empowerment of women in the modern turbulent economic environment is mainly assured through the economic aspect; hence, developing an entrepreneurial mindset among women is of utmost importance to any country.
The Colombo School of Business and Management (CSBM) together with Women's International Foundation (WIF) launched ICSE 2019: An International Conference on Women Entrepreneurship with the greater intent of upscaling and upgrading entrepreneurial women nationally and regionally in all spheres.
The key pillars of the ICSE 2019 on Women Entrepreneurship stood out to create opportunities, breaking barriers and to ensure the sustainable processes of women empowerment. The purpose of the conference is to empower and strengthen cooperation between national and regional women initiatives, to explore the gender based challenges towards productivity, to create a common platform, to ensure the role and contribution of the women at the national and regional level.
ICSE 2019 is one of the first conferences of its kind; a multi-disciplinary international conference with research papers presented on a multi lingual platform. The conference agenda featured knowledge sharing in critical areas through nine different forums to include, Women & Leadership, Business Development, Storytelling, Women Financial Forum, Women Technology Forum, Research Forum, Women Empowerment Forum, Women Partnership Forum and Women & Policy Forum.
On 3 December, 2019 the conference commenced at a splendid venue in the heart of Colombo, Marino Beach Hotel with US Embassy in Sri Lanka and Maldives Ambassador Alaina B. Teplitz attending the occasion as the Chief Guest. Board of Investments (BOI) Sri Lanka Director-General Champika Malalgoda and Export Development Board (EDB), Sri Lanka Director General Jeevani Siriwardena participated as the Conference Guests of Honour while Colombo School of Business and Management Chair and Head Prof. Ranjith Bandara chaired the conference.
CSBM Deputy Chair and MAS Intimates Director Operations Ruwan Keragala delivered the welcome speech, welcoming all distinguished guests, over 300 women entrepreneurs, academia, scholars and policymakers, researchers, and the business communities.
WIF Founder and Chairperson and CSBM Director Marketing Seroshi Nandasiri introduced the Ambassador and shared the amazing story behind the conference and its theme. In her keynote speech, Ambassador Teplitz emphasised the importance of eliminating barriers, allowing professional growth, and shaping an inclusive future for all women around the world.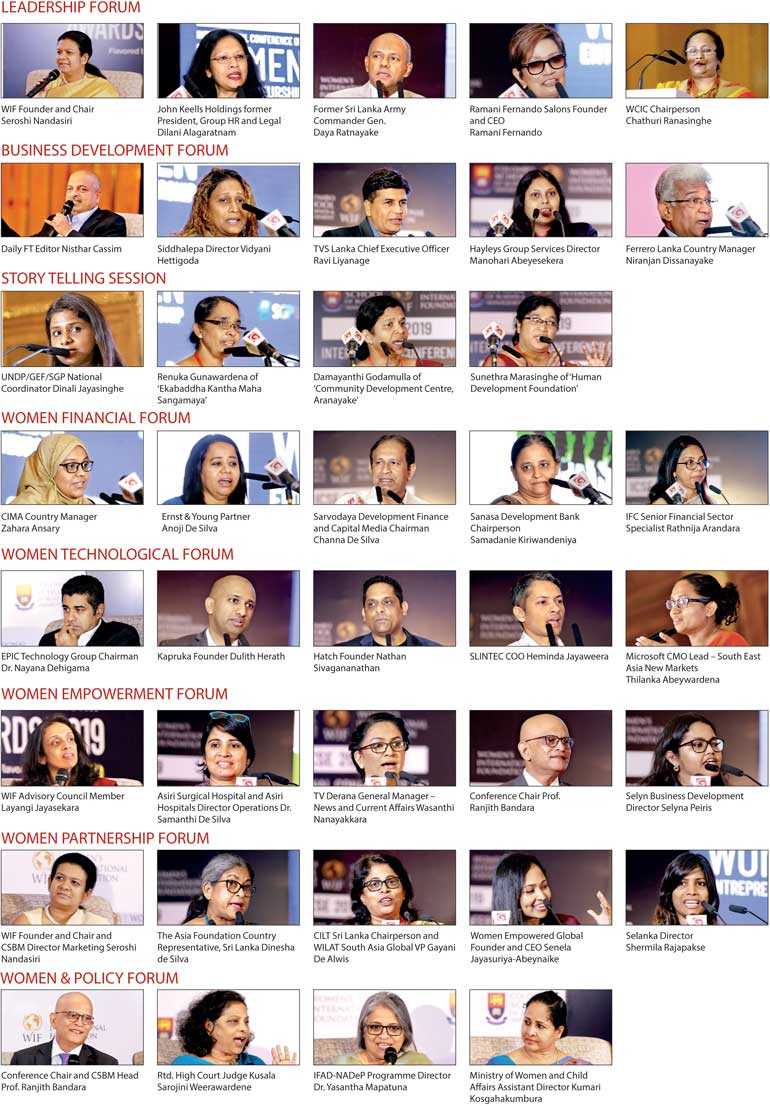 Women Leadership Forum
The Women Leadership Forum hosted by CSBM opened up the 'Knowledge floor' of ICSE 2019 with four distinguished speakers, namely, John Keells Holdings President, Group HR & Legal Dilani Alagaratnam, former Sri Lanka Army Commander Gen. Daya Ratnayaka, Ramani Fernando Salons Founder and CEO Ramani Fernando and Women's Chamber of Industry and Commerce Chairperson Chathuri Ranasinghe.
The session was concluded by stressing the importance of facilitating personal as well as professional empowerment of women which ultimately leads to sustainable leadership. Gen. Ratnayaka particularly explained the value of the leadership qualities reflected by a woman as a 'mother,' irrespective of her social/official status. The session was moderated by WIF Founder and Chair Seroshi Nandasiri.
Business Development Forum
CBL hosted the Business Development Forum mainly discussing the marketing and branding aspects and opportunities in the market; was considered as an eye-opener especially for most of the rural entrepreneurial ladies.
The session was moderated by Daily FT Editor Nisthar Cassim and knowledge was shared by an eminent panel consisted of Siddhalepa Director Vidyani Hettigoda, TVS Lanka Chief Executive Officer Ravi Liyanage, Hayleys Group Services Director Manohari Abeyesekera and Ferrero Lanka Ltd. Country Manager Niranjan Dissanayake.
Story Telling Session
The third forum was a Story Telling Session which was hosted by UNDP/GEF/SGP inspired many at the conference as it presented the real life experiences as well as success stories of three wonderful lady entrepreneurs, namely, Renuka Gunawardena of 'Ekabaddha Kantha Maha Sangamaya,' Damayanthi Godamulla of 'Community Development Centre, Aranayake' and Sunethra Marasinghe of 'Human Development Foundation'.
Compiling the session, UNDP/GEF/SGP National Coordinator Dinali Jayasinghe explained the value of building awareness, especially among women entrepreneurs on the availability of funding sources for women-led businesses.
Women Financial Forum
The Women Financial Forum, powered by HNB Finance, was vitally significant to many of the women entrepreneurs at the conference as it was delivered in such a way, where many ladies for the first time in their lives, learnt as to how to prepare basic but proper financial statements for their budding businesses.
Further, the resource persons gave high emphasis on building awareness among the participants regarding modern-day burning financial issues in the country such as micro financing, credit literacy and efficacy.
The renowned panel consisted of five reputed members from the Sri Lankan corporate fraternity namely, Ernst & Young Partner Anoji De Silva, Sarvodaya Development Finance and Capital Media Chairman Channa De Silva, Sanasa Development Bank Chairperson Samadanie Kiriwandeniya and IFC Senior Financial Sector Specialist Rathnija Arandara. The session was moderated by CIMA Country Manager Zahara Ansary.
Women Technological Forum
Epic Technology Group hosted the Women Technological Forum and it was indeed a fountain of knowledge for all participants as it mainly disseminated the learning on the use of modern ICT facilities to access markets, breaking communication barriers and harnessed many opportunities available especially for women entrepreneurs.
EPIC Technology Group Chairman Dr. Nayana Dehigama moderated the forum with a distinguished set of professionals in the ICT industry namely, Microsoft CMO Lead – South East Asia New Markets Thilanka Abeywardena, Kapruka Founder Dulith Herath, SLINTEC COO Heminda Jayaweera and Hatch Founder Nathan Sivagananathan.
As the final forum of Day 1 of ICSE 2019, three award winning academic research was presented under themes of women entrepreneurship – 'Women Entrepreneurs at Hela Bojun Hala Food Outlet Succeeding Women Through Cooking in Sri Lanka' by Dr. L. A. Pavithra Madhuwanthi and Aruna Muthulingam (University of Sri Jayewardenepura), 'Promoting Women Leadership in Social Enterprise and Impact Investing: Key Challenges and Strategies in Sri Lanka' by P. Puvaneswary and 'Assessment of how Community Driven Development Approach Creates Rural Women Entrepreneurship in Sri Lanka' by R.M. Samanmalee Swarnalatha.
Women Empowerment Forum
ICSE 2019: Day 2 of the conference began with much enthusiasm and glamour on 4 December with a Women Empowerment Forum. The forum was hosted by Asiri Health and thus gave much emphasis on professional as well as personal empowerment of women entrepreneurs.
The opening insights delivered by Asiri Surgical Hospital and Asiri Hospitals Director Operations Dr. Samanthi De Silva along the lines of 'Empowering Yourself; Mind, Body and Spirit' was very inspiring to many. TV Derana General Manager – News and Current Affairs Wasanthi Nanayakkara, Selyn Business Development Director Selyna Peiris and Conference Chair Prof. Ranjith Bandara added value as other panellists of the forum. WIF Advisory Council Member Layangi Jayasekara moderated the session and took forward the discussion in a remarkable manner, adding value to many lives.
Women Partnership Forum
Women Partnership Forum, powered by Mobitel, primarily discussed about the much needed awareness on building networks for women entrepreneurs, as networking is crucial for the development of any entrepreneurial attempt.
The Asia Foundation Country Representative, Sri Lanka Dinesha de Silva, CILT Sri Lanka Chairperson and WILAT South Asia Global VP Gayani De Alwis, Selanka Director Shermila Rajapakse and Women Empowered Global Founder and CEO Senela Jayasuriya-Abeynaike along with WIF Founder and Chair and CSBM Director Marketing Seroshi Nandasiri who moderated the forum provided information on how women entrepreneurs can form networks and use partnership model to advance and to grow.
Women & Policy Forum
As the final forum of the ICSE 2019, the Women & Policy Forum was conducted under the patronage of SAPP in order to educate the gathering regarding the policy framework and the legislation which specifically affects women in their entrepreneurial attempts.
The distinguished panel of speakers included Rtd. High Court Judge Kusala Sarojini Weerawardene, IFAD-NADeP Programme Director Dr. Yasantha Mapatuna and Ministry of Women and Child Affairs Assistant Director Kumari Kosgahakumbura. The forum was moderated by Conference Chair and CSBM Head Prof. Ranjith Bandara who carried out the dialogue in such a manner where the participants were given a simple but comprehensive insight on certain complex legal issues faced by women entrepreneurs in general.
ICSE 2019: International Conference on Women Entrepreneurship was concluded with the Vote of Thanks delivered by CSBM Registrar and WIF Deputy Chair K. Gamage. Some concluding remarks and feedback from participants were of enthusiastic gratitude for the opportunity to demonstrate their efforts in being an entrepreneur and in some instances viable business improvement connections were also made.
In terms of speakers and forum facilitators the feedback was very positive. They appreciated the diversity of subjects being covered and the depth of heartfelt participation of the candidates whilst exploring the many different aspects of talented business ventures.
'Women Entrepreneurship Awards 2019'
'Women Entrepreneurship Awards 2019' was the signature event of the Day 2. Embassy of the Kingdom of the Netherlands in Sri Lanka and Maldives Ambassador Tanja Gonggrijp attended the occasion as the Award Chief Guest while Minister of Women and Child Affairs, Social Security, Health and Indigenous Medicine Pavithra Wanniarachchi participated as the Guest of Honour.
The Women Entrepreneurship Awards 2019 was sponsored and flavoured by Nestlé, Maggie. The Research Partner for the awards was Survey Research Lanka (SRL) which is a veteran, locally-grown research firm with an expertise running over two decades which is also the extended research and media support arm of the CSBM. The Assurance Partner for the awards was KPMG which is a globally-reputed audit firm with experience and expertise with similar endeavours at both local and international level.
The 'Women Entrepreneurship Awards 2019' saw great enthusiasm among the women entrepreneurs across the country in applying for the award and a rigorous, systematic screening process and interview sessions were conducted in the selection of the awardees.
The panel of judges for the awards comprised BDO Partners Managing Partner Sujeewa Rajapaksha, Media Services Ltd. Director Krishani Hewavisenti, University of Kelaniya Department of Marketing Management Senior Lecturer Dr. Renuka Herath, University of Sri Jayewardenepura Faculty of Management Studies & Commerce Department of Entrepreneurship Senior Lecturer Rukmal Weerasinghe and WIF Deputy Chair K. Gamage. The panel was also assisted by CSBM Director and former banker Leonard M. Perera on financial insights and analysis.
The awards were presented under five categories of Micro & Small Scale Enterprises, Medium, Large and Innovative Enterprises and Social Enterprises.
The winners of the said categories include Shyamali Wijegunawardane, Spring and Summer Fashion Collection Ltd. (Women Entrepreneur of the Year – Large Enterprise Category), Ruwini Irosha Wickramarachchi, Wickramarachchi Ayurveda Laboratories (Women Entrepreneur of the Year – Medium Enterprise Category), Imalika Hewapathirana, Kavumkokis.com (Women Entrepreneur of the Year – Micro & Small Enterprise Category), Sunethra Marasinghe, Human Development Foundation of Sri Lanka (Women Entrepreneur of the Year – Social Enterprise Category) and Kirithika Thushyantha, Techno Brain International Ltd. (Women Entrepreneur of the Year – Innovative Enterprise Category).
'Women Entrepreneurship Awards 2019' was flavoured by Maggie and other than the mainstream five award categories to highlight the partnership between Nestlé, CSBM and WIF, a special award was presented by CSBM and WIF for 'Culinary Entrepreneurship'. Nirmala Wijeratne of Sunshine Food Creations was awarded the title of 'Culinary Entrepreneur of the Year' for 2019.
'Women Entrepreneurship Awards 2019' will be an annual event and interested women entrepreneurs across the country are encouraged to apply for next year's awards.
Way forward for 2020
CSBM and WIF will continue the series in 2020 and parallel to the conference a series of regional boot camps will be organised to promote women entrepreneurship among the micro, small and medium scale enterprises. Twenty boot camps will be organised across Sri Lanka to cover over 5,000-6,000 women entrepreneurs throughout 2020. These regional boot camps will give the participants access to the yearend conference and the women entrepreneurship awards 2020.
The Women's International Foundation (WIF) and Colombo School of Business and Management (CSBM) partner with many Governmental, international and national organisations and with the Sri Lankan corporate fraternity in organising and delivering this nationally important campaign of promoting women entrepreneurship in the country.
This is aligned at economic, social and personal empowerment of women and thereby the economic growth, development of our communities elevating poverty and uplifting the standard of living. Women running businesses and aspiring to run their own businesses are encouraged to connect with WIF to learn more about the regional women entrepreneurship boot camps.