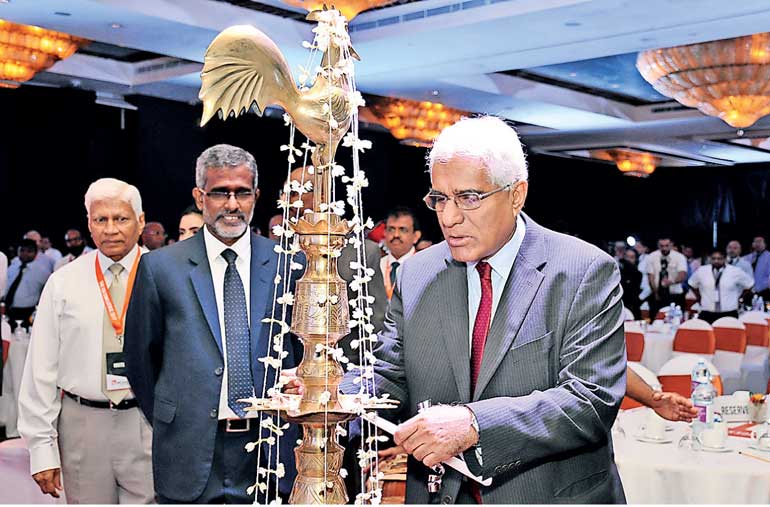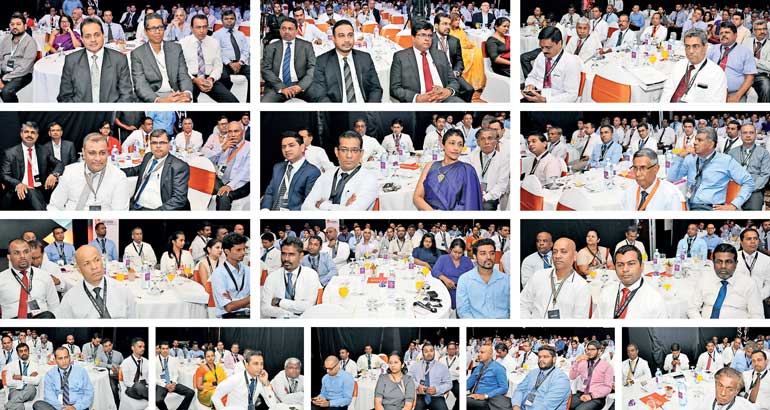 Technology and innovation guru Scott Bales says CIOs and CTOs will play the most critical role in banks in the future, replacing CEOs
By Charumini de Silva

With technological change accelerating at an exponential pace and Fintech in the process of changing banking beyond recognition, Central Bank Governor Dr. Indrajit Coomaraswamy called on the Chief Information Officers (CIOs) of the finance and banking industry to walk this challenging journey on a mutually supportive framework.

He said the CIOs were going to be on the frontline of managing this change in a way that the new disruptive technology did not undermine individual institutions but also threaten the stability of the financial sector as a whole.

"Today's bank CIOs must have a thorough understanding of the old world of legacy systems and data centres, while driving innovation within their institutions," he stated at the CIO Confluence 2017 titled 'Thriving for Digital Value' held at Cinnamon Grand yesterday.

CIO Confluence 2017 was held for the third successful year by The Banks' Chief Information Officers Forum of Sri Lanka, in association with Pencil Works Ltd. The forum provided CIOs with an opportunity to engage with internationally acclaimed industry experts that shared their knowledge, experiences, ideas and insights on topics such as customer experience, analytics, Blockchain, big data, artificial intelligence, internet of things and robotic process automation.

According to Dr. Coomaraswamy, the key person involved in this revolution is the CIO, who is becoming increasingly important as organisations are fast recognising the need to adopt new technologies in order to maintain competitiveness.

He emphasised that CIOs will need to find out how to unwind layers of legacy systems and infrastructure to reduce costs, leverage internal data for new revenue-generating applications and provide the agility to scale technology services up or down based on business demand.

"All of us need to recognise this and embrace the inevitable change. Failure to do so will affect not only the competitiveness of individual financial institutions but the economy as a whole. Technology is already driving down cost structures. The pace of change is going to accelerate," he added.

While technology allows countries to increase its economic output through the optimisation of time and opportunities, it has reduced the cost of discovering, transacting and sharing information.
Information security
In today's context where banks are increasingly focusing on the digital mode of transactions, he insisted that equal attention needed to be paid to information security. "Implementation of these technologies is also rapidly revolutionising the banking and finance industry. In banking, the compelling requirement for delivery of more personalised customer experiences through digital innovations also continuously introduces new threats. The downside needs to be managed as vigilantly as the upside."

As information security is no longer a mere IT matter, Dr. Coomaraswamy asserted it is an operational concern as well as a business concern. "CIOs have the responsibility to ensure that information security is embedded in the overall integrated risk management framework of a financial institution."

He also cited recent cyber security incidents that have occurred in the domestic financial system, noting: "As you all are aware cybercrime is an ever present and increasing threat. Last year Ransomware became the favourite attack methodology. Petya hit the Ukrainian Central Bank and other Government departments this year before spreading to at least 60 other countries. Botnets, a robot network of compromised computers, has been targeting the internet of things. As a result, there is an imperative need to promote a culture of security among all operative functionaries cutting across administrative grading," he pointed out.

The CB Chief suggested that threat intelligence must be given high priority, where an institution's focus on the risk management framework should be shifted towards conducting good cyber due diligence, assessments and implementing proper detection controls in order to enable the organisations to stay ahead of industry regulations. He believes that the response to any new cyber security events and new cyber security regulatory requirements will not force a drastic overhaul of the existing security programs of financial institutions.

Dr. Coomaraswamy said CIO Confluence 2017 was held at a time when there was growth in the Fintech industry all over the world, giving rise to exceptional customer experiences and service delivery with the advent of new technologies – Smart KYC, Blockchain, big data, cloud services, analytics and so forth.

"The acceleration of the metabolic rate of the global economy has profound implications for all consumers, businesses and governments. Advancing technological changes force us to rethink the way we approach and manage information, the way we define, monitor and respond to competition. These advances also create opportunities for reinvention and growth," he added.

The keynote address at this year's forum was delivered by technology and innovation guru Scott Bales, a global leader in the cutting-edge arena known as 'the digital shift', encompassing innovation, culture, design and mobility in a world gone digital.
Pursuing relevant technology
He asserted that CIOs and Chief Technology Officers (CTOs) would play the most critical role in banks in the next five years, replacing CEOs owing to the degree of technology components required in the business.

He pointed out that no technology however would be relevant if it did not add value to people's lives.

Bales highlighted that for the financial sector it was now becoming more common to be 'sans branch' which means the physical presence of a bank branch is becoming less and less important, in favour of digital services that can be offered in lieu of it.

It was pointed out that FinTech companies at present give better access to millions and millions of unbanked and under-banked individuals across the globe through democratised financial services that are mainly digital-first or mobile-first.

Central to all these is the proverbial 'Isaac', a young person born in a digital native age, where persistent mobile data connections and mobile apps are ubiquitous, and where people first access the internet on a mobile device instead of a computer.

He argued that this generation did not know of a world without the internet. Therefore Bales said that startups will need to tailor their services to an audience like 'Isaac' in order to better address the needs of a digital native generation – whether they are millennials or younger.

"Back then we probably did not expect the potential of FinTech to be so big. That was four years ago — startups were already dealing with peer-to-peer banking through mobile devices, and digital accounts can be opened through smartphone apps," he said.

However, today it is simpler than ever for users to take care of their banking and financial transactions through Blockchain powered services, he added, noting that this has the potential to change the lives of millions of poor and marginalised users for the better, particularly through better access to capital, financial resources and game-changing small business transactions.

According to him, big data is to receive the most investment to expand analytics platforms while understanding how to use information to drive growth.

Urging CIOs and CTOs to see things from the perspective of their customers, he explained six key factors - start with why, the new normal, reconsider risks, learn first/govern second, security is day zero and loose compiling.

Bales outlined context, culture, capability and collaboration as four of the most critical investment horizons an organisation needed to complete in an age of disruption.
Massive opportunity

for Sri Lanka
He emphasised that Sri Lanka has a massive opportunity ahead of it in terms of transforming its banking and financial sector and eventually moving towards a more inclusive economy. "I quite enjoy my time in countries like Sri Lanka, where the opportunity is huge. I want to help you progress."

"Get out of the building, understand the citizens, find a problem you are passionate about, create experiences not products, build, measure and learn. Reconnect those principles of how humans respond to technology from a different perspective to add value to lives," Bates concluded.

The Banks' CIO Forum Chairman Luxaman Perera said: "Digitisation has revolutionised the way the world works and the way it is perceived. It has changed the rules of the competition and has rewritten the practices and approaches towards it. The digital world will continue to change how we see the world and act within it."

He believes that institutions are fast recognising the need to adopt robust technologies in order to stay ahead and as such the role of the CIO is becoming increasingly important.

The full-day forum followed an interactive track sessions that focused on key topics such as customer experience, analytics, Blockchain, big data, artificial intelligence, internet of things and robotic process automation.

Pix by Lasantha Kuamara