The world's leading and influential brand consultancy, Interbrand, and Daily FT partner in pioneering initiative to re-profile Sri Lanka and put local brands in an international spotlight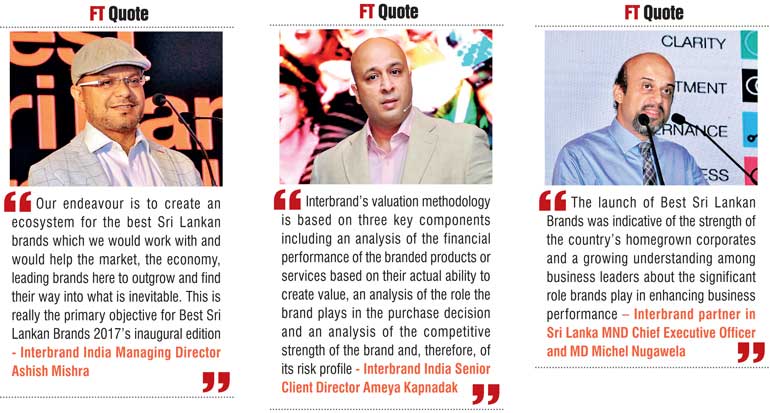 By Charumini de Silva

The prelaunch of Best Sri Lankan Brands 2017, organised by Interbrand in partnership with the Daily FT, was held last week at Hilton Colombo with an invitation-only forum featuring top chief marketing officers, chief financial officers and chief executive officers.

The debut of the Best Sri Lanka Brands list, starting from 2017, is a groundbreaking initiative by Interbrand, the world's largest and most influential brand consultancy, in association with the Daily FT, Sri Lanka's only daily financial newspaper.

Best Sri Lankan Brands 2017, which identifies the most valuable brands in the country, is modelled on Interbrand's prestigious Best Global Brands annual report, the definitive guide to the world's 100 most valuable brands.

The top homegrown brands in Sri Lanka will be ranked and recognised at an exclusive ceremony under the patronage of Prime Minister Ranil Wickremesinghe on 11 December at Hilton Colombo. Some of the most senior leaders from the Interbrand Network are slated to attend the event. These include Interbrand Global Director of Brand Valuation Mike Rocha from the UK; Interbrand Strategy Director of Nation Branding Guido Van Garderen from Germany and Interbrand India Managing Director Ashish Mishra.

The qualifying criteria for Best Sri Lankan Brands are: first, a brand's country of origin must be Sri Lankan. The Best Sri Lankan Brands table recognises the most valuable Sri Lankan brands, not those of other countries of origin. Second, to maintain reputational integrity and avoid conflicts of interest, Interbrand does not levy or accept payments to list brands in its table. This is – categorically – not a practice Interbrand accepts. Third, there must be substantial publicly available financial information, either printed and circulated or published online, to ensure transparency and comparability and in turn enhance the usefulness of the valuations to wider stakeholder groups.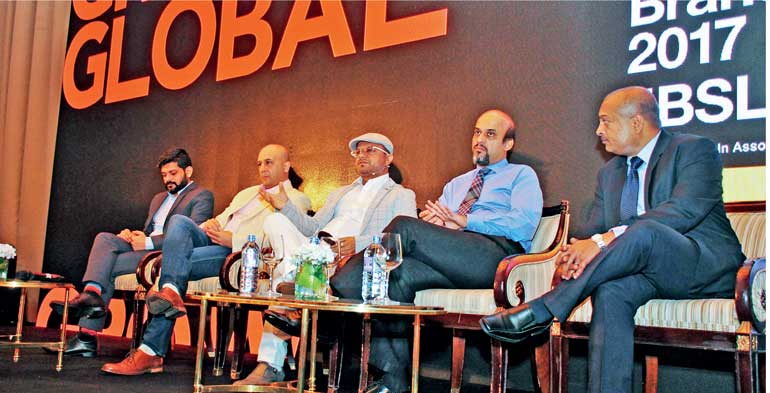 From left: Interbrand India Strategy Consultant Rahul Bansal, Interbrand India Senior Client Director Ameya Kapnadak, Interbrand India Managing Director Ashish Mishra, Interbrand partner in

Sri Lanka MND Chief Executive and Managing Director Michel Nugawela and Daily FT Editor Nisthar Cassim


At the prelaunch, Interbrand India Managing Director Mishra highlighted the ethos of Interbrand and the benefits of its valuation model and best practices.

He said Interbrand firmly believes in doing things which are very robust and analytical. "The reason why Interbrand is the world's leading brand consultancy is because we do it with rigour and that's what we want to do in Sri Lanka," he added.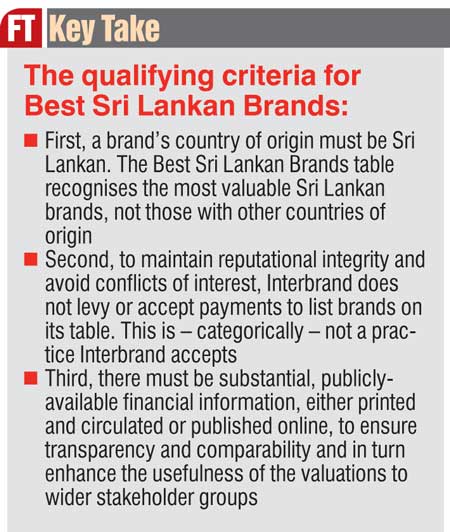 "As we begin this journey through our lead table, which we will be bringing into the market a sense of nobility, with no sense of monetisation and commercialisation. This is something we have done around the world with our own money, with our own investments. It takes a huge effort to do this, but we do it with absolutely no interest of monetising something as pure as this," Mishra emphasised.

He said the main purpose of the initiative was to uplift Sri Lanka and its businesses.

"We have started to work with some of the leading brands in Sri Lanka. Our endeavour is to create an ecosystem for the best Sri Lankan brands which we would work with and would help the market, the economy and the leading brands here grow and find their way into what is inevitable. This is really the primary objective for Best Sri Lankan Brands 2017's inaugural edition," Mishra explained.

Noting that brands were the most powerful business assets, Mishra said that brands are a lot about bringing the business strategy to life and about keeping the brands in the centre of the organisation.

"These are the ways of creating value. This is something we want to accelerate as a conversation in the weeks and months to come and years to come."


Why Interbrand in SL?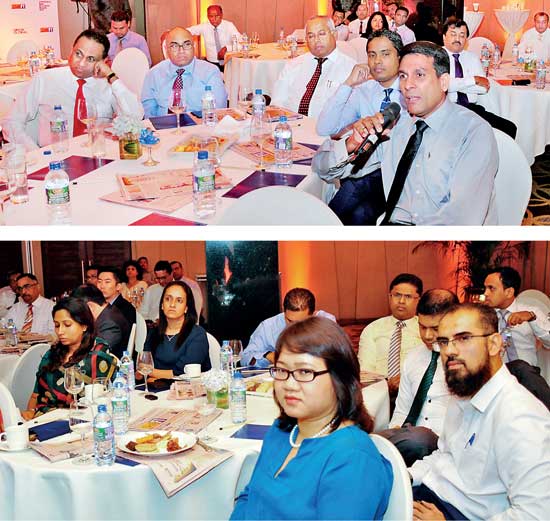 "The reason to exist in a way is our purpose. We are about growing businesses and brands. Interbrand believes brands are tools to grow businesses, tools to create values for business. It is something we like to do more and more as we begin to engage with Sri Lanka and businesses and organisations."

According to him, introducing the Interbrand table was one of the main benefits of their entry into Sri Lanka.

He recalled that an extended time has passed where Sri Lanka faced civil strife and a situation where growth bypassed the country.

"It is this pent-up demand of a long time that is ready to be unlocked now. It is an opportunity for all of us here. We see huge potential for Sri Lanka and the South Asia region as a whole," said the Interbrand India chief.

"As we begin to embark upon this journey as an economy or as leading brands in a market, we need to benchmark ourselves right. One of the fundamental reasons which motivated us to enter Sri Lanka is to be able to correct certain fundamental premises about brands and value," he said.

He pointed out that in a world where global markets have severe competition, local brands have to behave, act, think and innovate like global brands whether they liked to or not.

"The protectionism era is over. We are living in a world which is being described as a flat world, as a global stage by some of the future key thinkers like Thomas Freeman and Kenichi Ohmae. According to them Globalisation 3.0, which is what we are living in today, also referred to as a cognitive era, is led by individuals with a high sense of cognition. This essentially means the spotting of opportunities and connecting the dots wherever the dots are."

He said individuals with high cognition or even organisations with a high degree of consciousness and alertness were able to see the opportunities and connect the dots, which is the intent of future thinkers as well.

"It is going to be like a beautifully orchestrated dance. There is no escape from globality and the best of the brands are going to be here," he said.


Benchmark right

He stressed that with farsighted global brands already flooding the region, understanding the potential and using offence as the best defence was essential and local companies had go to their markets and threaten them.

"Why don't we have that confidence and self-belief? Why do we have to be shy, be tentative, be under-confident, be overwhelmed and stand on the sidelines? We have some of civilizations' greatest history where we have led the world, so what stops us doing it? All we need is to benchmark right," he pointed out.

He emphasised that brands were not about deals or about quick opportunistic wins that create great brands, economies and nations.

According to Mishra companies needed to stop fighting amongst themselves as it was no longer a game of doing better than other Sri Lankan brands or about reacting to another initiative that someone else has done, but understanding what was the best-in-class globally, what the best brands in the world do and how we could do them better.

"We became followers of the western world during the industrial revolution. One of the fundamental things we need to get right is self-belief. Attitudinally we were enslaved and we continued to be enslaved. That to my mind is a deeper reason why we lost the first opportunity," he added.

Attributing it to what's happening now and describing it as Industrial Revolution 2.0, which is being led by digital, technology, connectivity and data, he said it was an opportunity that the region could not afford to miss. "We missed the first opportunity and now we don't want to miss the second one. We don't want to just participate, we want to jump in and lead it."

However, he insisted on the importance of outgrowing the mentality, attitude, belief and confidence in the way we looked at brands as many still considered it advertising, designing and an expense.

"Brands are actually more internal than external. We need to outgrow the change as this is the second big change impacting every aspect of commerce and life today. The Revolution 2.0 has an impact socially, financially, on communities, markets, consumption and we need to quickly lead, outgrow, announce and stop following," he added.

It was pointed out that if companies could use the brand to galvanise, orient and create cultures in an organisation then they could develop that culture to an extent where it begins to translate into experience outside. "It is about saturating your culture, building it internally, intensely so that it percolates outside and creates customer experience."

Mishra explained people and technology were the two biggest drivers of Revolution 2.0.

"Revolution 2.0 is led by individuals. People are going to rule the world with a high sense of cognition. Businesses are moving from business-led to purpose-led. Purpose is what drives individuals. It is no longer about what you make, but what you make happen. People don't buy you, they buy into you. It is all about what's your point of view and do I as an individual connect with it. We need to understand that organisations are increasingly becoming human because it is all being driven by individuals," he added.

Against this backdrop, he stressed that brands were a way of interfacing people and technology.

"Technology by itself is not a big driver of growth. It needs to be translated into meaningful experiences for people who can then connect with it. So, brand triangulating with technology and people is a way of driving growth. It is the basic thumb rule to remember."

As technology is imitable and accessible to all, he outlined that the benefit of technology must be owned by the firm by way of a brand.

"We need to move brands from it being a design element, logo, advertising and communication to an identification, creating synergy from there to being an accelerator, driving growth by interpreting technology for people. Product technologies will be very difficult to differentiate from one another. Therefore, the only long-term, sustainable differentiation in an organisation will be brands."

He said today around the world this backdrop was the most valuable for the best of the brands this year. "The majority of the brands are beginning to do this and that's what Interbrand is in a large part of the table. We advise them to keep brands as they interface between technology and people and drive growth. That's what we have to do here as well. We need to outgrow our complete attitude of creating a competitive advantage and integrate the brand to make sense of it to the people. Only then can we outgrow," Mishra asserted.



Role of brands and their true value

Interbrand India Senior Client Director Ameya Kapnadak spoke to local brand ambassadors on how brands create financial value and how their brands could be one of the top 100 brands in the world.

Noting that there are many definitions for a brand, he quoted former Walt Disney CEO Michael Eisner's definition that "a brand is a living entity, and it is enriched or undermined over time, the product of a thousand small gestures" as a proper description.

He said brands create financial value by generating value in the minds of customers. "There are only three levers through which we can create economic value and they include profit, growth and risk. Strong brands create higher profits, higher growth and reduce risks - that is how strong brands deliver superior business results."

According to him value is an opinion with no right or wrong and the money realised in a transaction is a fact – a price.

Kapnadak said that the sum of an individual's impressions of a brand will shape the utility value of that brand to that individual. Utility value will, in turn, shape behaviours and finally the economic value generated by the brand for its owner.

Interbrand's valuation methodology is based on three key components including an analysis of the financial performance of the branded products or services based on their actual ability to create value, an analysis of the role the brand plays in the purchase decision and an analysis of the competitive strength of the brand and therefore of its risk profile.

It was pointed out that a role of brand analysis determines the portion of choice that can be attributed to a brand alone, quantifying the influence of a brand on customer choice, relative to other factors.

"Customers rely on a brand to guide choice when the performance of competing product or service alternatives cannot be easily compared and trust is deferred to the brand and when their needs are emotional such as making a statement about their personality," he explained.

The Interbrand formalised analytics plan is evaluated through a series of criteria and underlying metrics, both qualitative and quantitative. It screens across 10 internal and external factors including clarity, commitment, governance, responsiveness, authenticity, relevance, differentiation, consistency, presence and engagement to arrive at the strength of the brand relative to the benchmark.


Success story of Samsung

Elaborating on creating the first Korean top 100 brand, Samsung, he said that by the late '90s Samsung had begun to move into the consumer space with limited success. The organisation remained manufacturing-focused and consumers failed to connect with Samsung.

In 1998 Interbrand was appointed to perform the first detailed valuation of the Samsung brand in all its key markets, which include 58 segments.

"To successfully compete with established global players like Sony, HP, Canon and Bosch, Samsung knew they must build relevance, differentiation and an emotional connection with consumers. This meant building a valuable brand," he added.

Building a strong consumer-facing brand to compete on a global stage and shifting the internal mentality from an engineering mindset to become a world-class marketing-led organisation therefore was a twofold challenge, he asserted.

Working with Samsung's Global Team in Korea, he said their goals were to introduce the brand value concept to Samsung, show how the brand could create value for customers and show how the brand could create value for shareholders.

"We deployed our brand valuation methodology across the B2B and B2C sides of the Samsung business to uncover insights for enhanced brand strategy, execution and performance management. We delivered a clear gap analysis showing where and why the Samsung brand underperformed versus target competition. We recommended that Samsung develop a differentiated, premium market positioning to avoid competing on the basis of price and features. We recommended brand value become a key performance indicator internally," he emphasised.

Kapnadak pointed out that managing the organisation around brand value growth began to focus the organisation on brand-building and long-term profitability, in addition to consistently building great products.

"We recommended that Samsung adopt a halo strategy, focusing on mobile phones and TVs to facilitate the connection with consumers. Today Samsung is the number one seller of premium televisions and number two seller of mobile handsets. Today, it is one of the fastest-growing brands globally," he said.

Samsung today is the sixth most valuable brand on the Best Global Brand table, worth over $ 56 billion in 2017. Therefore, he said with the Interbrand presence in Sri Lanka, they hope to put many homegrown brands on the 100 Best Global Brands table.


Strength of homegrown Sri Lanka brands to the fore

Interbrand Sri Lanka Partner MND Chief Executive Officer and MD Michel Nugawela said the launch of Best Sri Lankan Brands was indicative of the strength of the country's homegrown corporates and a growing understanding among business leaders about the significant role brands play in enhancing business performance.

He said that they found their clients were increasingly asking support from them to penetrate global markets, to expand and help them learn how a brand could play a role in the growth of their businesses.

"Over the past 20 years, our experience has always been with homegrowns and with very large matured businesses in the Sri Lankan market we recognised that we didn't quite have a capability to take these brands globally because that is something one needs to have a lot of experience in. You need width and depth of experience for that and that's when I reached out to Interbrand," he said.

Nugawela, outlining Interbrand's entry to Sri Lanka, revealed: "There is no brand consultancy globally that can rival the spectrum of products and services offered by Interbrand. It is truly an amazing width and depth in terms of the experience that they bring in, everything from insight and strategy to experience and activation.

He assured that Interbrand could take local brands and help them grow globally before they entered the international market in terms of perspective, mindset, attitude, processes and systems. This fundamental reengineering was essential if local brands were to move into overseas markets.

"Interbrand is best known for its brand methodology apart from some of the fantastic work that they have been doing with brands," he added.

Highlighting the fundamental difference of Best Sri Lankan Brands 2017, Nugawela emphasised that it was not just a lead table where the best Sri Lankan brands got a ranking, a number and celebrated their achievement, but it was something far more rigorous and robust.

"We have now taken Sri Lanka and Sri Lankan brands and have essentially brought them into the Interbrand network of best brands which is the most prestigious and influential networks of tables in the world. The brands that are finally listed on the table become part of Interbrand's brand valuation methodology, where every brand will be benchmarked against the best global brands. It also enables Sri Lankan firms to keep measuring how they are performing against the best in the world," he added.

"The number one factor is you have to be a Sri Lankan brand. Although multinationals have played a very powerful role in our economy and with some powerful brands, they will not be recognised in this table. Secondly, the financial information and data must be publicly available. It must be either printed and published or published online. Thirdly, there is no payment for listing and that is really about reputational integrity," Nugawela pointed out.


Timely and momentous development for Sri Lanka

Daily FT Chief Executive and Editor Nisthar Cassim said the launch of Best Sri Lanka Brands by Interbrand in partnership with the Daily FT was momentous for Sri Lanka as the country seeks to re-profile and rebrand itself as a nation.

"From a country perspective, the entry of Interbrand is fairly timely, coming at a time when Sri Lanka is trying to re-profile and rebrand. More importantly the fact that there will be a Sri Lankan list will be fairly significant from a national perspective because global investors and companies will now have a more credible list to go by. This very opportunity excites us as a newspaper," he added.

Cassim said the partnership with Interbrand strengthens the Daily FT's advocacy on behalf of Sri Lankan business.

"Our audience of executives nationwide provides a formidable platform to talk about how we can strengthen and grow Sri Lankan brands locally and globally."

Interbrand's brand valuation methodology is recognised to be the most robust in the world. It is based on a unique combination of attributes that contribute to a brand's cumulative value: an analysis of the financial performance of branded products and services, the role the brand plays in influencing customer choice or the Role of Brand and the strength the brand has to command a premium price or secure earnings for the company or brand strength. Each brand's financial performance, role and strength are valuated through an Economic Value Added methodology.

The Best Brands list is Interbrand's compilation of brand tables that valuate the world's top country brands. Starting this year, Sri Lanka's most valuable brands will be showcased to the world as the Best Sri Lankan Brands take their rightful place among Best Japan, Best China, Best Korea, Best Swiss, Best German, Best Spanish, Best Canadian, Best Brazilian and Best Indian Brands.

Established in 1974 and an opinion leader in the field of value-based brand management, Interbrand was the first brand consultancy to recognise the significance of a brand as a business asset and introduces the brand valuation concept. It was also the first company to have its methodology certified as compliant with the requirements of ISO 10668 for monetary brand valuation.

Today, Interbrand maintains its leadership role in the field of value-based brand management and combines rigorous strategy, analytics and world-class design to assist the Best Global Brands like Samsung, McDonalds, P&G, AT&T, Barclays, BMW, Fedex and Intel to create and manage brand value across all touch-points and market dynamics.

Event's Gold partner is CHEC Port City Colombo and other partners are Export Development Board, Colombo Stock Exchange, Sri Lanka Ports Authority, SriLankan Airlines, Hilton Colombo, Business Class, OfficeMax, Citrus Events and Imran Saibo.
-Pix by Daminda Harsha Perera, Lasantha Kumara and Ruwan Walpola
---
Importance of investing in brands during downturns
During the Q&A session, Interbrand India experts emphasised on the importance of investing in brands, especially during an economic downturn.

"Times of economic downturn are when brands are more important because it is something that people believe in and if at that point we don't invest in it, it will be a lost opportunity. In 2010, Interbrand conducted a global study on financial brands with over 3,000 respondents. Before the worst financial meltdown in 2008, the factors that mattered to people were rates, returns and branch network, but after the economic downturn the most important aspect peopled looked for was trust and transparency, which only came from the brand. It was just about what the brand stood for to believe in them," Kapnadak pointed out.

Mishra also outlined three simple ways to understand why brands continued to be believed in creating a preference.

"Firstly, what we strongly recommend is to take that brand out of marketing and put it in the centre alongside the business strategy. That is the new paradigm we propagate as the outcome of it helps to create value through an efficient manner. It helps firms to connect through the brands in uplifting the entire return on investments, while creating value.

"Secondly, it is the purpose. The purpose motivates people. You may be engaged in different sectors, but can also do it for a lager purpose of transforming the nation. A brand should be firmly committed and have a purpose of transforming the nation. I am coming to build Sri Lanka and I will work with the great force that's passionate, motivated that drives productivity.

"Thirdly, it is about the 1,000 gestures that creates synergy between the micro experiences. These are the key reasons why investing in brands are important."