By Charumini de Silva

Issuing the prelude to fresh policy-making strategies to enhance Sri Lanka's exports, investment, human capital and innovative technology, experts at the 30th Annual Conference of the Organisation of Professional Associations of Sri Lanka (OPA), titled 'Strategic Imperatives for Economic Growth', recently outlined pathways the country will have to deal with in an increasingly uncertain global environment.

Central Bank Governor Dr. Indrajit Coomaraswamy and FiRM India Chief Executive and Managing Partner Dr. Adil Malia set the stage alight with their evaluations of the prevailing economic situation, opportunities and a new development agenda for growth and stability.


Dr. Coomaraswamy focused his remarks from a macroeconomic perspective, outlining the challenges and opportunities Sri Lanka has, highlighting that the economy is gathering momentum to progress towards a higher growth trajectory in accordance with a carefully designed development agenda.

He said robust macroeconomic fundamentals that are necessary to maintain a high growth rate are being put in place through fiscal consolidation, elimination of exchange rate misalignment and introduction of a flexible inflation targeting regime.

It was pointed out that a new growth model based on the private sector being the locomotive for economic development, with exports and investment, including FDI as key pillars, is being pursued. "Maximising the advantages of our strategic location in the Indian Ocean, diversifying our export basket and enhancing trade facilitation will be imperative in promoting sustained growth and development."

Dr. Coomaraswamy noted priority is also being attached to strengthening the growth framework, while citing education, training and skills development as critical strategic challenges as Sri Lanka no longer can drive growth by augmenting labour.

"A shift to a demand- rather than supply-driven system is an urgent need," he added

According to the Governor, changes to governance and institutional structures, regulatory frameworks and procedural fairness will enhance the investment climate, enabling Sri Lanka to stay competitive in the region.

"Investment promotion is being boosted through taskforces to improve the Ease of Doing Business and a more effective one-stop shop, while trade facilitation is being strengthened through a single economic window in Customs," he stated.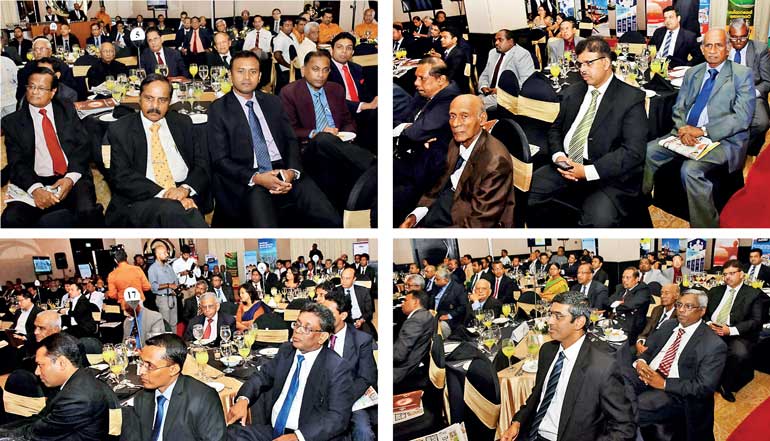 He noted that trade policy measures include negotiating an Economic and Trade Cooperation Agreement (ETCA) with India, as well as similar arrangements with China and Singapore, taking advantage of the opportunities offered by GSP+, anti-dumping legislation and a trade adjustment package to boost competitiveness of local businesses and the retention of workers.

"If we can get all these agreements on board, by next year this time, Sri Lanka will have preferential access to a market of about three billion people," he added.

Although it is a phase where the global economy is experiencing sluggish growth coupled with low international trade, Dr. Coomaraswamy asserted that Sri Lanka's favourable location and excellent international relations with many countries would triumph in the current global context.

"The assets Sri Lanka has in terms of the location are immense. All in all we have an opportunity to grasp in order to create a new age for the country," he asserted.

In the context of the natural calamities being experienced by the entire world today, Dr. Coomaraswamy said devising a growth framework while disregarding environmental sustainability was highly imprudent. Hence crisis, preparedness and sustainability need to be embedded in the planning and budgeting process.

He also proposed aligning education, training and skills development with the needs of the labour market.

Acknowledging that OPA has been playing a key role in providing a platform for the professionals in the country to contribute to development, the Governor encouraged the association to continue to assist in taking advantage of the opportunities the country has to achieve higher growth and strategic development.


Delivering the keynote address, Dr. Malia said the strategic imperatives for economic growth of any nation depends not only on its natural resources and financial strength, but largely on its ability to capitalise on the potential talent of its people to convert these classical economic resources into monetisable value for the future.

He emphasised that countries need talent to win the war of future growth and capability arbitrage. "Economic growth and the success of a country is not something that their economic planners and experts can afford to do any longer, in isolation. Such success first begins in the hearts, thoughts, skills and spirit of its people. It is therefore cast as a duty on its leaders of men to inspire their spirit of awakening in the minds and hearts of their people," he added

Dr. Malia said every country should adopt a 'BRAVE' agenda for its growth and stability, which includes 'Building' a learning nation, 'Resourcing' it with innovative technologies, 'Agility' agenda backed by data analytics, 'Value' creation through positive governance and 'Economic' growth through national happiness quotient.

He insisted that a country like Sri Lanka is blessed with high-calibre potential talent and a positive Government.

"We live in an age of people and talent. That is the only real long-term sustainable differentiator in the market. Nations and corporates need to constantly reinvent themselves in order to stay relevant, plan ahead of the economic curves and fulfil their economic growth aspirations. Stability and vulnerable uncertainties though anti-thesis, are the two opposing realities that actually co-exist in times we live in.

Noting weapons of yesterday cannot make countries win the wars of tomorrow, Dr. Malia asserted that economies therefore for sustainable growth need to refrain themselves, build new capabilities, adopt new technologies and find new alignments to positively co-exist with these opposing realities.

He expressed confidence that Sri Lanka will now plan its BRAVE agenda and live exciting times to germinate this potential into a fruitful reality.

Furthermore, he stressed that the conference would be a fantastic platform that will open up numerous avenues to discuss these critical agendas focusing on strategic economic growth of Sri Lanka.

OPA President-Elect and Annual Conference Committee Chairman Lalith Wijetunge, underscoring the importance of this year's theme, said having considered the challenges Sri Lanka is confronted with, the association has aptly selected the theme 'Strategic Imperatives for Economic Growth' which provides an insight into the building of a strong nation.

"It is an attempt to understand constraints and identify appropriate strategies to redraw the path to economic prosperity which is sine qua to transform our paradise island into a vibrant economic hub in South Asia," he added.

OPA is the apex body representing 32 professions and 48 professional institutions in Sri Lanka.

Pix by Indrarathne Balasuriya