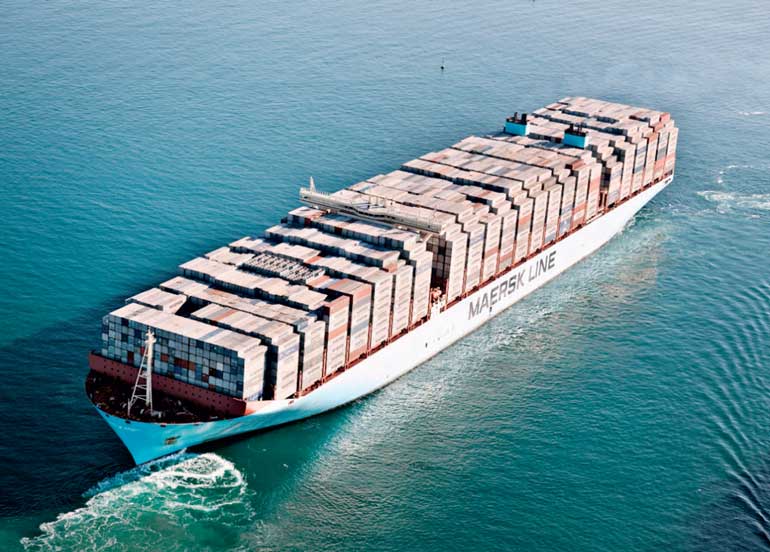 At 400 metres in length, the Triple-E is the amongst the largest ships with capacity of 18,000 TEUs – 20,000 TEUs

The height (above baseline) of Triple-E is 73 metres

Powered by Twin 32MW (43,000hp) diesel engines drive two propellers at lower design speed than traditional container vessels, a combination meant for slower operating speeds and greatest possible efficiency.

Innovative energy saving propulsion systems provides industry best efficiency with the lowest carbon footprint where it emits 35% less CO2 per container moved than the current average on the Asia-Europe route

Maersk Line, the global containerised division of the Maersk Group will create history of sorts with one of the world's largest ships – The Triple-E liner calling on Colombo on 23 September. Introduced in 2014, this ship is designed and built using state-of-the-art technology, which embraces innovation.

It is an optimised vessel, which will allow Maersk Line to deliver more goods, while using less fuel – at lower cost. This will offer economy of scale, energy efficiency and being environmentally improved. The Triple-E will take the industry in a new and more environmentally conscious direction.

Commenting on this historic development, Julian Michael Bevis, Senior Director, Group Relations, South Asia, AP Moller Maersk said, "Sri Lanka is a strategic market for the Maersk Group and this is indeed a big moment. The Triple-E liner will help us achieve operational efficiencies through the reduction of cost due to economies of scale. This will help induce growth and add further momentum to trade."

With expansions at the Colombo port, it is capable of handling Triple- E ships. Maersk Line intends to use Colombo as a transshipment hub on this service for cargo destined and from South and Eastern India as well as Bangladesh.

Franck Dedenis, MD Maersk Line (India, Sri Lanka, Bangladesh) stated, "Triple-E calling on Colombo is a momentous occasion for us as well as the industry as a whole. We are committed towards the development of the Sri Lankan economy. With this vision, we are bringing one of our largest ships in the port of Colombo. We fully support the Government of Sri Lanka vision to develop Sri Lanka into a maritime hub and are doing our best to ensure its success."

Maersk Line, the global containerised division of the Maersk Group, is dedicated to delivering the highest level of customer-focused, reliable ocean transportation services. With employees in 325 offices across 125 countries and a fleet of more than 500 vessels along with 1.9 million containers, it has the global reach and resources to accommodate customers' broad transportation needs.

Maersk Line in India and Sri Lanka is the leading Container Shipping Line in the region with footprints across 16 offices and close to 400 employees covering all major locations and cargo hubs.