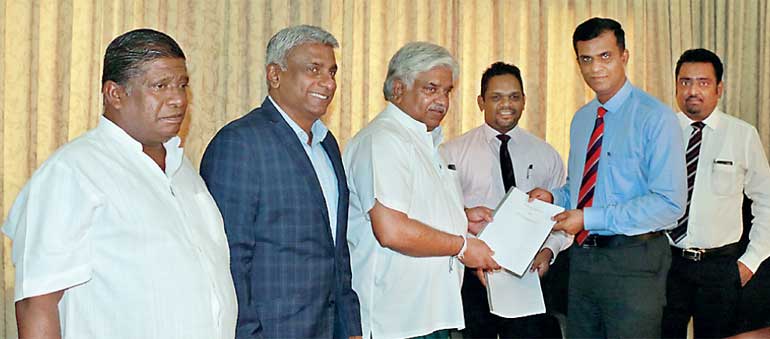 Ports and Shipping Minister Arjuna Ranatunga receiving the financial accounts of JCT Container Terminals Ltd. from Managing Director Sisira Perera. SLPA Chairman Dhammika Ranatunga and the Board of Directors of JCT Container Terminals are also present
Jaya Container Terminal Oil Bank, owned by the Sri Lanka Ports Authority, has increased its profits by 113% in 2016.

Accordingly, in 2016 JCT Oil Bank has made Rs. 77 million compared to Rs. 36 million in 2015.

Appreciating the contribution made by the workers to increase the profits of the institution, Ports and Shipping Minister Arjuna Ranatunga highlighted that the selling of assets and institutions could only be prevented by showing profits as done with JCT Oil Bank.

"As a person who is against selling assets and is pushing for safeguarding State institutions, I appreciate the work done by you to improve the profits," the Minister told employees of JCT Oil Bank at a ceremony held yesterday to present the final accounts and celebrate the New Year.

Speaking strongly against privatisation, the Minister claimed that if the main institutions of the country were sold future generations would have nothing.

The institution has managed to reduce their sales cost from Rs. 96 million to Rs. 92 million and their administration cost from Rs. 64 million to Rs. 55 million.