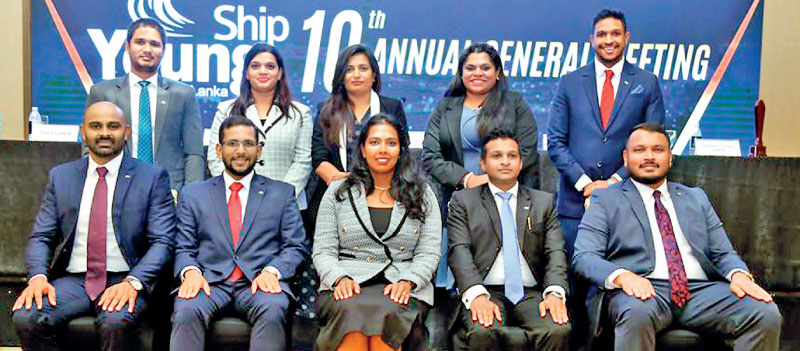 Seated from left: Sunera Wijesekara, Nirmal Dissanayake, Maleena Awn, Prashan Fernando, and Rishantha Mendis

Standing from left: Imaad Hameem, Aruni Wijepala, Patali Karunarathne, Shanga Jayawickreme, and Shane De Alwis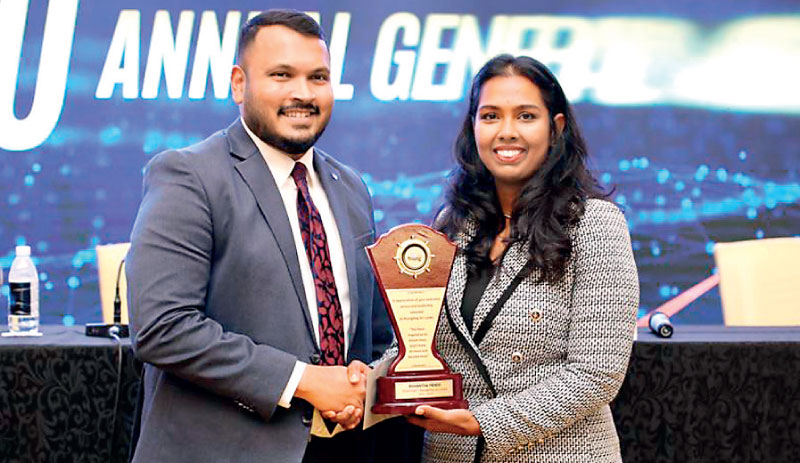 YoungShip Sri Lanka first female Chairperson Maleena Awn (right) with Rishantha Mendis
---
YoungShip Sri Lanka is shaping the future of the country's maritime industry by empowering young professionals through opportunities to learn, share, and collaborate whilst being part of a global network. The organisation celebrated its 10th anniversary on 21 March, at the Marino Beach Hotel in Colombo. The celebration earmarked an extra special day in the organisation's calendar with the appointment of its first female Chair Maleena Awn, to lead YoungShip Sri Lanka for the upcoming year.

Awn is the Director Operations and a Board Member at Meridian Maritime Services Ltd., a shipping agency and logistics company with 35 years of experience in the maritime industry. She was also the previous Vice Chairperson of YoungShip Sri Lanka for the year 2022 and has served on the committee since 2019, before being elected as the Chairperson for 2023.

Founded in Norway, YoungShip International is a non-profit establishment with a dynamic and diverse footprint of over 4,000 members in 30 countries, dedicated to promoting the interests and values of the next generation of maritime leaders. Having begun its local chapter in 2013, YoungShip Sri Lanka has now grown to a community of like-minded individuals from all areas of the industry who share a passion for the advancement and success of maritime in Sri Lanka. Working closely with the Ceylon Association of Shipping Agents (CASA) from its inception, the organisation aims to bridge the gap between veterans and budding youth in the shipping industry.

The growth of YoungShip Sri Lanka has been unprecedented over the years, under the leadership of past chairs Mevan Peiris, Navin Perera, Hasitha Dissanayake, Jehan Rodrigo, and Rishantha Mendis.

Over the past year, the organisation has grown to 285 members representing over 130 companies. To strengthen its commitment to building a more youthful and inclusive industry, the organisation signed MOUs with key associations to facilitate hands-on experience and training opportunities to budding professionals. These include the Sri Lanka Logistics and Freight Forwarders Association (SLFFA), Lanka Association of Ship Owners (LASO), Sri Lanka Association of NVOCC Agents (SLANA), Sri Lanka Ship Suppliers Association (SLSSA), and Association of Inland Container Depot Operators (ACDO). Moreover, YoungShip Sri Lanka has also worked to provide educational discounts from The Institute of Shipping and Logistics (IOSL) and Institute of Chartered Shipbrokers (ICS) on several courses to its members.

Additionally, the past calendar year has been an eventful one for YoungShip Sri Lanka as the world began embracing the 'new normal'. A combination of in-person and virtual events had been organised to bring together and empower all its members as the youth's voice for Sri Lanka's maritime sector. Some of these include Pub Quizzes, YoungShip Patrons Forum, segments at the CASA maritime conference 2022, members Christmas evening. Together with these events, the members of YoungShip also took part in international events and initiatives such as Posidonia – YoungShip Sri Lanka meets YoungShip Greece, an Introductory Call with YoungShip Mumbai, and participation in Naples Shipping Week. In the first three months of 2023, an informative visit to the Port of Hambantota, and a Beach Cleanup with Clean Ocean Force were organised as engagement and CSR events to kickstart the new year.

With this, YoungShip Sri Lanka also appointed its Executive Committee for the new year. Members elect are as follows:

Members of the Executive Committee:

Chairperson – Maleena Awn (Meridian Maritime Services Ltd.)

Vice Chair – Nirmal Dissanayake (Eastern Maritime (Colombo) Ltd.)

Secretary – Prashan Fernando (Panama Shipping Ltd.)

Treasurer – Sunera Wijesekara (Eastern Maritime (Colombo) Ltd.)

Assistant Secretary – Aruni Wijepala (Hayleys Energy Services Lanka Ltd.)

Assistant Treasurer – Patali Karunarathne (Ceyline Holding Ltd.)

Immediate Past Chair – Rishantha Mendis (Prudential Shipping)

Shane De Alwis (Hapag Lloyd Lanka Ltd.)

Imaad Hameem (Evergreen Shipping Agency Lanka Ltd.)

Shanga Jayawickreme (McLarens Group of Companies)

The incoming committee states that its plans for the forthcoming year include a range of networking, social, educational and CSR activities. Some of the events in the pipeline include the YoungShip Avurudu celebration, YoungShip Open Quiz 2023, seminars/workshops with industry panellists and speakers, CSR initiatives, port visits, school and graduate awareness campaigns, and more.

On behalf of the newly appointed executive committee, Awn expresses immense gratitude to all patrons, sponsors, respected associations in the maritime sector, and members who have contributed towards the growth of YoungShip Sri Lanka. The generous support rendered by them has enabled the organisation to create a vibrant platform for young professionals in the maritime industry to network, learn and develop their skills to be a positive force for the future of shipping.

"Individually, we are just one idea and perspective. Together, we are an ocean of opportunity and possibility. I hope that we will respect each other, celebrate each other, be inclusive in every aspect and do our part in building a united and supportive network that will not only achieve success in their capacities but also give back to our industry, society at large, the environment and our country," Awn said.