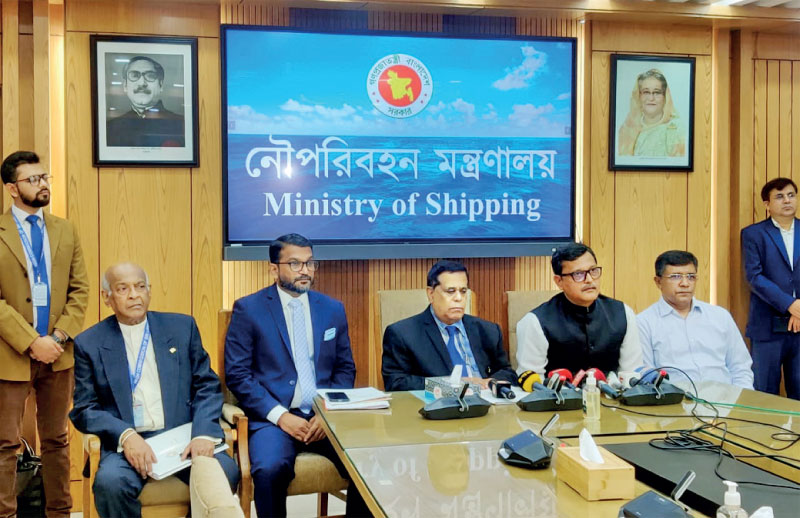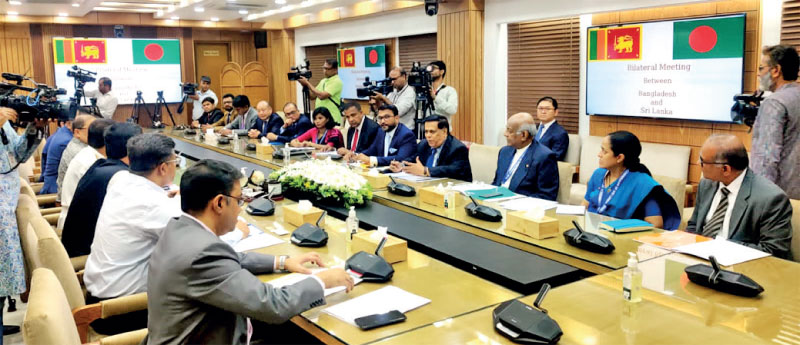 Ports, Shipping and Aviation Minister Nimal Siripala De Silva together with State Minister of Foreign Affairs Tharaka Balasuriya held discussions last week with State Minister of Shipping in Bangladesh holding Cabinet rank, Khalid Mahmud Chowdhury focusing new initiatives to further enhance collaboration in the shipping sector.

Minister De Silva appreciated the long-standing friendship between the two countries and emphasised the importance of shipping connectivity as one of the key areas selected for bilateral collaboration, especially in the context that 40% of Bangladesh's exports, mainly apparel, which are bound to Western Europe and US, are transported from Chattogram using the Port of Colombo.

Both Ministers agreed on the necessity of finalising the proposed Agreement on Coastal Shipping between the two countries and also the Standard Operating Procedure (SOP) to facilitate the Feeder Services between the ports of Colombo and Chattogram. They decided to form a Working Group of legal experts to finalise the legal issues, if any, relating to pending bilateral instruments and to also form an additional working group to discuss the operational related issues.

The second session of the Joint Working Group and Joint Secretary level talks will be held in Sri Lanka during the course of the year. Minister De Silva explained the facilities offered through the terminals of Colombo Port and the cost and time efficiency that Bangladeshi exporters can enjoy by using the Port of Colombo. He further informed about the ongoing development projects related to the shipping sector as well as the port development projects in the northern part of Sri Lanka and invited Bangladesh investors to invest in Sri Lanka's shipping sector through Public Private Partnerships. State Minister of Foreign Affairs Tharaka Balasuriya explained the promising opportunities available for cooperation in the areas of fishing and blue economy between the countries and invited the Bangladesh authorities to collaborate with Sri Lanka for the mutual benefit of both countries.

Minister Nimal Siripala De Silva and State Minister Tharaka Balasuriya were in Dhaka to attend the sixth Indian Ocean Conference.