Further strengthening its leadership team, LAUGFS Holdings, the diversified conglomerate announced the appointment of Sarathkumara Premachandra as Director/Chief Executive Officer of LAUGFS Terminals Ltd.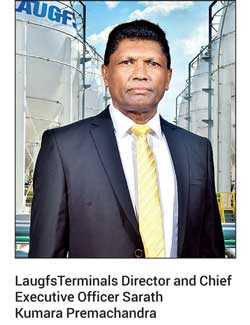 LAUGFS Terminals is part of the LAUGFS Gas PLC group, which has set up one of the largest LPG Transshipment Terminals in South Asia at the Hambantota Port.

Premachnadra joins LAUGFS from the Sri Lanka Ports Authority, where he served as the Managing Director. He possesses over 40 years of experience in Ports Management and Operations, including Transshipment Hub Operations, having managed port terminals owned and operated by both private and public sector.

He has also served at CMA CGM, the third largest shipping company in the world, where he has been based in Malaysia as well as India as Head of Ports section for CMA – Asia. As the ports operations expert for CMA CGM, Sarathkumara has completed assignments in numerous countries including Australia, UAE, Nigeria, USA, France, Ukraine and Netherlands. He was also part of the panel of operational experts for the Rotterdam World Gateway Terminal and has served as a Consultant/Advisor for private ports in UAE and Malaysia, including Westports Malaysia.

He has a first class Master's Degree in Port Economics and Port Management from University of Antwerp, Belgium and is also a distinguished alumni of Sri Jayewardenepura University where he obtained his Bachelor's Degree in Business Administration.

The LAUGFS LPG Transshipment Terminal in Hambantota is a state-of-the art facility comprising of a 30,000MT LPG storage capacity, which is expected to be extended to 45000MT by the completion of the second phase of the project. The facility is strategically located at the Hambantota Port, taking advantage of its unique positioning amidst key maritime trade routes, to serve emerging LPG markets in the region.

LAUGFS is one of the largest diversified business conglomerates and a trusted name in Sri Lanka. Founded in 1995, LAUGFS today has expanded across 20 industries in Sri Lanka and overseas, establishing a strong presence as a leader and pioneer in the power and energy, consumer retail, industrial/manufacturing, services, leisure and logistics sectors. With over 4,000 employees and an annual turnover exceeding Rs. 37 billion, LAUGFS continues to expand and empower millions as a trusted Sri Lankan brand.