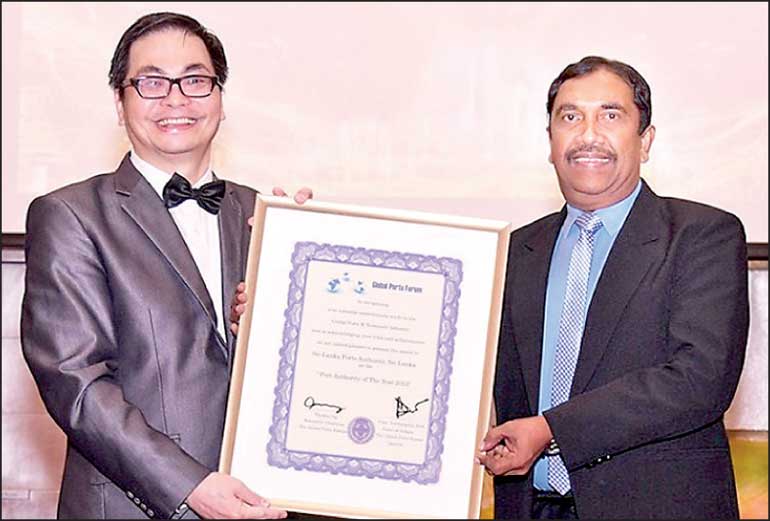 SLPA Actg. Director (Marketing and Media) Sarath Dayananada receiving the GPF Award for the Port Authority of the Year 2023 at the ceremony held in Dubai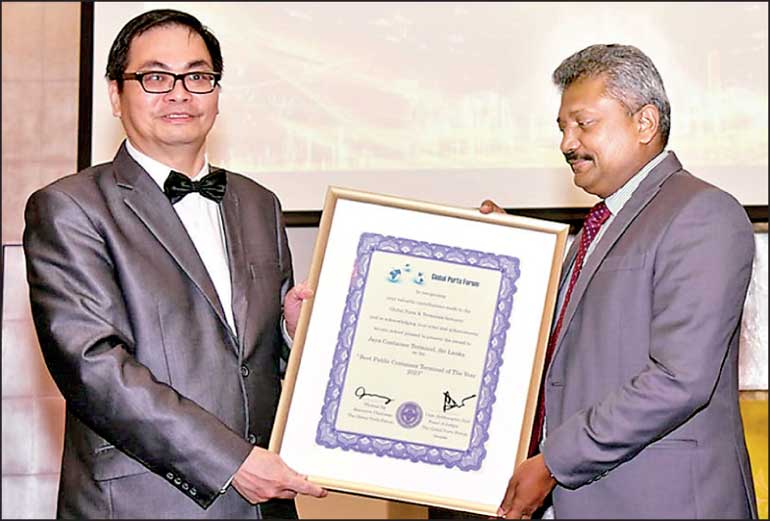 SLPA Director (Operations) Lal Weerasinghe receiving the GPF Award for the 'Best Public Container Terminal of the Year 2023' at the ceremony held in Dubai
Wins Port Authority of the Year and Best Public Container Terminal of the Year 2023 titles
Sri Lanka Ports Authority (SLPA) has been awarded the prestigious Global Ports Forum Awards for both 'Port Authority of the Year' and 'Best Public Container Terminal of the Year 2023'.

The ceremony was held on 26 March at the Shangri-La Hotel in Dubai, where the SLPA was recognised for its outstanding contributions to the global maritime industry.

The Global Ports Forum Awards (GPF) is an annual event that honours the best practices and achievements in the ports and shipping industry. The awards recognise the world's top-performing ports, container terminals, shipping lines, and logistics companies that have made significant contributions to the industry's growth and development.

SLPA Acting Director (Marketing and Media) Sarath Dayananada, receiving the GPF Award for the Port Authority of the Year, thanked the Global Ports Forum Executive Chairman Thomas Ng and the organisers for recognising the contribution by Sri Lanka Ports Authority for the industry and its future.

"It is an extreme honour to receive the GPF award for the Best Ports Authority of the Year. The award is not only a recognition of SLPA's achievement but also, a reflection of the hard work and dedication of the team SLPA. I am grateful of them for their untiring efforts in ensuring that our port operations run smoothly and efficiently. I would also like to express my gratitude to the port community for their trust and confidence on SLPA. This Award is a motivation for Sri Lanka Ports Authority for its continuous contribution to the development of growth of the industry," Dayananda said.

SLPA also won the GPF Award for the 'Best Public Container Terminal of the Year 2023' and was received by SLPA's Director (Operations) Lal Weerasinghe.

Weerasinghe, expressed his gratitude to the global shipping and port community for their unwavering support and patronage towards their success upon receiving the Best Public Container Terminal of the Year 2023 award at the Global Ports Forum event.

Despite the challenges that come with operating a Government terminal, Weerasinghe credited their success to the accurate guidance and ample support provided by the Minister of Ports, Shipping, and Aviation, SLPA Chairman and top management team and the entire container operations and support teams of other Divisions of SLPA. He further extended his appreciation to the Global Ports Forum for selecting Jaya Container Terminal (JCT) of SLPA for the prestigious award.

"We are eagerly looking forward to a better year ahead," he added.

SLPA Chairman Keith D. Bernard, and Acting Additional Managing Director (Administration and Operations) Prabath Jayantha were also present at the occasion.

The SLPA at present, has invested heavily in modernising its infrastructure, technology, and equipment to enhance operational efficiency and improve service delivery. Its success is a testament to the commitment and dedication of its leadership and employees to delivering world-class services and promoting sustainable practices. The GPF Awards represent a significant achievement for the SLPA and highlight its continued contribution to the growth and development of the global maritime industry.