Newly elected Chairman of Sri Lanka Freight Forwarders Association Roshan Silva recently at the Annual General Meeting recapped some of the salient achievements of the Association as well as the industry and highlighted current and future challenges and how the industry could address those. Following are excerpts from his speech.
I am humbled and privileged to stand here before you today, as your newly elected Chairman. I am honoured to join a very distinguished group of people whom I admire, and who have steered this association to greater heights.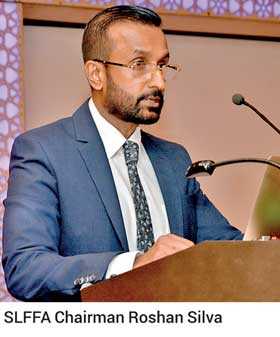 Before we aspire to the future, I would like to honour our past because it has brought us to where we are today. SLFFA was established in 1981 with the objective of bringing all Freight Forwarders under one umbrella and with a view to standardise the trade. Today Government and government agencies have recognised the SLFFA as the Apex body.

SLFFA currently has 118 leading Freight Forwarding Companies in its membership consists of global companies and Local Champions in different scales and sizes. SLFFA is a member of the regional freight forwarding body, Federation of Asia Pacific Air cargo Association (FAPAA) and the international freight forwarding body FIATA.

There have been 18 chairmen before me and 38 committees. I take over today as the 19th Chairman of the Association. This would be the 39th committee. The founding Chairman of SLFFA was the late S.S. Kumar of Aitken Spence who was appointed in 1981 then Ravi Emmanuel in 1984 to A.C.W. Alexander in 1985 to Riaz Farook and then to Hanif Yusoof in 1991. Sir, it was 28 years ago that you were appointed as the Chairman of SLFFA. Diren Hallock, Charles Wijesundara and Sumith Guruge made an invaluable contribution through the 90s.

With Romesh David taking over with the millennium, followed by Sunil Malewana and Rohantha Pieris. They were preceded by Niral Kadawatharachchi in 2006 and Ruwan Waidyaratne in 2008. Effective 2008 I had the privilege of working with Tony De Livera, Mohan S. Mohanadas, Dushmantha, Tania and finally with Jagath Pathirana.

SLFFA has a rich history and all its committees and office bearers have served to the best of their capacities and capabilities. This industry should stay together and work together. In such a context I do not see the need to have secondary industrial representation. Such associations should be discouraged as it will only diminish the efforts of all.

It is clear that the current membership controls 80% of logistics trade activities. There is a survey which is being undertaken as I speak and that would provide the exact figures in time. SLFFA has always maintained an independent opinion on all industry issues, a voice that is respected, heard and heeded to.
One of the fastest growing global industries in the world but facing many risks and challenges

We are in one of the fastest growing global industries in the world. With the emergence of e-commerce and rising digital literacy among consumers, the global logistics industry has been changing significantly in the recent years. It is evident that the global logistics market is experiencing high-paced expansion in its size and valuation due to the growth in the e-commerce activities.

One of the biggest drivers of the logistics market is investment in technological innovation. With the usage of different online platforms for making customised purchasing decisions, the digitalisation of the logistics industry has emerged as the key trend, gaining utmost traction. This has further resulted in the rapid development of retail channels requiring efficient inventory management and warehousing solutions to help the customers make informed decisions.

What is the level of preparation that we have towards digitalisation? Are we ready to move with the global trends and visible transformation? The Fourth Industrial Revolution is upon us and we better get ready. While we used technology to improve our lives in the Third Industrial Revolution, now technology is starting to work on us, around us, and for us in ways that are not always visible.

The logistics sector accounts for huge part of the Sri Lankan economy and a chunk of the total service sector. Sri Lanka is expected to attract an increasing share of trade in the Indian Ocean. We all know our advantage on the strategic location. What matters is to understand whether Sri Lanka is ready for technical challenges.

Do we have the vision to change and adapt the best practices? Collectively how can we make Sri Lanka a global logistics hub? Prosperity of the country will depend on how the country will be competitive in the global trade.

As a nation we have to build the Sri Lankan identity. We need to work as responsible citizens in all aspects, For example, Racism is a problem prevalent in all societies, but every day, each and every one of us should stand up against racial prejudice and intolerant attitudes.

The world is moving fast, trends are changing, we as an industry should embrace these changes.

There are many challenges in the industry we need to face some are micro in nature and some macro objectives. I always believe we need to address burning micro issues first whilst reaching at macro objectives.

Logistics as an industry have provided substantial amount of credit facilities to the trade.We have acted as financial institutions to the export industry in Sri Lanka for which we do not get the same facility back from the main lines, ocean or air.

It›s extremely important that logistics companies work within a lower level of credit which should be accepted by the exporters community. Associations such as Shippers Council and JAFF should encourage its membership to make payments within a reasonable time in line with liner credit, just as they discourage different charges and render support to bring in new regulations.

There should be a mechanism where logisticians could reach out to these associations on the undue advantage taken by some of the exporters. Credit exposure further make the company position vulnerable with the level of Risk they are taking.

The Risks that a logistics company takes, is not restricted to the credit. The Risk of detention and demurrage of an abandoned consignment falls on the logistics provider and not the liner. We need to have a solution for this, we should work towards covering this through the liability insurance policy.
Automation

The delay in full automation disturbs the full transparency and efficiency of processes. Look at the structure of penalties which could be imposed on manifest amendments by Customs. Hasn't it paved the way for corruption? Dealing with corruption, non-availability of a mechanism for reporting along with the lack of transparency in operations are real issues we face on a day-to-day basis.

The delay and lack of response from the authorities is another challenge. Communication methods have been developed substantially over the years. However sadly in Sri Lanka we restrict ourselves to conventional methods of communication. There is an opportunity for a communication platform that is synchronised with all stakeholders.

Discussion forums should be created with pragmatic timelines making every one answerable and accountable enabling industry move at the desired speed.

Interactive single communication platform would be an answer to expedite all processes. Let me give you a few more examples. According to the Merchant Shipping Act,only delivery orders can be charged in rupees for imports. Any additional charge either be stopped by the DGMS or the logistics company should be able to get the actuals reimbursed. We should have the facility to upload invoices of any additional charges for immediate action of DGMS, and action taken should be visible.

On this interactive platform, all stakeholders such as SLPA, DGMS, CUSTOMS, AASL etc. should be encouraged to participate. The membership who will be privy to this platform will be able to post their queries and concerns in real time and be able to receive a satisfactory response, rather than having to wait for the next meeting or worse, not having their issues resolved at all.

This platform not only encourages greater cooperation but also collaboration among the membership and a flow of information between stakeholders would be encouraged. It will not only be a forum for queries but a platform where details will be recorded, malpractices rectified promptly, grievances recorded and practices analysed.
Human capital development

My role as the chairman would be to ensure that I provide the leadership required to steer the forces together while respecting the interests of all parties. I will work towards ensuring that we get the best out of industry personalities with various opinions and attitudes, getting the support of the General membership to the maximum possible levels and creating effective communication platform using the ever developing technology.

Traditional events such as the SLFFA Dance, Cricket Sixes and the Members Night would continue as it is but these would not be the primary focused areas.

Training is a necessity to ensure professionalism in the sector, and this will be a key focus area. The Academy of International Trade and Transport (AITT) which was established in 2006 under the guidance of Niral Kadawatharchchiwas a great initiative. This is the training arm of SLFFA, endorsed by the United Nations Economic and Social Commission for Asia and the Pacific (UNESCAP), (FIATA) and an Accredited Training School (ATS) of IATA.

It is also a training institute approved by the Directorate of Merchant Shipping and the Ministry of Ports and Aviation. There have been foundation courses, certificate courses and FIATA Diploma courses and over the years, we have seen 1,000+ students getting qualified in various levels.

We should work towards increasing this number for the benefit of the industry and we should work towards establishing AITT as the BEST and most sort after educational institute within the industry. I believe that in this day and age it is pertinent to ensure that we inculcate e-commerce, artificial intelligence and data usage into the training curriculum in a larger scale.

SLFFA Cargo Services has been supportive of SLFFA activities right throughout, we would open a dialogue to see how certain areas could be looked at in a different way, or changed so that SLFFA and its membership would benefit further.

I also support the setting up of an SLFFA awards/recognition program which can be created on focusing on suppliers and customers and logistic providers. This would help to uplift the industry standards and provide recognition for the stakeholders.
Policy formulation

As we see it, the future of freight forwarding is Four PL and 3PL Logistics, e-commerce facilitation and Last mile deliveries. Our members should be further educated on these processes to grab the available opportunities.

To ensure that best practices are in place, legal support should be available.

I endorse a common airport warehousing facility for the general members. At the moment only 20+ members have warehousing facilities at the ACV and I understand the difficulties members face for not having a warehouse. This could be a joint project with SLFFA Cargo services.

Further there is no common bonded facility for the members of SLFFA which will help to create an equal playing field. This is again a project which SLFFA's commercial arm could look at working with SLFFA Cargo services.

SLFFA would continue to engage more and more in industry policy development.

Past Chairman Jagath Pathirana always wanted to see Sri Lanka improve its position with regard to the LPI Index and efforts which have been initiated would be continued.

What level of preparations do we have for last minute deliveries and integrations done with companies such as amazon, this is an area that we need to explore.

We need to look at how to support the reverse haulage in the transportation industry which is important for its survival. Opportunities available in Entrepôt trade need to be capitalised on. Developing virtual products and work beyond Sri Lanka should be a focus area for the membership. SLFFA would continue to support membership in exploring opportunities in various areas.

Ladies and gentlemen we have a lot to achieve. Let's commit ourselves to the betterment of the industry and try to collectively raise the bar higher and higher. Let's aim better for ourselves, ethical practices for the trade and see that the sector flourishes and contributes to the economy.

I will finish with a quote of Jimmy Dean: "I can't change the direction of the wind, but I can adjust my sails to always reach my destination."

– Pic by Upul Abayasekara