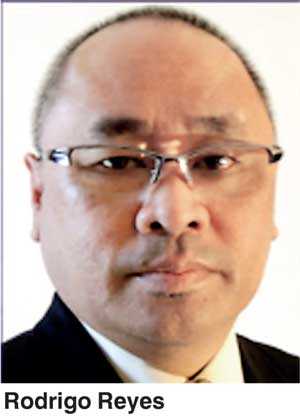 Renowned expert and a promoter of e-cargo programs, Rodrigo Reyes will be addressing at the Chartered Institute of Logistics and Transport (CILT) 'International Conference 2018' to be held on 19 September at the Balmoral Hall of the Kingsbury Hotel, Colombo. The theme for the conference is 'Staying Relevant in a Digitally Connected Future'.

This is the annual landmark event for the logistics and transport industry that will feature a power-packed lineup of distinguished guest speakers and panel of industry experts who will dissect the current disruptive trends and share their views on how to remain relevant in a rapidly changing industry with a digital dominant future.

Being graduated from De La Salle University in Manila, Rodrigo Reyes was a systems programmer before his career shift to cargo. He is currently serving as a Regional Manager at the International Air Transport Association (IATA) along with same for overseeing cargo activities in Asia Pacific. His accountabilities for IATA include, actively encouraging various e-Cargo agendas in the region which drives the aviation industry to a digitally connected future.

Also he is in charge of promoting key cargo priorities of the industry which also consists of driving the whole aviation industry to deviate from paper-based processes and migrate to electronic platforms for all levels of performances. He has been honoured and widely known for his extensive background in the cargo industry, spending over 20 years of work for both the airlines and freight forwarders, prior to joining IATA in 2006.

The Chartered Institute of Logistics and Transport (CILT) is a leading global professional body associated with the logistics and transport industry. The Institute holds unparalleled international recognition and works towards achieving its objectives of promoting and encouraging the art and science of logistics and transport through its membership and its educational qualifications.

With a global membership of over 33,000 from 32 countries across the globe, CILT provides a professional identity to those in the ever expanding logistics and transport sector. It is a strong, active and a unified professional association that is able to speak with authority on strategic issues affecting businesses and people in the industry and support their careers.

For registration – admin@ciltsl.com.