Qatar Airways has signed a MOU with Moscow's Vnukovo International Airport, Russia's third-largest airport, to potentially acquire up to 25% of the airport's total shares.

This potential investment supports the airline's investment strategy, which already includes 20% investment in International Airlines Group, 10% in LATAM Airlines Group, 9.94% in Cathay Pacific and 49% in Air Italy.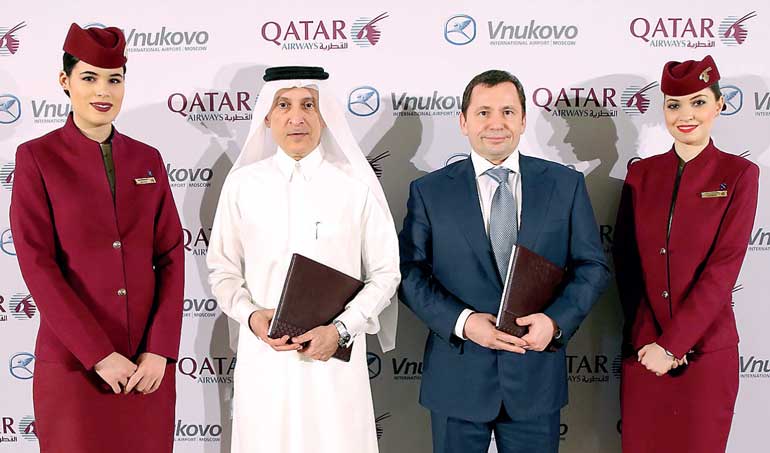 Chairman of the Board of Vnukovo International Airport, Vitaly Vantsev, said, "Today we have signed the Memorandum of Understanding, the provisions of which, once implemented, could establish a foundation for productive partnership between Qatar Airways, one of the world's leading air carriers and a true, recognised touchstone of sterling quality of passenger and in-flight services, and Moscow's Vnukovo Airport. Vnukovo International nowadays boasts the best transport accessibility and most advanced, cutting-edge airport infrastructure in Russia, enabling the Airport's consistently impressive passenger growth performance nationwide. This gives me every confidence that our potential partnership will be mutually beneficial and good for all concerned, through further synergies it will be creating for each partner, enabling further growth."

Qatar Airways recently became a General Partner of Cosmoscow, the International Contemporary Art Fair, an event that unites the contemporary Russian art market and helps its contributors establish contacts with the international art community. This collaboration is one of many between the State of Qatar and Russia, who are this year celebrating the Year of Culture.

Qatar Airways Group Chief Executive Akbar Al Baker, said, "As we celebrate the Year of Culture between Russia and the State of Qatar, I am very pleased to announce the potential acquisition of up to 25% of Moscow's Vnukovo International Airport. Such an investment will complement the strong ties we have already established with the country, with our launch of direct services to St. Petersburg late last year, as well as our triple-daily flights to Moscow. All our investments are part of our existing expansion strategy, through which we aim to be able to bring even more people together from all parts of the globe."

The airline shares strong links with Russia, as it operates triple daily flights to Moscow and daily flights to St. Petersburg, launched in December 2017.