UPFA MPs Herath and Aluthgamage allege appointee has questionable background
Claims Joshua Bustos bankrupted Afghan Airline and singed $ 11 m bogus deal
Eran Wickramaratne says he too questioned appointment but told it had Defence Ministry clearance
Says Board of Directors which include AF Commander appointed during 51-day Govt. remains
Reiterates all must work together to turn airline around
By Chandani Kirinde
The appointment of an American national with a questionable background as the Chief Commercial Officer (CCO) of SriLankan Airlines was raised in Parliament by Opposition MPs on Friday.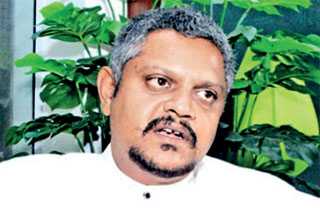 UPFA MP Kanaka Herath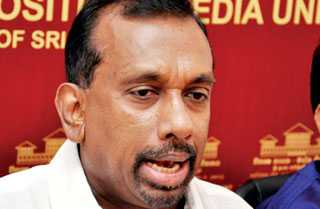 UPFA MP Mahindananda Aluthgamage
State Minister of Finance Eran Wickramaratne
SriLankan Airlines Chief Commercial Officer Joshua Bustos
UPFA MPs Kanaka Herath and Mahindananda Aluthgamage both questioned the appointment of Joshua Bustos as CCO of the national Airline and alleged that he had a dubious record in the industry, first having bankrupted an airline in Afghanistan and is also accused of being behind a fraudulent $ 11 million contract in that country.
State Minister of Finance Eran Wickramaratne under whose purview the Airline comes told Parliament that he had himself questioned the appointment and was told that it was made with clearance from the Defence Ministry.

"I asked the same question that you ask from the Board of Directors. Why was this person hired? The Airline informed me that the Defence Ministry has given clearance to hire him. I had the same doubts that you have which is why I asked the question from the Airline," Wickramaratne said.

The Minister said that when there is Defence Ministry clearance for an appointment, he would not intervene.

"We have to remember one thing. The Commander of the Sri Lanka Air Force has also been appointed to the Board of Directors. I didn't make the appointment. The usual practice is not to appointment military personnel to a civil airline Board of Directors but as he was appointed by the previous Government, I have kept him as well. If a decision is taken in his presence when there are questions of security, who am I to take a decision against it?" the Minister said.

He said that Board of Directors who were appointed during the 51-day Government in October last year remains in office despite change in Government.

"I have not changed the Board of Director that was appointed by that 51-day Government. I have not changed even one of them. The usual practice is for any new minister to make changes but I did not do that because we have to get together and turn the Airline around," he said.

Wickramaratne added that it was important to appoint the right people and let them take decisions. "It is not up to politicians to decide which planes to buy, which routes to operate,we have to work on this tighter as this is a matter of importance to the country," he said.

Kanaka Herath who raised the equation about Bustos's appointment said that the SriLankan Airlines CCO is of a questionable background having signed a$ 11 million bogus contract as well as bankrupted an Afghan Airline. "I understand he's paid a monthly salary of Rs. 3.5 million. What is his suitability for this post?" the MP asked.

MP Aluthgamage said that the CCO had allegedly changed his name and was responsible for closing down an Afghan Airline due to debt. "It is such a person who has been appointed to such a post? How can he help the Airline?" the Opposition MP asked.

Aluthgamage added that he was aware that the Minister is making a genuine effort to turn around the Airline but has had to fight a lone battle.

Joshua Bustos was appointed CCO of SriLankan Airlines in April this year.