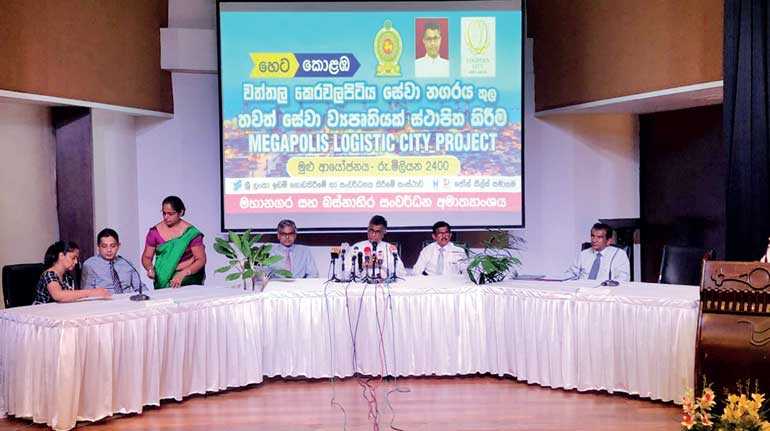 From left: John Keells Holdings PLC Senior Counsel – Conveyancing, Legal Division, Legal Department, John Keells Holdings PLC Sector Head – Transportation Sector , SLRDC DGM Legal, John Keells Holdings PLC Deputy Chairman, Ministry of Megapolis and Western Development and SLRDC Chairman
John Keells Logistics Ltd. (JKLL), a fully owned subsidiary of John Keells Holdings PLC, and a key third party Logistics Services Provider (LSP) in the Sri Lankan market, has embarked on commissioning its flagship Global Logistics Centre with a footprint span in excess of 250,000 square feet at the Muthurajawela Logistics Zone.
JKLL which currently caters to supply chains across multiple industry verticals with a client portfolio consisting of industry leaders in both local and international markets; operates seven advanced dry and cold logistics centres using class leading facility infrastructure, warehouse management systems, storage solutions and handling equipment.
This latest facility which is set to be operationalised by the latter part of 2019,with an estimated initial investment of $ 15 million is expected to create over 35,000 CBM of storage capacity with a handling capability of over 300,000 CBM a month. The centre will also have Multi-Tiered Value-Added Service (VAS) areas catering to a broad range of industry verticals including; FMCG, apparel, electronics, chemical, lubricants, telecommunication, perishable, trading and others.
These VAS spaces will leverage latest technologies in task automation and product packaging to enable a cost-efficient service delivery in compliance to global standards of excellence. The facility is part of JKLL's long term service capacity growth plan which would also include expansions in the company's cold storage footprint, transport fleet and regional service extension.
The proposed facility's strategic location in proximity to the Highway Master Plan of Sri Lanka, the International Airport and Seaports; creates a unique service proposition to seamlessly link local industries and consumer markets to international supply chain gateways. With Sri Lankan industries and commerce intensifying its integration into global supply chains; JKLL's flagship Logistics Centre will be strategically positioned to offer a one-stop-shop logistics service platform for both local and international players to drive supply chain efficiency and capability.