General Daya Rathnayake assumes duties as the new Chairman of SLPA. Also seen are SLPA Managing Director Capt. Athula Hewavitharana and Additional Managing Director D. Upali De Zoysa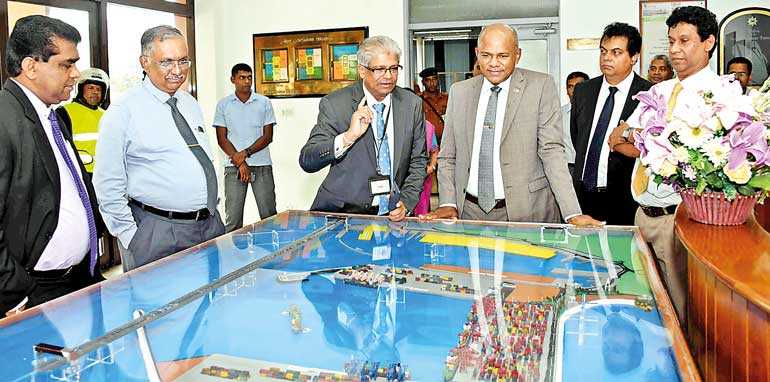 The new Chairman of SLPA General Daya Rathnayake is briefed by SLPA Managing Director Capt. Athula Hewavitharana at the Port model at the Jaya Container Terminal (JCT) of SLPA during the special inspection tour of the Port of Colombo. Additional Managing Director D. Upali De Zoysa, Director (Operations) Jayantha Perera and Chief Manager (IS) Darshaka Perera are also seen
---
Promises to expedite implementation of Master Plan
General Daya Rathnayake, former Commander of the Army and former Commissioner General of Rehabilitation, assumed duties as the new Chairman of Sri Lanka Ports Authority (SLPA), amid blessings of venerable Maha Sangha, on 20 December at the Chairman's office of SLPA.

Following the assumption of duties, SLPA Chairman General Daya Rathnayake held discussions with the top management and heads of divisions of SLPA.

"The port is a key pillar of our economy. It is a major contributor to the economy of the country that has also faced numerous challenges. My goal is to realise the potential and opportunities we have and manage our challenges to the best to make this port the best in the world," he said.

At these discussions he also pointed out that he would extend his leadership to expedite and carry out the Master Plan of Sri Lanka Ports Authority successfully to make it the best productive, efficient and the most welcomed public sector institution. He further stated that these objectives should be reached through an enhanced team work effort of the top management, executives, staffs and other sectors of employees of SLPA. After the discussions, General Rathnayake also participated in a special port inspection tour of the Port of Colombo.

Major General Rathnayake is a prominent product of Kurunegala Maliyadeva College.

Representing SLPA, Managing Director Capt. Athula Hewavitharana, Additional Managing Director D. Upali De Zoysa, a number of Directors, Heads of Divisions and Executive Staff members of SLPA were also present at the occasion of the new Chairman of SLPA assuming duties.