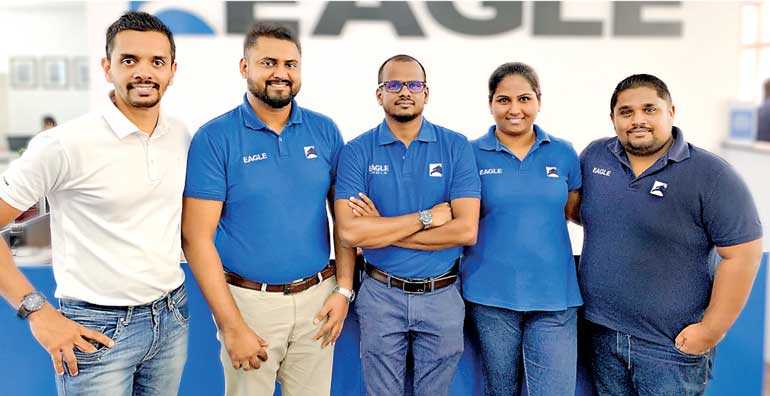 From left: Managing Director Asanga Weerackody, Head of Finance Amila Munaweera, Head of 4PL Nuwan Wickramanayake, Chief Operating Officer Christine Jeniffer and Head of Freight Rangana Perera
---
Being established in 2005, Eagle Logistics Colombo recently celebrated 14 years of delivering innovative solutions to the shipping and logistics industry in Sri Lanka.

The company was established by Managing Director Asanga Weerackody co-partnering with CL Synergy Ltd. Since then, Eagle Logistics has served over 300 corporate entities and it is Mr Asanga Weerackody's entrepreneurial and customer-driven mindset combined with over 25 years of freight experience that has spearheaded the company into what it is today.

Since 2005, Eagle Logistics has diversified into many areas and was established as a Group in 2017. The company began many other ventures such Eagle Express which is the only GLS network Partner in Sri Lanka, and Eagle Visible which handles Shipping Desk Solutions and Supply Chain Management as well as 4PL. Eagle also partnered up with Interglobe Freight Solutions and also more recently with NTC Logistics India as a joint venture partner in Sri Lanka.

Today, the Eagle Group is one of the biggest supply chain and logistics companies in Sri Lanka with over 140 members of staff. The company operates with five other offices other than its Headquarters in Colombo 3, namely Moratuwa, Homagama, Biyagama, Katunayake and in the island of Maldives. Also company have planted over 50 staff at over 15 Sri Lankan corporate entities to manage logistics.

Weerackody stated that the company prides itself on having nurtured over 250 individuals in the supply chain and logistics industry, from which some have also gone on to creating their own successful ventures. Much of Eagle's success can be attributed to its own unique HR policies which have been around from the very inception of the company. These policies have also resulted in creating an individual who started her career as a customer service assistant 13 years ago, Christine Jennifer, who currently stands as the Chief Operating Officer of the company.