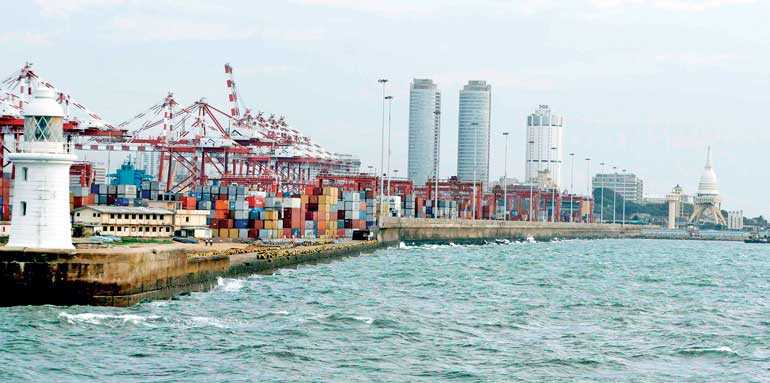 Expresses the urgency of ECT to remain competitive and retain its strong position in the region
The need for deep water terminals was discussed in many platforms last year due to the urgency of increasing port capacity in Colombo to cater to the surge of volume. In 2017, the Colombo Port reached a historic juncture with over 6.2 million container traffic transactions and the Sri Lanka Ports Authority expects to maintain a double digit growth for the year 2018.

Second quarter of 2018 records a 15% growth of container throughput when compared with the second quarter of 2017. These results show that adding capacity at a brisk pace is the most important factor for Sri Lanka to retain its position as the best connectivity port in South Asia.

In a letter dated 19 July to the Secretary General of the National Economic Council of Sri Lanka, CASA expresses the urgency of equipping the East Container Terminal which was constructed nearly three years ago. In the letter CASA highlights how new lines or services cannot be induced to call the port of Colombo without enhancing capacity and failure to increase berthing capacity will result in lines seeking alternative ports. Further in its letter CASA stresses how the rapid investments in the port sector in India and the removal of cabotage restrictions can pose a significant threat to Port of Colombo if the capacity enhancement is delayed.

The only deep water terminal in Sri Lanka is CICT with a depth of 18m and the existing facilities are reaching saturation for 6th generation container mega careers. Ports and Shipping Minister in many occasions have clarified the Government's interest in expediting the equipping and operating the East Container Terminal and operating it as a State Owned Enterprise (SOE). CASA, the voice of the shipping industry views these developments positively and appeals that these initiatives are implemented immediately before we lose the competitive advantage of being the strongest transshipment hub in the region

Larger ships require bigger facilities

Container ships became bigger in size and volume due to favourable industry speculation leading to an increase of supply. To benefit from Economies of scale, increase fuel efficiency and reduce carbon foot print, shipping lines invested in modern ships with larger capacities.

Panama Canal expansion has also resulted in bigger ships. Several ship manufacturing companies across the world are already following the new parameters for container ships to match the dimensions of New Panamax. They are also getting large orders for the New Panamax vessels from shipping companies. These vessels require sufficient berth depth to call at a terminal.

With the consolidation of shipping lines through mergers/acquisitions as well as forming alliances, the vessels deployed on the main East-West trade lane are all Mega Container Carriers whose capacity is in excess of 10,000 TEUS and can only call at terminals having deep draft berths. In the above context, shipping lines will only call at ports which can provide on arrival berthing, fast turnaround times and locations which can attract domestic/transshipment cargo.

Opportunities as a regional transshipment hub

Increasing regional transshipment volume is also demanding for more capacity. India and Bangladesh are port of Colombo's primary transshipment markets. The key drivers are the size of the import/export volumes at these ports and proximity to the port of Colombo. The import/export volume of India stands at 12.31 million TEUs and is expected to grow at a compound annual growth rate (CAGR) of 7.9% (2015 to 2041). 23% of India's transshipment volume is handled via port of Colombo. Similarly 33% of Bangladesh's transshipment volume is handled via port of Colombo and the import/export volume is expected to grow at a CAGR of 9.5%. Therefore it is of utmost importance that the port of Colombo is able to handle the surge of transshipment cargo in the coming years.

Challenges

India is rapidly investing in their port sector and particularly a Deep Water Terminal in Vizhinjam which will affect transshipment volumes from India. The recent removal of the Cabotage rule which restricted foreign flagged vessels from carrying export – import laden containers for trans-shipment and empty containers on local routes will also challenge Colombo's competitive position. However, Sri Lanka needs to appeal to the regional trade through high efficiency, ease of doing business, simplification and digitalisation of paper work and cost and productivity efficiencies which would in turn attract shipping lines to Colombo. Therefore capacity improvements such as the East Container Terminal and West Container Terminal are undoubtedly fundamental to strengthen our position in the global maritime sector.

To attract services which are currently not calling Colombo and to retain the share in a growing regional transshipment market, we must have more capacity. If not, shipping lines and exporters would look for alternative ports to direct their transshipment volumes. Staying ahead of the demand curve is of paramount importance not just for growth but for survival of the port of Colombo as a transshipment port.

Conclusion

Currently the Colombo International Container Terminal with an 18m berth depth caters to modern ships and has reported a throughput of 2.3 million TEUs for the 12 months ending 31 December 2017, achieving impressive YOY growth of 19.3% in volume. However CICT is currently operating at 80% capacity and will soon exceed capacity which creates an urgent need for another deep water terminal. East Container Terminal therefore plays an important role in Sri Lanka's journey of becoming the maritime hub in Asia. Development and innovative changes in terms of infrastructure, strategic changes in thinking towards a more global centred maritime operation and radical changes in policies are necessary to revolutionise the island's operations and standards in maritime.