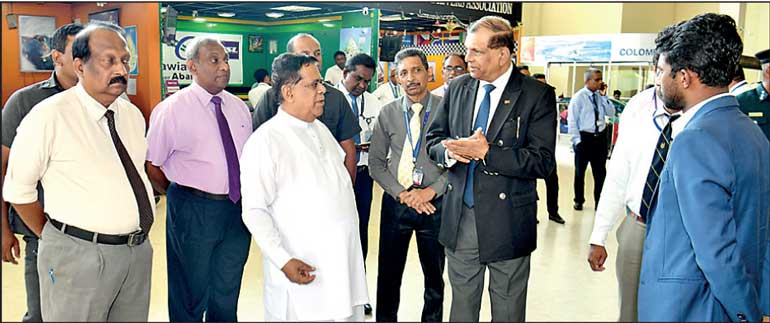 Ports, Shipping and Aviation Minister Nimal Siripala de Silva made a sudden inspection visit to the Bandaranaike International Airport at Katunayake to inspect the facility improvements that were initiated to mitigate passenger congestion during peak hours.

During his sudden visit last Friday he also held a special discussion with the airport security officials and authorities on further strengthening the measures to mitigate the issue the airport management has worked to provide maximum facilities by managing the available space in the terminal and the airport.

The Airport and Aviation Services (Lanka) Ltd. Chairman (Retd.) Major General G.A. Chandrasiri, its Deputy Chairman Dr. Ajith Mendis, and several officials of the airport including its security staff also attended the event.

Accordingly, the number of immigration and emigration counters at the arrivals has been increased to 25 with two new counters have been established in addition to the existing two counters for an on-arrival visa, and the space for customs operations has also been increased.Re-installation of the airport duty-free shopping complex at a specious location and facilities at the passenger lounges has been elevated has increased service facilitation to passengers arriving at the airport.

Minister highlighting the upcoming developments at the airport stated that visa scan machines will be installed by next year. He said that new measures would minimise passenger congestion at the airport and would also include modern technology to ease airport operations.

"We have also taken steps to introduce a management system to both the airport and the Port of Colombo. The progress of those was delayed due to the COVID–19 pandemic during the past period. However, at present, we have a favourable environment to commence these activities," Minister de Silva said.

He also pointed out that the private sector has been facilitated to construct of warehouse facilities to store 35,000 tons of aircraft fuel to resolve the issue of aviation fuel.

Commenting on the expansion of construction of the second terminal at the airport, the Minister said that the Japanese Government stopped the expected loan facility with the statements made by the Central Bank that the country is bankrupt.

"However, after reaching successful agreements with the IMF, the international community has now recognised Sri Lanka as an able economy. Therefore, we hope to re-establish discussions with the Japanese Government for aid to restart construction of the second terminal," the Minister noted.