Ceylon Tea nets in $ 1.5 b annually and the industry must target $ 3 b given the country's challenge to service the high debt stock of $ 54 b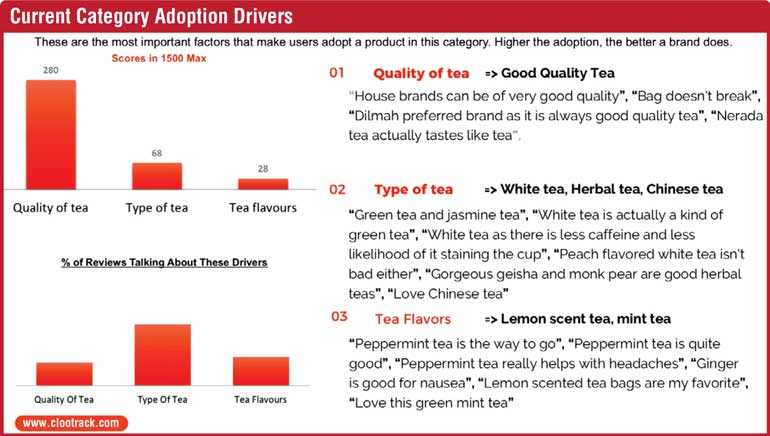 ---
The latest research study done using Artificial Intelligence (AI) on consumer perceptions on a sample market like 'Australia' reveal that, the key attributes that a consumer looks for when selecting tea are: quality of tea, type of tea and tea flavours. In marketing jargon we call this 'adoption drivers'; meaning, the attributes that people look for in the evaluation of which brand to purchase.



What is interesting is that the two attributes that the Sri Lankan tea industry has been pushing for so many years – 'single origin tea' and 'Ceylon Tea' were not attributes considered when wanting to by a tea brand.
Deep dive
The research diagnostic was done on 12,073 consumers cutting across through New South Wales, Queensland, Tasmania, Victoria and Western Australia on conversations on blogs, commerce sites, and product reviews by the foremost AI company Clootrack. Incidentally, Clootrack does research to the top fortune five hundred organisations across the world using online conversations.

On the attribute 'quality of tea' the comments include that Sri Lanka's Dilmah brand is a quality tea whilst cues like 'if the tea bag does not break' and 'Dilmah is a preferred brand', the brand Nerada 'tastes like real tea' are mentioned by consumers.

On the attribute 'type of tea' the comments include – green tea, jasmine tea and white tea (as it has less caffeine and stains the cup less) are mentioned specifically. Some like peach flavoured tea and herbal teas.

On the attribute 'tea flavours' – peppermint comes out strong as it helps relieve headaches while ginger is used for nausea. Some mention green mint tea and lemon tea as their favourites.
The debate
Hence we see that the attributes 'Ceylon tea' and 'Single origin tea' are not being registered as differentiators and reason for purchasing a brand whilst nationally there are two schools of thought.

One being that Ceylon Tea must use the proposition 'Ceylon Tea' and 'Single origin tea' in its global marketing drive. Given that Sri Lanka is a niche market player with a production of just 300 million kilograms of tea annually in a total market size of over 2.1 billion, this strategy helps bring a $ 4 plus in average for kilo of tea as against the global market average of $ 1.5. This nets in foreign exchange of around one and a half billion dollars to Sri Lanka.

The other school of thought is that if Sri Lanka should move into the blending with lower price teas and thereby focus on flavours and types of tea and thereby broad base the target consumer group which can move the foreign exchange earning to three billion dollars plus per annum. It is an interesting discussion and personally I feel a more in-depth research study should be done before such a strategic decision should be taken at a policy level. However, the above research gives an interesting perspective that merits this discussion and the setting up of a tea hub in Sri Lanka.
What is a tea hub?
Let me throw light on what a tea hub is. This is simply setting up of a Free Trade Zone (FTZ) where enterprises can set up blending facilities by importing teas from other origins and then mixing these teas with Ceylon Tea to the requirements of the global consumer. Certain industry quarters in Sri Lanka were of the view that in the event such a facility comes to play in the country, the policymakers should enforce that 50-70% of the tea in any pack must be pure Ceylon Tea whilst the rest can be teas from other origins.

An idea discussed at that time was that the tea packs that originate from this FTZ must be branded with coined names and it cannot come into the country and find its way into the auction system, but must be shipped out in large quantities in bulk. This will enable differentiation between 'Pure Ceylon Tea' and the teas that comes out of the FTZ into the global market was the essence. The typical FTZ that this can be set up in was Hambantota so that conceptually and logistically it would be easy to manage.
Why a tea hub?
The above research study gives a consumer view on why a tea hub strategy should be considered by policymakers. But, there was a study done in the Russian market.

Russian Federation is the number one market globally for importing tea at 175 million kilograms per annum and the number one export destination for Ceylon Tea. If one examines facts and data, to the Russian market the bulk tea exports out of Sri Lanka has increased from 21,166 in 2000 to 28,743 metric tons by 2009. On the other hand packeted tea volumes have come down from 18,377 to 7,516 metric tons during the same period.

The reason for the shift was that Russia duty on bulk exports has been reduced to 0% and thereby the Russian policymakers were to give space for organisations to set up in Russia to pack teas that are imported from many countries for blending purposes and thereby spruce up FDIs into the country. This also enabled the Russian Government to address the looming unemployment crisis in the country, hence a commendable economic move internally. The Russian policy also orchestrated the market beautifully by introducing a labelling law to allow tea products to carry the tag 'Ceylon Tea' even if it contains only 51% of tea from Sri Lanka whilst the rest can be blends from other countries.

This can be proven with facts as less expensive teas that are being imported into Russia from countries such as Kenya had increased from 5,123 metric tons to 11,821 MT during the time period 2002 to 2009 whilst imports from Vietnam have catapulted from 4,720 metric tons to 13,183 MT.

Hence we see there is some data that justifies the concept of a 'tea hub' strategy but, given the challenges Sri Lanka has in the supply chain where the cost structure exceeds the net revenue earned for a kilogram of tea this decision must be carefully evaluated.
Logic of a tea hub
If we want to further validate these numbers where packeted tea exports from Sri Lanka came down from 18,377 to 7,516 metric tons between 2000 and 2009, if we carefully examine the private sector numbers we see that the top six exporters' numbers have come down from 15,623 MT in 2002 to 9,346 metric tons by 2009, which is a decline of almost 40%. This maybe orchestrates the need for Sri Lanka to move to a tea hub concept as explained above but as mentioned the evaluation must take into account the supply chain realities given that almost 60% of the cost is absorbed by wage rate which is more a political decision than a business decision.
Way forward – Sri Lanka
There are two options for Sri Lanka to pursue. Option 1 is to drive branding. This option will drive consumer pull and retail pull by building strong brand equity on the 'Ceylon Tea' proposition. This in turn can set up a umbrella category branding strategy and thereby create demand pull to brands, which are manufactured with high quality single origin quality Ceylon Tea that has the Lion logo as the differentiating point. However, the issue is that this strategy requires a very fat advertising budget which is a luxury that we cannot afford at this moment of time.

The second option is to test market the hub concept. Whilst this strategy may sound convincing on paper there are many issues that can crop up when operationally implemented. One of them is, will the FTZ be a self-contained entity where leakages will not take place to the local market? If this happens, the total auction system can get affected and the ramifications to the country will be unimaginable. One way to see the market behaviour is by test marketing this concept targeting one export country. This can help us ensure necessary checks and balances are in play. Once the test market duration is over (one to three years), an independent 360 degree evaluation must be done and the lessons learned before it is rolled out to the rest of the world.
Ramifications to Sri Lanka
A key issue that can come up if option two is followed is that if it is not properly monitored, it can affect the current business model of tea which commands the highest tea prices in any auction. One way out is to test market this proposition as mentioned above so that we can determine if Sri Lanka is ready to implement the concept of a tea hub and its architecture.

Another issue is brand imagery diffusion if low priced multi origin tea gets exported out of Sri Lanka. One way to avoid this is by way of developing an identified new logo which will be equivalent to a second line trademark that Sri Lanka will showcase to the world. It's not a bad idea to pursue given that we are the champions of tea globally. But once again the private sector needs to work out the detailed architecture.
Other benefits to Sri Lanka
There are other spin-offs by pursuing the second option. There will be many support industries that will come into the economy, such as the printing and packaging sectors which will include the corrugated cartons business which ideally can be developed and maybe even enter the stock exchange that adds value to the overall economy of Sri Lanka. The other is the employment that will get generated in the 'tea hub'.
Next steps
In conclusion, the essence of this strategy that is unfolding is that we are moving away from a product-oriented quality argument to becoming a market-driven business that can take this industry to be a five billion plus business for Sri Lanka.

1) If there is a quasi tea hub coming into play where cheap quality teas are coming into the system, it must be stopped immediately as the ramifications for the brand can be disastrous.

2) A white paper must be developed by the stakeholders on details of the 'tea hub' that includes the types of tea that can be imported, the country where the test marketing will be done with details on how the FTZ can be water tight. In essence a new business model must be stamped by the AG.

3) This idea must be debated at the highest policy level at the Ministry end on a private-public partnership platform and approval must come from Cabinet on the proposed new business model. The detailed plan must be sketched out with clear time horizons with specific robust export targets agreed.

4) When the project is in place, close monitoring must be done and corrective action taken on the run whilst at the end a 360 degree evaluation is activated not only in Sri Lanka but also on the tested export market.

5) I would suggest a brand equity study and a U&A study be also done in the test market to determine any harm that can happen to the brand equity of Ceylon Tea.

6) Post the debate of the research results, the lessons learned must be captured and included in the master plan of the Sri Lanka Tea Board .


(The writer is the Country Head – Sri Lanka, Maldives and Pakistan for Clootrack, the global AI company that specialises in managing perceptions of brand. The thoughts expressed are strictly the author's own views.)