Tokyo Cement Group is bringing in world renowned Structural Engineer Dr. Takanori Kawamoto as the Keynote Speaker at the Society of Structural Engineers' Annual Sessions 2016 on 27th September 2016, The Cinnamon Grand, Colombo.

Tokyo Cement Group believes in uplifting the field of construction in Sri Lanka by fostering a culture of knowledge sharing. To make this belief a reality, we have formed a few key affiliations with representative bodies of the construction industry whereby we help enrich their body of knowledge which has a long term rub off on our corporate identity.

One such affiliation is with The Society of Structural Engineers Sri Lanka (SSE-SL). SSE-SL will hold their Annual Sessions for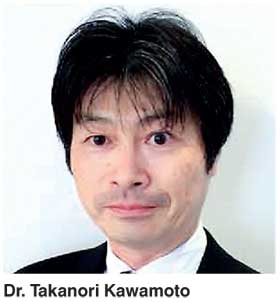 2016 on the 27th of September at the Cinnamon Grand Hotel, Colombo where Tokyo Cement Group is the sole sponsor.

As part of our commitment, TCG is bringing down a world renown structural engineer from Japan, who has earned the respect of the fraternity through his academic and professional contributions to the field. His is Structural Engineer Dr. Takanori Kawamoto of Ube Industries Limited, Japan.

Dr. Kawamoto will address the conference as Keynote Speaker on the topic "The Seismic Evaluation and Retrofit of RC Buildings in Japan". A Doctor of Engineering from the Toyohashi University - Aichi, Japan, Eng. Dr. Kawamoto, brings with him over 25 years of experience in development design of new retrofitting methods for existing reinforced concrete buildings. He has successfully developed Design-Fit method and Design U-Frame method as a project manager working at Ube Industries Ltd., and heads the new business unit as the General Manager. He is also a 1st class architect in structural design and is a Member of Managing Committee on Concrete Composite Structures at Architectural Institute of Japan.

Eng. Dr. Kawamoto is flown in by Tokyo Cement Group, harnessing its close ties with Japan to bring down world-class expertise to enrich the local industry.

Structural Engineers' Annual Sessions is the platform to present key research findings and share knowledge and experiences in the field of structural engineering in Sri Lanka on a bid to improve the quality of the structural engineering practice. The SSE-SL Annual Sessions 2016 is held at a time when the role played by Structural Engineers is of paramount importance as the country embarks on wave of a landmark infrastructural developments. The broader objective of the Annual Sessions is to create a culture of scientific research and innovation among the Structural Engineering fraternity.

Over 200 delegates representing the construction fraternity comprising of engineers, architects, project managers, consultants, quantity surveyors, construction professionals, developers as well as students and undergraduates from all the leading universities in the country are expected to attend the conference.Nine breakthrough concept papers by leading professionals and academics of the Sri Lankan Structural Engineering fraternity will be presented at event. All concept papers been evaluated by an eminent panel of industry specialists and academia.