Branded residences first appeared around a century ago in New York, yet today it seems surprising that they did not become an established model until the 1980s – and, even then, they remained a niche segment of the luxury real estate market targeting a privileged HNWI audience. These premium homes are in the best locations and associated (and usually co-located) with a 5* hotel, which provides a range of 'at home' services and luxury amenities to its neighbouring residents.
Colombo's first high-rise luxury apartments were at Royal Park in Rajagiriya in 1994, followed by Crescat Residences in 1998. Although these were not branded, they introduced the concept of luxury elevated living and paved the way for the premium branded residences that are now appearing in the region. Unsurprisingly, as a vibrant city in a fast-growing economy, world-famous hotel brands including JW Marriott, Ritz-Carlton, Shangri-La and ITC Hotels are planting their flags in Colombo's super-prime locations with luxury hotels and residences.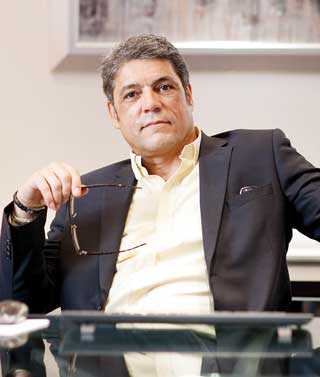 Graham Associates Managing Director Chris Graham
"Branding real estate creates an aspirational model that reflects the prestige and kudos associated with a luxury brand, facilitating stand-out in an increasingly competitive and crowded marketplace in which consumer expectations continually rise," explains London based real estate marketing specialist Chris Graham of Graham Associates, who recently published a major new report on international branded residences.
Not much has changed in terms of the overall concept during the past 35 years; however, since the turn of the millennium the growth of branded residences has been truly astonishing. Between 2002 and 2012, the number of hotel brands offering residences increased tenfold, whilst the number of branded schemes has almost tripled in the last decade and is forecast to grow by a further 27% in the next three years.
"This remarkable growth has been driven by wide-ranging and proven benefits for developers, operator brands and purchasers," observes Graham. "It is an unusual 'win-win-win' scenario in which all of the parties can benefit."
Mirroring the increase in global wealth that has simultaneously multiplied the number of HNWIs since the new millennium, the growth is also evident in the variety of brands as well as global locations. Graham highlights how market participants have expanded beyond traditional hotel brands, now spanning a wide variety of sectors (and which he accurately predicted will continue to broaden).
Companies licensing their brands to luxury residential real estate now include automotive manufactures (e.g. Porsche, Aston Martin, Lamborghini), interior designers (such as YOO), 'Starchitects' (renowned global architects like Gensler, Foster+Partners, WATG), fashion and jewellery (high-end consumer brands such as Bvlgari, Versace, Missoni, Fendi, and Armani), restaurants (e.g. Nobu and Hard Rock) and media/entertainment companies (e.g. Paramount, Walt Disney, Fashion TV, and now high-end publisher Condé Nast).
As such, with so many brands from an ever-widening spectrum of sectors now participating, differentiation, relevance and effective positioning are essential. "As the branded model progressively becomes the norm rather than the exception in many destinations," comments Graham, "it is crucial to ensure that today's wealthy homebuyer understands how one brand will benefit his or her lifestyle and investment ambitions over another." Many experts agree: "In an increasingly congested market, the winning brands will be those that can seamlessly manage the residential experience for the homeowner," adds Muriel Muirden, Managing Director of Strategy at WATG and a leading expert on global branded residences.
"This is where established luxury hotel brands with proven hospitality credentials and world-class reputations can truly shine in the residential arena, such as ITC Hotels which will offer 5* services to the adjacent Sapphire Residences tower here in Colombo," says Chris Graham, who has worked with numerous luxury developments around the world over the past two decades.
"It is no longer simply about bricks, mortar, marble worktops and gold-plated taps; it is much more about the superior quality of life that residents will experience and how the brand can deliver these," he explains, adding that this extends into security and sustainability, which are now increasingly important considerations for 21st century homebuyers.
Arun Pathak – Managing Director at developer WelcomHotels Lanka, agrees: "ITC Hotels' reputation as a global leader in hospitality has been built on achieving excellence across all areas, from the meticulous design of our properties to providing gastronomic cuisine, but above all it is about consistently delivering service excellence," he comments. "Furthermore, we are taking great care to adapt these services and offerings to the local ethos and culture, in order to provide a unique hospitality experience that is deeply rooted in Sri Lankan soil on one side and represents the highest standards on sustainability with LEED ratings on the other."
Most branded residences offer owners a comprehensive range of integrated hotel-style services (and, increasingly, experiences), which include 24-hour concierge and security, transport, secure parking, porters, communications and entertainment systems, cleaning, babysitting, in-home dining, laundry and even shopping and fridge-stocking services. Smart homes are becoming universal. With the high demand for wellbeing, access to an on-site gym and fitness centre is now standard, usually with a spa and associated treatments, swimming pool, sauna and steam rooms.
Other premium facilities regularly include a cinema/screening room, private entertaining areas, golf simulator, kids' and teens' clubs, residents' lounge, library, wine storage and, with the rise in home working, access to business centres and meeting rooms. Owners can also benefit from the option to rent out their properties through a managed rental program (there is evidence that branded residences achieve both higher rental income and stronger resale prices).
On the issue of sustainability, rising consumer awareness about the serious threat to the global environment caused by non-eco-friendly products is forcing increasing numbers of real estate developers to pay more than merely lip-service to it. Encouragingly, not all need to be forced: ITC Hotels has for some time been a pioneer in sustainable luxury and recently hit the headlines when it announced it was banning plastic straws from all its properties.
The company's new complex on Galle Face, being developed by its subsidiary WelcomHotels Lanka, has been meticulously designed around the company's philosophy of 'Responsible Luxury'. Indeed (and demonstrating considerably more commitment than simply 'lip service'!) Sapphire Residences has already achieved the prestigious LEED BD+C (Core and Shell Development) pre-certification rating at the highest Platinum level, making these apartments the 'greenest' luxury residences in Colombo.
Another growing trend among wealthy purchasers is for the practical convenience offered by spacious vertical living. "We detected a shift in the market whereby more wealthy families desire all the premium facilities, service and security that are associated with modern condominium living, but they have no wish to compromise on space," explains Arun Pathak, developer of Sapphire Residences which offers some of the largest apartments ever seen in South Asia.
"This is why we created the concept of Sky Mansions. These mega-apartments are specifically designed to enable whole families – and, if required, their staff - to live in unrestricted comfort, enjoying similar spaces that they would have in a standalone home or villa, but with the added benefit and convenience of extensive leisure and social facilities at their doorstep. It really offers the best of all worlds."
So, does having a renowned 5* name over your door really justify the higher price tag? "Well, if you look at the astonishing growth in the number of branded residences around the world, clearly large numbers of wealthy homebuyers consider that the numerous benefits that they deliver are indeed worth the extra cost," says Chris Graham.
"Fundamentally, luxury brands provide reassurance in terms of quality, design, maintenance, service and management of the residences; buyers know what they can expect. An established brand's involvement implies a superior level of protection against risk, giving added confidence to buyers."
He points out that this is particularly relevant when buying an off-plan property, as purchasers know that it is likely to be completed, equipped, furnished and managed to the high standards that are commensurate with that brand. "It is all about peace of mind, which is a rare and valuable commodity in this day and age."
Prime location
Cutting-edge design, technology, security and architecture
Trust, credibility and prestige associated with a luxury brand
'Trophy' status of owning a 5* home in the best location
World-class leisure facilities
Stronger resale values
Higher rental income
Professional management
Hassle-free ownership
Premium/luxury lifestyle
24/7 concierge services
Owner benefits, e.g. residents' discount card, privileged access to the brand's other properties
Like-minded neighbours – a community of peers